Scientists At An Arctic Base Were Trapped By Polar Bears For Weeks
Russian researchers at a weather station on the remote Troynoy island had been besieged by the bears since Aug. 31. On Wednesday, dogs and flares were delivered to the station to help fend them off.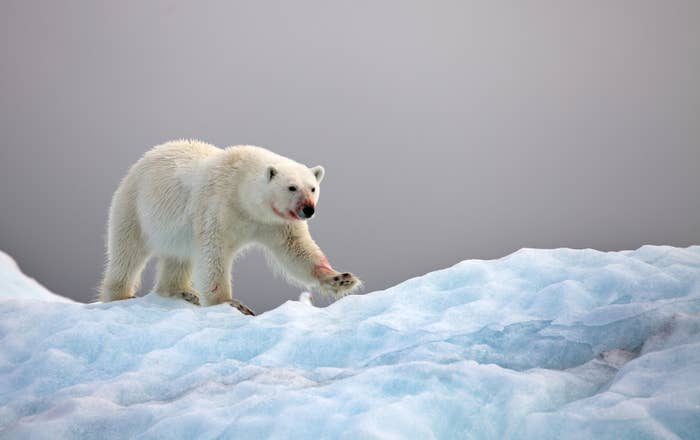 Russian researchers at a weather station on a remote Arctic island were besieged by around a dozen polar bears since late last month, the TASS news agency reported.

Helicopters made an emergency delivery of flares and dogs to the station on Wednesday morning in a bid to help scientists on Troynoy, an island in the Kara Sea north of the Siberian coast, fend off the bears, according to Vassiliy Shevchenko, the head of the Sevgidromet State Monitoring Network.
Speaking to TASS on Monday, the weather station's head, Vadim Plotnikov, said that around 10 adult bears plus cubs had been spotted around the station since one of the predators killed a dog that belonged to the unit on Aug. 31.
He said the five-strong team of researchers had not left the station since then, and that the delivery of flares had been urgently needed as the next cargo vessel was not due to arrive for another month.

"A female bear has been sleeping under the station's windows since Saturday night. It's dangerous to go out as we have run short of any means to scare off the predators. We had to stop some of the meteorological observations," Plotkinov added on Monday.

However, Shevchenko said that "three puppies and pyrotechnical devices" had successfully been delivered to the station, which helped the researchers to scare some of the bears away, and allowed observations to resume on Wednesday.
Troynoy — spanning just 27 kilometers (16.7 miles) in length — is the largest island in Russia's Izvestiy Tsik archipelago. Shevchenko told TASS that issues involving the bears were not uncommon on the island, but risks are lessened from late October when the sea freezes and the bears' territory expands.