Three scientists who created an energy-efficient, blue light-emitting diode (LED) have been awarded the 2014 Nobel Prize in Physics for their invention.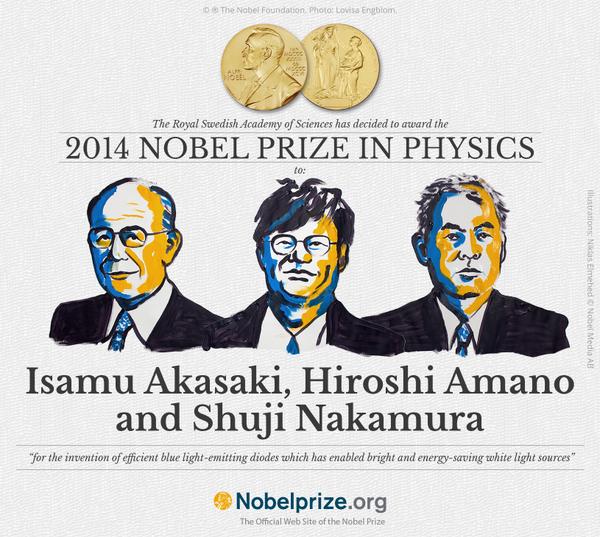 Isamu Akasaki and Hiroshi Amano of Nagoya University, Japan, and Shuji Nakamura of UC Santa Barbara were given the honor by the Royal Swedish Academy of Sciences "for the invention of efficient blue light-emitting diodes which has enabled bright and energy-saving white light sources."
A statement from the Nobel committee said: "In the spirit of Alfred Nobel, the Prize rewards an invention of greatest benefit to mankind; using blue LEDs, white light can be created in a new way. With the advent of LED lamps we now have more long-lasting and more efficient alternatives to older light sources."
It added: "Red and green diodes had been around for a long time, but without blue light, white lamps could not be created. Despite considerable efforts ... the blue LED had remained a challenge for three decades. They succeeded where everyone else failed."
"Their inventions were revolutionary. Incandescent light bulbs lit the 20th century; the 21st century will be lit by LED lamps."
Upon being woken to receive the announcement via telephone, California-based scientist Nakamura described the news as "unbelievable".
Blue LED lights have many uses in day-to-day life.
Huge, animated LED billboards and screens are now possible thanks to Amano, Nakamura, and Akasaki's invention.
The LEDs are used in Blu-ray Discs, and are also vital components in anything that mimics sunlight, such as artificial lighting in greenhouses.
The computer screen you're reading this article on probably uses blue LEDs, as do most modern TV screens.