U2 frontman Bono has revealed that the injuries he sustained in a bike accident last year has meant he may never play guitar again.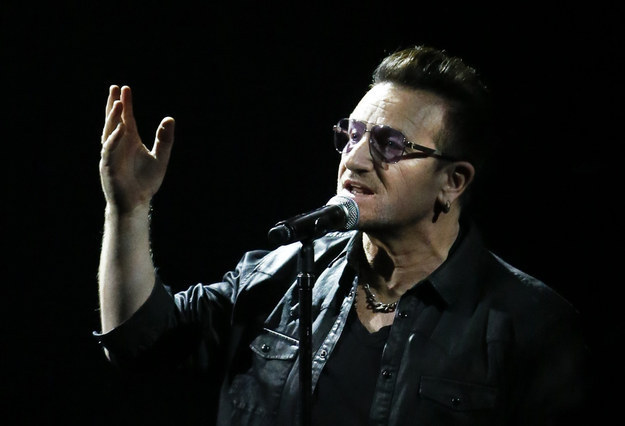 In a post called Bono's A To Z of 2014, published on the band's website, Bono said that he had been left with a titanium elbow following the crash, which happened in New York's Central Park in November and left him requiring five hours of surgery.
He said he had been struggling to move around physically, and would need to "concentrate hard" in order to be fit for the next U2 tour.
He wrote that he sustained "a massive injury I can't blame on anyone but myself, mainly because I blanked out on impact and have no memory of how I ended up in New York Presbyterian with my humerus bone sticking through my leather jacket. Very punk rock as injuries go."
Later in the post, he said:
"Recovery has been more difficult than I thought... As I write this, it is not clear that I will ever play guitar again. The band have reminded me that neither they nor Western civilization are depending on this.

I personally would very much miss fingering the frets of my green Irish falcon or my (RED) Gretsch. Just for the pleasure, aside from writing tunes. But then does the Edge, or Jimmy Page, or any guitarist you know have a titanium elbow, as I do now? I'm all elbows, I am."
The rest of the often tongue-in-cheek post was a reflection on a memorable 2014 for Bono and U2.
He also addressed going public with the revelation that his trademark sunglasses were a result of him suffering from glaucoma.
He said: "It certainly surprised the band that I'd gone public, but maybe it is time to be honest about such things. I remember I had the nickname old red eyes. I remember the agony of flashbulb staying permanently in my vision for the rest of the day after I'd been photographed."
He also described the automatic download of U2's album for iTunes users as "like a bottle of milk dropped at the door of anyone interested in music and iTunes."
He said it was "no flagrant abuse of human rights, but very annoying to people who a) like being annoyed, and/or b) felt it was like someone robbing their phone in the pub and taking a couple of photos before leaving it back on the table... some kind of breach of privacy which was really not intended."