Invité Lundi sur Europe 1, Jean-François Copé a estimé le prix d'un pain au chocolat à «10 ou 15 centimes».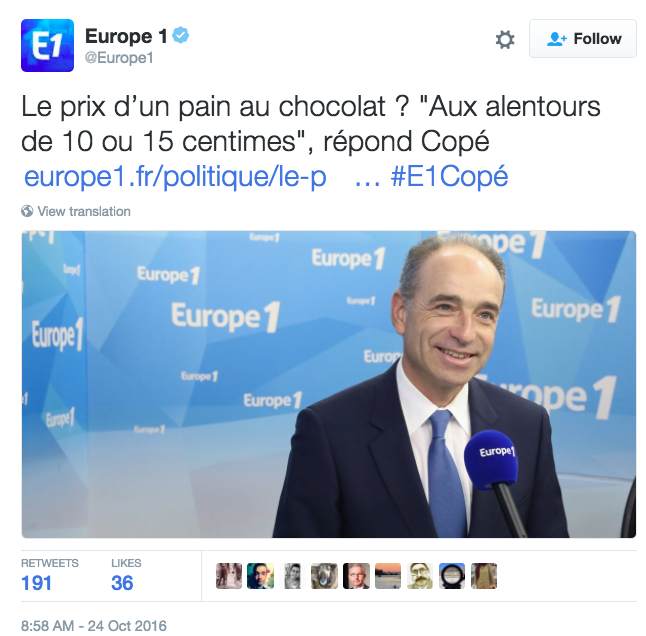 Une erreur qui n'a pas manqué de faire rire sur les réseaux sociaux.
Elle a aussi inspiré la boulangerie Moa à Boulogne-Billancourt, comme l'a tweeté cette internaute, qui proposait mercredi matin des minuscules pains au chocolat à 15 centimes.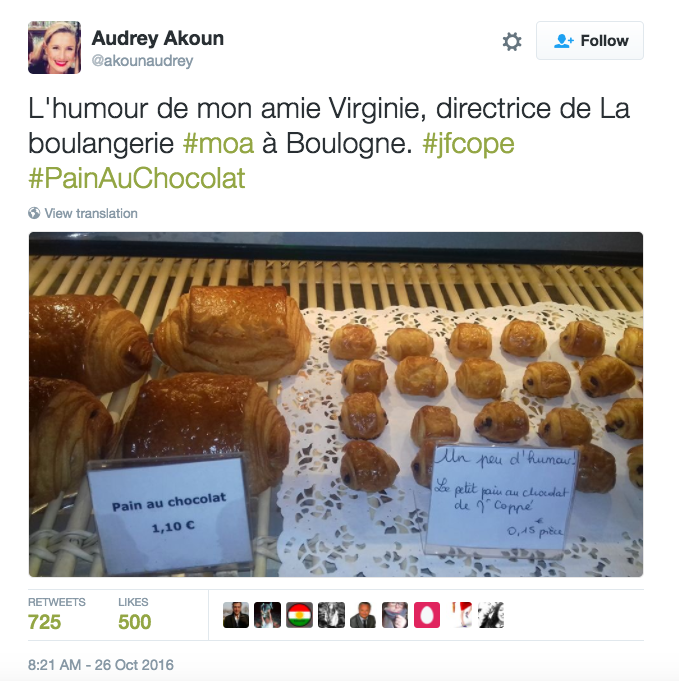 Sur Twitter, l'initiative a bien fait rire et le tweet d'Audrey Akoun a déjà été partagé plus de 1300 fois.

«On a eu beaucoup de clients qui nous ont demandé en plaisantant des "pains au chocolat de Copé" et c'est comme ça qu'on a eu l'idée», raconte à BuzzFeed News Virginie, la responsable de la boulangerie.
Une cinquantaine de (très) petits pains au chocolat a été préparé.
«On a divisé le poids d'un pain au chocolat classique par 8», nous explique de son côté le boulanger, Stephane.
«C'est de l'humour, détaille-t-il. Et c'est aussi pour dire que quand on est un politique important, on doit être au courant de ce genre de choses. Moi, j'étais dans ma voiture quand j'ai écouté l'interview et ça m'a vraiment fait rire.»
Stéphane raconte que ces pains au chocolat miniatures ont vraiment amusé les clients et que beaucoup les ont pris en photo.
Certains ont voulu les acheter mais la boulangerie a préféré leur offrir. «Non, on ne va pas vendre ça quand même, explique Stéphane. C'est juste pour rire!»
Looks like there are no comments yet.
Be the first to comment!