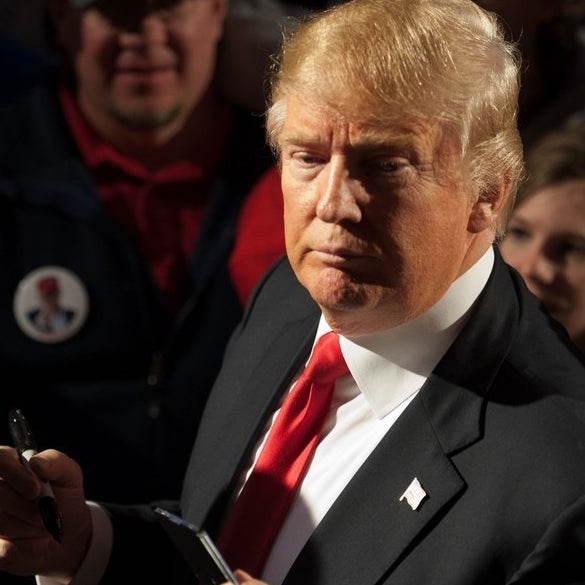 Donald Trump vient de retweeter une citation du leader fasciste italien Benito Mussolini.
Le compte parodique nommé Il Duce (le surnom de Mussolini) a tweeté une citation du dictateur italien et l'a attribuée à Trump, avec son slogan de campagne #MakeAmericanGreatAgain: «Mieux vaut vivre un jour tel un lion que 100 ans tel un mouton».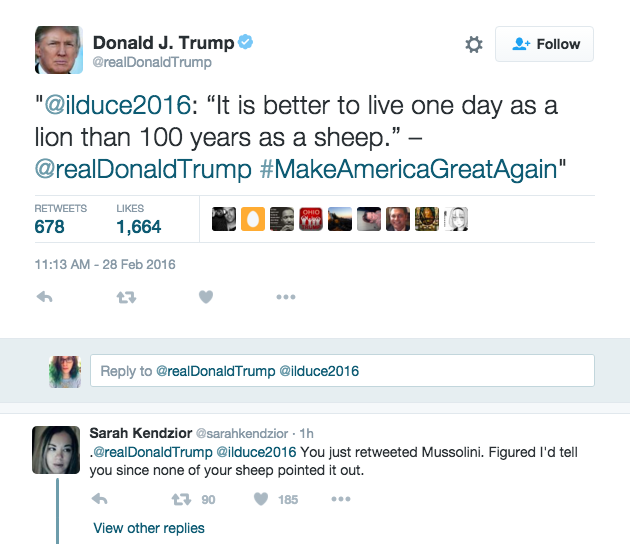 Trump a ensuite partagé ce tweet avec ses abonnés. Le compte Il Duce tweete des citations de Mussolini en les attribuant à Trump depuis un moment déjà.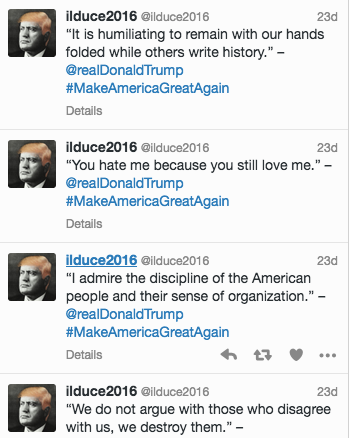 La citation que Trump a partagée est attribuée à Mussolini par diverses sources et serait apparue pour la première fois dans "Duce (1922-42)" du magazine TIME (2 août 1943).
Mussolini a fondé le fascisme, établi une dictature légale en Italie et combattu aux côtés de Hitler pendant la Seconde Guerre mondiale.
MISE À JOUR
Le site Gawker a révélé ce dimanche que deux de ses salariés sont les créateurs du compte @ilduce2016:
«L'an dernier, on a mis au point un piège pour Trump», explique Gawker. «On a eu l'idée d'un bot Twitter Mussolini en se disant que Trump retweeterait tout et n'importe quoi, peu importe la qualité de la source, du moment que ça semblait être un compliment pour lui.»
Interrogé au sujet de son retweet dans l'émission politique Meet the press, Donald Trump a répondu:
«Écoutez, Mussolini c'était Mussolini. C'est pas grave de... C'est une très bonne citation, c'est une citation très intéressante. Je l'ai vue et je sais qui l'a dite. Mais quelle différence ça fait que ce soit de Mussolini ou de quelqu'un d'autre?»
L'intervieweur lui demande: «Vous voulez être associé à un fasciste?», et Trump répond: «Non, je veux être associé à des citations intéressantes».
Looks like there are no comments yet.
Be the first to comment!