Hitting the gym consistently can take a lot of effort, but it's also super rewarding when you've worked up a good sweat and you're ready to pose for that post-workout mirror selfie (don't worry, we all do it).
But after you get that selfie and BEFORE you start to head home, there is one important step you may be missing: properly washing your face. And what's the easiest way to cleanse those pores after an intense workout, you may ask? The LUNA 3 by Swedish brand FOREO.
When you leave the gym all sweaty, with your pores open and vulnerable, it really increases the chances of a breakout. But the LUNA 3 is designed to wash away the dirt, oil, and sweat that are clogging your pores in just one quick minute.
In addition to your post-workout wash, you should also take your LUNA 3 for a ride before your workout. Cleansing beforehand can help prepare your face to push out impurities while you sweat. Then, the post-workout wash will remove the newly accumulated dirt, sweat, oil, and bacteria.
And not only does it cleanse your face, but the reverse side also acts as a firming massager for your face and neck, so it can help diminish the appearance of fine lines and wrinkles.
It comes in three different colors and each one is specifically designed with different bristle touch points for your skin type: blue is for combination skin, purple is for sensitive, and pink is for normal. Plus, each one has 16 different T-Sonic intensities to choose from.
Now you're probably wondering: What the heck is T-Sonic intensity and how will it help prevent gym breakouts??
LUNA 3 sends 8,000 T-Sonic pulsations per minute (wow!!) into your pores. (BTW, the "T" stands for transdermal, which means "through the skin.") So basically, this handy skincare tool can clean your face better than pretty much anything else on the planet.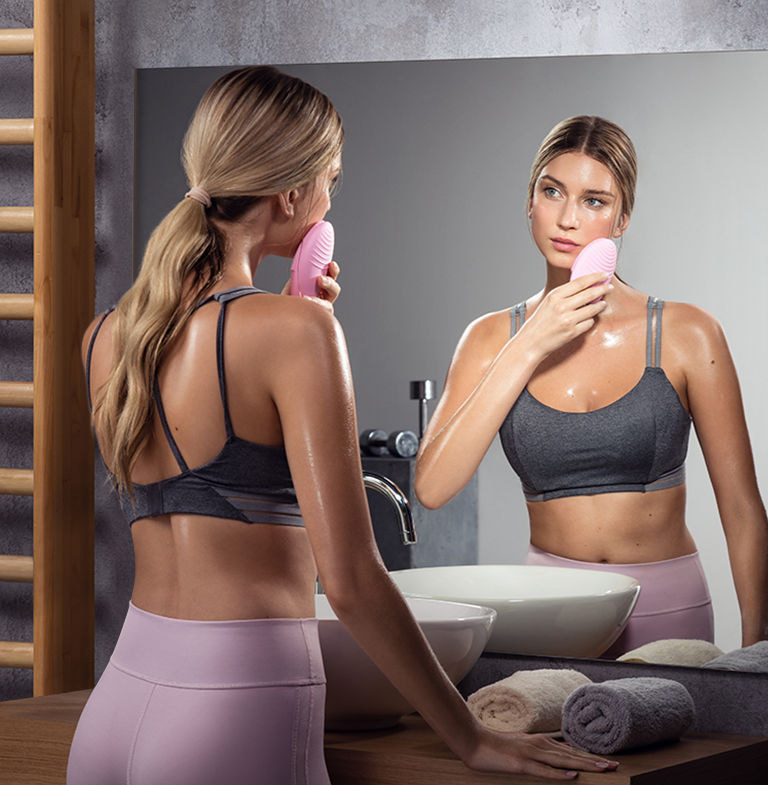 Who knew so much power could be packed in such a small device? It's the perfect size to toss in your gym bag, comes with a cute little carrying pouch, AND is 100% waterproof so if you like to shower before you leave the gym, you can take it right in with ya.