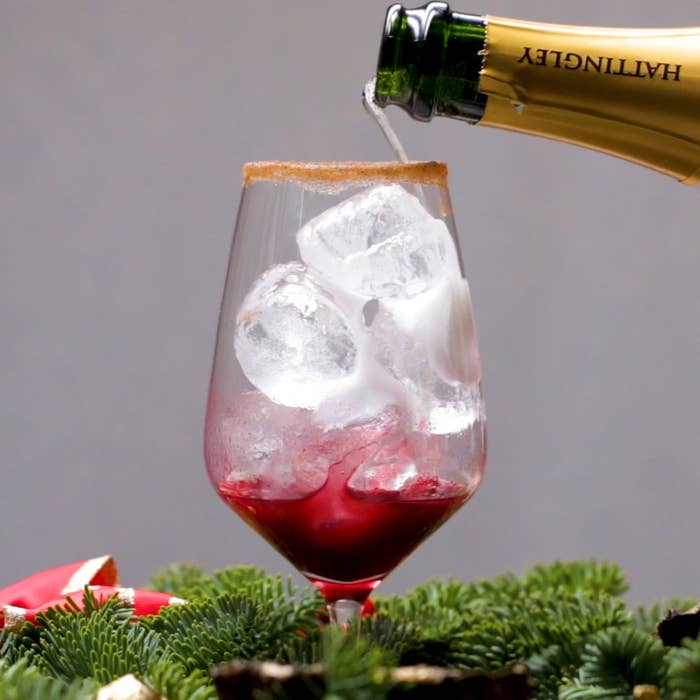 Serves: 4

Ingredients

English Sparkling Wine
100 grams blackberries
50 grams blueberries
1/2 teaspoon ground cinnamon
5 fresh mint leaves, roughly chopped
1 clementine
2 shots vanilla simple syrup
1 shot vodka
Ice cubes
4 fresh mint sprig for garnish
50 grams cinnamon sugar mix

Cinnamon sugar mix (for the glass rim)
50g granulated sugar
1 teaspoon cinnamon
Vanilla simple syrup
100ml water
100g sugar
2 teaspoons vanilla extract

Preparation
Pour the granulated sugar and cinnamon onto a plate and stir to combine. Rim each glass with cinnamon and sugar by wetting the rim first, then pressing it rim-side down into the sugar mixture on the plate. Set aside.

In a jug, combine the berries, chopped mint leaves, ground cinnamon and the juice of the clementine.

Crush (muddle) this mixture completely then add the simple syrup and vodka. Stir well.

Strain this berry mixture through a fine sieve or strainer straight into your wine glass.

Serve ¼ of the fruit juice mixture per glass, then top up (slowly) with English Sparkling Wine.

Garnish with a fresh mint sprigs and orange peel and Enjoy!