¿Qué tipo de cena prefieres para una primera cita?

Via pinterest.com

Una cena romántica en un restaurant elegante.

Via relish.com

¿A cuál de estas imágenes se asemejó más tu última cita?

Via youtube.com

No puedo esperar a volver a casa y ponerme una pijama lejos de este denso.

Via love.allwomenstalk.com

No puedo esperar a volver a casa y stalkearte hasta el LinkedIn.

¿Cómo te llevas con tu último ex?

Via zap2it.com

Todavía lo amo en secreto.

Via teologoresponde.org

Consideré contratar una bruja para que arruine lo que le queda de vida.

¿Cuál de estas películas de la dupla Julia Roberts-Richard Gere prefieres?

Via people.com

Via weheartit.com

¿Qué opinás de compartir un plato en un restaurante?

Via pinterest.com

Tocás mi plato y te corto las manos.

Via ilovefriends1994.tumblr.com

Es la mejor forma de probar cosas nuevas.

¿A quién apoyas más en Game of Thrones?

Via imworld.aufeminin.com

No sé nada de Game of Thrones.

¿Cuál de estas princesas de Disney te cae mejor?

Via pentucketnews.com

Via comicvine.gamespot.com

¿Con qué versión de Marimar te sientes más identificado?

Via buzzfeeed.com

Via network54.com

¿Cuál era la mejor Gilmore girl?

Via ibtimes.co.uk

Via bustle.com

¿Qué marca de bebida prefieres?

Via taringa.net

Via pinterest.com

¿Cómo se comen las papas fritas con ketchup?

Via recetasricas.net

Via footage.framepool.com

¿Qué haces si se corta la luz?

Via isafyi.com

Entiendo que son cosas que pasan y me voy a dormir más temprano.

Via historythings.com

Llamo a la compañía eléctrica y los amenazo hasta que vuelva.

¿Cuándo fué la última vez que viste a Laura Prepon?

Via thedailybeast.com

En Orange Is the New black.

Via pinterest.com

No tengo idea de quién es.

Última pregunta: ¿Helado de chocolate o vainilla?

Via grandparents.com

Via browneyedbaker.com
¿Qué app deberías bajar: Tinder o Netflix?
Sacaste:

¡Bajáte Netflix!
Resignáte a la idea de tener una vida en pareja y abrazá la idea de tener una vida plagada de hermosas tramas y personajes de ficción. Siempre vas a entender de qué está hablando la gente en Twitter y mientras haya Wi Fi, habrá felicidad y plenitud en tu vida. Además, no te vendría mal ponerte al día con la industria cinematográfica mientras te mantienes prudentemente alejado de la sociedad.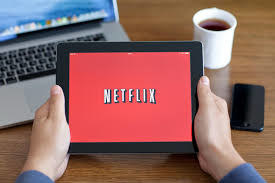 Todavía querés encontrar el amor y cruzarte gente BASTANTE rara que no podés creer que viva bajo las mismas normas sociales que vos. Ya estás al día con las series y entiendes las cosas buenas de la vida, así que seguramente vas a poder encontrar a alguien que te merezca. Es hora de salir del caparazón: ¡A matchear y disfrutar!