1.
When they gave you the perfect comeback for when someone doesn't get your brilliant jokes. 2.
When they dealt with life's big questions. 3.
When they were you whenever you tried to cook anything. 4.
When they knew about as many lyrics as you do. 5.
Every single time they made fun of homophobes. 6.
Which they did a lot. 7.
When they summed up pretty much all health advice.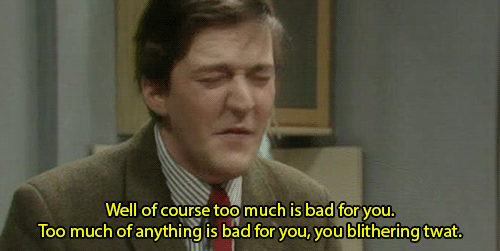 8.
When they showed us the correct way to give and receive compliments. 9.
When Stephen Fry showed you how to love yourself, splendidly.
10.
And when they showed you the value of self-acceptance. 11.
When they wrote your Tinder bio for you. 12.
And when they wrote your CV for you. 13.
When they showed you that insulting someone was actually an art form. 14.
When they poked fun at politics like only they could. 15.
When they told you how you're probably going to die. 16.
When they showed you you can be anything you want to be. 17.
When they perfectly summed up the NHS. 18.
When they revised classic phrases for the modern age. 19.
And when they finally got to the roots of feminism.