A 53-year-old white supremacist will spend the rest of his life in prison after being found guilty of murdering Labour MP Jo Cox in what the trial judge called a vicious and premeditated attack "designed to advance the cause of violent white nationalism".
Thomas Mair, whose home was littered with Nazi literature and memorabilia as well as information about Cox, was also found guilty of the grievous bodily harm of 77-year-old Bernard Kenny, who suffered serious injuries when he tried to intervene to save the MP, as well as possession of an offensive weapon with intent and possession of a firearm with intent.
Mair had pleaded not guilty to all charges, and chose not to give evidence in his defence. The jury took just over 90 minutes to return the guilty verdicts.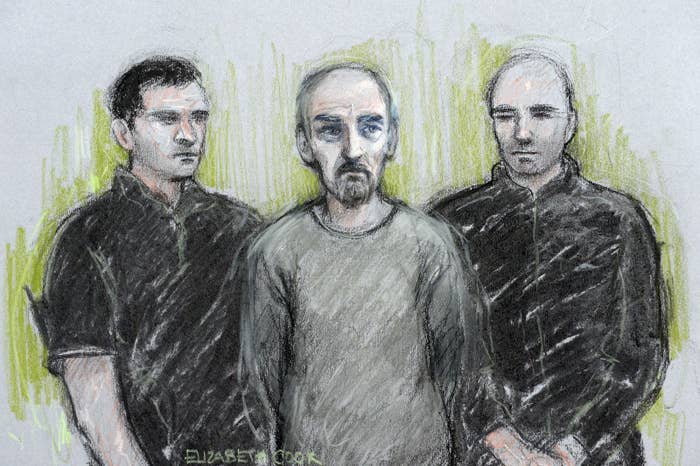 After the verdict, Cox's husband Brendan said the killing was an "act of supreme cowardice", but added:
For the person who did this, we have nothing but pity that his life was so devoid of love and consumed with hatred that this became his desperate and cowardly attempt to find meaning.

The killing of Jo was a political act, an act of terrorism – but in the history of such acts it was perhaps the most incompetent and self-defeating.
As he handed down a whole life sentence, the judge, Mr Justice Wilkie, paid tribute to Cox and told Mair: "In the true meaning of the word she was a patriot. You affect to be a patriot.
"The words you uttered repeatedly when you killed her give lip service to that concept. Those sentiments can be legitimate and can have resonance, but in your mouth, allied to your actions, they are tainted and made toxic."
He added: "By your actions you have betrayed the quintessence of our country, its reliance on parliamentary democracy."
After the jury delivered its verdicts, Mair had asked through his lawyer to be allowed to address the court, but the request was refused by the judge.
Sue Hemming, head of special crime and counter-terrorism at the Crown Prosecution Service, said: "Mair has offered no explanation for his actions but the prosecution was able to demonstrate that, motivated by hate, his premeditated crimes were nothing less than acts of terrorism designed to advance his twisted ideology."

She also paid tribute to Cox's family, who were in court for the entire trial and "behaved with real strength and dignity throughout".
Cox, who lived with her husband and two young children in a houseboat on the Thames, was attacked in Birstall, West Yorkshire – part of the Batley and Spen constituency she was elected to represent at the 2015 general election.
During the trial, which lasted just over a week, the jury were shown CCTV footage of the moments leading up to her murder. They were also shown footage of the attack, which took place on 16 June in the run-up to the EU referendum.

Several witnesses heard Mair shouting "This is for Britain!" and "Keep Britain independent!" as he repeatedly shot and stabbed the Remain campaigner as she made her way to a constituency surgery near Leeds.
The court heard that after Mair fired the first shot witnesses watched Cox try to crawl away as he reloaded his gun and shot her two more times.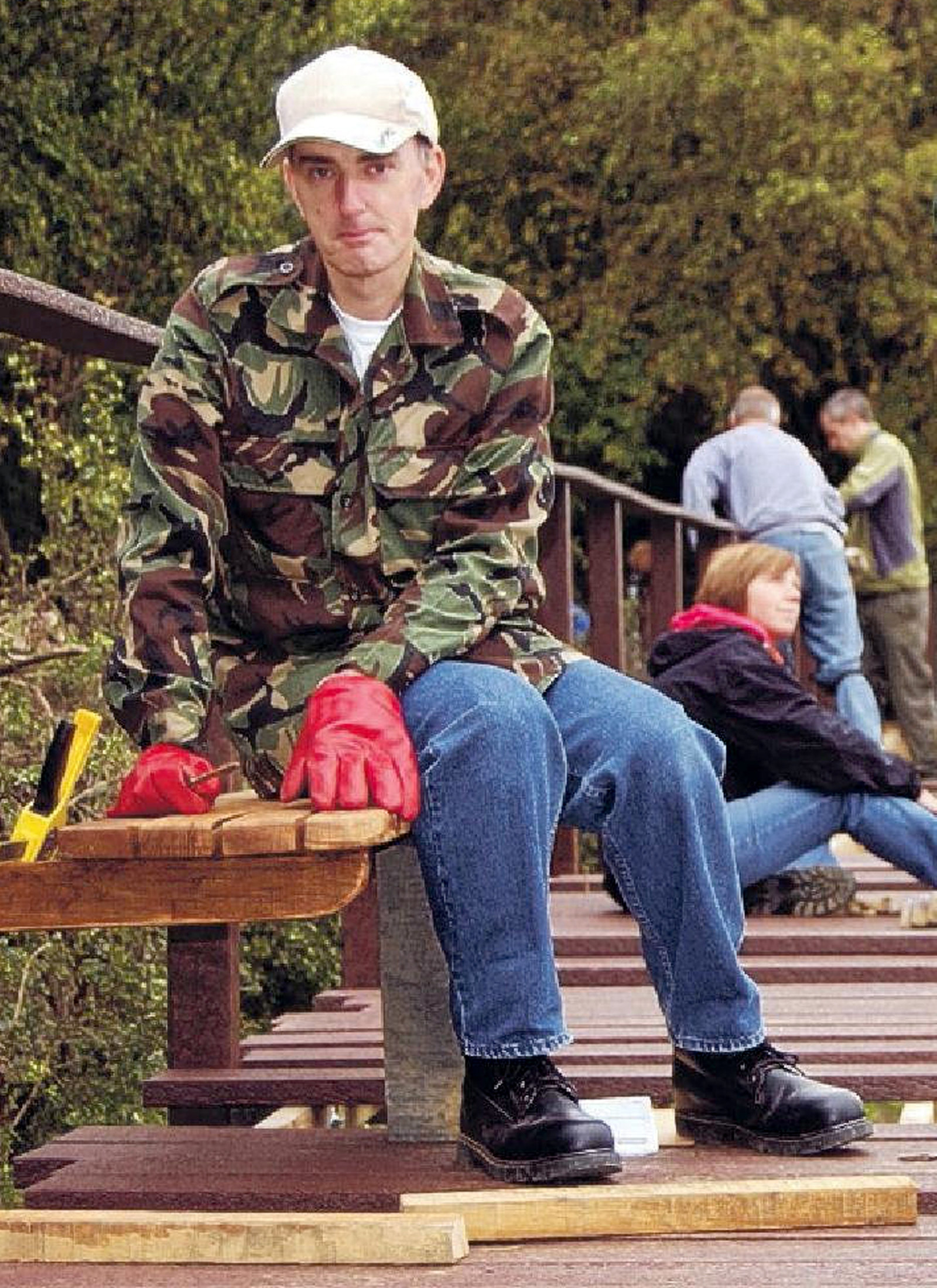 The results of the postmortem found that Mair shot Cox three times with an adapted .22 German-manufactured Weihrauch bolt-action rifle, and used a "dagger like a knife" to inflict 15 stab wounds, some of which penetrated the MP's heart, lungs, stomach, and liver.

Cox, 41, also had "through and through" gunshot injuries to her hands, which suggested she had used her hands to cover her face during the attack, the court heard.

Richard Whittam QC, prosecuting, told the court that the MP was killed in "what was a planned and premeditated murder for a political and/or ideological cause".
"It was a cowardly attack by a man armed with a firearm and a knife," Whittam said.
Mair was a regular visitor at his local library, where he would use the computer and internet facilities. Police found that Mair had browsed various far-right online publications, such as the Occidental Observer, which posts stories from a white nationalist and anti-Semitic perspective.
He had also researched Nazi Germany and the Ku Klux Klan. Police also discovered white supremacist and assassination material at his home, including a gold Third Reich Eagle ornament with a swastika on top of his bookcase full of books on German military history.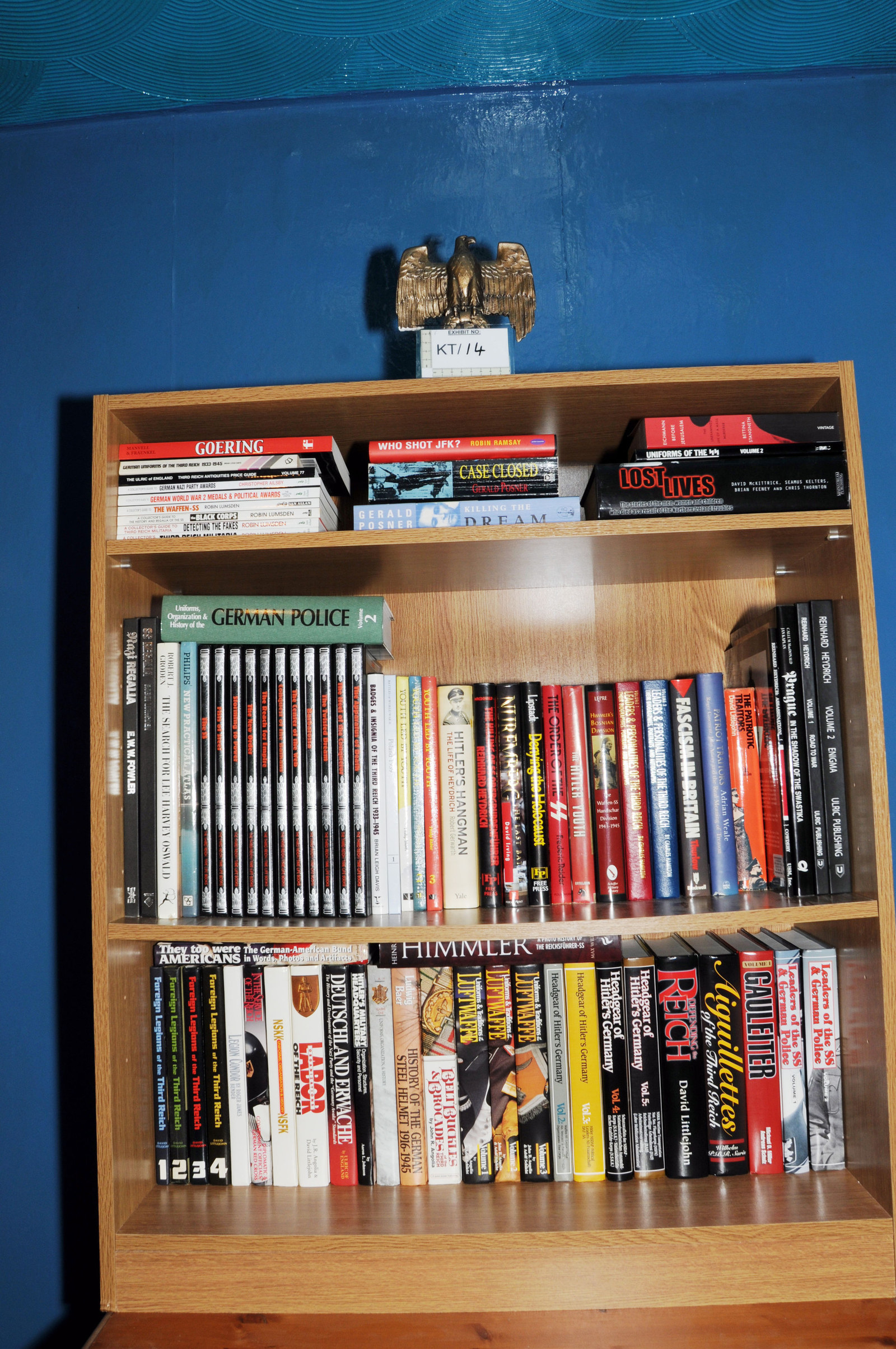 The court also heard how Mair kept publications on the Holocaust, a copy of the SS Race Theory and Mate Selection Guidelines, a book entitled March of the Titans: A History of the White Race, and a double-page press cutting on Norwegian mass killer Anders Breivik.
Inside a chest of drawers, officers found a printout of a Wikipedia entry on the White Patriot Party, information on a South African neo-Nazi organisation, and several issues of the American white supremacist National Vanguard magazine.
Officers also discovered a dossier of the MP in his home, including a printout of Jo Cox's biography from her website, and newspaper articles about her.

The court heard that in the days leading up to Cox's murder, Mair searched for Cox online and looked at her Twitter page, then her Wikipedia page.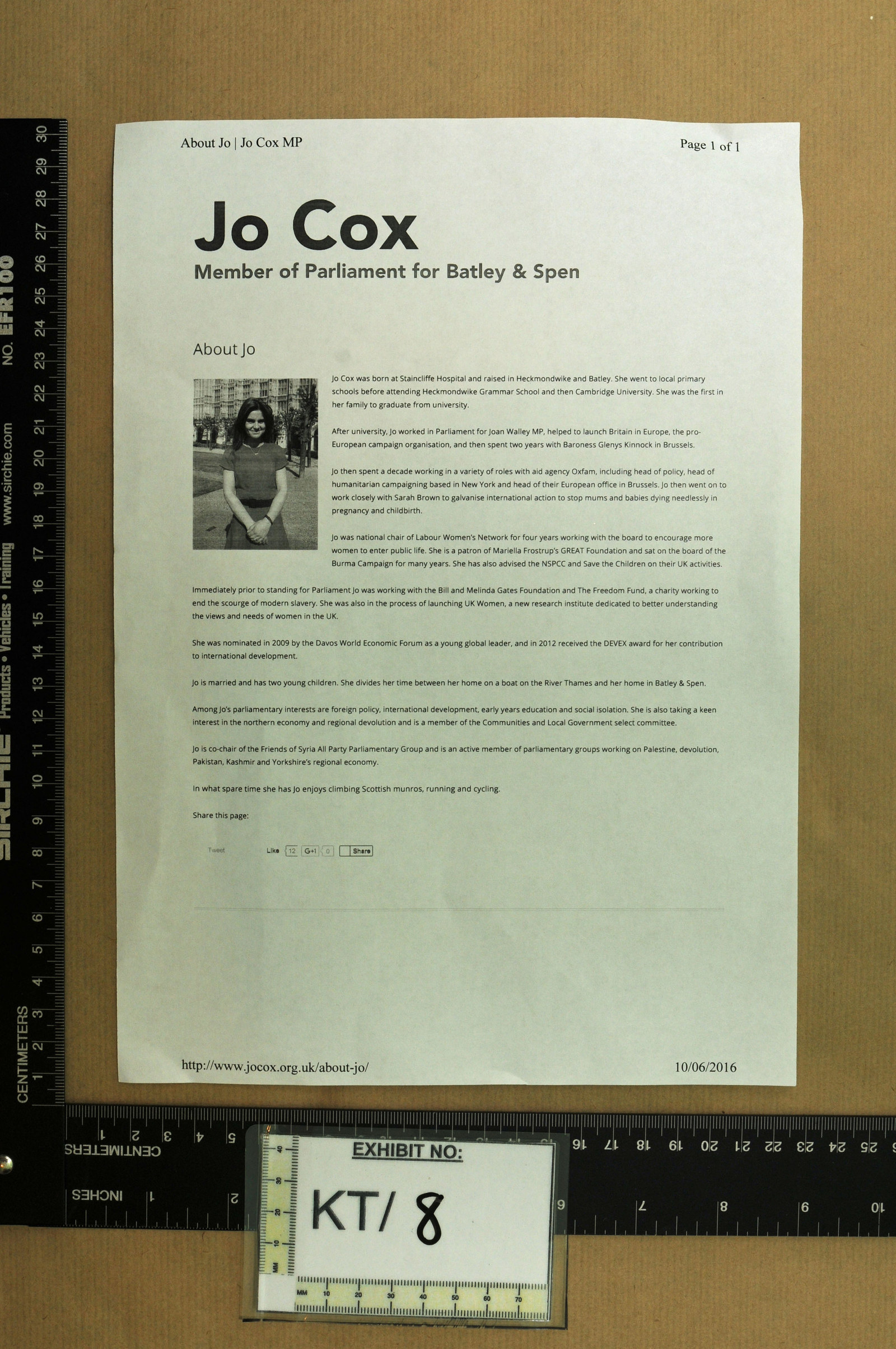 The jury were also shown a YouTube video that Mair watched of an American man shooting a .22 sawn-off shotgun in a field.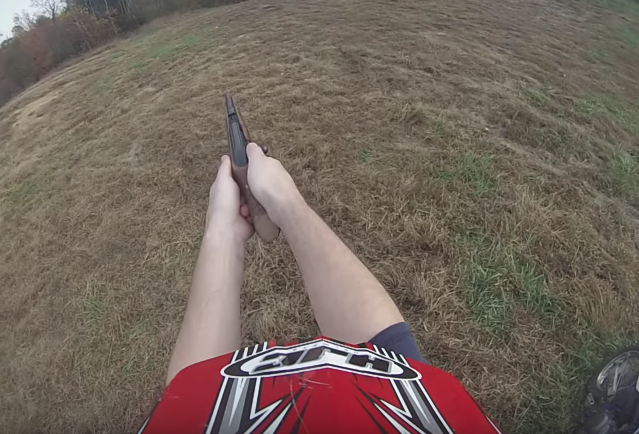 After Cox's death, Brendan Cox paid tribute to her. "Jo believed in a better world and she fought for it every day of her life with an energy, and a zest for life that would exhaust most people," he said.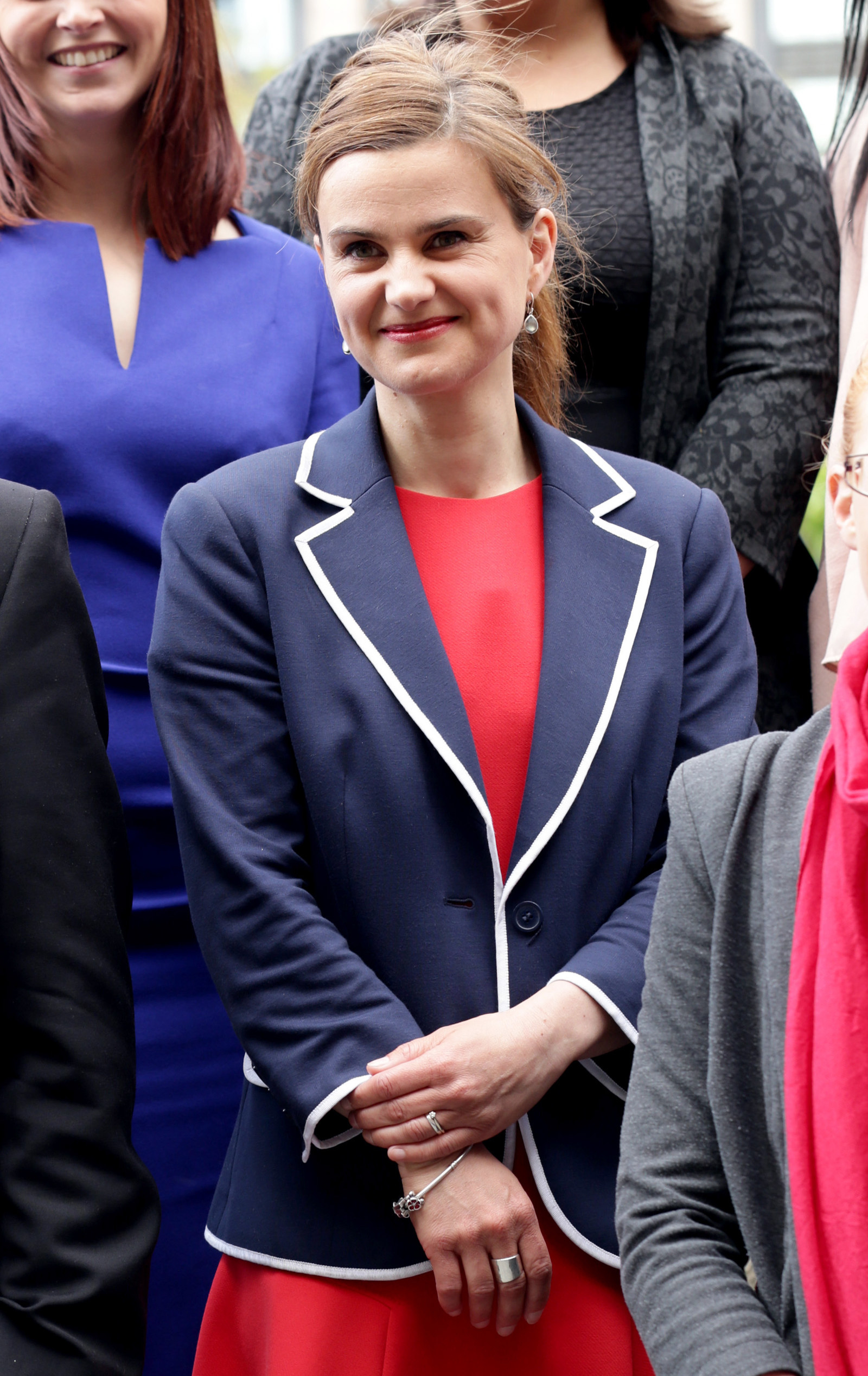 In a statement read out in court, Labour MP Stephen Kinnock, a close friend of Cox, said her priority was the poor and dispossessed, and that the mother of two had no interest in party political point scoring.