Everyone wants their wedding photos to be perfect – but this couple came out with the most unique and lovely picture when things didn't quite go according to plan.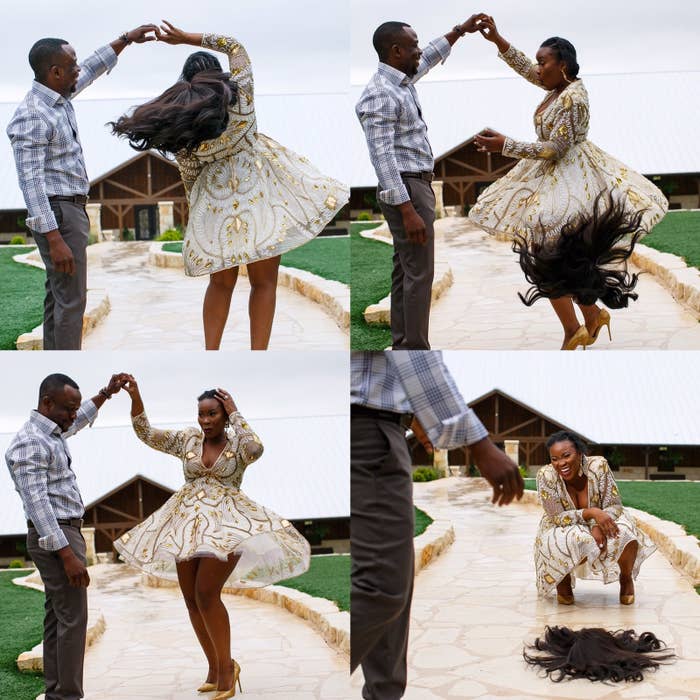 Jessica Chinyelu, the founder of a nonprofit agency called Woman of Purpose, posted the photo on her Instagram account on Sunday with the caption: "It was such a fun time especially when my wig fell off trying to capture the perfect shot.
"We laughed and my boo just picked up my wig like nothing ever happened and we kept it moving. Can't wait to say I do to this man."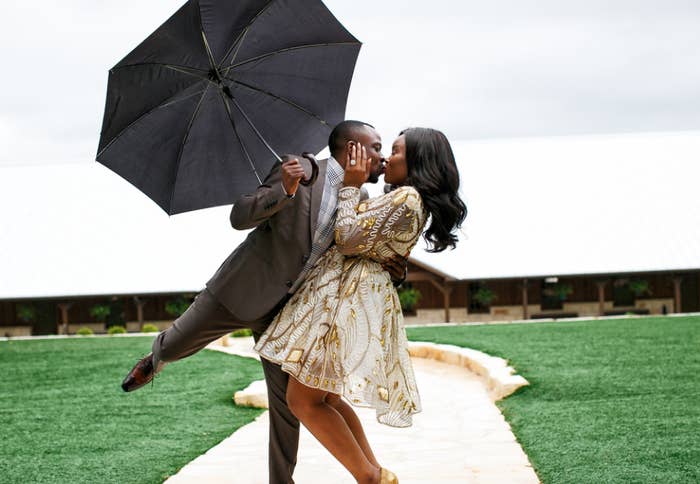 But Chinyelu, from Dallas, Texas, had no idea that her photo had gone viral until BuzzFeed News approached her on Thursday afternoon.
She said that the special moment left everyone, including the photographer, crying with laughter.
"We all died laughing," she said. "We laughed so much that we had to sit down and take a break."
Chinyelu met her fiancé, Hilary Anibowei, from Nigeria, in a nightclub on New Year's Eve 2009.
"The very first thing he said to me was 'my wife'," she said. "He then proposed to me in [September] last year," she added.
The couple were having their pre-wedding shots taken last week ahead of their big day on 3 December.
And obviously she said yes.
She said her fiancé is described as "the most loving man" by all her friends, and even more so after the wig incident.
But he doesn't really get what all the fuss is about. "He just tells me: 'Babe, I've always wanted to laugh with my wife,'" she said.
Chinyelu said that the reaction to the photo has been "extremely positive", and people have even thanked her for being so "transparent and authentic".
The photo has since been shared over 11,000 times on one Facebook bridal page, and hundreds of times on Twitter. People seem to really love the "perfect shot".
Some people have said the photo might have been staged, but Chinyelu said it was most definitely not. "When you look at the type of things that people post on Instagram it's always perfect," she said.
"But sometimes when you get lost in the moment and be free you can still have perfection. Even with your wig falling off."