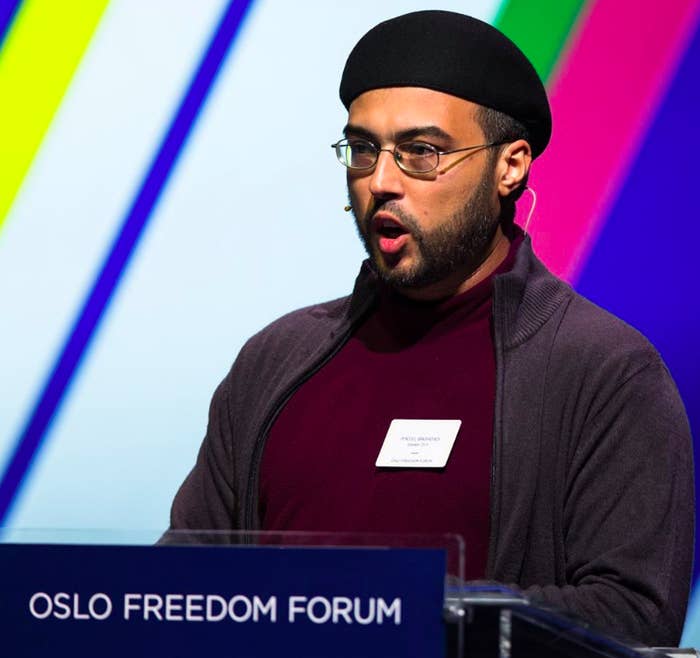 An Arab Spring activist has been forced to cancel university speaking appearances in the UK about efforts to silence free expression in the Gulf because his visa application was flagged as "complex" and delayed.
Iyad el-Baghdadi, who was raised in the United Arab Emirates and is now a political refugee in Norway, had been due to speak at the London School of Economics and Oxford University about free expression in the Gulf. He was also due to appear at an event organised by the student union at SOAS about the "indigenisation of liberty", which has been now cancelled as a result of his visa delay.
On Twitter, Baghdadi, who rose to prominence for creating the hashtag #ArabTyrantManual during the uprisings in 2011, said it was not clear why his case was flagged as complex and referred for further examination.
He said he believes the delay was likely to be related to an incident in 2014, in which he was arrested, detained, and then offered two choices by the UAE government – indefinite imprisonment or immediate deportation from the UAE.
At the time, news outlets reported that he was deported due to his online activism and outspokenness against repression and leadership in the region. Baghdadi said he was never formally charged with any crime or given an explanation. He was eventually granted political asylum in Norway in 2015.
Nicholas McGeehan, a senior researcher at the charity Human Rights Watch who organised the LSE and Oxford events, told BuzzFeed News that he had provided Baghdadi with a formal invitation, which was then submitted with his UK visa application.
A few days before Baghdadi was supposed to travel to the UK he contacted the British embassy in Oslo to find out the reason for the delay.
Although the visa hasn't yet been refused, McGeehan said he'd be extremely disappointed if it is. "Iyad is an articulate and thoughtful writer and activist and staff and faculty at UK universities will benefit from hearing what he has to say," he said.

"It would be deeply troubling if the delay related to intelligence from the government of the UAE, which deported Iyad from the country when his wife was seven months pregnant, simply because they didn't like the anti-authoritarian nature of his tweets."
BuzzFeed News understands that straightforward non-settlement visa applications are usually granted within 15 working days. In this case Baghdadi was notified that his application would take longer than this.

The Home Office declined to comment on Baghdadi's visa delay on the basis that it does not "routinely comment on individual cases".