The New NUS President Wants More Women And Single Parents In Leadership Roles
Shakira Martin told BuzzFeed News she wants to see an increase in women in leadership, single parents in jobs, and black and minority ethnic attainment.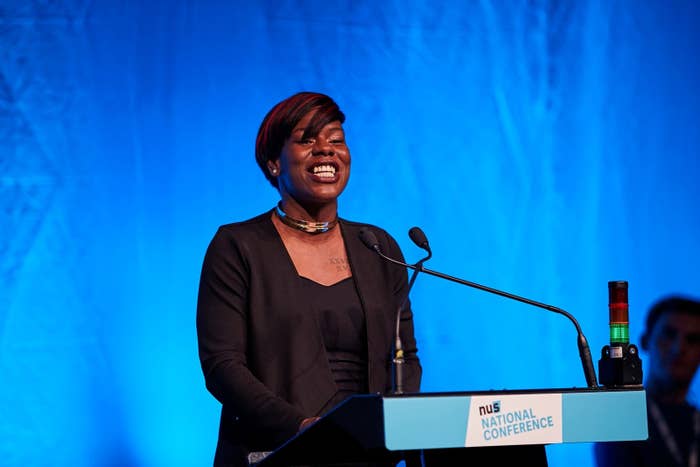 On Wednesday afternoon Shakira Martin discovered she had won the NUS National Conference presidential election, with 56% of the vote in the first round. Shortly after the news was announced she told BuzzFeed News she was still struggling to digest the news, mostly because she believes she's not a "traditional" candidate for this position.
"People like me don't normally get positions like this," she said. "I'm not the traditional type of student leader – I don't talk how traditional leaders do, I don't look how traditional ones do.
"I haven't even had time to make this soak in. I ran as Shakira to lead the movement ... through this position as the national president, [but] it's only since getting elected that I'm really understanding what that means."

During her campaign Martin, 28, who is also the vice president for further education, positioned herself as a centrist candidate. She focused on the difference education and student unions can make to individuals' lives.
She shared examples from her own experience as a single, working-class mother who didn't go to university but entered further education to create new opportunities for herself and her two young children.
Martin said she is passionate about social mobility and understanding the class barriers that prevent different groups of people from achieving. She also wants encourage single parents and women who are reluctant to apply for managerial or supervisory positions, because they believe they don't have the necessary skills. "It's about using the skills that they have as a parent and [making them] transferable skills," she said.

Martin also told BuzzFeed News that she wants to use her position of power to lead a report on the impact of poverty on students, with a particular focus on students' and workers' rights. "I'm very excited to do a poverty commission, looking into the barriers that various students face across the country, working with trade unions to get students' and workers' rights for those in the gig economies like Uber and Deliveroo," she said.
In recent years there has been a lot of media focus on her identity as a single mother of two, a black woman from a working-class background, and someone who has openly admitted to being a drug courier in the past – and a candidate who once claimed to be more radical than Jeremy Corbyn.
However, following her recent victory she said she was keen to avoid media attention. "I don't actually want to take the media headlight as the as the national union's president," she said. "I want to give media attention to local student unions speaking about their great wins across the country."
Martin ran against two candidates. One was Tom Harwood – a politics student at Durham University who had previously lead the Students for Britain campaign during the EU referendum, encouraging students to vote for Brexit. She also ran against the current NUS president Malia Bouattia, who remains in post until 1 July. Bouattia, from Algeria, made history when she was elected as president last year – the victory made the 29-year-old the NUS's first female black Muslim president.
In a press release the NUS said this was the first time it has had two black women contesting the president election, which cements its position as being a bellwether for change in society. The NUS believes in the term "political blackness", which describes all people of colour as black regardless of their actual ethnicity, though there has been controversy around the use of the term as some have criticised it as an "unwise and outdated" conflation of the experiences of people of colour.
However, Martin said her identity is not what will make her a good president and leader.
"On one hand I'm really happy that it's going to be inspiring, but on the other hand I don't want in to be used as though we've reached this utopia," she said. "I'm nowhere near where I need to be ... until there' s an increase in women in leadership and single parents in jobs and BME [black and minority ethnic] attainment."

One of her main priorities is to "install trust back into the national union", which many students, she said, find out of touch with real-life issues. "The work starts now. One thing I really need to do, from speaking to students, a lot of students have felt that the NUS is completely out of touch and disengaged with students on the ground."

Martin describes herself as pragmatic and says she wants to put people before politics. "I have a lot of energy, I want to bring a lot of fun energy and fire to students unions and campuses across the country ... but I'm a straight-talking person, I'm going to say it how it is – articulate the messages from the students to heart of the government and giving them a real-life perspective of what is going on."