Kehinde Andrews, associate professor in sociology at Birmingham City University, has never had a school teacher or university lecturer who looks like him. "I've never been taught, ever, at any level – at school or university – by anyone that wasn't white," he told BuzzFeed News.

Statistics show this is not an isolated experience, and Andrews – who is leading Europe's first undergraduate degree in black studies at Birmingham this year – believes the lack of diversity among teaching staff is one of the reasons why there is a high dropout rate for minorities, particularly black students.
Students of colour are much less likely than their white counterparts to be awarded a first or a 2:1 at university, regardless of how well they did in their education beforehand, as this graph shows.

Tom Phillips & Chris Applegate / BuzzFeed News
Student-led campaigns across the country have attempted to make universities more inclusive in recent years. In 2015 students at the University of Oxford formed the Rhodes Must Fall group to call for the removal of a statue at Oriel College of Cecil Rhodes, who was a key figure in the history of the British Empire. At the time campaigners said they wanted to start a critical conversation on "the institution's implication in colonialism and the violence that accompanied it".
But the statue didn't come down, despite several protests from students who believed the monument represented the university's "imperial blind spot".
And radical reported plans to replace portraits of a London university's white founders with more diverse, current scholars are not happening at all, BuzzFeed News can reveal.
Early this year, the Telegraph reported that King's College London was planning to relocate portraits of Henry Maudsley and Sir Frederick Mott to less prominent positions and replace them with pictures of BME scholars in order to make the institution less "intimidating" for ethnic minorities.
Reports said that "pressure from students" led to proposals being unveiled by Professor Patrick Leman, executive dean of the Institute of Psychiatry, Psychology and Neuroscience. Leman was quoted saying the faculty should not be filled with just "busts of 1920s bearded men".
But when BuzzFeed News approached the university for an update, a spokesperson said that a new professor, Ian Everall, had taken over the role as dean and that there were "no plans to move or remove its Deans' Gallery of painted portraits or the busts of its founders".
The King's spokesperson denied that a U-turn had been made, saying that the former dean's comments were "taken out of context" by a journalist and that there were never any plans. BuzzFeed News has contacted Leman for comment several times, but has not received a response.
In a statement, Everall told BuzzFeed News that the institution is proud of its history and recognises the contribution of its founders and the eminent scientists "who have made it the world-class institution it is today". But he added: "It is important however that we celebrate our diverse and international community alongside our history," saying that the university has held a photo exhibition of female professors, which will now be positioned around the campus, and that it is considering another provisionally called Portraits of a Global Diverse Institute.
Meanwhile, Rhodes Must Fall itself is becoming less active, its campaigners told BuzzFeed News. Though there are projects in the pipeline, and a book about the campaign being worked on, "things have calmed down a little bit", said Femi Nylander, who was a student campaigner but has now graduated. "A lot of people who were involved in the campaign have graduated and so it's hard to keep it alive when you're not there," he said.

But the legacy of Rhodes Must Fall has ignited a fresh wave of campaigning. A new generation of students are attempting to effect change, moving away from questioning paintings and statues to directly challenge the "whiteness" of Eurocentric curriculums. The "Why Is My Curriculum White?" campaign – founded at University College London and now led by the National Union of Students (NUS) – has spread around the country.
Ilyas Nagdee, an NUS officer who represents 1 million students from black and minority ethnic backgrounds, told BuzzFeed News that these campaigns were born out of the frustration of students of colour who have not seen their history reflected in their textbooks. But the issue, he said, starts as far back as primary and secondary schools.

"Black children are taught about the slave trade and then skip through to Martin Luther King. South Asian children learn about the Indian subcontinent under British rule as if India did not exist before the British subjugated it," Nagdee said. "The whitewashing of history is then exacerbated at university not only in the content of courses but within the spaces of learning."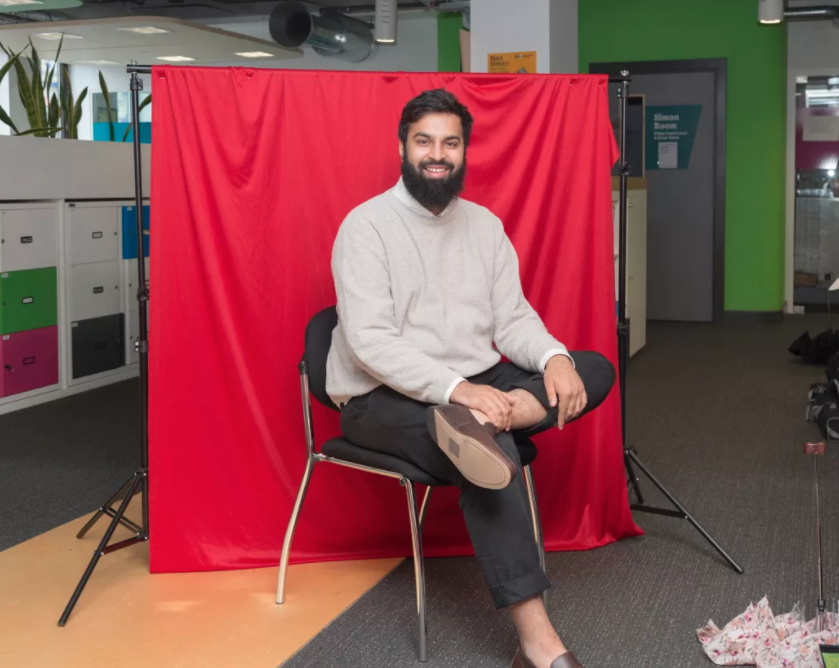 This is why the NUS Black Students' Campaign will continue to work on "liberating the curriculum and tackling the attainment gap which exposes the institutional racism at play in higher education," he said.

"With Rhodes at Oxford, Wills glorified at Bristol, Queen Victoria at Royal Holloway, and Churchill at Cambridge, remnants of Britain's imperial past continue to be celebrated without any context or challenge from the institutions which are meant to be Britain's centres of critical thought," Nagdee added.
Azza Abdulla, the education officer at Leicester Students' Union, will leading LiberatED, a campaign launching in November that advocates curriculum change. "We have a very diverse student population in a very diverse city," she told BuzzFeed News, "but the curriculum is not really representative [of that]."
As well as pushing for more women and people from BME backgrounds to be represented among staff, Abdulla is commissioning research into course content and reading lists to ensure they're not Eurocentric or male-dominated. She is keen to improve equality and diversity training for academics.
"At the moment diversity and equality training, it is compulsory, but it's not as good as I'd like it to be. I'd like it to be more comprehensive in terms of the attainment gap and talking about these figures," she said.
There are also signs of activity at Royal Holloway in London. Under the Liberate Our Curriculum campaign, students are collecting feedback from their peers about how they feel about courses, with the results expected later this year. Members are also liaising with university staff, many of whom they said are keen to broaden conversation around diversity.
"A fantastic group of students rallied behind it to help me brainstorm how to proceed," student union president Natasha Barrett told BuzzFeed News. Academics were also "very receptive," she said.
She wants every student to feel represented by their curriculum. "We want to move away from only using additional modules that focus purely on certain demographics and embed diverse representation in our learning and teaching right from their very foundations," she said.
"I have seen similar campaigns across many other universities and would like to see ours stand in solidarity with their work."
Another recent movement, Decolonise Sussex, will get students and staff involved in reviewing the curriculum and teaching practices, holding talks about inequality, and connecting students to work and volunteering at social justice groups, according to its website. It cites research by Sussex's School of Global Studies showing that "our education system remains colonised ... because it prioritises the voices and practices of white men from western backgrounds and marginalises other voices and forms of knowledge. The curriculum and teaching practices at Sussex do not represent the diversity of the student body or the plurality of knowledge in our society."

BuzzFeed News contacted the campaign organisers, but a spokesperson said that they did not want to speak to journalists.

A spokesperson for the students' union at the University of Leeds told BuzzFeed News that it is also focused on introducing diversity into the curriculum, as well as tackling the BME attainment gap.
Students from ethnic minority backgrounds tend to do well at school and college level, said Kehinde Andrews, but the inequalities in education are much starker at university. The culture of universities, he added, marginalises people who are then more likely to drop out.
"There's a clear and long-standing attainment gap between white and non-white students. It depends on the course and the university but roughly 75% of white students will get a 2:1 or above and roughly 60% of non-white students will get a 2:1 and above. And there really isn't any other explanation for that disparity other than institutional racism," he said.

But not everyone thinks "decolonising" curriculums is a good idea. Education expert Joanna Williams, the former director of the Centre for the Study of Higher Education at the University of Kent, told BuzzFeed News that the movement is regressive.

"The content of the curriculum should always be under review. Ideas and theories that have been superseded should be replaced by new and better-quality works. What's important is the basis on which we make these judgments," she said.
"The campaign to decolonise the curriculum represents a rejection of Western scholarship and, more fundamentally, the academic principles that have traditionally underpinned it. Rather than judging the worth of scholarship based on closeness to truth or intellectual merit, the decolonise movement asks us to pass judgment on the basis of a thinker's nationality or ethnicity. This is entirely regressive for higher education and the pursuit of knowledge."
But Andrews, whose research focuses on race and racism, said the changes being pushed now were essential: "In terms of the curriculum I can personally attest to the Eurocentric curriculum – it's actually alienating. Basically, learning implicitly that you're inferior doesn't really do much for your self-esteem or your actual attainment."
"Even some of their key statistical tests that we use now are based on racial science," he said. "Universities basically produce this kind of knowledge that is hugely Eurocentric and it teaches that knowledge in schools not just here in the UK, but in schools in the Caribbean and in Asia – we still do that, that hasn't changed. We're completely complicit in all of this."

It is why Andrews has created the first black studies degree in the UK, which started in September. He says it's no surprise that 100% of its first intake of students are black, as it shows that there is a thirst for finding yourself in the curriculum.
He believes that the solution lies in changing the actual knowledge that universities are producing, and that the movement's previous focus on removing visual symbols like paintings didn't actually do much to change institutional racism. "Universities have made symbolic nods to change, but I don't think there's been much substantial change, from what I've seen," he said.
Problems exist even in universities with a diverse student body, he explained. "My university, staffing-wise it is still overwhelmingly white, but there is a diverse student body: It's about 50% ethnic minority. And there aren't busts of colonial murderers, you know, but you have the same exact problems that exist in my university as elsewhere.
"The way that knowledge works here is very much top down. What ever we teach at university is what then goes to schools and colleges. So if we don't think that people are getting a proper education in schools then it's probably the universities' fault. There has to be a complete overhaul of the curriculum and also a complete overhaul of what the purpose of university is."
CORRECTION
Azza Abdulla is commissioning research into course content and reading lists to ensure they're not Eurocentric. An earlier version of this article said she was undertaking this work herself.