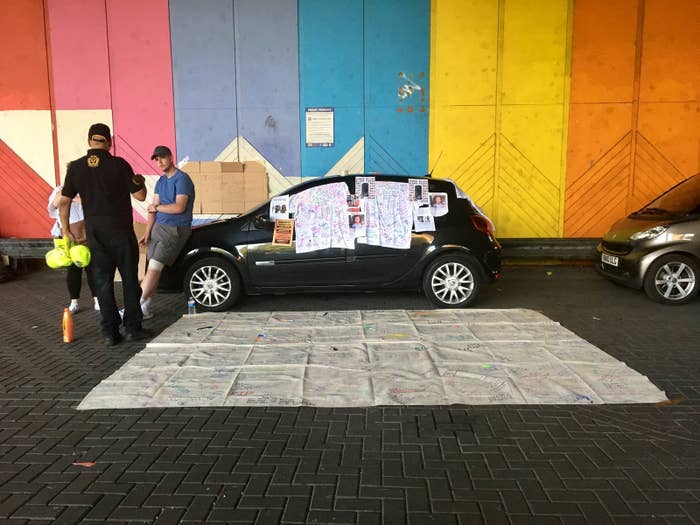 Crowds of people gathered outside Kensington Town Hall and marched down to Latimer Road demanding justice for the victims of the Grenfell Tower tragedy, which left at least 30 people dead. Many chanted "no justice, no peace" and "Tories out" as they marched through the borough.

On the road from Holland Park to Ladbroke Grove Brendan Henao, 24, who grew up in the west London area, told BuzzFeed News that the houses in the wealthier side of the borough needed to be made available for those who have been left homeless after the fire.

"There are so many houses in this area that are free, they're not being occupied. In my opinion, right now, just as Jeremy Corbyn said, if those houses are just going to be kept empty, they can be houses for people – parents, and children – all the people in need"," he said.
"We're marching because this is about everything. We want justice, as a community, as London, as a united kingdom," he added.

Another protester, Bahar Karimi, told BuzzFeed News that she was disappointed at the lack of support from the government, but proud of the community for coming together.

"I think it's despicable. We haven't heard anything from the government, we haven't heard anything from the council – people need to be [re-housed] and no-one is talking about that. Nobody is talking about the cladding that caused this fire to spread so rapidly," she said. "All the people donating, and giving to the community, are actually people that need help themselves – so their generosity is so amazing."
She also said that the recent general election results showed that young people are desperate for change. "I think the election showed that the younger generation are done with the Tory policies and it's time now for us to get some social justice," she said.
"There's too much of a gap for us to get some social justice. I think there is too much of a gap between the rich and the poor – Kensington is the perfect borough to show this difference.
"I've been following what's been happening because I used to work around this area. I think the government's response has been absolutely disgusting. They don't care because the people who lived in Grenfell Tower are mostly migrants, they're black, people of colour, and they are Muslim.

"I want to see justice... it's not just about social housing, it should be legal justice too. This protest is important because we need to be able to show that we're angry, but we also need to be smart about it to ensure that people are held accountable for this tragedy."

Local resident Hannah Wiggins, 20, was, along with her partner and friends, encouraging people in the community to write messages of love and support on t-shirts and a large piece of cloth.
Wiggins said that the whole idea was to give back to the community and lift people's spirits: "They're all going to be framed and hung up somewhere in the area," she said.

She said she was heartbroken by what had happened and hadn't eaten for three days. She also said that people in the neighbouring blocks of flats were too terrified to stay in their homes. They'd booked hotels to stay in instead, she said.
"People don't realise that this is no longer a home for anyone it's a graveyard, but people don't see it as that."