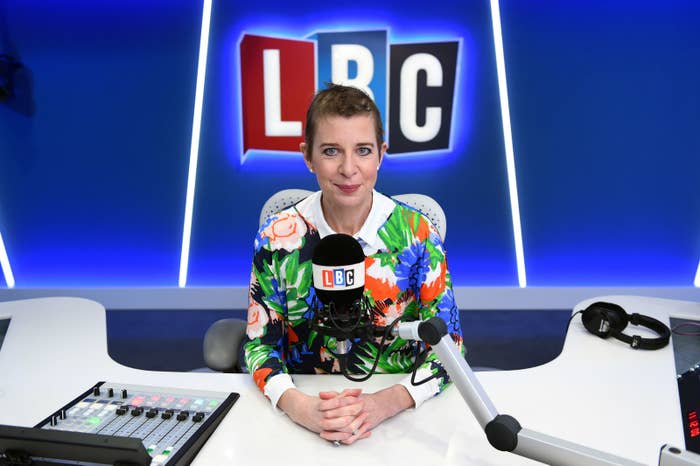 Katie Hopkins has left LBC "effective immediately", it was announced on Friday morning.
The radio station announced her departure in a tweet saying: "LBC and Katie Hopkins have agreed that Katie will leave LBC effective immediately."
When asked whether Hopkins was sacked or left by mutual agreement, an LBC spokesperson told BuzzFeed News "the statement is all we're saying."



The news comes after, in a now-deleted tweet, Hopkins called for a "final solution" in response to the Manchester attacks, which many people took to be a reference to Adolf Hitler and the Holocaust.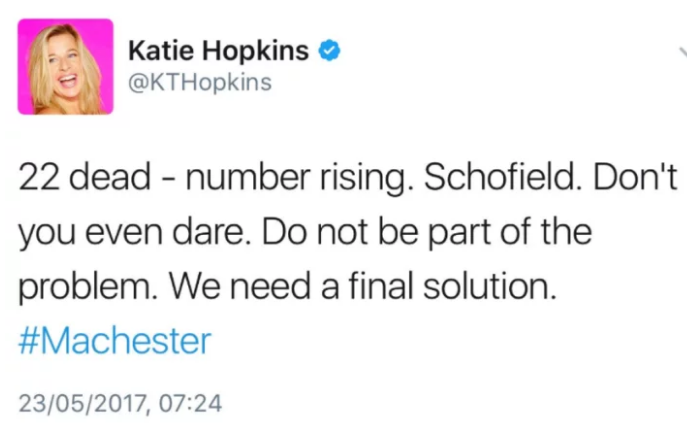 Some people reported her for being abusive and called on others to do the same. A Metropolitan police spokesperson confirmed earlier this week a complaint had been received: "As is routine, the allegation will be reviewed and assessed by specialist officers."

Hopkins, a former candidate on The Apprentice, first appeared as a guest presenter on LBC in 2015, and started presenting a regular Sunday morning show the following year.
Last year she was forced to issue an apology and MailOnline paid £150,000 in damages for defamatory claims made against a Muslim family in one of her articles.

In the article she branded the family of Mohammad Tariq Mahmood "liars" and said they deserved to be stopped from boarding their flight to the US for a holiday at Disneyland. She also falsely suggested they were extremists with links to al-Qaeda.

And in March this year the High Court ordered Hopkins to pay £24,000 in damages and £107,000 of costs because of two tweets that implied food writer Jack Monroe had defaced a war memorial, or condoned the damage.

The judge, Mr Justice Warby, said the tweets had "not only caused Monroe real and substantial stress, but also harm, to her reputation which was serious".
Hopkins made no mention of her LBC exit on Twitter on Friday morning.