The health secretary has urged junior doctors not to withdraw emergency care in their latest industrial action, which is due to begin on Tuesday.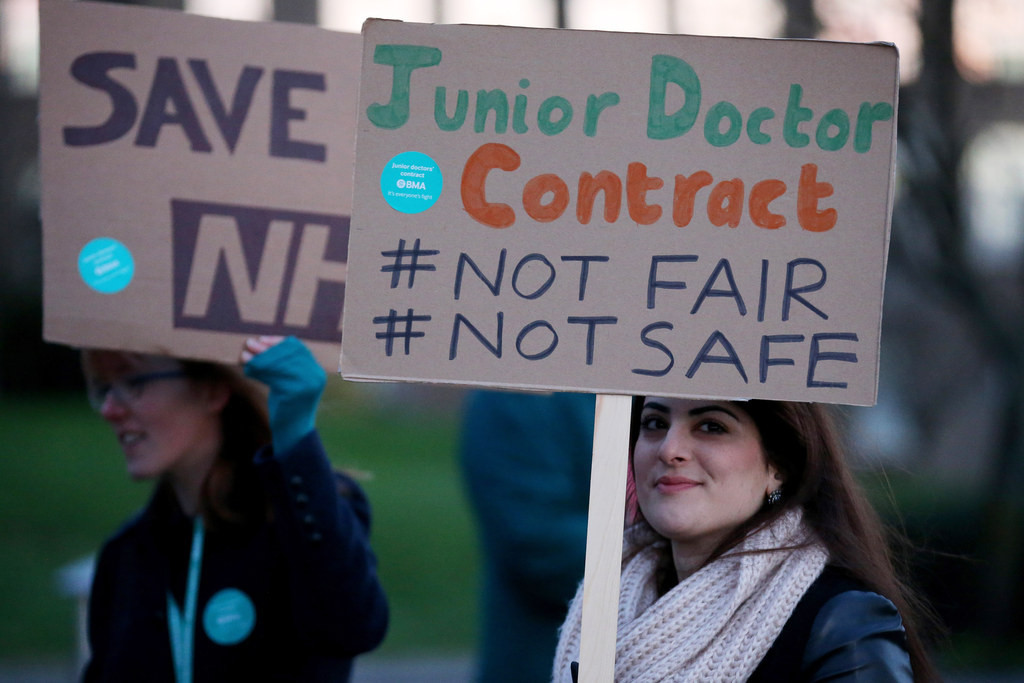 On the eve of a two-day walkout that will see junior doctors withholding emergency cover for the first time, and with the two sides still deadlocked, Jeremy Hunt made a last-ditch appeal to doctors during a statement in the House of Commons.
"This week the BMA has called on junior doctors to withdraw on emergency care for the first time ever. ... I wish to appeal directly to all junior doctors not to withdraw emergency care, which creates particular risks for A&E, maternity units, and intensive care units," Hunt told MPs.
He continued: "Taking strike action is a choice, and if they won't listen to the health secretary I would urge them to listen to some of the country's most experienced doctors, including Professor Sir Bruce Keogh, Professor Dame Sally Davies, [and] former labour health minister Lord Darzi, who have all urged doctors to consider the damage both to patients and the reputation of the medical profession that it will cause."
If the strike goes ahead it will be first time in NHS history that junior doctors – medics below the level of consultant – withhold all services during industrial action.
The walkout is planned to take place between 8am-5pm on Tuesday 26 and Wednesday 27 April. It is the latest action by junior doctors in a dispute with Hunt over the imposition of a new contract involving changes to their working hours and pay structure that they believe to be unsafe and unfair to doctors and patients.
The health secretary said the impact on the NHS over the next two days will be "unprecedented", with more than 110,000 outpatient appointments and 12,500 operations cancelled.
However, he said the NHS has made "exhaustive" preparations to ensure patients remain safe, including the launch of a designated strike page on the NHS website to provide as much information to the public as possible on local alternatives to hospital care.
In response to Hunt, Labour shadow health secretary Heidi Alexander called the strike one of saddest days in the history of the NHS. "But the saddest thing is that [Jeremy Hunt] could've prevented it. ... Even at this eleventh hour I urge him to find a way out," she said.
Junior doctors on Twitter also criticised Hunt for focusing on weekend pay in his statement, accusing him of failing to address their broader concerns.
BMA junior doctors committee chair Dr Johann Malawana said doctors "deeply regret" any disruption this action will cause to patients.
"By imposing a contract that junior doctors have no confidence in and refusing to re-enter talks with the BMA, the government has left us with no choice," he said.
He continued:

We want a contract that is fair for all junior doctors – not one of which the government has admitted will disadvantage women - and ensures that they feel valued and motivated so that the NHS can retain the GPs and hospital doctors of the future.

By pursuing its current course, the government risks alienating a generation of doctors. If it continues to ignore junior doctors' concerns, at a time when their morale is already at rock-bottom, doctors may vote with their feet which will clearly affect the long-term future of the NHS and the care it provides.

Responsibility for industrial action now lies entirely with the government. They must start listening and resume negotiations on a properly funded junior doctor's contract to protect the future of patient care and the NHS.
On Saturday, in a bid to avert the strike, Hunt admitted there were flaws in the new junior doctors contract. But he refused to reverse his decision to impose the new terms.
Speaking on BBC Radio 4's Today programme on Monday morning, the president of the Royal College of Surgeons said she would not take part in strike action if she were a junior doctor.
"I personally would not countenance a situation where I would be withdrawing my labour," Clare Marx said. "I know there are many doctors who are having great difficulty in justifying withdrawing labour from emergencies and undoubtedly those doctors will not walk out tomorrow.
"I would just urge the government and the BMA to get into talks together at this very last stage, to try to make a resolution by each of them recognising that the patients need to be cared for … and it is not about winning on either side. At the moment they are both losing."
Following the comments, one junior doctor announced on live television that he was resigning from his job.
He told BuzzFeed News he would now focus on campaigning for patient safety. "I don't feel like I'm leaving for good," he said. "I love being a doctor, I love looking after my patients, and I want to be able to offer them the best possible service in the NHS."