High Court Decides Uber's Ride-Hailing App Is Not Illegal
"This is great news for Londoners and a victory for common sense," Uber's regional manager said.
The high court today has ruled that the ride-booking company Uber can continue to operate in London and its app does not violate the law.
Black-cab and minicab drivers had argued that Uber's ride-hailing app service was illegal. They claimed that the Uber app – a service that measures distance travelled and calculates the cost of a journey – was being used as a meter, which can only be used by black-cab drivers. Private-hire vehicles are prohibited from being equipped with a taximeter.
In a statement Transport for London (TfL) said that they had brought Uber to court in order to clarify the "legal certainty in the matter". However, the statement added: "TfL's view has always been that smartphones are not taximeters".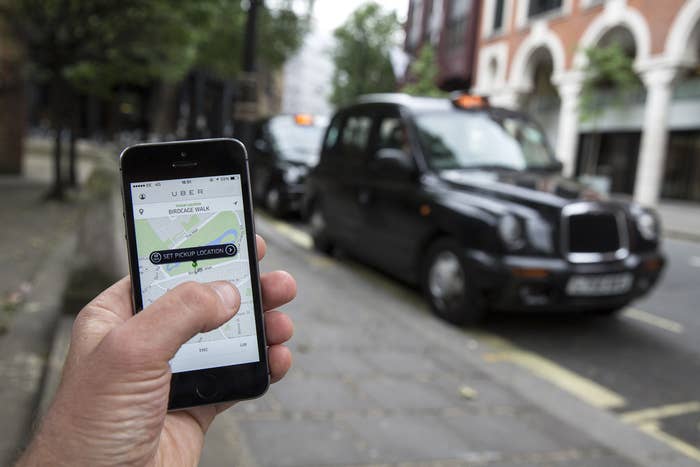 In a written judgment, Lord Justice Ouseley said that the app was not a device used for calculating fares in breach of the taximeter prohibition, and added that it was drivers, not their vehicles, who are "equipped" with smartphones.
In a statement to BuzzFeed News Jo Bertram, Uber's regional general manager for the UK, Ireland, and the Nordic countries, said: "This is great news for Londoners and a victory for common sense. Now the high court has ruled in favour of new technology."
In August The Guardian reported that Uber has roughly 15,000 drivers in London and is hoping to increase that number to 42,000 by March 2016.
Today's ruling is separate to TfL proposals currently under discussion that include making Uber drivers wait at least five minutes before picking up customers and putting a ban on ride-sharing.
"Compulsory five-minute waits and banning ride-sharing would be bad for riders and drivers. These plans make no sense," Bertram added. "That's why 130,000 people have already signed our petition against these proposals. We hope TfL will listen to Londoners and let Uber keep London moving."