Officials say they are planning to cover the remains of Grenfell Tower with a screen decorated by schoolchildren's artwork.
In an interview with the Sunday Times, Michael Lockwood, the site and remediation manager of the block in west London, said that local primary school pupils have been asked to create images that may "help them look up and smile".
Lockwood, who is also the chief executive of Harrow council, was drafted in by the government to help with the recovery operation. Last week he told a public residents meeting that it would take 18 weeks for the tower to be covered.

"We considered if this might look like the tragedy is being hidden, but people said 'We want it covered because it's so distressing.' It's what the community wants," he said.
"Many of them said it was upsetting looking up at the tower when they have lost friends in the fire... So I asked them if they would like to come up with paintings of what they would like to see on the building instead."
A spokesperson for the Grenfell Fire Response Team told BuzzFeed News that it was an idea discussed with pupils and parents, which they were keen on. However, nothing has been commissioned yet, and discussions with headteachers still need to take place.
Jackie Haynes lives next to the tower with her daughter and brother. She told BuzzFeed News that it's so distressing looking at the tower's scorched shell, she's avoided looking up at it ever since the tragedy two months ago.

"I can't look at it, I don't look at it, I function every day walking past it and not looking at it," she said. "When I go to the tube station I look in another direction because for me it's not just a tower – that tower has a whole lot of memories and it brings everything back when you look at it."
Haynes said covering the site with paintings would stop members of the public treating the charred remains of the tower like a circus, but nothing would be able to "cover over that hell".
"It works for the public, for other people, because then we're not such a stage show, such a circus, and it probably would be a lot better for locals because of the traumatic memories," she said.
"I think that building just has to go," she added. "Whatever they turn it into, it would still be a murder scene and the graveyards of those victims."

Paul Menacer, who escaped from the sixth floor of the building, told BuzzFeed News he was one of the many survivors who agreed with plans to cover the tower with images created by local schoolchildren. "We thought we can't keep looking at what we're looking at right now – a burnt building," he said.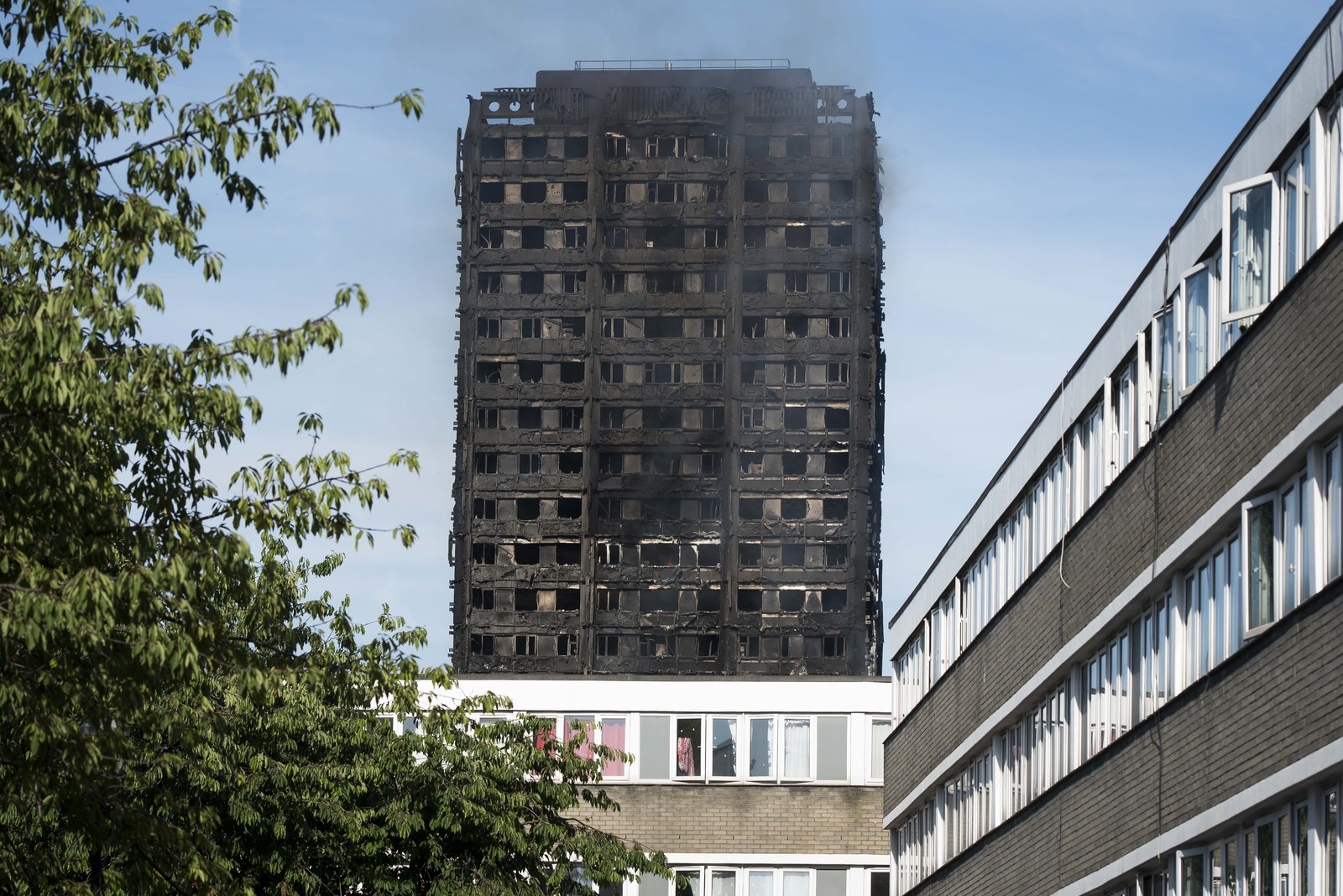 "The tower is about 20 times worse than what people see on TV. When you actually see it in person, people have actually told me firsthand that they can't believe how bad it actually looks," he added.

"You can see it from different parts of London. So for me it's time to just get it scaffolded up, get pictures on it, and let people think of good times of the building and not the bad times."

Menacer told BuzzFeed News that walking past the building reminds him of the tragedy, so covering the building in positive images will help to uplift the community.
"Every time we walk past it it's like a reminder about what's actually happened, so it's actually a good idea to cover the tower in paintings," he said. "Survivors have to put their hands on their face while they walk past it – they don't want to see it. It brings back nightmares and flashbacks. I's not good."
Menacer continued: "To me, that spot, regardless of what happens in the future, it will always be known as Grenfell. For me, it might bring a little bit of colour and good thoughts to some people looking at it, as opposed to just looking at a white forensic tent. When they look up at it, it might bring them good memories of the tower instead of bad memories."