In January, Paralympian Anne Wafula Strike was forced to wet herself on a CrossCountry train because the accessible toilet was out of order. A week later the BBC's security correspondent, Frank Gardner, was left stranded on a plane in his wheelchair after landing at London Gatwick airport, because the special assistance staff didn't turn up.
Their experiences became high-profile stories, but they aren't isolated. BuzzFeed News has spoken to disabled people who said that these were just glimpses into the reality of the daily problems they face because of impractical or poorly implemented policies or staff blunders.
New legislation means this year should mark a tipping point for disabled people's right to travel, and the 2010 Equality Act requires all travel providers to make reasonable adjustments so that disabled people can use their services. Yet despite this, campaigners claim that people continue to face experiences that are often arduous, confusing, and embarrassing.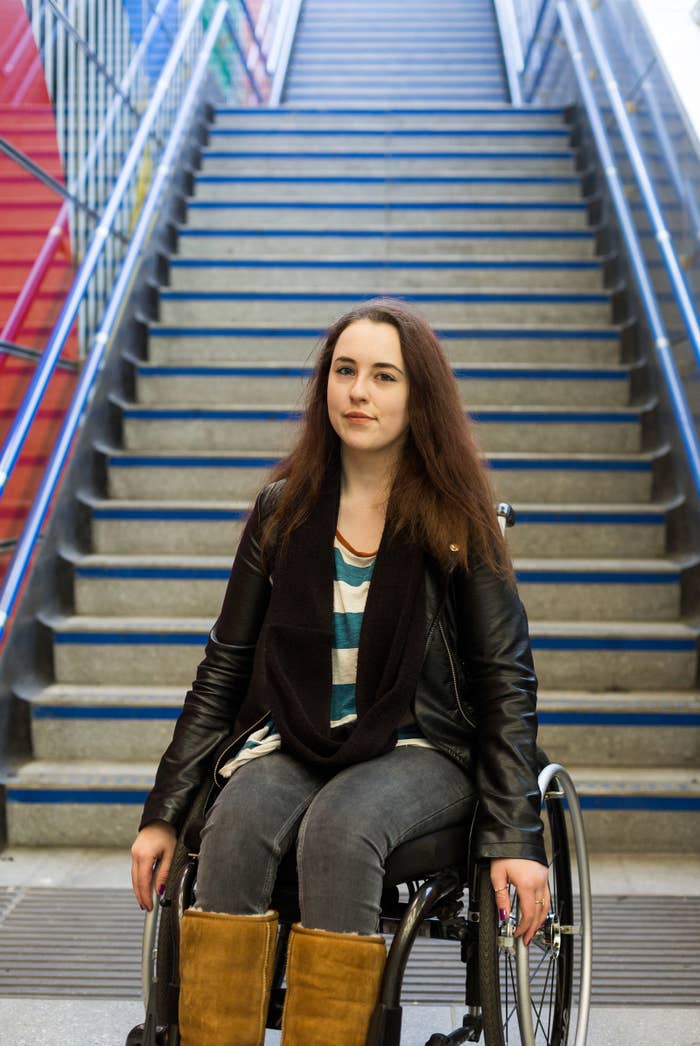 Layla Harding, 22, has lower-leg muscle weakness and so relies on crutches or a wheelchair to get around. After booking a holiday to Brussels in December with three friends, she was left upset and confused when Eurostar asked her to pay an additional £60 "luggage fee" to bring her wheelchair on board a train – the same as it would charge someone to bring a musical instrument or bicycle.
After booking via a package holiday website called Short Breaks, Harding, a postgraduate student, contacted Eurostar directly to let the train operator know she'd need to take her wheelchair. She would sit in a seat using her crutches, but would need her wheelchair at the other end. Harding was told that because her chair isn't one that folds up to fit in a luggage rack, she'd need to pay a luggage fee for it to go in the hold.
"I was really annoyed, and I thought it must've been an error," she told BuzzFeed News. "They called me back and told me that after looking into it, 'this is actually our policy', and that they would charge the same amount for bringing a bike on board or a musical instrument."
"I told them that this is a necessity, and it's not like I want to take my wheelchair with me, it's because I have to," she said. "It's not the same as a musical instrument; you can't really liken the two."
After a series of phone calls and emails with Eurostar and Short Breaks, Harding was told by Eurostar that she could avoid the fee if she sat in first class, where there were adapted spaces giving room for her wheelchair to travel in the cabin with her. But to do this, she'd have to pay for another seat in addition to the one she'd already booked. She'd also be separated from some of her friends – only one of the three could join her in first class and they too would have to pay for an additional seat.
"They said to get into first class I'd need to pay an upgrade fee, because that's the only place where there is a wheelchair space," she said. "I wanted to be with my party. I didn't want to pay an extra £60 for luggage, and I also didn't want to pay extra to be in first class, where I didn't particularly want to be."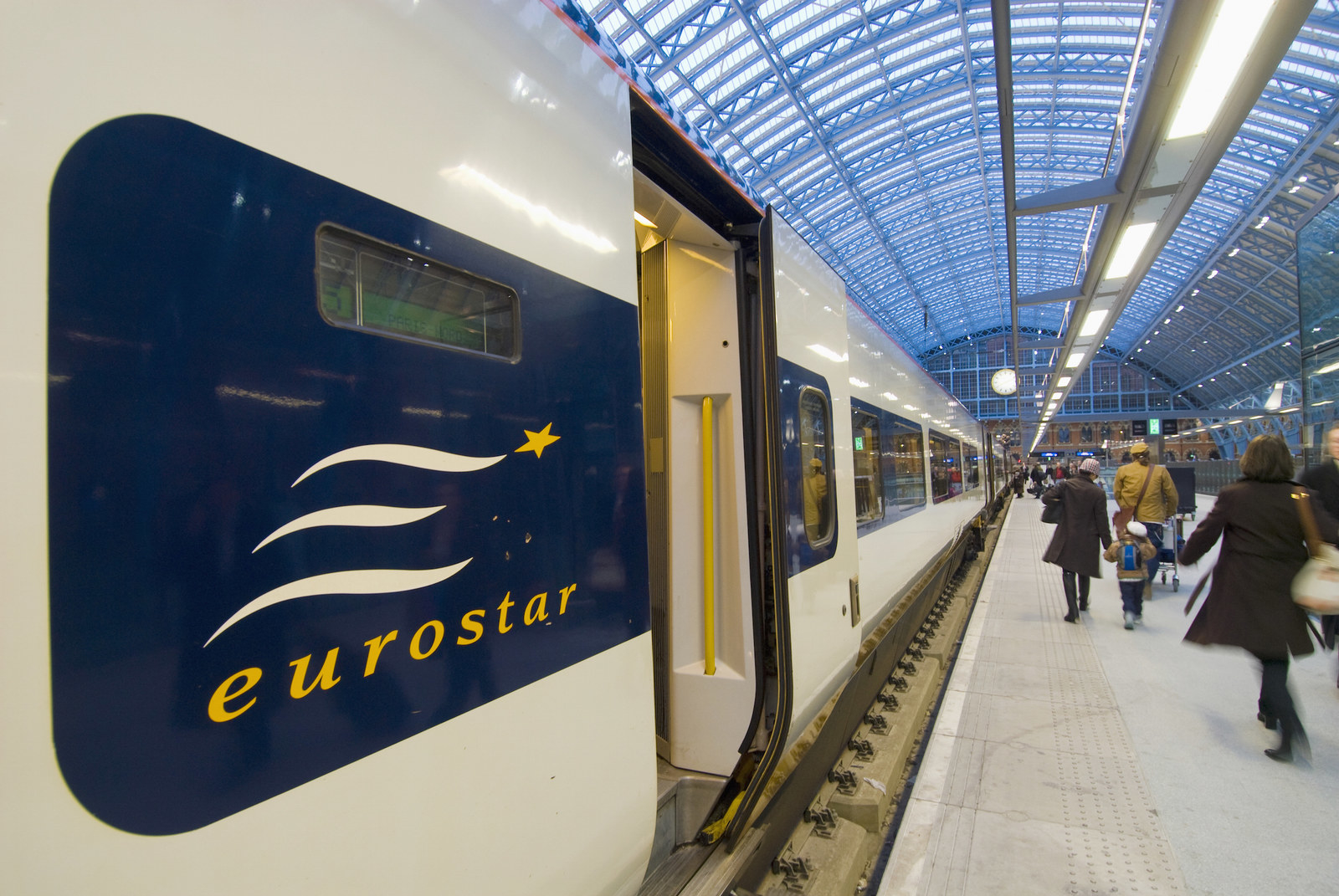 Eventually, Eurostar dropped both proposed fees, and Harding was able to travel in first class for no additional cost. A spokesperson for Eurostar told BuzzFeed News that Harding was given the wrong information by the staff she spoke to – neither fee should have been charged.

"If the wheelchair is too large to fit comfortably into the luggage racks, it will need to travel as registered luggage in the train hold. There is no cost for this service – it is exempt from our usual registered baggage fees – and this is what Ms Harding should have been advised by us," they added. Harding also should not have been asked to pay any first-class upgrade, the spokesperson confirmed, as wheelchair users can travel in first class with a companion for the minimum fee available on any train.
"We are very sorry for the frustration this caused during the booking process," the spokesperson said. "We will be speaking to the relevant teams at Eurostar, as a priority, to ensure they have the correct information regarding wheelchair passengers on board our trains." They also stressed that Eurostar has a dedicated special assistance programme for disabled passengers.
But for Harding, this was just another example of the exasperating lengths she has to go to simply to get from A to B.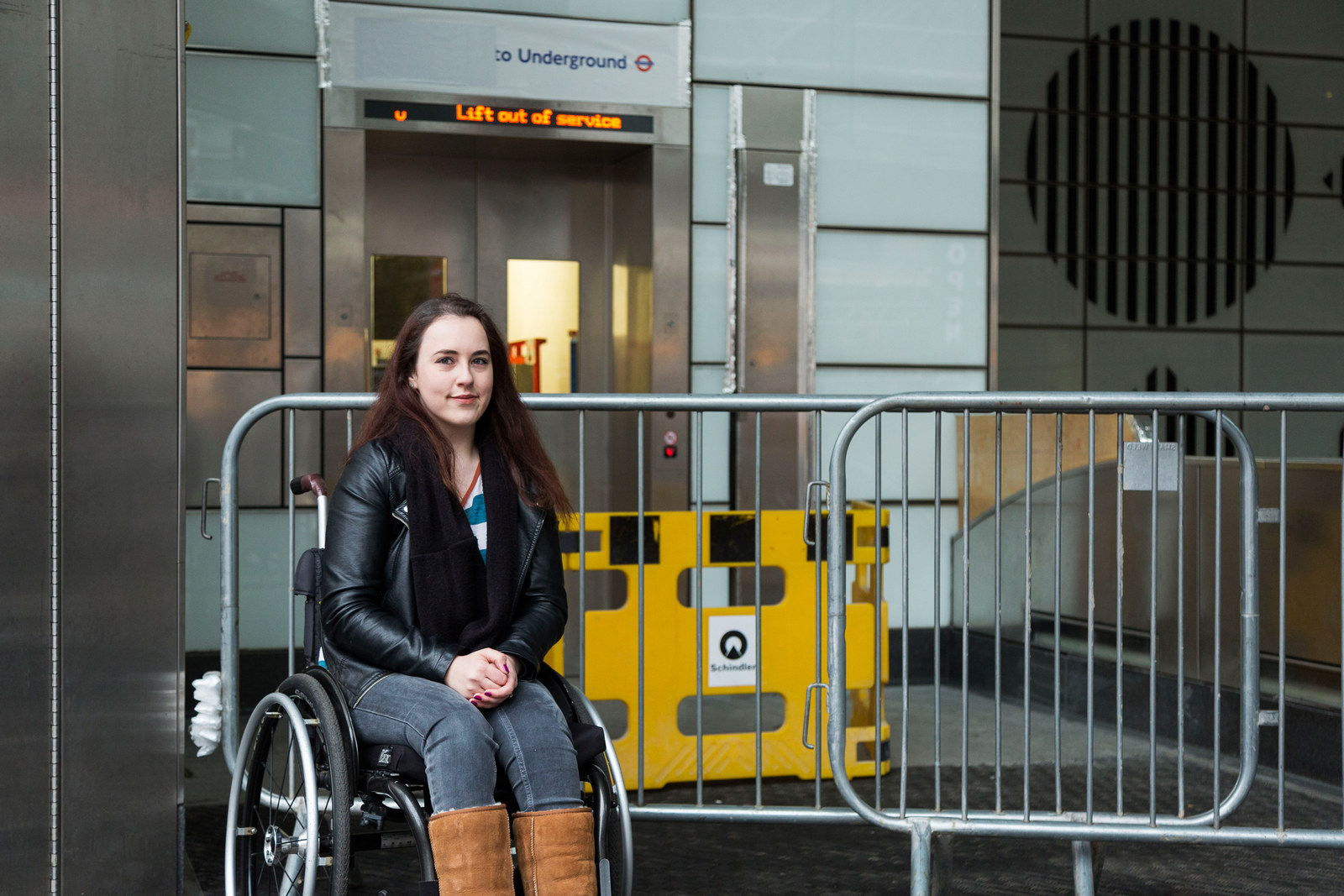 Like many 22-year-olds, Harding has an active life. Alongside working towards her master's degree in parenting and attachment at the University of Roehampton, she enjoys horse riding, swimming, and spending time with friends. She also volunteers for a variety of disability charities, including Scope and Muscular Dystrophy UK, where she is a keen campaigner for improving services for disabled people on public transport.
BuzzFeed News met Harding at Tottenham Court Road station in central London, one of many stations included in the government's multibillion-pound programme to modernise the capital's tube network. The Transport for London (TfL) website boasts about the installation of 80,000 ceramic tiles, two glass plaza entrances, and new "Art on the Underground" commissions, as well as accessibility improvements like new lifts to provide step-free access from street to platform, and contrasting handrails to help visually impaired passengers.
But the lift next to the escalators leading down to the station was sealed off. Above it, a bright orange sign in lights read "Lift out of service".
"How fitting," Harding said, in an unsurprised tone. She was starting a new job in London the following week, and situations like this were one of her biggest concerns.
As a member of staff at the station briskly walked past us, we asked whether there was another entrance with wheelchair access. "No wheelchair accessibility at this station," he said matter-of-factly, avoiding any eye contact, before going down the escalator and into the station.
It took two of us to carry Harding's wheelchair down the escalators, while she leant on the side of the escalator. Unintentionally, we were exposing a fundamental problem with accessibility at the station, and as we explored it to take pictures at its exits we noticed that the same member of staff kept appearing – walking around us without saying a word, and occupying himself by tugging the handles of locked doors. We suspected we were being watched. Around 10 minutes later these suspicions were confirmed when another member of staff in a suit approached and politely told us to stop taking photos. "My manager is really upset by it," he said. And so we left.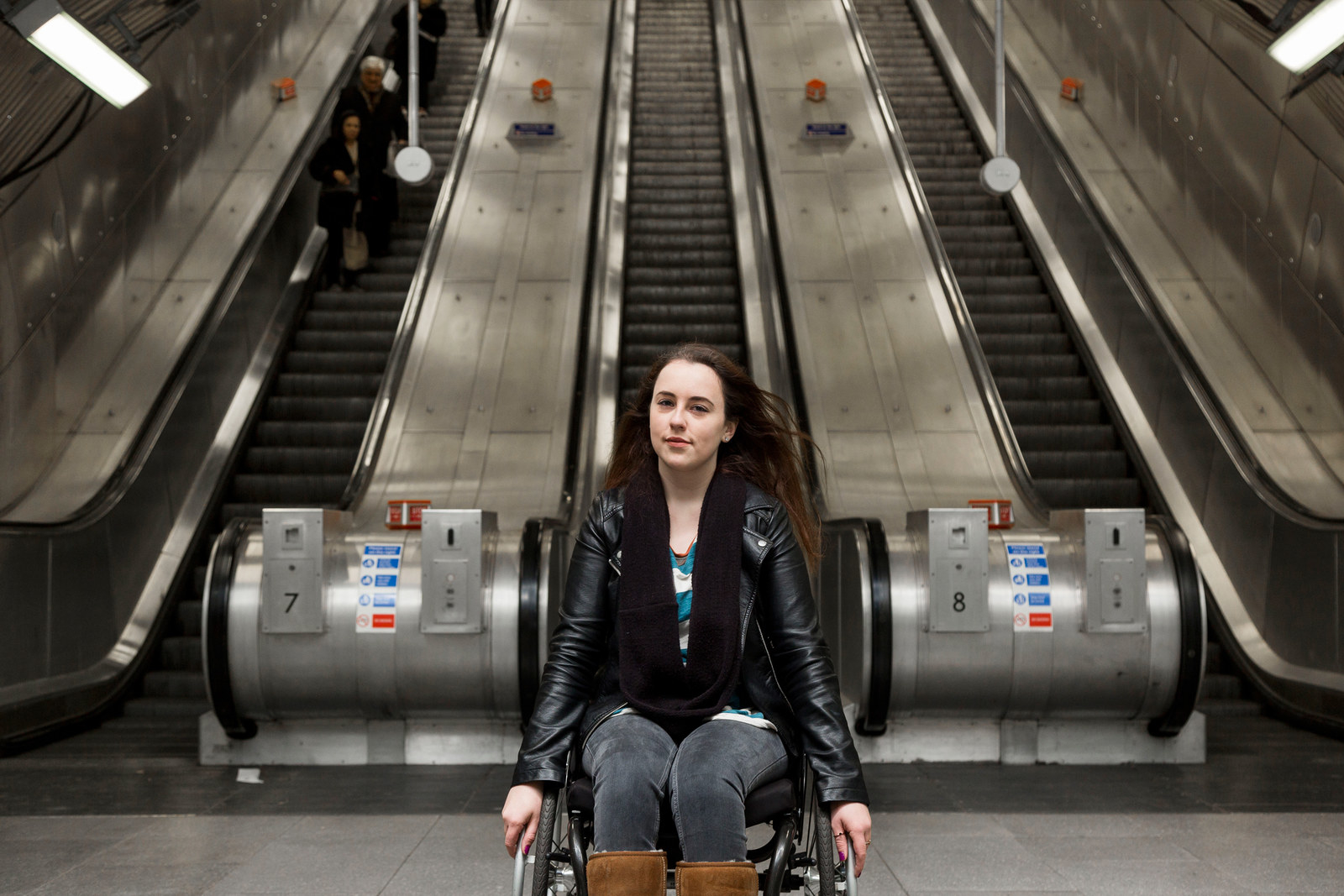 Later on, a spokesperson for TfL told BuzzFeed News that the new lift should start working sometime that month, but that staff at the station would need training on how to use it before it could be used by the public. Brian Woodhead, Operations Director for the Northern line, also said: "I'm very sorry. The actions of our employee appear to have fallen short of the high standards we expect and we are investigating what happened. Greater accessibility is a top priority which is why there are more staff available to customers in public areas than ever before, all trained to offer assistance."

Last year, Harding missed her stop on the District line – one of the busiest routes. For many Londoners, this might not seem like a big deal. But for Harding, the stop she had meant to get off at was the last one with a lift and wheelchair accessibility. Fortunately, a fellow passenger offered to carry the wheelchair up and down two flights of stairs at a later stop, so she could get to the correct platform.

Only 25% of TfL's underground network has some degree of step-free access – a figure which will rise to 40% in the next five years, TfL says – and charities such as Transport For All have been campaigning for improvements for several years. And these problems are not restricted to London. At the majority of train stations across the country disabled people are required to give at least 24 hours' notice of their journey. Failing to do so means there is no guarantee they can be helped on to a train by a member of staff, but sometimes even giving notice doesn't work, as Alexandra Haines has discovered.
Haines lives with what doctors have described as a rare form of dwarfism. The 28-year-old from Liverpool is reliant on public transport to get into the city centre at least twice a week.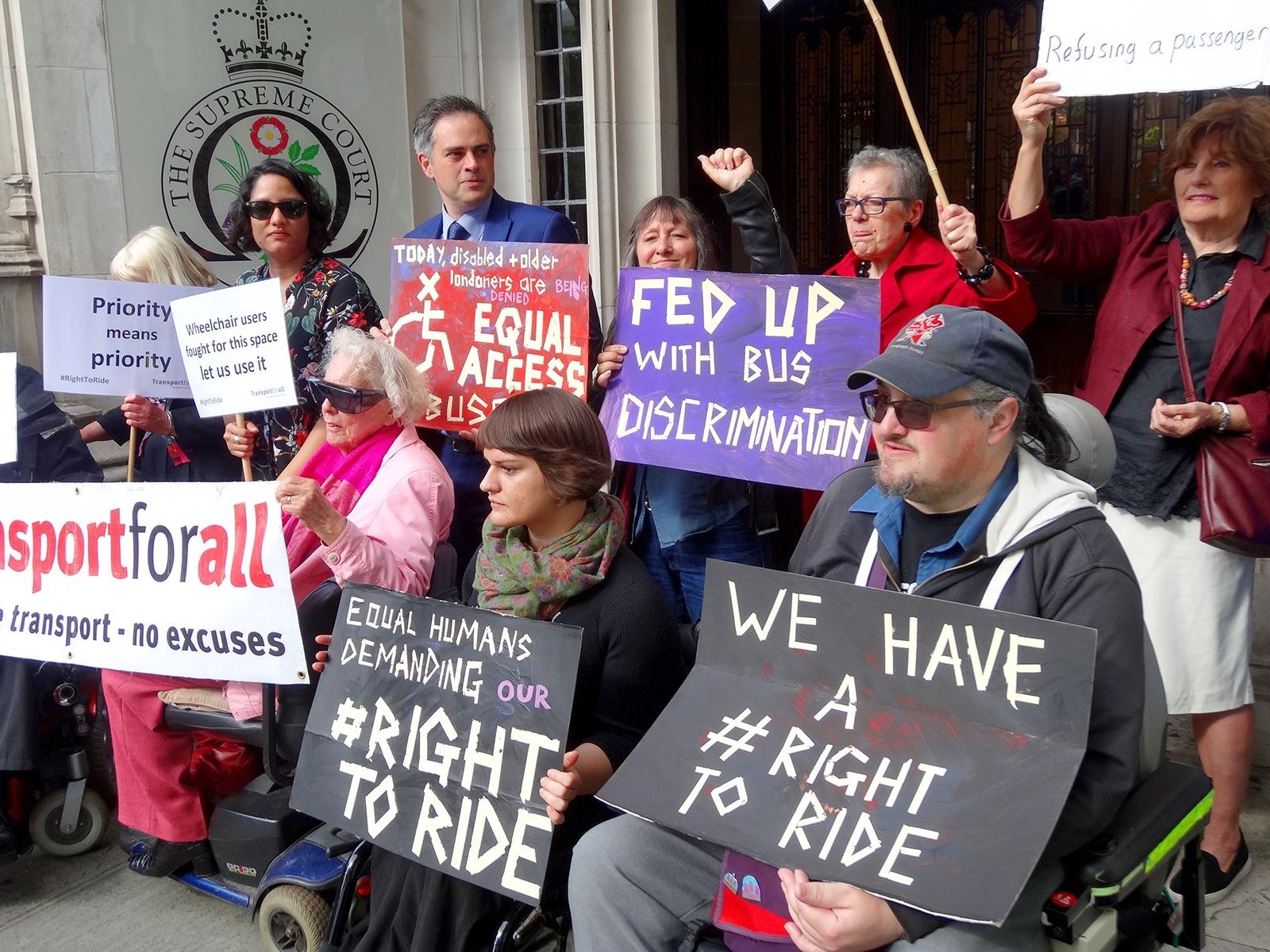 She said that over the Christmas holiday period, despite giving her local station, Seaforth, 24 hours' notice, Merseyrail said it still couldn't guarantee the right staff would be there to help. She also said that in previous years there have been several times when there was no staff member at the station who was trained to use the ramp that she needs to get on the train.
In those cases she had to get a taxi to a more accessible station, followed by a train. "A journey that would take most people two minutes would take me an hour," she said. "And every time this happened, it wouldn't just affect me – my carer would be held up with me, which would impact on her other clients too. I feel this whole process is utterly ridiculous." BuzzFeed News contacted Merseyrail for comment but hadn't heard back by the time of publication.
Haines' experience mirrors End of the Line – a recent report that found that disabled people face longer, more expensive, and far more stressful journeys than others.
Research from Scope found that just 21% of disabled people think the accessibility of public transport has improved over the last few years, yet many rely on public transport to travel.
"It doesn't have to be like this," said Nic Bungay, director of campaigns, care, and information at the charity Muscular Dystrophy UK. "The gold standard is a 'turn up and go' service, so wheelchair users can travel on trains just like everyone else. But this is very rare, and most companies still rely on wheelchair users to contact them the day before they travel.
"Even this process is inadequate and isn't working. We hear from too many people who, despite notifying the company, have been left stranded."

Holly Scott-Gardner, who is blind and uses a guide dog, travelled to Brussels on Eurostar in January.

She was with three other people, each with various impairments, and described the trip from London to Brussels as terrible. "The Eurostar has been really, really bad," she told BuzzFeed News.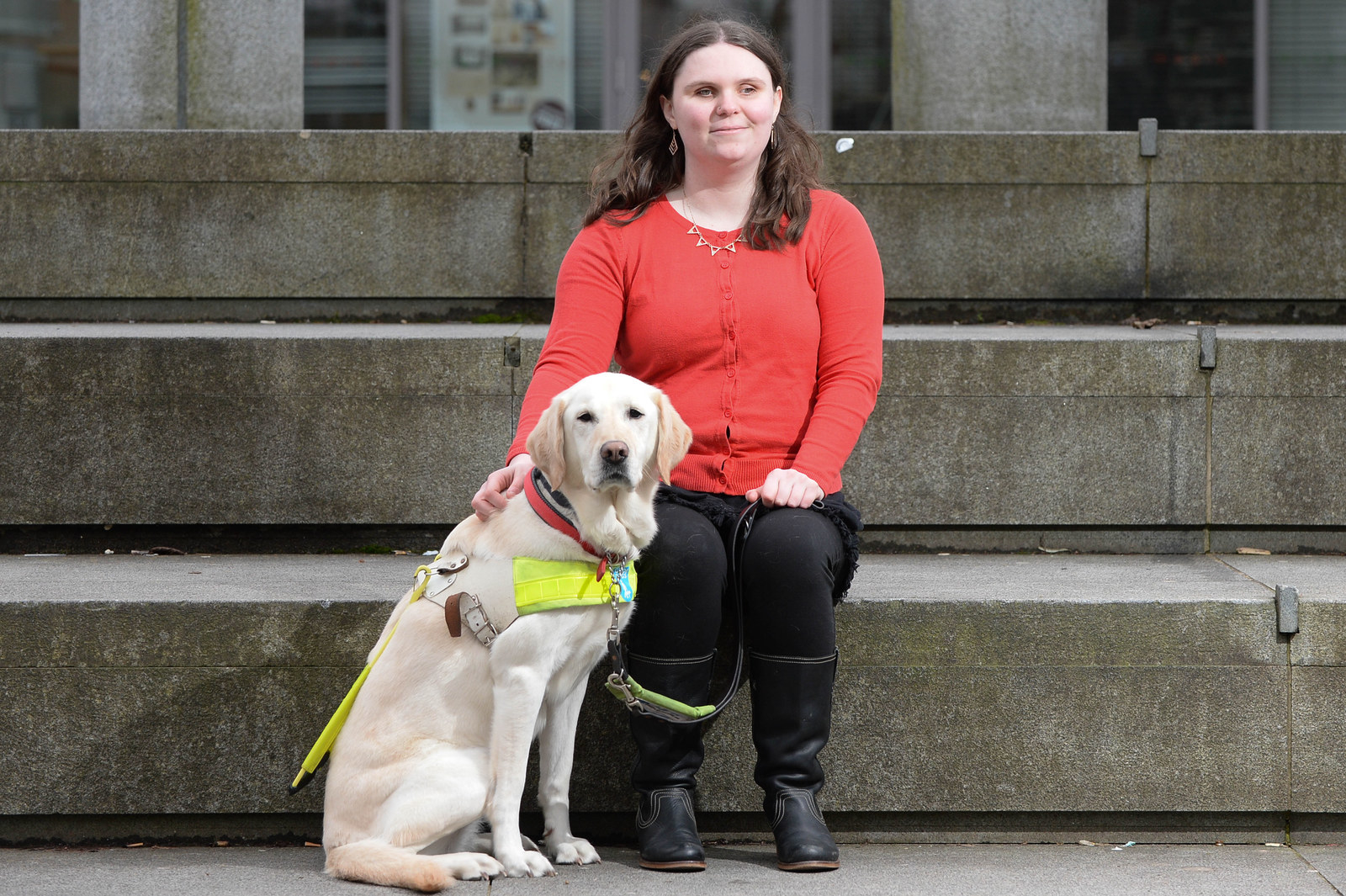 Scott-Gardner, who studies Spanish at Coventry University, claimed that despite knowing that she had a visual impairment, Eurostar staff refused to help her through security. "I put my hand out and told them, 'You're going to need to guide me through the scanner', but nobody would," she said. "I actually walked across the scanner, not through it. But I didn't know that until another member of my party, who could see, told me." After her bags were scanned she said that members of staff told her to "hurry up" and then simply looked on as all four friends struggled to collect their bags from the baggage carousel. "They kept telling us to hurry up and then they wouldn't help us," she said.
Another member of staff tried to make one of the people in her party take Scott-Gardner's guide dog while she collected her bags, she said. She asked them not to do this, but said they ignored her.
For Scott-Gardner, who is originally from York, this highlighted a lack of understanding about disability from people employed to help passengers. "It was like they didn't expect disabled people to be travelling," she said.
She told BuzzFeed News one of her main concerns is dismissive attitudes towards disabled people. "I think there is this attitude, certainly in the UK, that disabled people's time is less valuable. It's like 'Well, you can't be doing anything important' or 'You can't possibly be late for work,'" she said.
In a statement to BuzzFeed News a Eurostar spokesperson apologised for the inconvenience to Scott-Gardner's journey. "We would like to reassure her of the importance we place on looking after our customers, and will of course speak to the relevant teams at Eurostar," they said.
A Disability Rights UK spokesperson said that transport staff training to help people is "variable" but essential. "Some transport providers have provided training for their staff and it can make a vital difference to whether disabled people feel confident to travel," they said.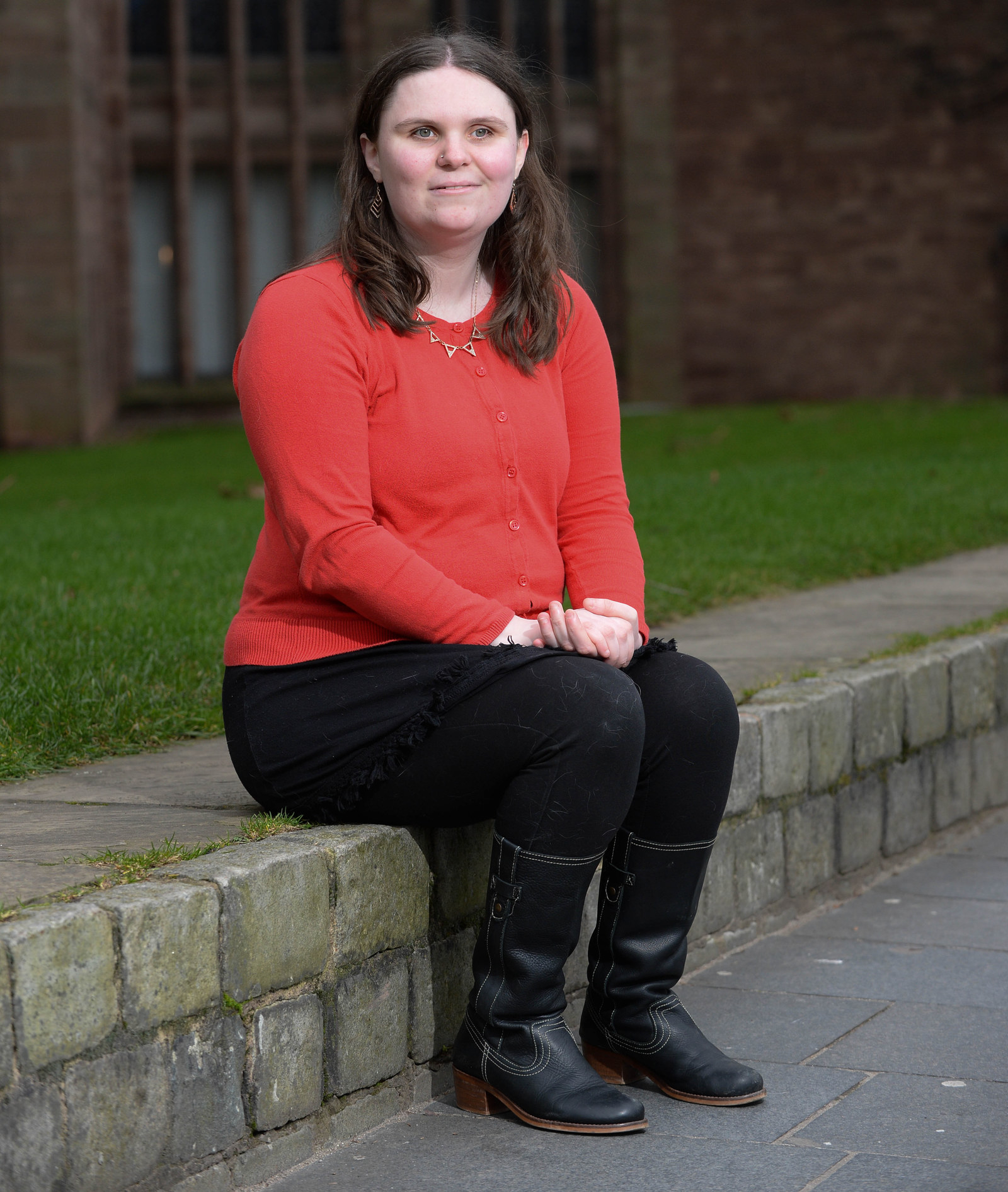 "It means – for instance – that transport staff know how to ensure someone with a learning difficulty gets the travel information they ask for in a form that works for them, or that a bus driver understands the obligation to be accessible in response to people's requests: simple things like not pulling away before someone with arthritis sits down, or facing someone who needs to lip-read, or being more confident to challenge someone who has put luggage in the space designed for a wheelchair user."
They called for there to be national requirements for staff at travel companies, including training delivered by disabled people for all bus drivers, and audio-visual information available on all trains and buses so people with visual or hearing impairments know where they are on the route.
The irony is that this empathy problem is easy to fix, said James Taylor, head of policy and public affairs at Scope: "A lack of understanding and attitudes towards disability by staff can be a huge barrier for anyone looking to travel on public transport, but it is an issue that is also relatively simple for transport providers to solve. Transport providers need to ensure that policies on additional charges and accessible facilities are clear and fair. These policies must not only be easily to access and understand on their websites or at stations but staff must also be fully aware of them and compliant."

After award-winning Paralympian Anne Wafula Strike revealed that she was forced to wet herself on a train, rail minister Paul Maynard made a pledge to ensure that an incident like this would never happen again.

Wafula Strike, who has an MBE for services to disability sport, told BuzzFeed News how she covered her face with a hoodie after the incident, afraid that someone might recognise her. She said it was humiliating but that she was pleased that she decided to tell her story.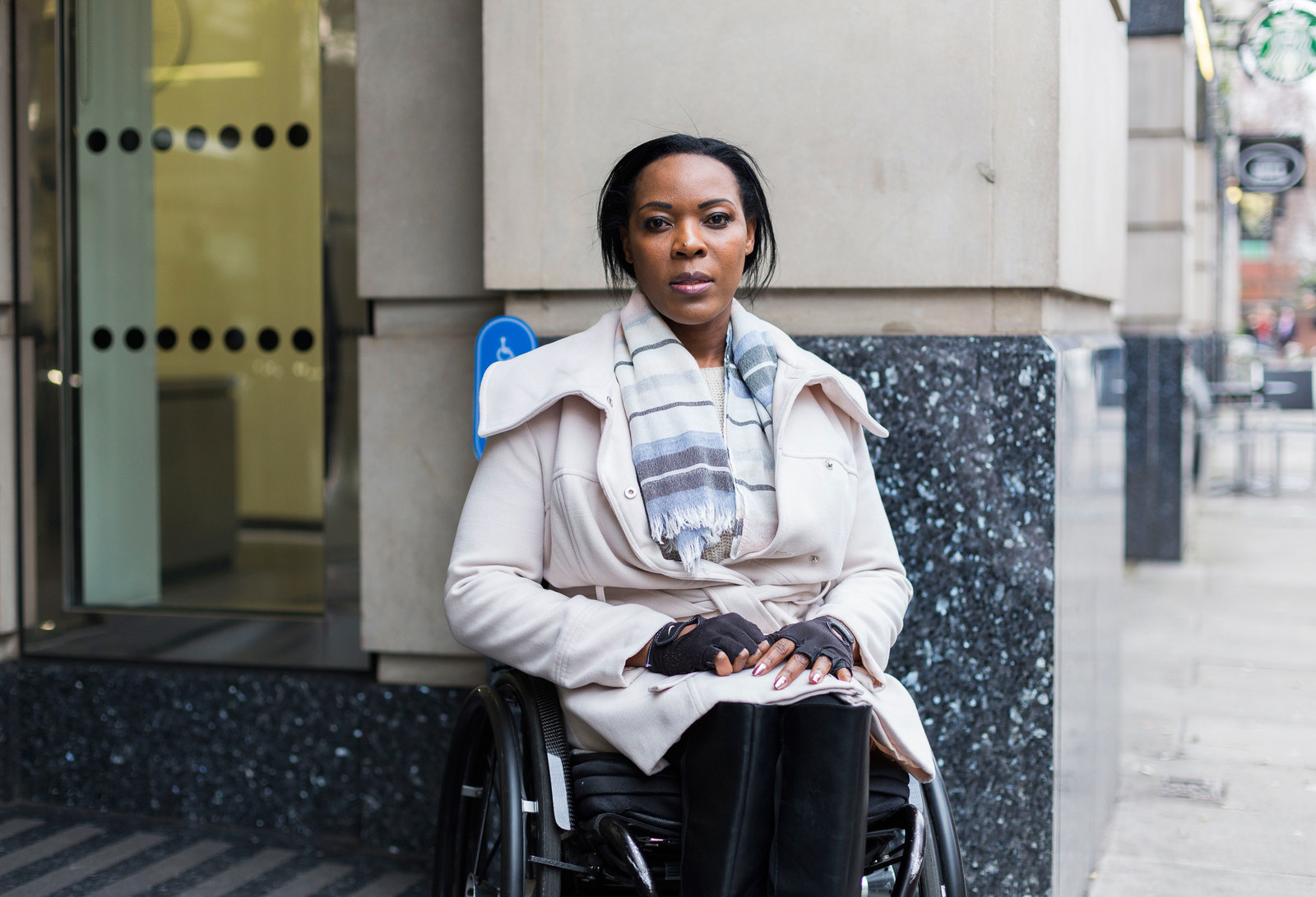 "I already wee'd on myself," she said. "What would I have achieved by keeping quiet and then get panic attacks every time I get on the train? I'd rather get embarrassed in the media, as long as it brings these issues more attention."
A few weeks later, in February, the Department for Transport said it was committed to improving disabled access to toilets on trains. The government said it will provide clearer information about the availability of accessible toilets in advance of journeys and that it will work with train companies to improve staff training.
In the same month, Frank Gardner, the BBC's security correspondent, tweeted about his frustration at being the only passenger left on an EasyJet plane. The special-assistance workers failed to turn up, and he implied that this is not the first time something like this had happened: "Once more stuck on empty plane at Gatwick Airport after all passengers off and heading home as special assistance have failed to turn up."

Gardner was shot six times by al-Qaeda sympathisers in Saudi Arabia in 2004, which left both his legs paralysed, The Guardian reported. He blamed OCS – a company that specialises in providing airport assistance for passengers with reduced mobility – for his predicament. OCS has not responded to BuzzFeed News' request for comment.

Gardner also criticised EasyJet for not using an airbridge that could have helped him leave the plane, which he said was close to the aircraft but appeared to have been ignored. In a statement to BuzzFeed News, a spokesperson for EasyJet apologised and said: "We have taken this up with OCS, who are the special assistance provider to all airlines at London Gatwick airport, and are in contact with Mr Gardner about his experience."
Speaking about Gardner's ordeal, Wafula Strike said the government needs to put disability back on the agenda. "People are coming out with these horror stories, and it's not just travelling – disabled people are also struggling with issues behind closed doors," she said. "Disabled people are now just starting to feel as though the world wishes we didn't exist, but we are here and disability is here to stay."
"We must keep pushing for better access facilities, and for better treatment of disabled people," she said. "Why was Mr Gardner left on the plane for that long? Because he was an afterthought – disability isn't a priority."

These stories come at what should be a turning point for disabled people's travel rights in the UK. In January, the Supreme Court ruled that wheelchair users must be given priority for disabled spaces on buses. Leeds resident Doug Paulley brought the case, supported by the Equality and Human Rights Commission, after he was prevented from getting on a bus to Leeds in 2012 because a mother with a sleeping child refused to move her pushchair from a space reserved for wheelchairs and buggies.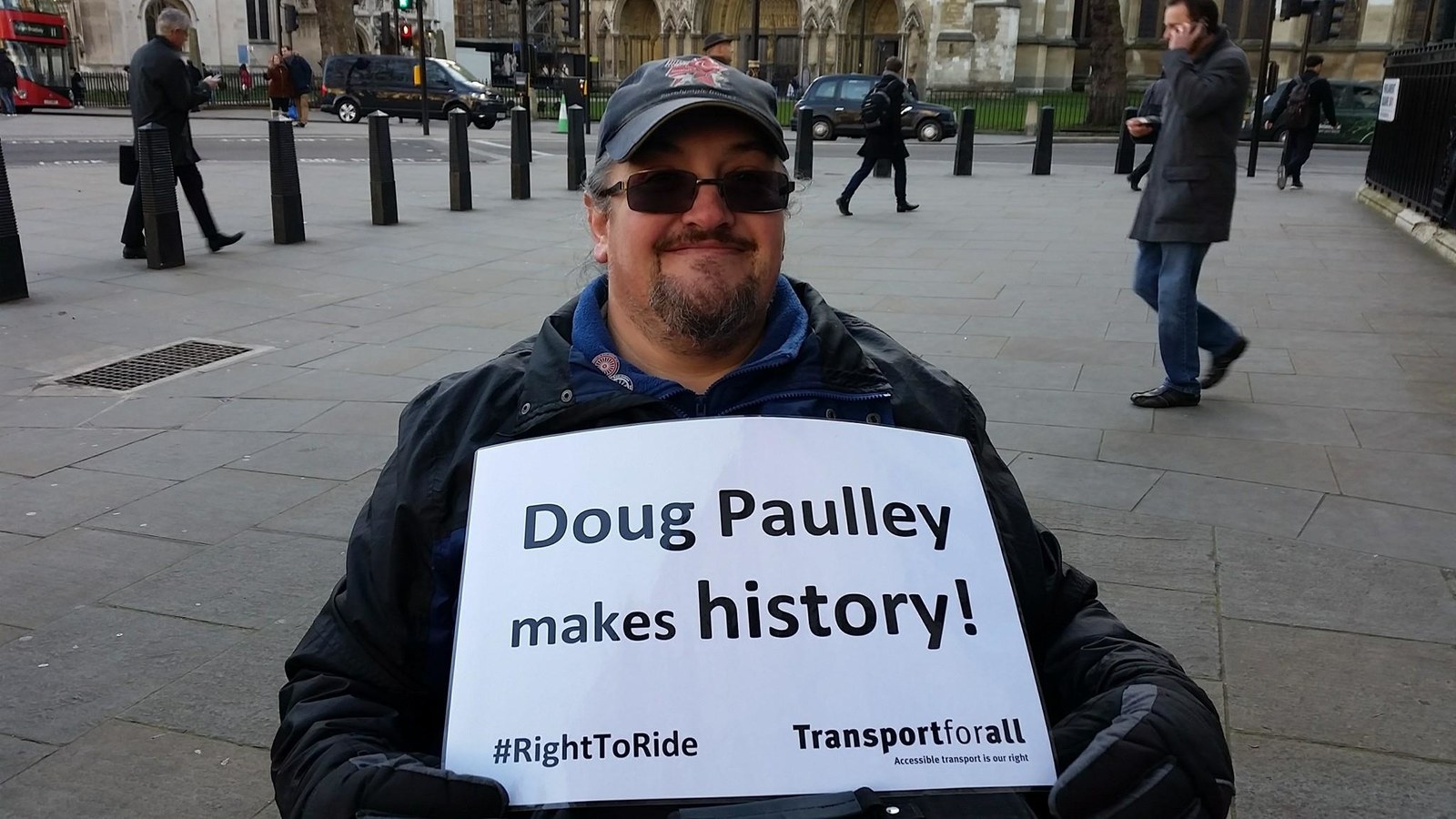 Despite the legal victory, there are concerns that the new ruling is not being taken seriously. Just a few days later, a wheelchair user tweeted that she couldn't get on a bus because someone refused to fold their buggy. "Two days after the Supreme Court ruling on wheelchair priority on buses. 'Sorry' says driver, 'they won't fold the buggy.' So I wait. Again," Twitter user @notwaving wrote.

After years of campaigning by disability rights organisations, from 6 April taxi drivers face a fine of up to £1,000 if they refuse to pick up wheelchair users or attempt to charge them extra – something that was already forbidden under the Equality Act but was not being put into practice.

And on 13 March, groups including Disability Rights UK will present a report to the UN Committee on the Rights of Persons with Disabilities in Geneva, following a series of events and hundreds of online interviews. "It pulls together evidence on the major human rights issues disabled people face today. Accessibility came out as a big issue," a spokesperson for Disability Rights UK told BuzzFeed News.

"At present disabled people clearly still can't travel on an equal basis with non-disabled people in the UK – despite some cities and some companies making good progress," said the spokesperson.
In February, Wafula Strike was invited to the Department for Transport for a meeting with rail minister Maynard. They discussed his pledge and the government's new accessibility action plan, which will address accessibility across all modes of public transport. Wafula Strike was told that it will be published later this year.

"The meeting went well, and it was a step in the right direction," she told BuzzFeed News. "But having a meeting is one thing and then seeing the implementation is another… I'm really hoping that by mid year really we should really start to see what they're proposing."
Rebecca Hilsenrath, the chief executive of the Equality and Human Rights Commission, said: "Most of us don't think twice about using public transport, yet for disabled people it can involve painstaking planning. Disabled people need to know they can travel safely, independently, and with the dignity we all take for granted. All transport businesses must ensure that this happens, and that their policies do not make it harder.

"There has been some progress, such as the new law to fine taxi drivers who refuse to take disabled people. However, it remains painfully slow. We are looking for legal cases we can take which will bring to light where disabled people are facing barriers in accessing transport, as well as in other areas of life." Analysis from the commission has found that issues like tribunal fees and a reduction in the availability of legal aid could have prevented disabled people from coming forward with such cases.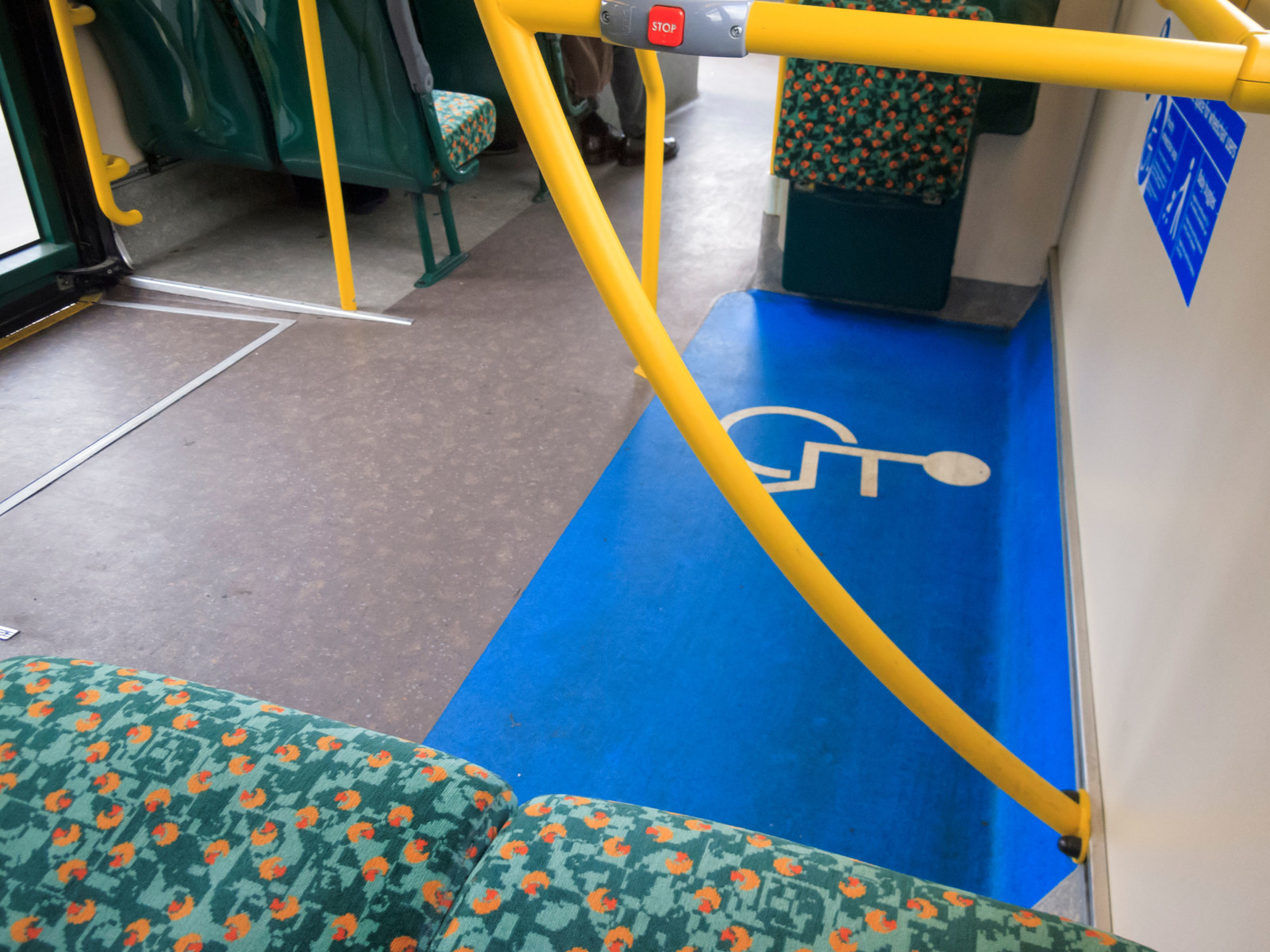 Wafula Strike said she will continue to campaign for improvements to access, but there are wider issues of responsibility and understanding at stake. "Access is not just about a toilet and a ramp, access is about education, and opportunities in the workplace, for example," she said.
"For me, inclusion means that transport providers really make sure that policies are implemented," she added. For her, the problem is far greater than policy: It's about acting on the principles that companies claim to have. "We have the 2010 Equality Act, but who is making sure that it's being implemented?" she said. "I think those are the questions that we need to start asking ourselves."