Black women on Twitter have been rallying support for Diane Abbott after she took a step back from the election campaign on Wednesday due to ill health.
Labour leader Jeremy Corbyn confirmed on Wednesday that Abbott, the first black woman elected to parliament, would be replaced as shadow home secretary by shadow minister Lyn Brown "for the period of her ill health".
The announcement follows a difficult few weeks of campaigning for Abbott, who has been on the receiving end of a wave of criticism over her recent "car crash" radio and TV appearances on LBC and Sky. On Tuesday she pulled out of Radio 4's Woman's Hour citing health reasons and was replaced by shadow foreign secretary Emily Thornberry at short notice.

In response to the news, black women who regard Abbott as a trailblazer have being raising money and tweeting messages of support using the hashtag #AbbottAppreciation. They've shared video clips of her best speeches and posted pictures of Abbott, who has represented Hackney North and Stoke Newington since 1987, over the course of her 30-year career.

A third of recent Conservative emails to members explicitly mention the so-called threat of Abbott becoming home secretary, while the Tories have increasingly taken to pushing videos involving Abbott on their official Facebook page. One video posted on Monday already has more than a million views.
Mark Wallace, editor of the pro-Tory ConservativeHome, previously told BuzzFeed News that criticism of Abbott's performance was valid. "Frankly, the kneejerk response by some on the left that it is 'racist' to hold her to account would be laughable if it wasn't so poisonous," Wallace said.

"Suggesting that Abbott should be excused this scrutiny is duplicitous, and trying to dismiss valid criticism as racist risks devaluing the term."
Although Corbyn did not reveal when Abbott would be returning to her position, he took the opportunity to condemn the "unfair levels of attack and abuse" Abbott has faced.

"Of course Diane is somebody that works extremely hard and represents her community very well," he said. "I have to say she has received totally unfair levels of attack and abuse not just recently – over many years."
In an article for The Guardian earlier this year, Abbott spoke out for the first time about the deluge of racist and sexist abuse she receives on a daily basis.

Twitter user Stephanie Ouzo told BuzzFeed News she was upset Abbott had been forced to step down in the final hours of the election campaign.
Together with Tiss Saccoh, a beauty blogger and YouTuber, 22-year-old Ozuo created the hashtag #AbbottAppreciation and invited people to use it to share the reasons why she is an inspiration to them.

She added: "I've witnessed a lot of the abuse she's been getting online – from the straight out overt racism, calling her a black monkey and ape, for example, to the more covert dog whistle racism.
"I just thought, Enough is enough, we need to send some love her way. Sometimes it's easy to forget that she's a human being and [think] she's not affected by this."
Ozuo, a recent politics graduate, told BuzzFeed News she felt Abbott was constantly held to a higher standard than some of her political peers, such as Boris Johnson.

She said: "Boris Johnson has actually been elected London mayor not even once, but twice, so clearly it's not affecting him in any way.
"Boris seems very lovable, he's funny, his hair's a mess, he blunders his words, he doesn't really know what he's talking about – and we look at that behaviour as endearing, not as incompetent."
Ozuo also told BuzzFeed News she wanted the support to go beyond the hashtag. "I'm currently in the process of organising an event in dedication to Diane for after the election," she said. All the donations raised from the event will go to the All Party Sickle Cell and Thalassemia Group, which Abbott chairs.
Barbara Ntumy, a 24-year-old Labour supporter who has previously worked as part of Corbyn's press team, told BuzzFeed News she believed Abbott was on the receiving end of deep-seated racial bias in this country.

"She forgot something, she stumbled her words up – it's not the end of the world. There are other politicians who constantly do that and they don't get the racist abuse that she gets," Ntumy said.

"I have massive problems with people saying she's incompetent. She was on [BBC politics programme] This Week for 10 or 15 years – she is obviously very capable of doing media interviews."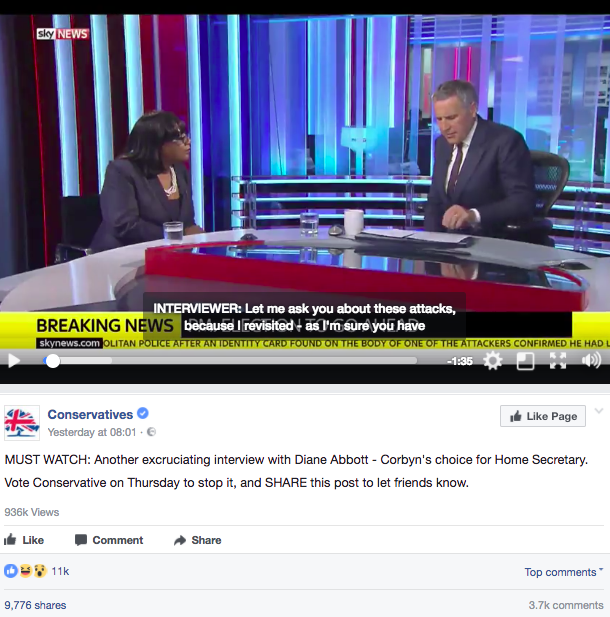 Kelechi Okafor, a dancing instructor who has previously received horse manure in the post after a series of tweets in which she spoke up against racism, told BuzzFeed News she was heartened by the solidarity she was seeing for Abbott, although she suggested it should have happened sooner.
"I think if we continue showing her support it will inspire other women to come forward and engage in politics, because they know they'll get that support too," she said.
Ntumy, who is also a student union representative at London Met University, has designed #TeamDiane T-shirts and said they've proved popular.

"A few orders have come through – I've even got one for tomorrow, it's still on its way, hopefully it will arrive in time for [polling day] tomorrow," she said.
"I thought that it was really important for me to do something that showed public appreciation that other people could get involved in."

Shortly after the hashtag was created, Abbott wrote on Twitter: "Touched by all the messages of support. Still standing! Will rejoin the fray soon. Vote Labour!"
She later posted this video from 1987 – the year she was first elected.