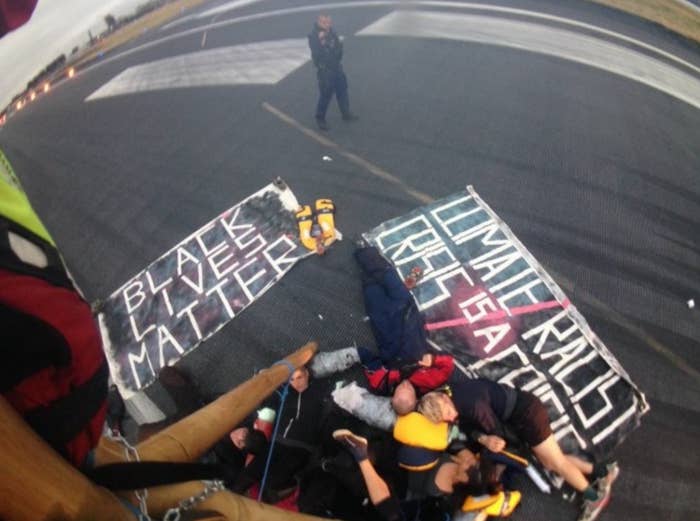 A network of activists attached to the Black Lives Matter UK group (BLM UK) faced criticism after it emerged that all nine of the protesters at a climate change demonstration at London City Airport were white.
The activists put up a tripod and chained themselves to each other in the early hours of Tuesday to raise awareness of aviation's contribution to climate change, which the group called a "racist crisis".
The activists were removed and arrested by police on suspicion of aggravated trespass, being unlawfully on a runway, and breaching the airport's bylaws.

Social media was alive with criticism of the group on Tuesday, with many asking whether the Black Lives Matter UK movement had been hijacked by white middle-class activists who were using the BLM name to create awareness about environmental issues.

Others failed to see the link between fighting against racism – the hallmark of the US-based protest movement of the same name – and climate change.

There were also concerns about whether BLM UK was being led by white activists.

Alexandra Kelbert, a spokesperson for BLM UK, told BuzzFeed News the group was a "black-led" network of activists. She also said it was not an accident that all nine protesters were white, but rather a strategic and necessary decision.
"I think people find it difficult to believe that we could pull off this protest and find nine white people who would be willing to put themselves on the line to say 'Black Lives Matter'," she said.

"But I think the more serious point here is that it's people taking responsibility for climate change, but it's also important to bear in mind the treatment of black people at the hands of police. The people on the runway know very well that black people would be treated very differently in that same situation."
Various studies have repeatedly shown that black people are often treated differently in the criminal justice system.
For example, black people are more likely to die in police custody or experience police brutality, which is one of the reasons that last year, during her role as home secretary, Theresa May launched an independent review into deaths and serious incidents in police custody.
The review will be chaired by Dame Elish Angiolini and its findings will be published this year.
Kelbert said the effects of climate change are felt most acutely by people who are least responsible for causing it, in the developing world as well as the UK.
"When we say 'Black Lives Matter', that includes the families of those who live close to airports, or on roads close to power plants, and whose children grow up with asthma, with skin conditions [because of it]," she said.
BLM UK activists blocked traffic in August on a roundabout on the M4 near London's Heathrow Airport in protest at deaths of black people in police custody.
The aim, BLM UK said, was to shed light on a range of issues that have a disproportionate impact on black lives, such as police brutality, hate crime, detention and deportation, and the institutional racism and discrimination experienced by black people on a day-to-day basis.
"All of these [issues] are a priority because it is not acceptable that these things should be happening, and the same goes for climate change," Kelbert said.
The Green party spoke out in support of today's demonstration, highlighting the unequal way pollution affects black, Asian, and minority ethnic (BAME) communities.

In a statement to BuzzFeed News, London assembly member and Green Party transport spokesperson Caroline Russell said "pollution is not colour-blind".
"Environmental problems tend to mirror the inequalities we see in our society, and this sadly means BAME communities are often the worst affected by environmental issues," she said.
"Newham is one of Britain's most racially diverse places and so any expansion of London City Airport, which was approved by Sadiq Khan despite huge local protest, will hit BAME people hardest."