A Man Told Women Not To Wear Yoga Pants, So They Held A Yoga Parade Outside His House
Hundreds of women in Rhode Island gathered in solidarity to protest against men policing women's bodies.
Jamie Burke, a mother of two who lives in Rhode Island in the US, opened her local newspaper last week to find a letter to the editor asking women to stop wearing yoga pants because they are not flattering.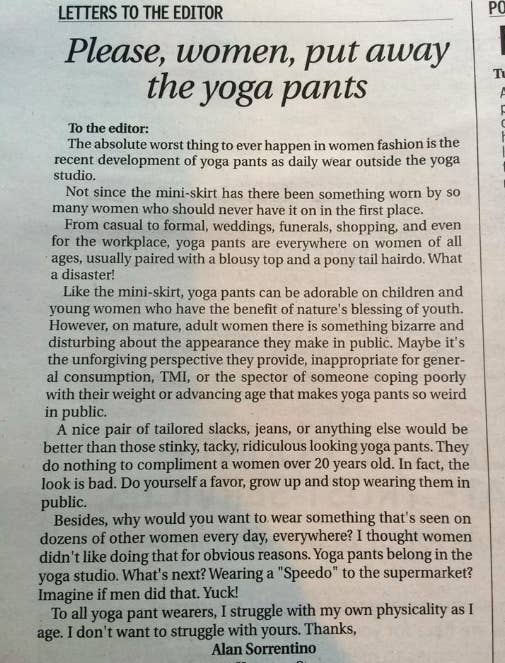 The letter, submitted to the Barrington Times by local resident Alan Sorrentino, said yoga pants do nothing to complement women over 20 years old.
"In fact, the look is bad," Sorrentino wrote. "Do yourself a favor, grow up and stop wearing them in public."

He continued: "To all yoga pant wearers, I struggle with my own physicality as I age. I don't want to struggle with yours. Thanks."
Here is the letter in full:

To the editor:


The absolute worst thing to ever happen in women fashion is the recent development of yoga pants as daily wear outside the yoga studio.

Not since the mini-skirt has there been something worn by so many women who should never have it on in the first place.

From casual to formal, weddings, funerals, shopping, and even for the workplace, yoga pants are everywhere on women of all ages, usually paired with a blousy top and a pony tail hairdo. What a disaster!

Like the mini-skirt, yoga pants can be adorable on children and young women who have the benefit of nature's blessing of youth. However, on mature, adult women there is something bizarre and disturbing about the appearance they make in public. Maybe it's the unforgiving perspective they provide, inappropriate for general consumption, TMI, or the spector of someone coping poorly with their weight or advancing age that makes yoga pants so weird in public.

A nice pair of tailored slacks, jeans, or anything else would be better than those stinky, tacky, ridiculous looking yoga pants. They do nothing to compliment a women over 20 years old. In fact, the look is bad. Do yourself a favor, grow up and stop wearing them in public.

Besides, why would you want to wear something that's seen on dozens of other women every day, everywhere? I thought women didn't like doing that for obvious reasons. Yoga pants belong in the yoga studio. What's next? Wearing a "Speedo" to the supermarket? Imagine if men did that. Yuck!

To all yoga pant wearers, I struggle with my own physicality as I age. I don't want to struggle with yours. Thanks,

Alan Sorrentino
Burke told BuzzFeed News when she saw the letter she quickly shared it on Facebook.

"[My] friends immediately chimed in suggesting several ways to protest. Being from New Orleans, a parade was a natural choice," she said.
In response to the letter Burke organised a peaceful yoga pants parade in Barrington with the support of friends and family.
"Let's take a leisurely walk through the neighborhood wearing our most comfortable pair of yoga pants," a note on the event's Facebook page said.

"This is not a hateful protest against Alan. This a wonderful group of people celebrating our bodies and our right to cover them however we see fit."
Burke, who is also a volunteer at Girls Rock RI – an organisation that empowers girls through rock music – described the parade as a way for women to "protest body-shaming and the long history of men policing our bodies".
And the parade route intentionally went past Sorrentino's house, of course.

Burke said around 400 women gathered in solidarity to take a stand against sexism and promote body positivity. "Every person arrived with a smile. It was friends, neighbours, families, dogs, and lots of media. It was a very joyful environment, with lots of laughing."
Burke said local people donated enough toiletries to "fill a bus" to domestic violence charities, as well as several hundred dollars in cash donations.

Most importantly, she said, supporters left the parade with pride in their bodies and joy in their hearts.
Aside from another local media outlet that defended Sorrentino's right to an opinion on women's clothing, Burke said the response to the parade was extremely positive. Many women and girls shared personal stories of their encounters of sexism, like being body-shamed, catcalled, and groped by men.
"[They took] the time to share their story of why this was so important to them," Burke said. "[It] reaffirmed that this was so very much needed."

The parade naturally ended with yoga. "Personally it was a perfect way to bring it all full circle," she said.
Burke added: "I have never organised anything like this in my life, and I had hoped maybe 50 or so women would gather in solidarity and comfort to take a walk and show Alan our yoga pants. Who knew it would become so huge!"