A fire crew of 100 people, 13 fire engines, and numerous support vehicles battled a huge blaze at a fireworks shop in Southampton.
The fire broke out around 5am at the Flower Factory, which sells fireworks, in Bitterne Road West, Southampton.
Hampshire fire and rescue service said that the flat above the shop was engulfed in flames.
All properties within 100m of the fire were evacuated while others were advised to close their doors and windows.
"The blaze raged for hours as fireworks continued to explode and took out two nearby traffic lights," a spokesperson for the fire service said in a statement.
Two schools were closed today due to the incident, ​*and*​ there were also several road closures.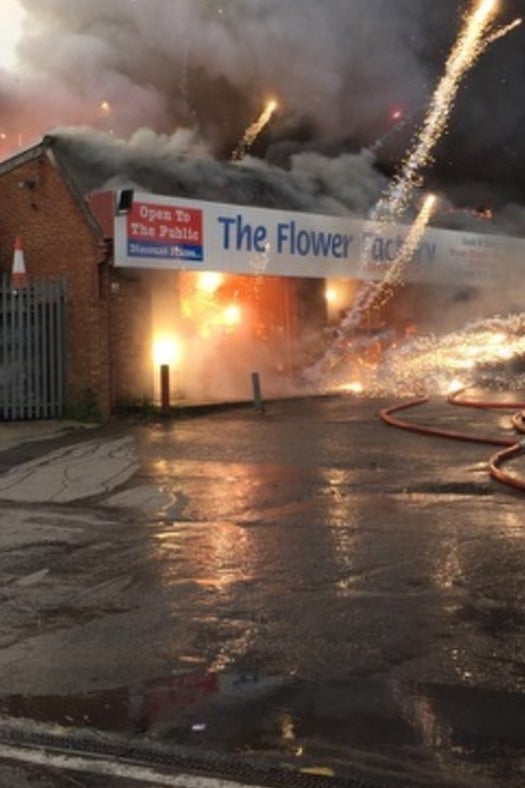 Nathan Pedersen, who lives across the road from the ​fireworks* shop, told BuzzFeed News that he was woken up around 5:30am to "loud banging and popping".
"[So I] looked out the window to see thick, black smoke coming from the roof of the flower and fireworks shop... I went outside to have a look [and] that's when I saw the huge flames," the 26-year-old scaffolder said.
"I think everyone is in shock...but I have been at work so [I've] not had a chance to talk to anyone," he added.
Hampshire fire and rescue service's area manager Mark Rayner said that public safety was their priority.
"Our priorities were to carry out the evacuation to ensure the safety of the public, stop the spread of the fire to other businesses and minimise disruption," he said.
"Thankfully nobody was hurt and we were able to deal with the complex situation quickly and effectively," he added.
Nobody has been injured following the incident, and an investigation is currently underway.