English singer-songwriter Ed Sheeran has a knack for penning songs that are imbued with strong emotions. Whether gushing over first love or nursing a broken heart, whether newly married or newly separated, his songs have you covered.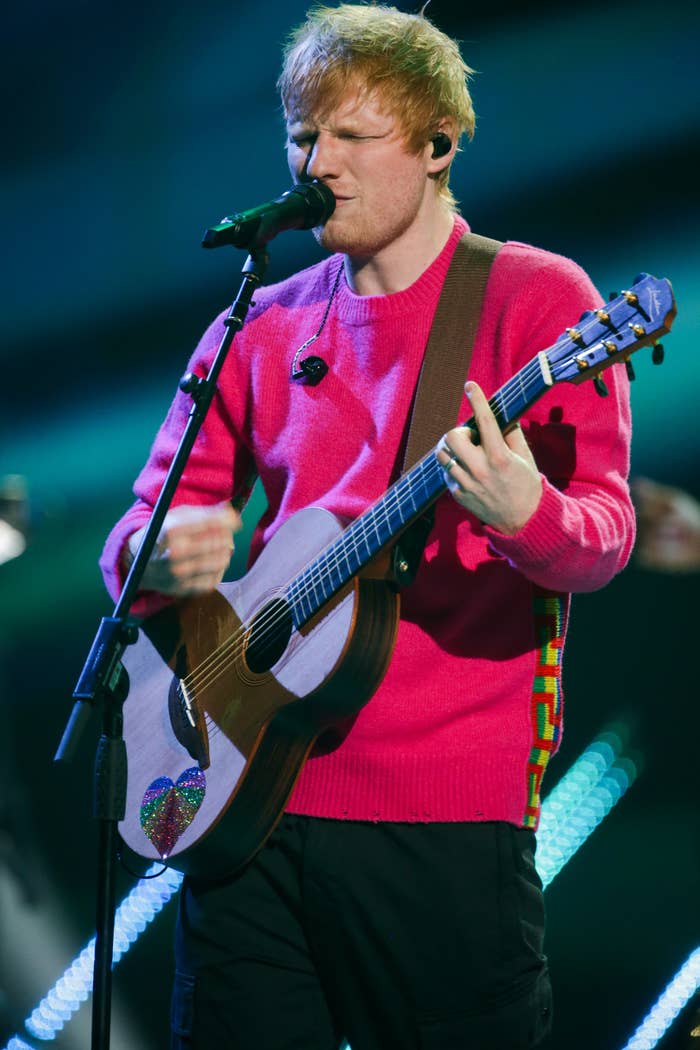 Here are some of the lyrics that you can not only use as captions but to express your feelings in real-life conversations:
1. "This love is a blaze."
2. "And, darling, I will be loving you 'til we're 70."
3. "The club isn't the best place to find a lover."
4. "I'll pick you up when you're getting down."
5. "I'll pick your feet up off of the ground and never ever let you down."
6. "This feels like falling in love."
7. "You are my one and only."
8. "I'm in love with the shape of you."
9. "Yeah you look happier, you do."
10. "I wanna be that guy/ I wanna kiss your eyes/ I wanna drink that smile, I wanna feel like my soul's on fire."
11. "Don't care what the DJ chooses. Get lost in the rhythm of me."
12. "I wanna be drunk when I wake up."
13. "And tomorrow's a brand new day".
14. "You know that I've got whisky with white lies, and smoke in my lungs."
15. "I chased the picture perfect life, I think they painted it wrong".
16. "I could live, I could die hanging on the words you say".
17. "I can still feel the butterflies from when we stumbled home that night."
18. "I can't wait to make a million more first times."
19. "We'll never fade like graffiti on the overpass."
20. "Love can change the world in a moment".
21. "Love flows deeper than the river every moment that I spend with you".
22. "A heart that's broke is a heart that's been loved".
23. "When you and I collide, you bring me to life."
24. "Good night and joy be with you all."
25. "The hurry and the noise shut out/ Just stay here and be right now."
26. "A man may drink and not be drunk."
27. "This love is a blaze."
28. "Now I'll surrender up my heart and swap it for yours."
29. "We drink the best lager."
30. "Would it hurt your reputation if I put it on wax?"
31. "I woke up, wiped the sleep out of my eyes."
32. "We keep this love in a photograph."
33. "Without you to hold I'll be freezing."
34. "I'm falling for your eyes, but they don't know me yet."
35. "And it's been a while but I still feel the same."
36. "Vividly need to let my liver be."
37. "Baby, let's slow down time/ Maybe just press rewind."
38. "Loving can mend your soul."
39. "We can all be loved the way that God made us."
40. "You got a friend in me."
41. "Stuck in her daydream."
42. "Love in slow motion."
43. "Pain is only relevant if it still hurts."
44. "Been this way since eighteen."
45. "And you will never know just how beautiful you are to me."
46. "That heart is so cold."
47. "Go ahead and just live it up."
48. "Times forever frozen still."
49. "You'll never know the weight of my heart every time I leave you, babe."
50. "Even at the times I'm miles away, you are always on my mind."
51. "I got sinning on my mind."
52. "Do you ever wonder if the stars shine out for you?"
53. "My mind is a warrior."
54. "And I'll say it again living life on the edge with a close handful of friends."
55. "Forever and now, I will be by your side."
56. "We've shared a toothbrush and shared our home."
57. "All my troubles turn to nothing when I'm in your eyes."
58. "So turn off the world and the telephone."
59. "None of us are saints I guess that god knows that."
60. "I'm not you, now that would be disastrous."
61. "Every teardrop, every wrong turn / Made the moment we found."
62. "Just promise me, you'll always be a friend."
63. "I will always love you for what it's worth."