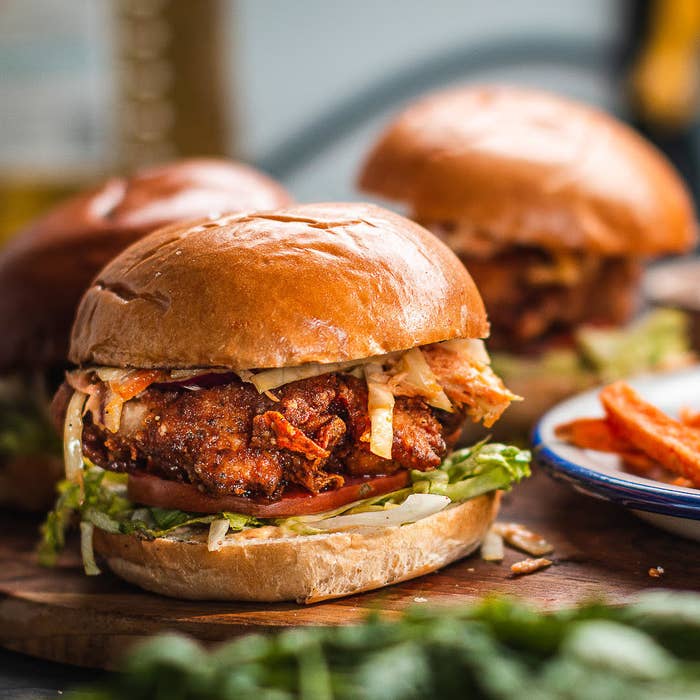 Ingredients
1 ½ cups (300ml) buttermilk
1/2 tsp ground black pepper
1/2 tsp dried oregano
1/2 tsp smoked paprika
1/2 tsp garlic powder
1 tsp salt
4 chicken thigh fillets
Seasoned flour
Knorr Chicken Bouillon
1 ½ cup (180g) plain flour
1/2 tsp garlic powder
1/2 tsp black pepper
1/2 smoked paprika
1/2 tsp oregano
1/2 tsp salt
Slaw
2 carrots, finely sliced
1 ½ cup white cabbage, finely shredded
¼ red onion, finely sliced
⅓ cup (80g) Hellmann's Extra Creamy Mayo
1 tsp cider vinegar
Pinch of salt, pepper, sugar
1 tsp parsley, finely chopped
Hellmann's Spicy Chipotle Mayo
Burger assembly
4 brioche buns, toasted
Iceberg lettuce
Tomatoes
Cooking
8 cups oil, for frying
Preparations
1. Start by creating your buttermilk marinade. In a large bowl add your buttermilk, ground black pepper, dried oregano, smoked paprika, garlic powder, and salt. Stir until fully combined. Add your chicken thigh fillets, ensuring the fillets are completely coated in the marinade. Cover and refrigerate for at least 1 hour or overnight.
2. Meanwhile, create your slaw by adding Hellmann's Extra Creamy Mayo, cider vinegar, sugar, salt, and pepper to a large bowl. Stir until combined. Next add the carrot, cabbage, and onion. Stir until your veggies are nicely coated in the creamy goodness! Refrigerate until you're ready to serve.
3. When you're ready to get frying, take a large bowl and make your seasoned flour. Add the Knorr Chicken Bouillon, plain flour, garlic powder, black pepper, smoked paprika, oregano, and salt. Stir until combined.
4. Dip the marinated chicken in the flour mixture until the chicken is completely covered. (make sure your chicken has a really good layer of your seasoned flour!)
5. Heat the oil in a deep pot until it reaches 170˚C. Do not fill more than halfway with oil. Carefully fry the chicken for 7 minutes, or until cooked through.
6. Now it's time to assemble this awesome chicken sandwich! Take your lightly toasted burger buns and smoother the bottom half with Hellmann's Spicy Chipotle Mayo. Add your lettuce and top with your chicken thigh fillet. Top with your slaw. Serve & enjoy!
Fetch Rewards is the fastest and easiest way to save on groceries everywhere you shop! Get a free $5 reward when you download and use promo code TASTY before July 4th.