1.
A 10-pack of Play-Doh for play time that stands the test of time. Nostalgia will hit you as your child uses their imagination to create figures with this fun clay. Can you already smell the Play-Doh?! I can!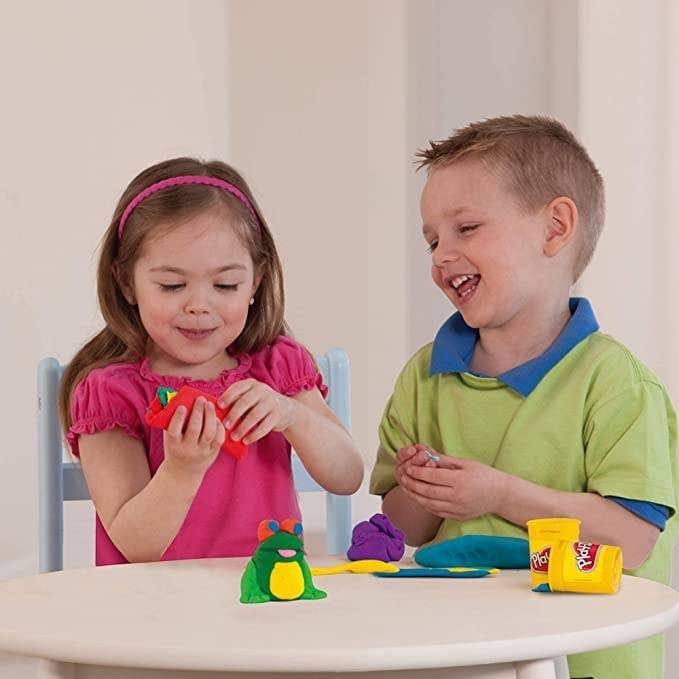 2.
Boudreaux's Butt Paste to heal diaper rash quickly so your baby's bum is back to baby soft in no time. With no dyes, parabens, preservatives, and talc, it's safe for your baby's sensitive skin.
Promising review: "The BEST BY FAR! Must-have!!!! This is by far my favorite diaper cream! It works instantly for any almost any rash! My son has super sensitive skin and I can put it on before bed and by morning any rash he has ever had is gone or almost gone! Amazing stuff!!! I give it to all my first time mom friends! I HIGHLY recommend, I have tried it all!!!!!" —Amazon Customer
Get it from Amazon for $4.94+ (available in seven sizes).
3.
A 3D-printed foam soap dispenser attachment that will have everyone in your family WANTing to wash their hands so they can see those ~cute~ 'lil mouse ears.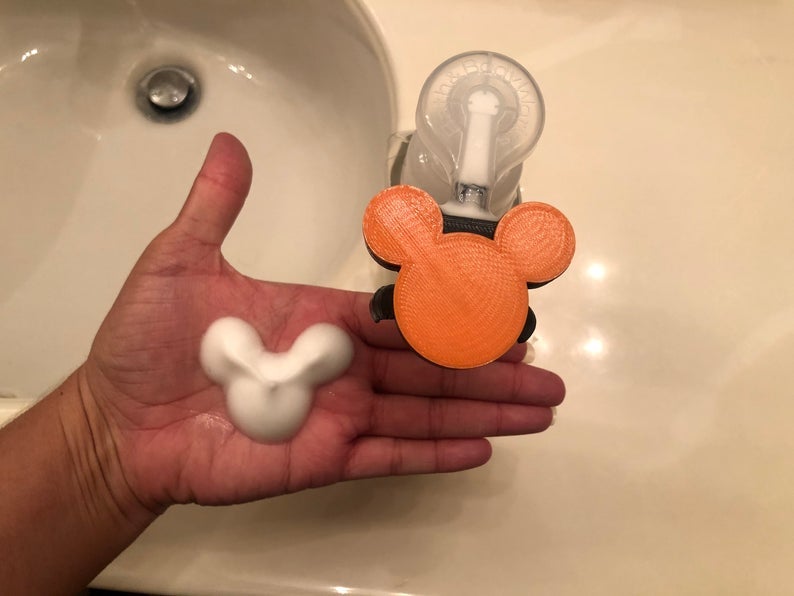 Mouse Delights 3D is a small biz based in Las Vegas, Nevada, that specializes in Disney-inspired 3D-printed accessories.

Promising review: "Super cute and very easy to use. My littles love Mickey and this makes hand washing that much more fun for them!" —Abby D 
Get it from MouseDelights3D on Etsy for $9.99 (available in 40 colors and three soap bottle styles).
4.
A pack of reward punch cards so each time they succeed at completing a task they can countdown to a reward. Positive reinforcement at its finest!!
5.
And a potty training chart to help your child with their journey out of diapers. Each time they use the potty they are rewarded with a dino sticker to add to the chart. They will love placing the sticker on the chart themselves. 
The set includes four weeks of training charts, a steps-by-step visual chart to using the potty for the kiddos, and eight-page potty training guide, two celebratory crowns, a certificate of completion, 200 stickers, three cards, and an erasable marker.
Promising review: "Had my son using the potty on the first day! I will never regret buying this set. I swear it's the only reason my 3-year-old boy is peeing in the potty now multiple times a day. The stickers bring such excitement to his little face and he beams with pride when he places it on his chart. He lets his dad know when he gets home about his stickers for today. My 2-year-old boy has even peed in the potty a few times because he wants a sticker too." —kandis stewart
Get it from Amazon for $8+ (available in nine styles).
6.
A leave-in conditioning spray for curly hair that's free from any toxic stuff including parabens, sulfates, and phthalates. Bring out those beautiful bouncy baby curls after you spray this on.
Reviewers say this spray will leave wavy or curly hair (from 2a–4c hair) shiny, soft, and bouncy.
Promising review: "This is the BEST product EVER! I will never use another hair detangler ever again. We use this product daily in my house, my daughter, my son, and I. Both of us girls have long and thick curly hair and it allows us to brush through our hair with no problems! And my son mostly uses it to style his hair before gel, and because it smells so good! We tried a few products from Walmart, Ulta and Target, and nothing was good enough. This is now on my subscribe and save every month!" —Tamira McLelland
Get it from Amazon for $9.69.
7.
A pack of toilet seat covers to help you and your children brave the public restrooms. There is an adhesive strip to keep the covers in place as your wiggly little ones use the potty keeping their hands and bottoms from touching the public toilet.  
Promising review: "If you're a germaphobe like myself, this is a must have in your diaper bag. The thought of placing my son or daughter on a public toilet with only a seat liner is disturbing especially since they're both little and still hold onto the toilet seat for support when peeing/pooping. These cover the toilet completely and even cover the lower part of the toilet where dangling legs and pants/skirts touch. My only complaint about these is that they are not flushable. It's difficult trying to gather the liner up (they are rather large) without touching the toilet or the possibly wet liner (because it partially fell in the water) and then scrunching it up to fit into a sanitary napkin bin. Other than that, these are great. Also, I don't use the adhesive strips at all since I have two little ones that usually need to go right away so we don't have the time to remove the adhesive backing. I usually just place the liner on the toilet and then carefully plop my kid on top and all's well." —Ting
Get a pack of 24 covers from Amazon for $9.99.
8.
A wooden puzzle that's like a hands-on Tetris game that will help kids develop fine motor and problem solving skills. Let their imagination run wild and create their own shapes as well. 
Reviewer's say this is a great toy for all ages — from 3 to 12.
Promising review: "This puzzle has been a huge hit with my 4-year-old and 6-year-old grandsons. Each was able to play with it in a unique and challenging way. The quality is great and it is light weight as well so it is easy to store and get out." —BoiseMom
Get it from Amazon for $9.99.
9.
And a rainbow puzzle ball where the end *goal* is to match all eleven balls to their corresponding color rings by pressing and sliding the balls through the open slots. Basically, a heck of a workout for your kids' brains and hands.
Promising review: "I was doubtful that my 5-year-old would like this, but took a chance. It took him a little bit to figure out how to push the balls around, but once he got the hang of it he didn't put it down for days. It challenged his thinking and also was cause/effect solving too. It was perfect for our car trip. Great purchase!" —Timothy Mitchell
Get it from Amazon for $9.99.
10.
CeraVe moisturizing cream to hydrate babies or children's skin without leaving it greasy. Works wonders on  eczema and is even accepted by the National Eczema Association so you know it's the real deal.
Promising review: "We tried so many creams marketed for eczema (most containing oatmeal) and they all made my baby's eczema worse. We were desperate to find a cream that would help and stumbled upon this cream. It did wonders clearing up his eczema and as long as we use it daily it keeps it from flaring up again, this is glycerin-based and doesn't contain oatmeal." —Amazon Customer
Get it from Amazon for $8.97+ (available in two sizes).
11.
A bug bite suction tool invented by a mom so you know it means business. This device sucks out all kinds of bug bites, instantly relieving itching and swelling, so your kids aren't left scratching their skin off.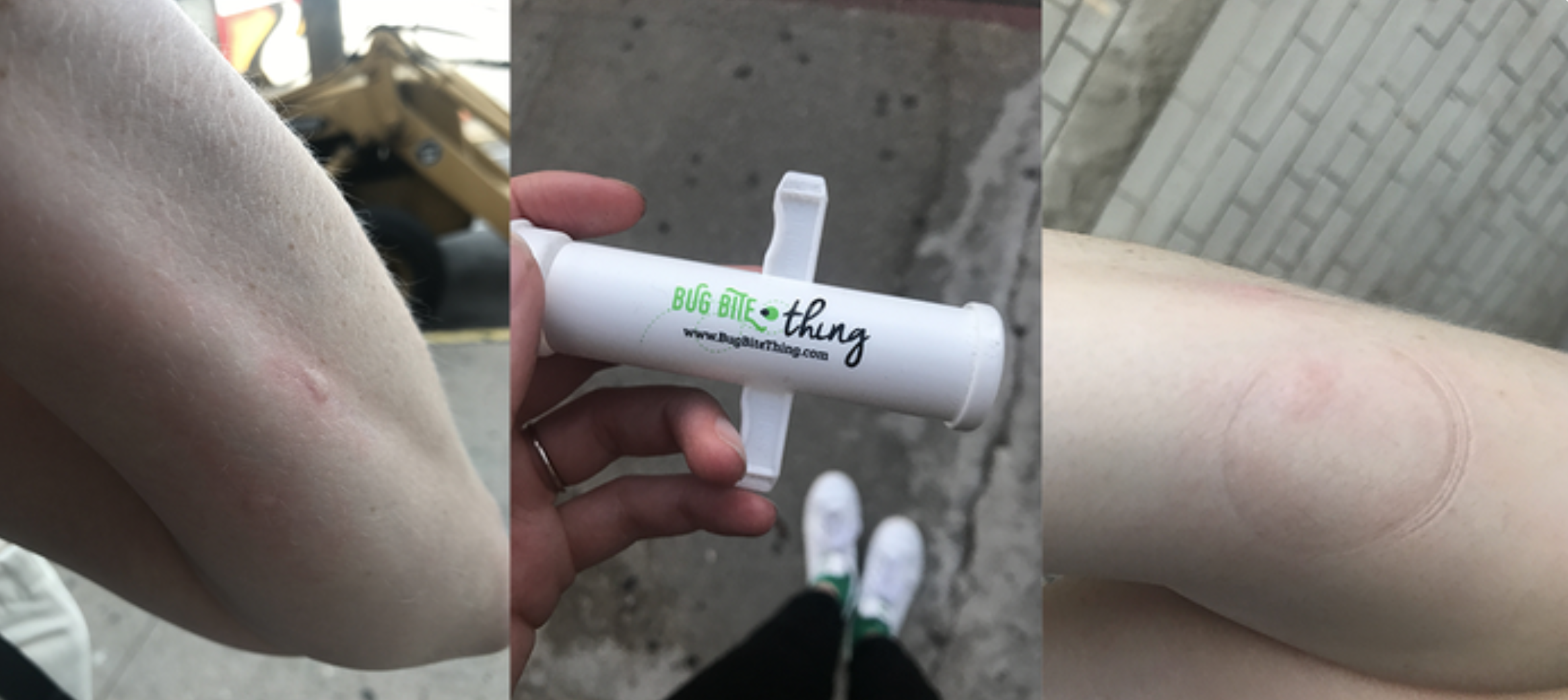 Rebecca O'Connell / BuzzFeed
Promising review: "This is a MUST-HAVE in our household. I was a huge skeptic but decided to try it out of desperation. My youngest daughter is highly allergic to mosquito bites and gets huge welts that itch horribly after being bitten. This product drastically reduces her swelling and itching. All of my girls (and myself) immediately ask for it after being bit. It takes away, or at least drastically reduces, the itching immediately. We also used it on fire ant bites, and my daughter said they felt better almost immediately!" —Reyka Smith
Get it from Amazon for $9.89+ (available in seven color/styles).
12.
A pack of stick-on fever indicators so you can monitor your kid's fever without having to wake them to constantly checking their temps. A Fever-Bugz sticker will light up and indicate N (for normal) or 99, 101, 103, and 105.
It goes without saying that these stickers aren't a replacement for a thermometer. But, if your kid has a temp, these will help you keep track of whether their fever is spiking or going down.
Promising review: "We had a stressful day of trying to keep our 3-year-old's fever down and he was exhausted. I had these in the cabinet and stuck one on at bedtime. It immediately lit up N, which matched the thermometer. While putting him to bed I saw it go to 99 so when I checked on him in 30 min I brought the thermometer '99.3.' We used it throughout the night to monitor whether or not we should wake him for more medicine. I think of it as a peace-of-mind sticker. He loves stickers and got a big kick out of it. He's had it on about 13 hours now with no complaints. There's a shiny N there now, and this paranoid mama still checks with a thermometer occasionally to make sure it's accurate." —Nateric
Get eight stickers from Amazon for $6.54.
13.
And Frida Baby vapor drops to help soothe your baby when they are feeling under the weather. The vapor from the eucalyptus and lavender will help them breathe and relax when congestion is being a bugger.
Safe for babes 3+ months.

Promising review: "An absolute must-have! We have a 5-month-old son and thankfully we've only had to use this a couple of times, but when he had some congestion during cold weather, we put a few drops of this in our Frida cool air humidifier/diffuser. it worked wonders and cleared up his stuffiness. Love, love, love it!" —ZGDUBOURG
Get it from Amazon for $9.99.
14.
A Baby Einstein Take Along Tunes Musical Toy with thousands of 5-star reviews you know this is a toy you can't pass up. It has 10 different melodies that are music to your ears and even a volume control for when you need quieter time. 
Promising reviews: "I LOVE this thing! I bought it before my daughter was born because of high reviews. It's a reasonably priced toy and my daughter has been using it since birth. Whenever she's having a meltdown I break it out of the diaper bag and she's all better. :) I actually memorized the songs and order and they're pretty catchy. Not annoying and overbearing like other toys. I don't know what I would do without it!." —uhhdorkable
"The best baby distractor EVER! Every person with a child must have this toy! I had about five tucked in various places in case one got lost. My son loved them from basically birth and sometimes it would distract him for hours of non-crying! (heaven for a new mother) Of course in the beginning you have to keep pushing the button for them but compared to swinging him in his car seat that was easy! Then we he got older he would spend entire car ides just playing with this one toy. I give it to everyone I know who has a baby." —NH-Mommy
Get it from Amazon for $9.99.
15.
And a pack of brightly colored stacking cups for learning colors and numbers as each cup has numbers on the bottom of the cups and the corresponding number of holes for counting. 
Bonus: These have holes in the bottom for water play and come with a cute star ring to keep them together.
Promising review: "I got these when my son was 7 months, and he is 11 1/2 months now. He immediately liked them and has not gotten tired of them yet. He hasn't learned to stack them, but he loves to push them over after I stack them, and he also puts them into each other. Once he's older he can stack them, and we can use them to learn colors and numbers. It's wild that a $4 'toy' that is so simple can be such a great all-purpose item for a baby that grows with them over time, all while being unbreakable and educational. This is a MUST-HAVE toy that every baby should have in their toy collection." —IShop2Much
Get an eight-pack from Amazon for $4.99.