Brad Pitt
Brad Pitt is one of the most famous actors in the world today, playing challenging roles in movies like The Curious Case of Benjamin Button, Fight Club, and Mr. and Mrs. Smith, opposite his now ex-wife Angelina Jolie. He first gained worldwide recognition as a cowboy hitchhiker in the classic film Thelma & Louise. However, as a child actor, Brad Pitt starred in the primetime sitcom Dallas in 1987. These days Brad is still in front of the cameras, but also making movies behind the scenes. His production company, Plan B Entertainment has won him three Academy Awards for The Departed, 12 Years a Slave, and Moonlight.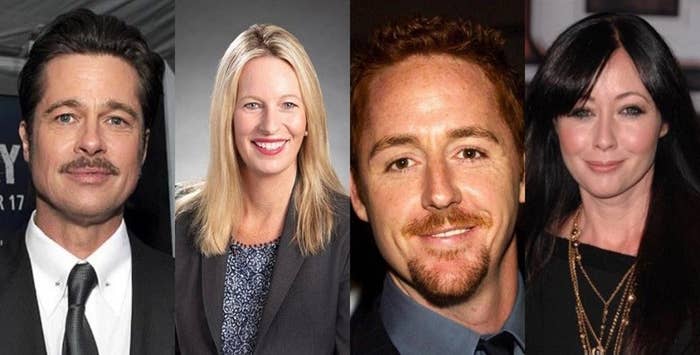 Kelly Hyman
Kelly Hyman was the daughter of a single mother who was giving Charleston Heston tennis lessons to help make ends meet. She started acting at five years old and had several notable projects as a child, including a role in the movie Doin' Time on Planet Earth with the original Batman, Adam West. Kelly Hyman is most known for her role as Loretta on the legendary show The Young and the Restless, where she was nominated for a Youth in Film Award. Wanting to be able to help more people, she pivoted her acting and communications skills into becoming a mass tort and class action attorney and a television legal analyst. Her work defending consumers has earned her the title of being a modern day Erin Brokovich by media outlets.
Scott Grimes
Scott Grimes started out as a child actor in a movie with Mickey Rooney called It Came Upon the Midnight Clear and on an episode of the Twilight Zone. He has also enjoyed some success as a recording artist, starting with this debut self titled album which he released in 1989. Since his days as a child actor, he has now made many regular appearances across many popular television shows and films. His music career has been successful in parallel to his acting career, having released two more albums since his first. Now he is a successful actor, singer, and songwriter and appears regularly on the FOX show The Orville.
Shannen Doherty
Another child actress who rose to fame is Shannen Doherty. She got her start on Little House on the Prairie and at age 11 scored the recurring role of Jenny Wilder and was with the show until it went off the air in 1983. She appeared in her first film Heathers in 1988, but is most known for the role of Brenda in the show Beverly Hills 90210 where she was a main cast member for four seasons. Shannen stuck with acting but also wrote a book and has become well known for her work as an animal right's activist. She was diagnosed with breast cancer in 2016 but has since announced that she is in remission. Shannen Doherty is now involved in a series of remakes made for TV programs.
This post was created by a member of BuzzFeed Community, where anyone can post awesome lists and creations.
Learn more
or
post your buzz!