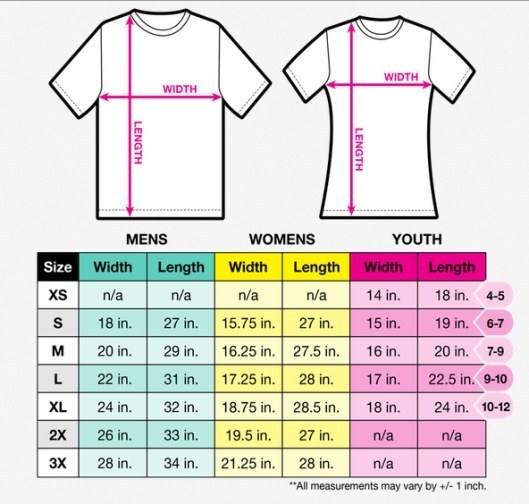 I was hoping to follow up to my Teefury article with different news entirely. This past July I wrote an article covering how off Teefury's women's sizing was. Their own sizing charts show that they size their women's shirts only 1/4 wider than their children's shirts and that the same shirt is even smaller than a men's (often called unisex, because male sizes are apparently the default mode of measurement) size small.
This is laughable for a number of reasons, most of which are obvious. Women are often held to impossible sizing standards when it comes to clothing. While it's great that they offer cuts of shirts made specifically to fit women a little better it'd be great if they, well, actually fit us a little better. There's nothing wrong with being naturally skinny, but expecting every women in the world to fit into kids t-shirt sizes regardless of their age and shape is pretty ridiculous.
I didn't expect my little article to go far, so imagine my surprise when I started getting comments from their CEO, Sam Bruni.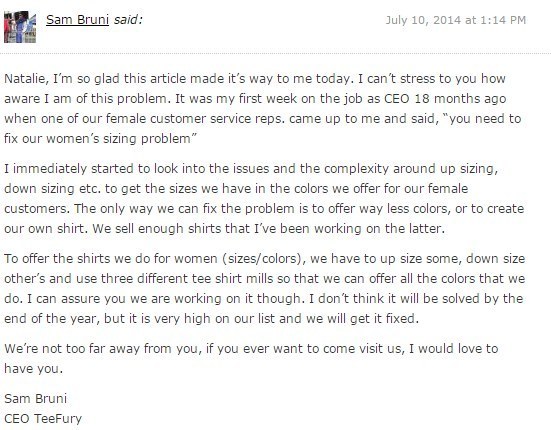 Not gonna lie: I was pretty skeptical at first. The odds were pretty slim that he was the real deal, but I went ahead and shot him an email anyway. It turns out that this was in fact Sam Bruni. After a few emails back and fourth, though, he stopped responding. I was never actually invited to their offices. Chalking it up to another disappointment from a company that's all talk, I moved on with life.
In November I got another message from the Teefury team, and Sam specifically. He invited me to participate in a sizing focus group. They had new batches of t-shirts that they planned on running that were sized for non juniors sized women and they wanted to have a bunch of people come check them out, and me specifically. I responded enthusiastically, glad to see that changes were happening even if I wasn't being responded to. Sam told me he'd send my info on to the focus group, and that's the last I heard of it. This was over six months ago now.
That's not to say there hasn't been any change at all since the article seemed to catch Teefury's attention. Rather than use the size chart I posted above, they've switched to a new one. You have to click between tabs now to see the different sizing options they have, making it more difficult for you to see the huge discrepancy between women's and men's sizes as well as the minuscule difference between women and children. They've even switched up the sizing columns in the kids section so they no longer correlate as easily visually.
Sadly, though, the sizing all remains the same. There are no additional shirt options, and Teefury is still charging women ordering a shirt above an XL. If you order a 2XL, the equivalent of a men's size medium, it's $1. If you order a 3XL, which clocks in just below a men's size L, it'll be an extra $2. Strangely the equivalent male sizes incur no additional charges.
The sad conclusion to my story is that nerd culture companies just don't care that much about their female audiences. This is just one symptom of the greater disease. Men in geek culture can be any size they want and often find solace in these safe spaces from a world that may make them feel lesser than for that same size. Women, on the other hand, are expected to wear slave Leia costumes or slinky R2-D2 styled dresses or face the same derisive comments from the men in their group that they're actively avoiding. Geek culture isn't a safe place for women yet, and it isn't one that pays serious attention to the needs of over half of its video game playing population at least as Teefury's proven. But that doesn't mean we should stop trying.
Sam Bruni, if you're reading this I hope positive changes really are coming. You know how to reach me.
This post was created by a member of BuzzFeed Community, where anyone can post awesome lists and creations.
Learn more
or
post your buzz!