Hey, I'm Farrah! I've been tweaking my travel routine this year to include 100% zero-waste products, and there's a few things that I think should be staples if you want to be more eco-friendly when you travel. So, without further ado, here's a few of the basics you should check out.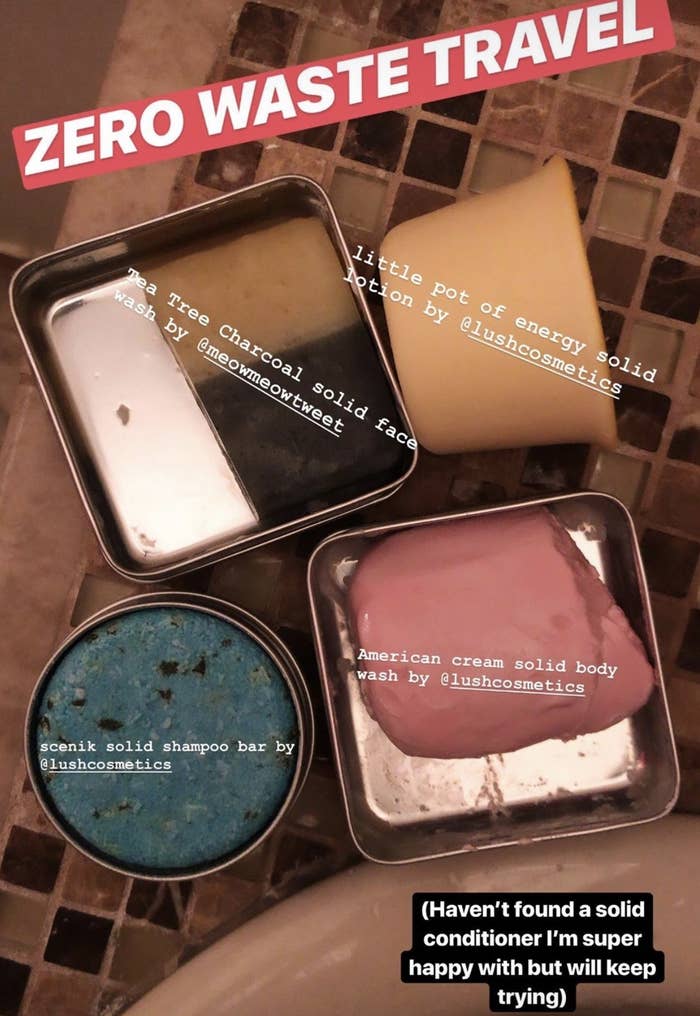 1.
Quit buying travel toothpaste in plastic tubes and make the switch to toothpaste tabs.
2.
Take a bamboo toothbrush with you instead of a plastic travel toothbrush.
3.
Switch from liquid face wash to face wash that comes in a solid bar.
4.
Make liquid shampoo a thing of the past by getting yourself a shampoo bar.
5.
And while you're at it, switch to a solid conditioner.
6.
Travel with tons of lotion by switching to a solid lotion bar and always have silky, hydrated skin.
7.
Forgo bottles upon bottles of skin serums and travel with "naked" serums.
8.
Stop using one-and-done makeup wipes that go straight to landfills and try a reusable makeup pad like Makeup Eraser.
9.
Dump those disposable razors for an eco-friendly option.
11.
It's impossible to travel without hair ties if you have longer hair, so grab a pack that's biodegradable.
12.
Switch to a dry shampoo that doesn't come packaged in a throw-away aerosol can.
13.
Instead of bringing tons of tampons and pads on your trip, bring just ONE pair of Thinx underwear.
14.
Quit using single-use plastic baggies for your toiletries and get a reusable bag.
15.
Trade those plastic water bottles for a reusable water bottle.
16.
And don't forget about a reusable cup for both your iced and hot coffee or tea.
17.
Bring reusable bags for snacks instead of plastic baggies.
18.
Get yourself a set of travel silverware to prevent yourself from using plastic utensils.
19.
Finally, get yourself some reusable bags if you know you'll be shopping on your trip!