1.
The girl who had the sweetest, purest moment with Miley after a Hannah Montana concert.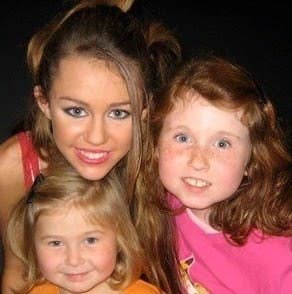 2.
The girl who received a compliment from none other than Michelle Obama.
"My sister used to work in downtown Chicago in a very important building that was used to hold business meetings. One day while she was walking under the Chicago loop during her lunch break, she met Michelle Obama, who told my sister she loved her dress!"
3.
The time Tan France made the effort to find quality lighting for a fan photo.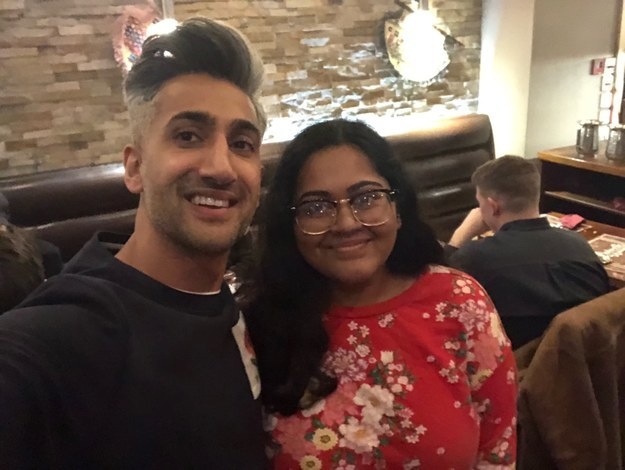 4.
The mom who had a good experience as an extra in The Hunger Games thanks to Josh Hutcherson.
"My mom was an extra in the first two Hunger Games movies, which were filmed near my hometown. It was August and all the extras had to wear heavy sweaters. During a break, mom wandered away from the other extras to find some shade since it was 90 degrees outside. She saw a young man was showing his mother around the set and knew he worked on the movie, but didn't know if he was a crew member or an actor. The young man jokingly commented to my mom, 'Boy, I wish I'd thought to bring my sweater today!' They chatted a bit until the break was over, and my mom remembers him being very polite and funny. Later, she saw a magazine cover and gasped. The polite young man who'd stopped to speak with her on set had been Josh Hutcherson."
5.
The girl who had an extremely lovely run-in with Andrew Garfield.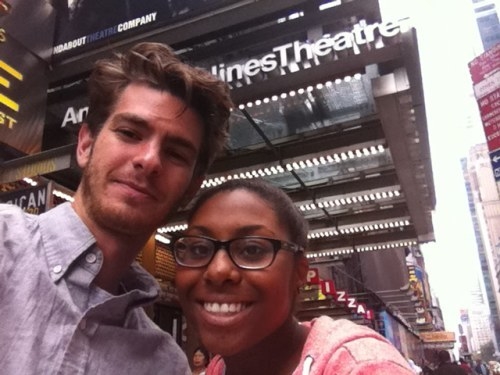 6.
The time Tom Felton extended his meet-and-greet so no fan would leave unhappy.
"I was at a meet-and-greet to see Tom Felton (Draco from Harry Potter). The line was obscenely long! I got there five hours early and still was near the back of the line, and we were waiting outside in 100-degree weather. We were hot, tired, and craving some AC. Tom was only supposed to be there for a limited amount of time, but when he found out a bunch of us had been waiting HOURS outside in the heat and weren't going to get to see him, he said he'd stay. His three-hour meet and greet turned into almost SEVEN HOURS. By the time I got up to see him, he'd been there for nearly five hours. I thanked him for staying and he hugged me (I was super sweaty and gross) and said, 'Of course, love. Let's get that picture.' Best night of my life. That's when I became a fan of his forever."
7.
The girl who had a genuine moment with Taylor Swift after Taylor's mom offered her the opportunity to come backstage.
8.
The time Zac Efron was super generous at an LA Galaxy game.
9.
The small but kind gesture Jennifer Garner bestowed upon a student.
"I help my husband host academic tournament events at his school and have sold concessions to Greg Kinnear and Jennifer Garner. Once, Jennifer Garner bought the water for the kid in front of her so they didn't have to break their twenty."
10.
The adorable coffee shop moment one fan had with Daveed Diggs.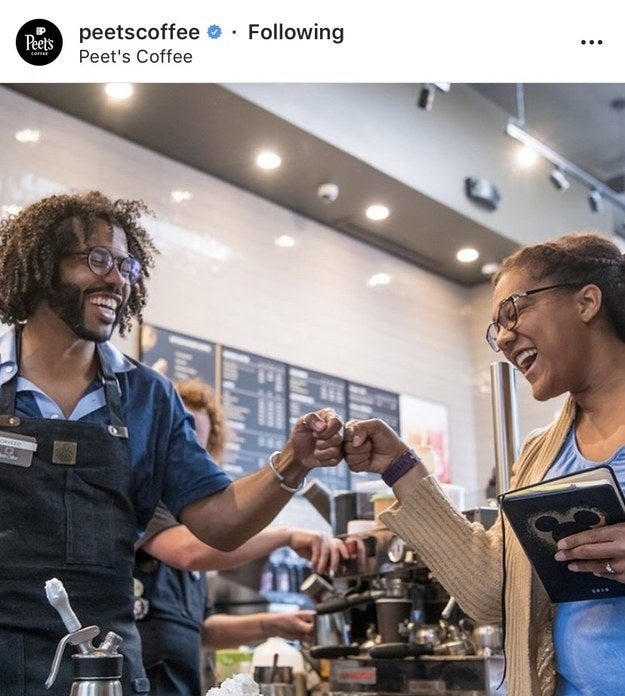 11.
The girl who received birthday balloons from Whitney Houston.
"Whitney Houston was a producer on The Princess Diaries movies. My mom worked on set for the second one. Once, my mom happened to mention that it was my birthday, and Whitney took some of the balloons that can be seen onscreen during Mia's bachelorette party and told her to give them to me as a present. Best birthday ever!"
12.
The impromptu run-in with Vance Joy that made this couple's day.
13.
The one time Vanessa Ray spread a random act of kindness by purchasing someone's groceries.
"About three months ago, my dad's girlfriend and her two kids went to a grocery store in Los Angeles. Once they got to checkout, she realized she forgot her wallet. The cashier made a rude remark about it and she was so embarrassed she rushed out the store. Then she heard shouting behind her. She turned to see a woman running after her, frantically waving few grocery bags in the air. It turns out Vanessa Ray was behind her in the checkout line and witnessed the whole thing, so she bought her groceries for her. Vanessa was really sweet and took a picture with her and her kids. My dad's girlfriend still gushes about it any chance she gets."
14.
The girl who found her new Christmas card picture after running into Elijah Wood.
15.
The time Robin Williams went out of his way to get a young boy to laugh.
"I met Robin Williams after a performance of Bengal Tiger in the Baghdad Zoo. He was very quiet but happy to sign autographs and take pictures with us. He saw a young boy standing next to me and froze. Then a smile appeared on his face. It was like a light switched on in him — he started doing voices and making jokes (he even did a shtick from Aladdin). Anything to get the boy to laugh! It worked like a charm, and the boy started roaring with laughter (as did the rest of us). Robin Williams impacted so many through his work, and it was incredible to get to see both the performer and the person in that one encounter. It's a memory I cherish."
16.
The incredibly wholesome encounter one fan had with Peter Capaldi at DragonCon.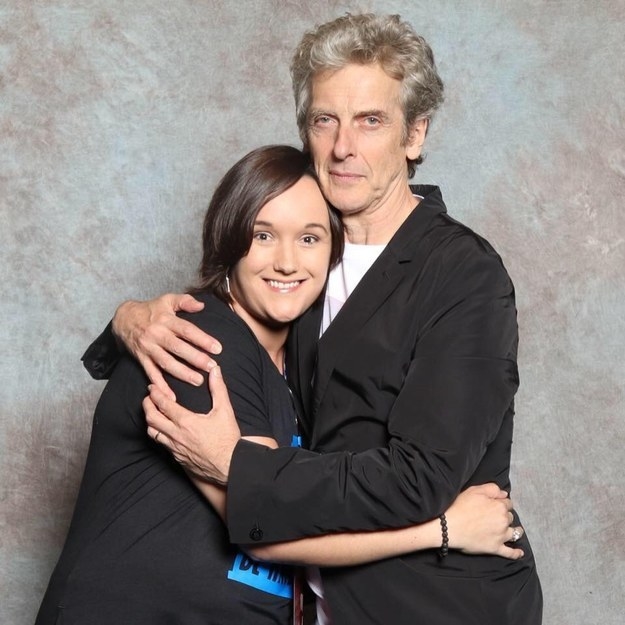 17.
The girl who met Lauren Conrad by a total (minor) freak accident.
"My sister was in Miami leaving a restaurant, and she tripped and fell. Lauren Conrad grabbed her, helped her up, and made sure she was OK!"
18.
The short but sweet encounter one fan had meeting Penn Badgley.
19.
The girl who experienced a super-polite phone call with Aretha Franklin.
"I used to work for a clothing company that sent catalogs to the customers, so I would take orders over the phone. One day, I picked up the phone and took an order from the amazing, late ARETHA FRANKLIN. She was so sweet. I was so star-struck, but I pretended like I was aloof and not freaking out that I was speaking with a legend. We were based in New York, and she said she loved staying at the Waldorf Astoria. When we finished I told my coworkers what happened, and they said, 'Oh yeah, she'll call from time to time.'"
20.
The fan who had a gentle heart-to-heart with Taylor Swift about anxiety.
21.
The very concerned Andy Garcia, who wanted to make sure a performer was OK.
"When I was in high school, my choir was chosen to sing at Epcot for Christmas while a celebrity told the story of the birth of Jesus. The celebrity guest was Andy Garcia. Unfortunately, I got sick halfway through the concert and passed out on stage. The EMTs had to remove me and call my parents. I was sitting backstage getting checked out as the show finished, and Andy Garcia stopped by to see if I was OK. He sat with me for a minute until my teacher came to get me and patted my head before leaving. It was brief, and I was not fully conscious the whole time, but it still meant a lot to me."
22.
The surprise Adam Sandler–spotting at one girl's university.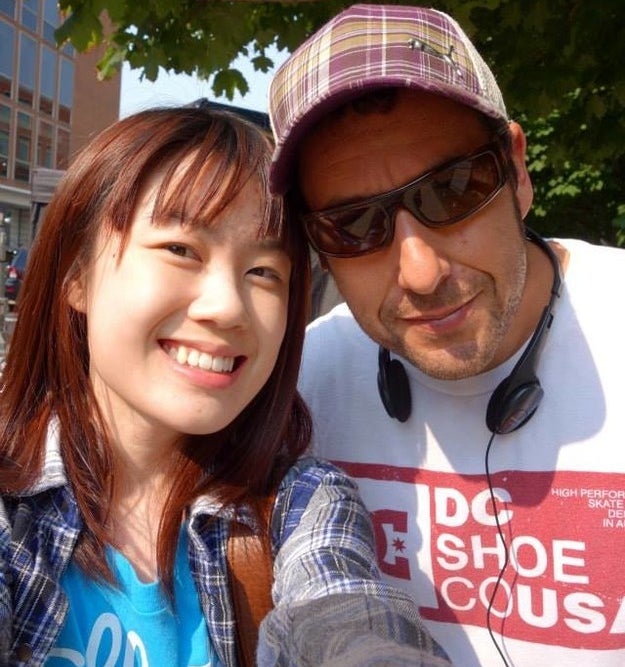 23.
The girl who learned that Bill Murray is an extremely generous tipper.
"My mom was a waitress in New York City for years, and she waited on Bill Murray twice. Both times he was kind, funny, and exactly what you would expect of Bill Murray. He always left a $100 tip on top of the usual 20%."
24.
The very kind encounter one girl had with Ray Toro after his charity event.
25.
And finally, the random grocery store meeting with Seth Rogen, who kindly doled out words of encouragement.
"I was working at Whole Foods on a Sunday, which is normally our busiest day. I was getting screamed at by customers for hours, so when this guy came up with the biggest smile on his face and asked me how I was doing, it was a nice change of pace. We were having a conversation about Pittsburgh and how he was excited to be back. I don't remember what I said to make him laugh, but once I heard it, I froze. 'Are you Seth Rogen?' I asked. He said, 'Yes.' Even though my name was on my tag, I introduced myself and told him I want to be a screenwriter. His face lit up and he asked, 'How about that Final Draft update?!' We geeked out over screenwriting software for who knows how long. I talked with him about the story I was writing, and the best part was that he was genuinely interested in what I had to say. The rest of the conversation was kind of a blur until I gave him his receipt. Before he left, he said, 'So, three or four years from now, I want to see that movie title on a marquee. If I come back in here in a few years and you're still ringing people up and not writing movies... Bottom line: keep writing.' He smiled and walked out. It meant the world to me."