Perhaps you THINK you've seen your fair share of Harry Potter house transformations, but a family in Austin, Texas truly does deserve 500 House Points for recreating a walk-through Diagon Alley in their front yard for Halloween.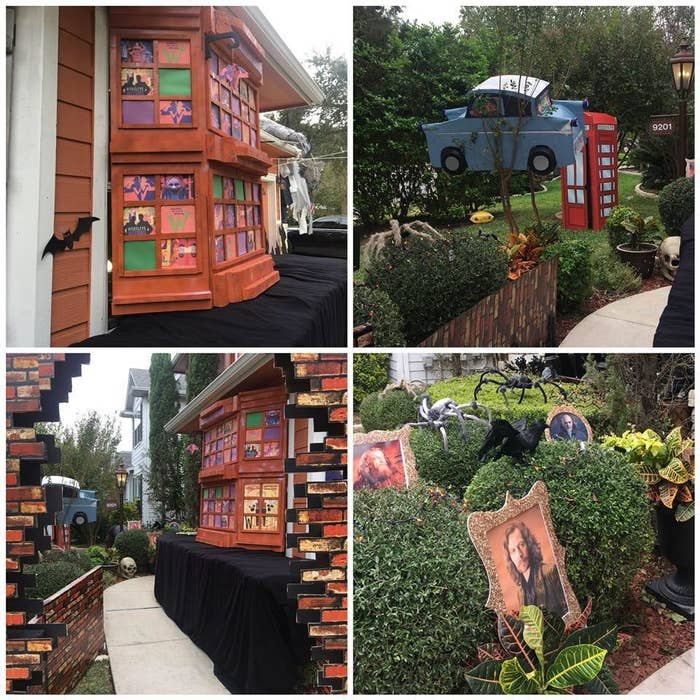 The Pace family, along with neighbors and friends, are responsible for bringing this magic to their home. The project started when Joel's wife was diagnosed with breast cancer.
"Last year, my wife was diagnosed with breast cancer," Joel told BuzzFeed. "She had several surgeries and complications. With Halloween approaching, she mentioned we probably wouldn't do much decorating. I told her that I would handle it all — I'd even build the flying blue car. She smiled, and that's how it all began."
"With every new prop I would build, she would smile. In a way, working in this project was healing for all of us. I did everything out of cardboard last year and it looked amazing — until it rained."
"This year, we decided to go BIG. I really wanted to build the Hogwarts Express. I started in June, working on it on the weekends, and once I finished, I started thinking that building Gringotts would be a fun project. Essentially, it just got out of hand. We've had a lot of fun completing Diagon Alley. My wife has recovered and helps paint and detail. We do it together."
"The response has been incredible. Our neighbors are either helping, encouraging our madness, or decorating their own homes with some kind of Harry Potter theme."
The magic is very much in the details!
The Pace family will be out from 5 p.m. to 11 p.m. tonight showing off their incredible creation. You also might see some of your favorite characters wandering around! Although they state it is free to visit, they will be asking for donations to support Performing Arts programs. However, visitors are under no obligation to donate. You can learn more on their Facebook page or — if you're not in Austin — see a complete walk through here.