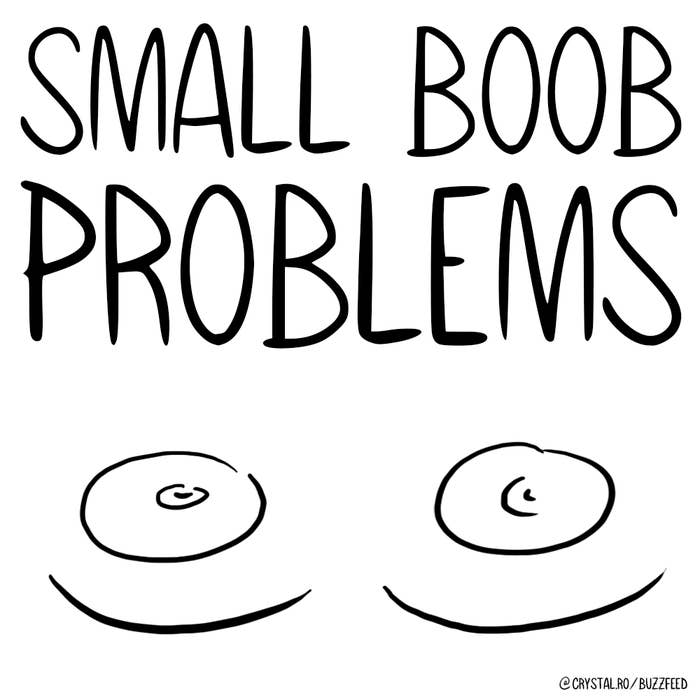 1. Dealing with gaping in the cups of your bra because your boobs don't fill them all the way out.
2. Expecting at least SOME cleavage when wearing a V-neck dress, but pretty much just showcasing your sternum instead.
3. Accidentally dropping food down your shirt and having it fall all the way to your waist because you don't have the boobs to catch it.
4. Having to put in the pads that fell out of your padded bra in the wash.
5. Actually going somewhere without a bra on and then being stuck somewhere really cold.
6. Raising your arms up too high and feeling your strapless bra pull up OVER your boobs.
7. Or, no matter how tight you think the band is, wearing a strapless bra and having it eventually become a bra-belt.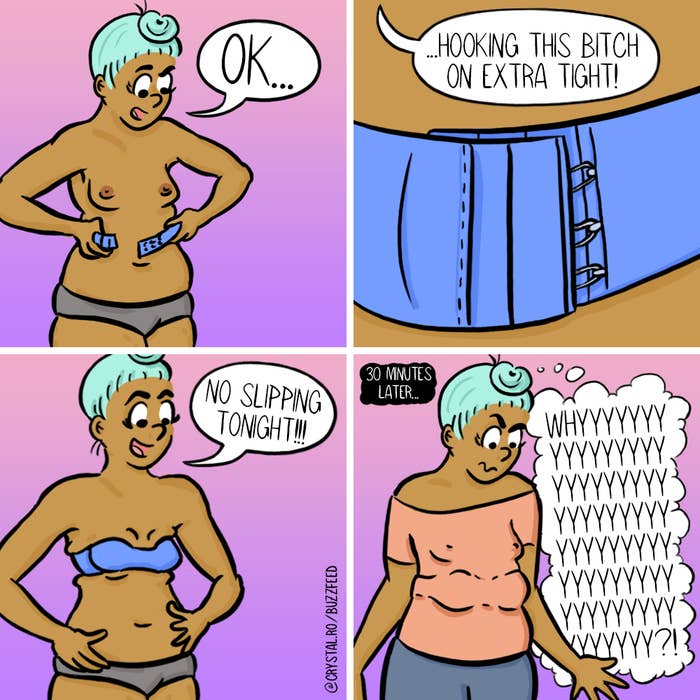 8. Trying to enhance what little cleavage you DO have by watching a YouTube tutorial on cleavage contouring...
9. ...but then realizing you just look like bronzer exploded everywhere, including your shirt.
10. Trying out those silicone petal padding things for the first time only to find out they don't like to stay in place that well.
11. Rolling your eyes at the people who tell you that you're lucky you can just go braless everywhere...
12. ...but in reality your bra is what helps support and give your boobs their shape!!!
13. Having people "jokingly" refer to your small boobs as mosquito bites.
14. Or bee stings.
15. Or pancakes.
16. Or saying you're part of "The Itty Bitty Titty Committee."
17. Finding a really cute dress or top but realizing there is WAY too much extra room in the boob area.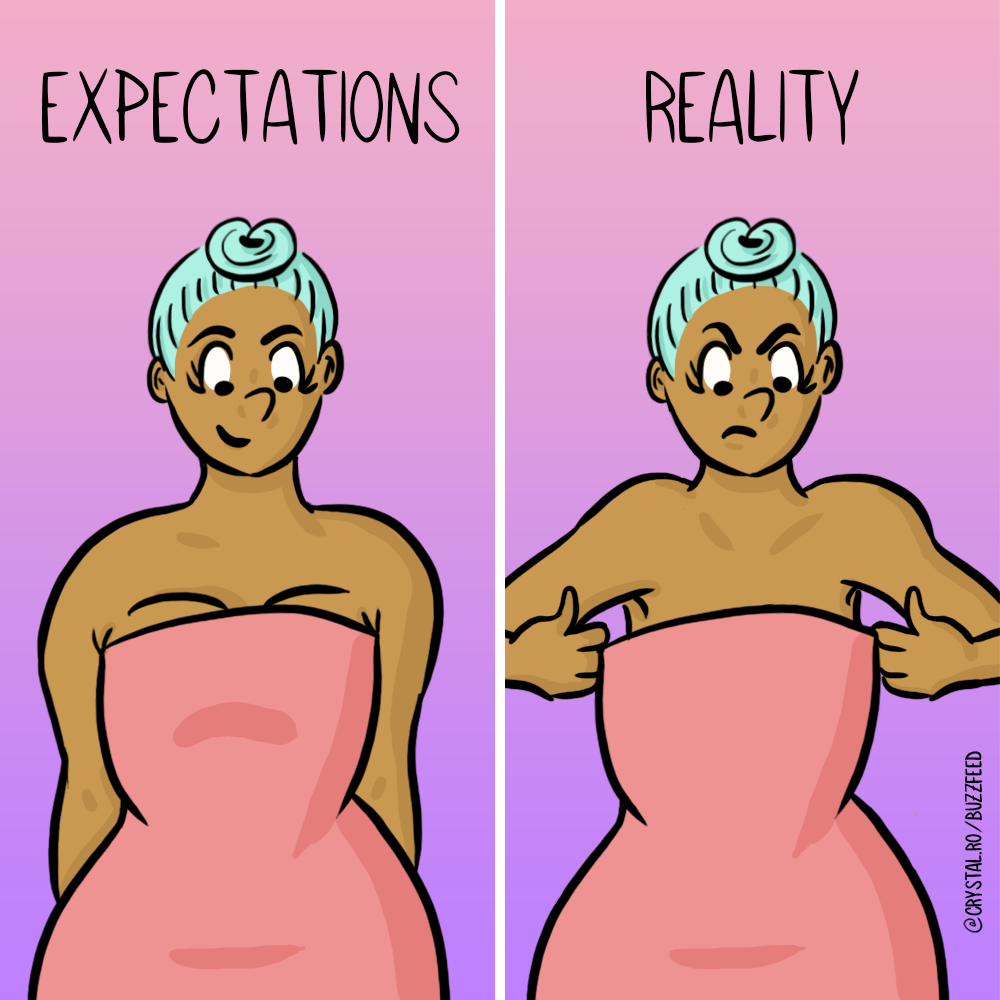 18. Not being able to hold anything in your bra/cleavage — like your phone.
19. Having to constantly pull up a low-cut top because you keep accidentally flashing your bra...
20. ...but also, don't even think about bending over in that top unless you want to give people a show.
21. Being bloated after eating and realizing your stomach sticks out as much as (or more than) your boobs.
22. Wearing certain tank tops and lookin' like an ironing board.
23. Gasping out loud when you see a bra's expensive price tag for something that covers SO LITTLE OF WHAT YOU HAVE.
24. Shopping in the same bra size section as middle school girls.
25. Having to pin your wrap dress because it's still too low-cut and your bra is showing.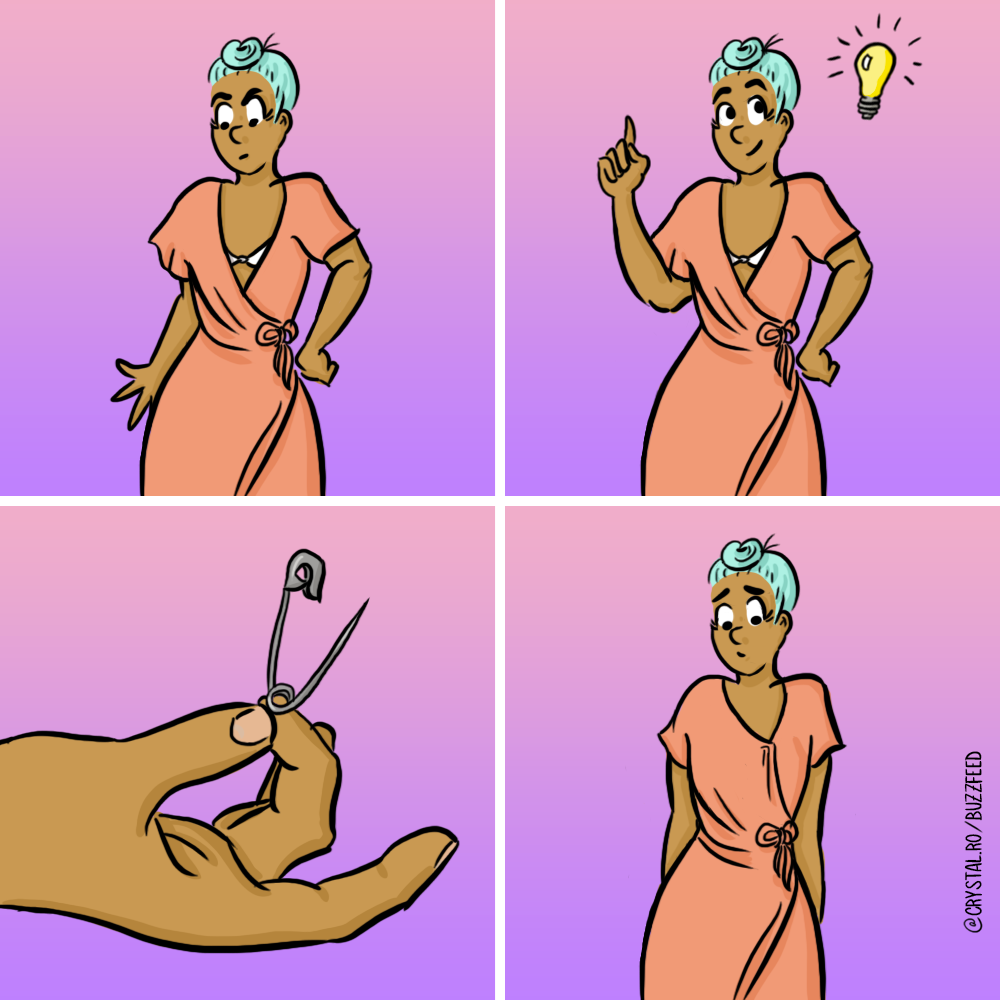 26. Watching your boobs disappear right after putting on a sports bra...
27. ...or when you lay down, too.
28. Gettin' that boob-gap sweat when it's hot out.
29. Thinking you've found the perfect push-up bra in your exact size but discovering there is TOO MUCH EXTRA ROOM IN THE CUPS.
30. Waiting FOR-EV-ER for a wet padded bikini top to dry after you go swimming.
31. Feelin' EXTRA flat when you put on a simple T-shirt.
32. Going through with actually taping your boobs to create SOME kind of cleavage.
33. Spending hours googling how to make your boobs look bigger only to realize nothing will magically give you another cup size.
34. Thinking you're not ~attractive~ because you've got small tatas...
35. ...WHICH IS 100% UNTRUE, BECAUSE ALL BOOBS ARE GOOD, BEAUTIFUL BOOBS!!!!!!