Hi, I'm Farrah! I'm not someone you'd probably think of as "short" — I'm 5'4"! — but when it comes to shopping, I tend to fall on the petite side. So when I discovered there was a clothing subscription box tailored to petite women, I was instantly intrigued.
The subscription service is called Short Story! I wanted to try it out for a few reasons. The biggest reason? 90% of the time, everyday tank top straps are too long on me. I'm not sure if it's my torso, shoulders, or something else, but they'll slip off my shoulders or shift into a weird position that makes the entire top look ill-fitting. They're too loose and too long, so sometimes I end up getting them tailored. (At this point I should learn how to do it myself.)
A few other problems I find slightly aggravating: tops that should lay more fitted on me feel oversized or awkwardly gap, pants and dresses are sometimes too long, and blouses hang too loose on my frame, which doesn't exactly make me look super put together.
I've never felt like a "short girl." (I also don't think 5'4" is short.) But whenever I have shopped in the petite section at stores, it's clear that the clothing fits better. So I did a little research to find out why.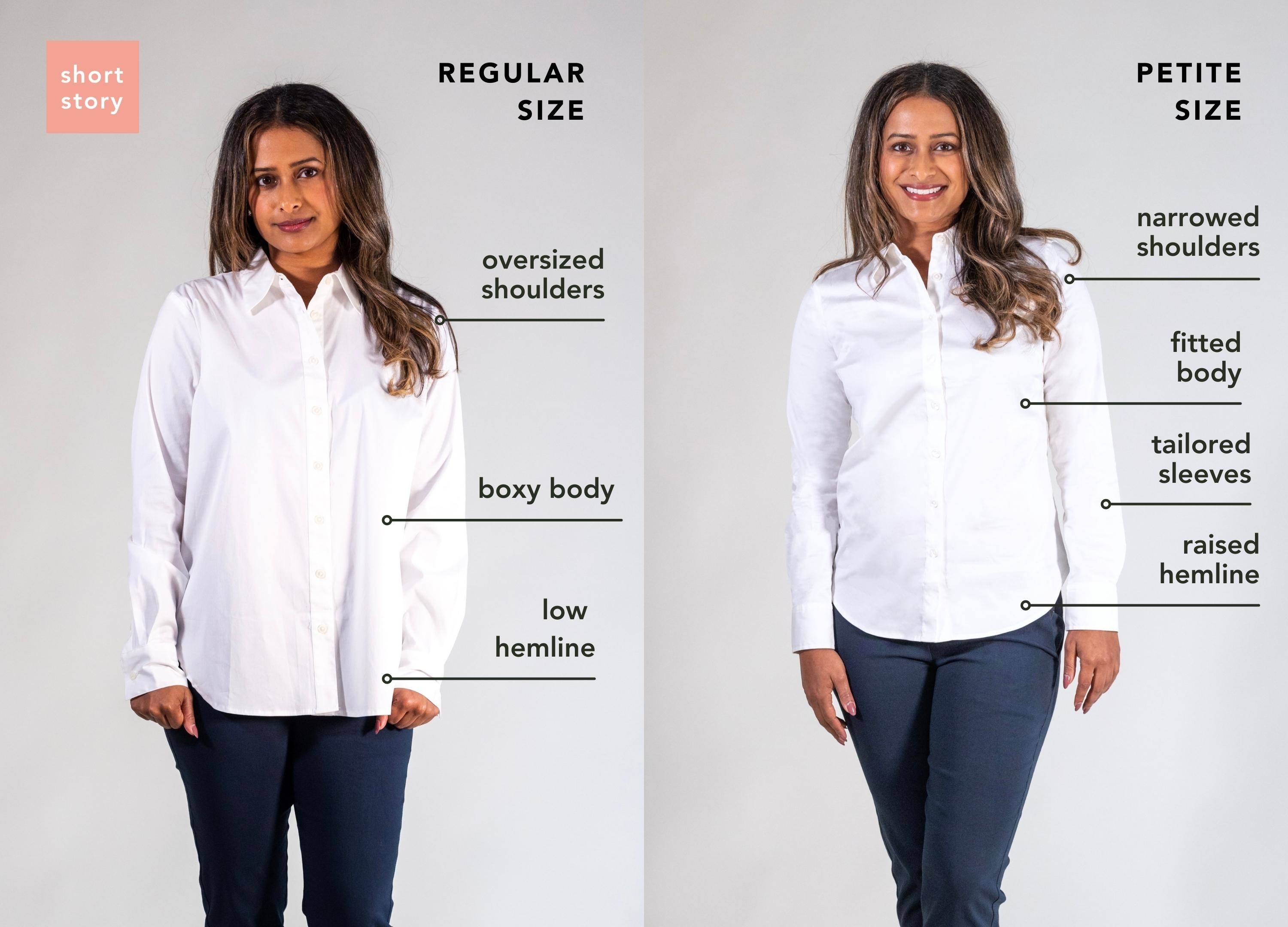 With all this in mind, I was eager to learn more about Short Story, a subscription box and personal styling service for petite women.
Here's how it works: You take a style quiz, and an expert styler curates a handpicked selection that fits your taste and lifestyle. Your box is shipped to your address along with a prepaid bag to return anything you don't want to buy/keep.
They currently carry sizes 00P–18P with plans to expand. Short Story's wardrobe options include tops, pants, jeans, jackets, dresses, jumpsuits, and accessories from established and up-and-coming brands.
A style fee ($25) is included with your box, but it's applied as a credit toward the pieces you decide to keep. Your stylist keeps your budget in mind when it comes to picking out pieces, sending you items based on that range. You're also able to pick out how frequently you receive a box, from every few weeks, to monthly, to every couple months.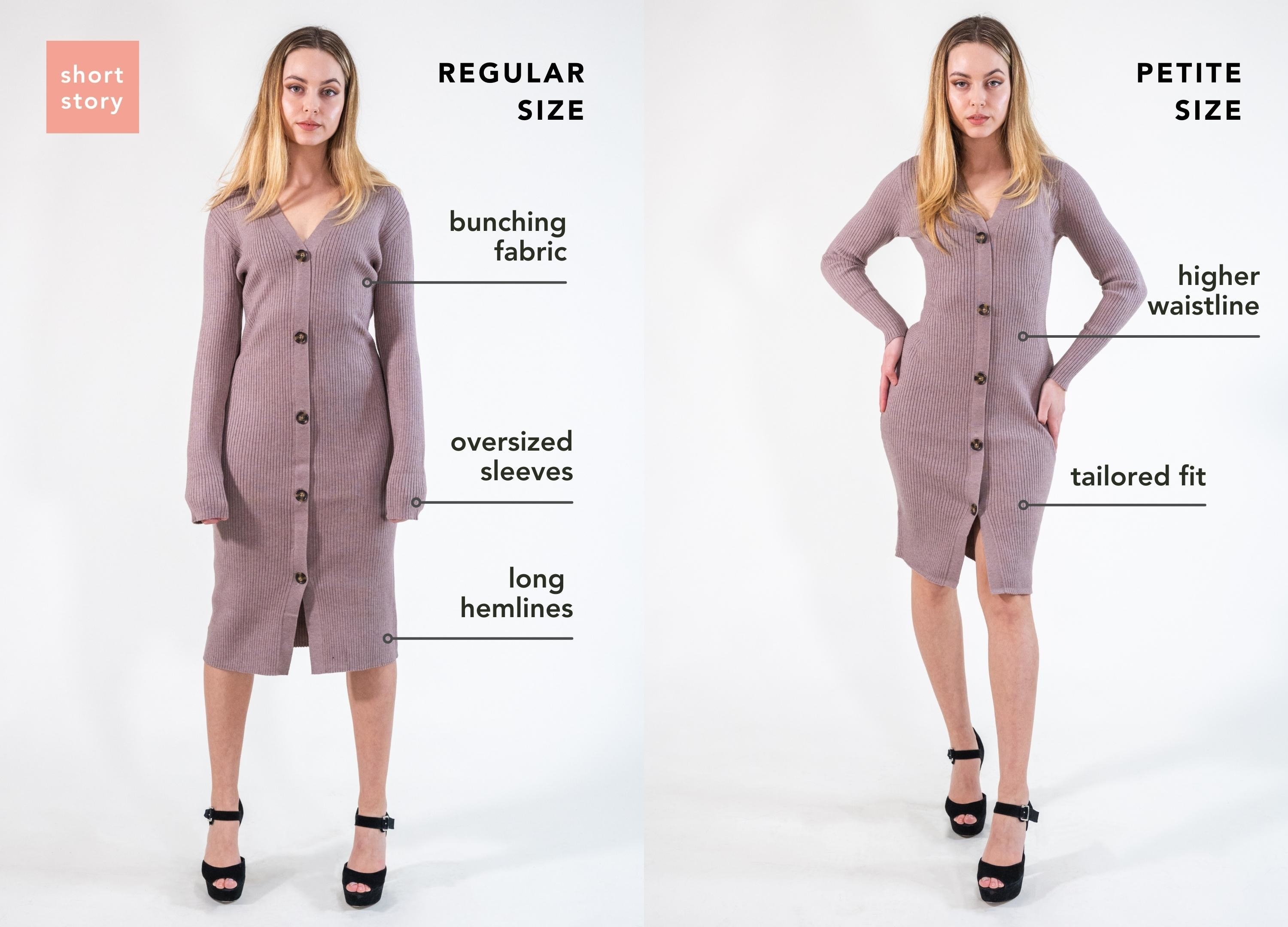 Here's what it looks like when you sign up! First, you'll answer a questionnaire. It's very thorough; I was super impressed! They begin by asking what you tend to struggle with when it comes to finding clothes.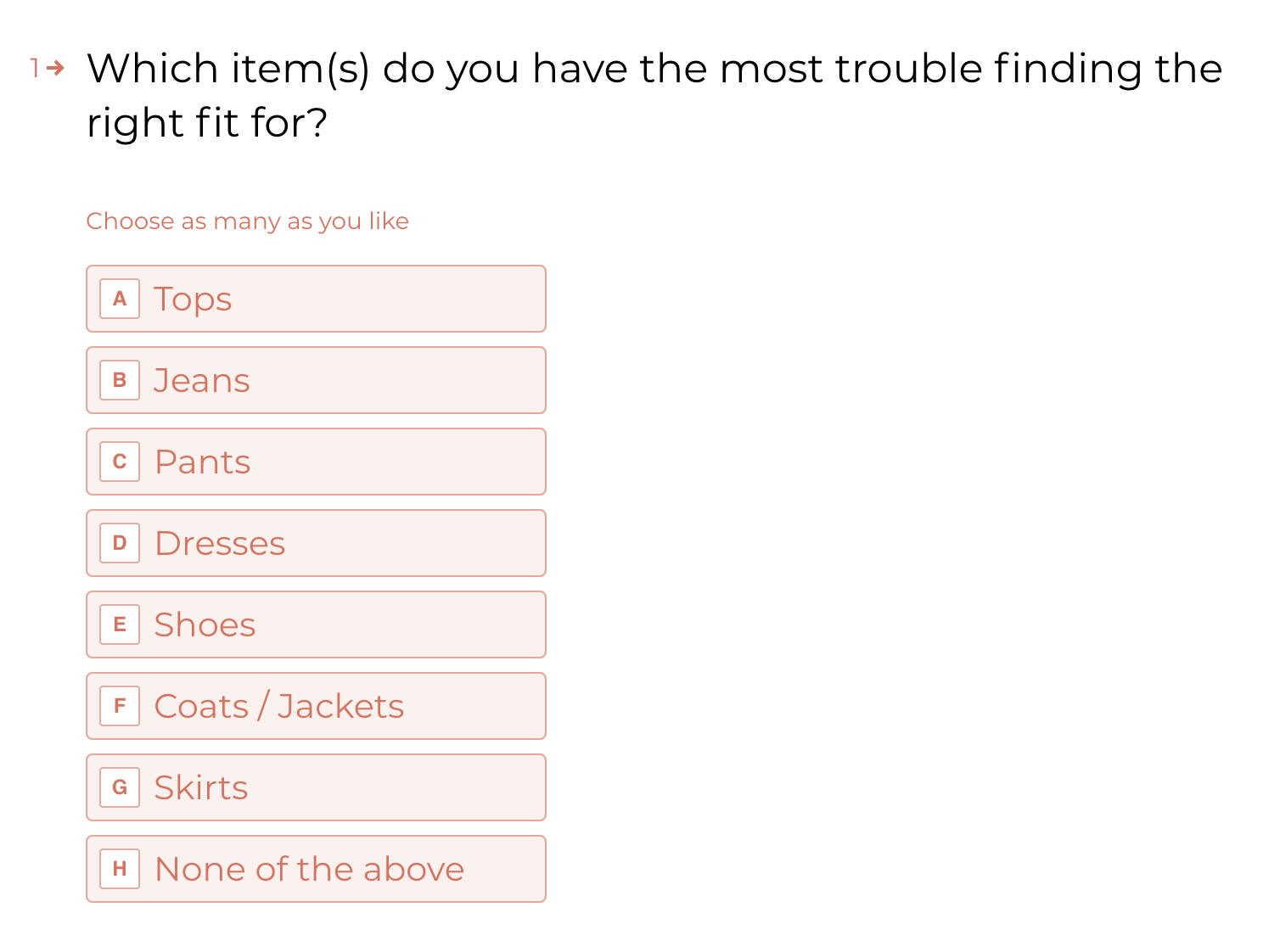 They then ask you to rate certain styles of clothes to get an idea of what you personally enjoy wearing.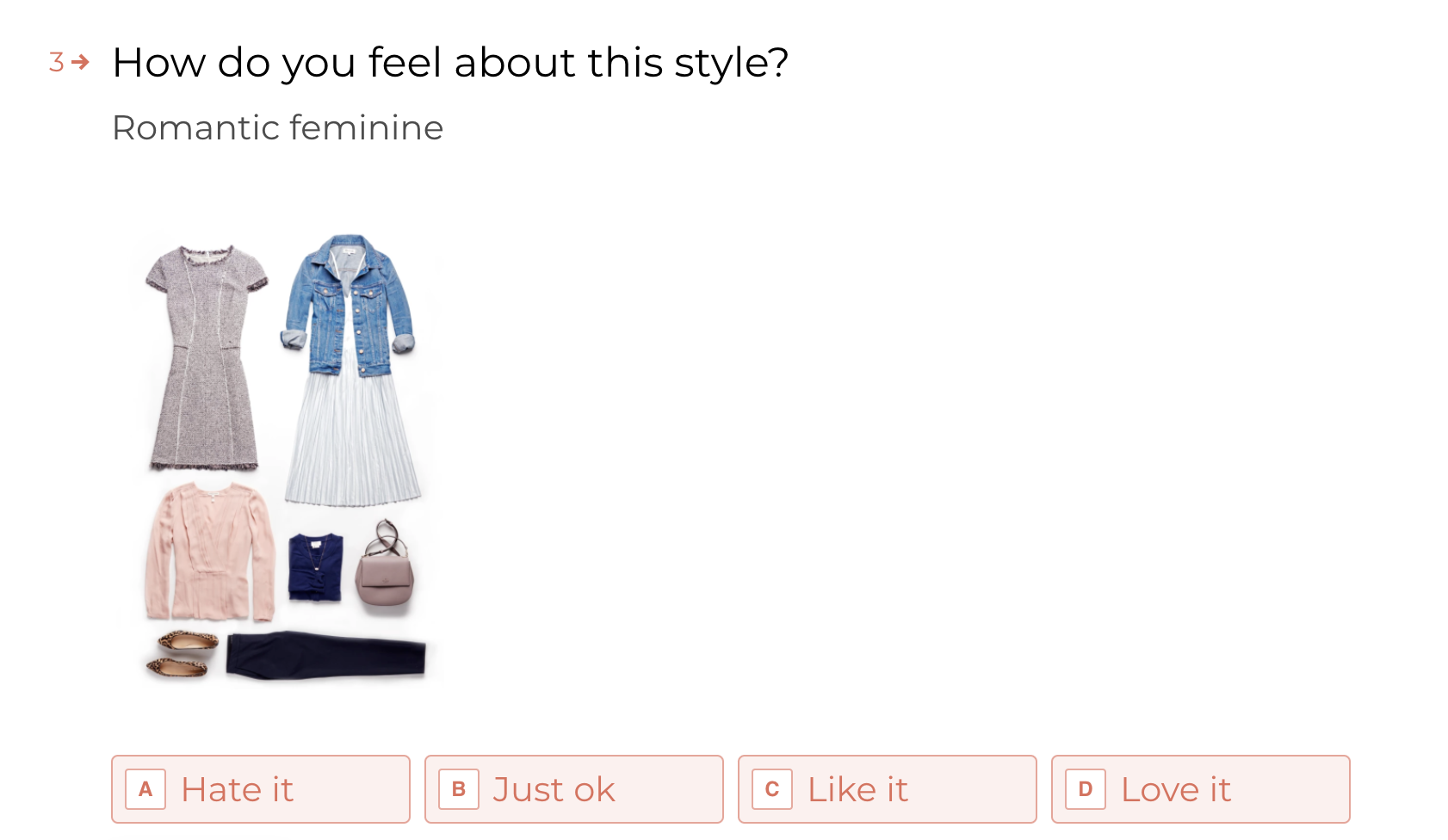 Next we get more specific, including questions that ask your age, height, and weight. I had no idea there was such an in-depth measuring guide! It also helps if you own a measuring tape, since providing accurate measurements is what will help them select the right sizing for you.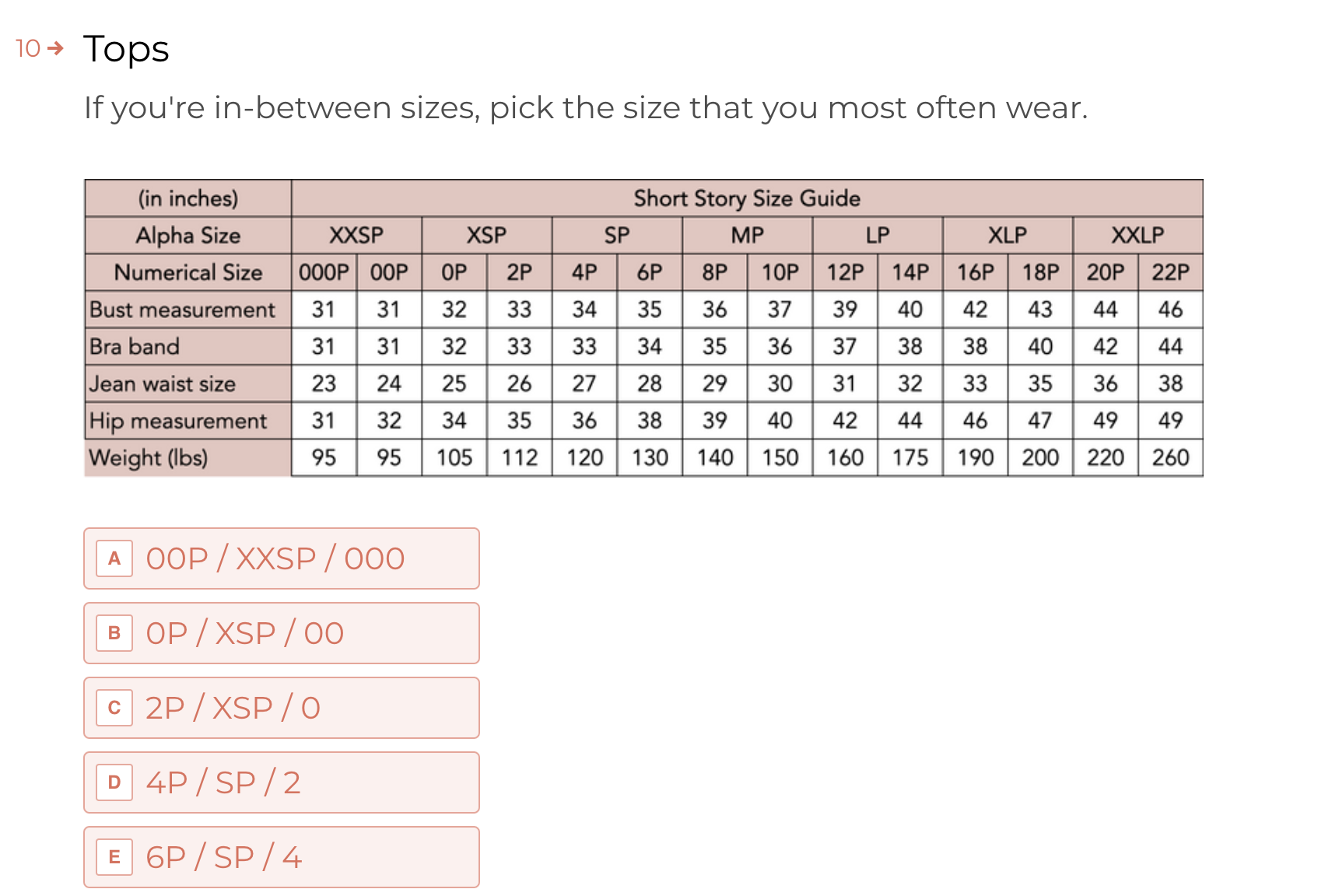 I live in Los Angeles, which means my go-to is usually athleisure-style clothes around my apartment. I have plenty of those options, so I decided to go with everything else!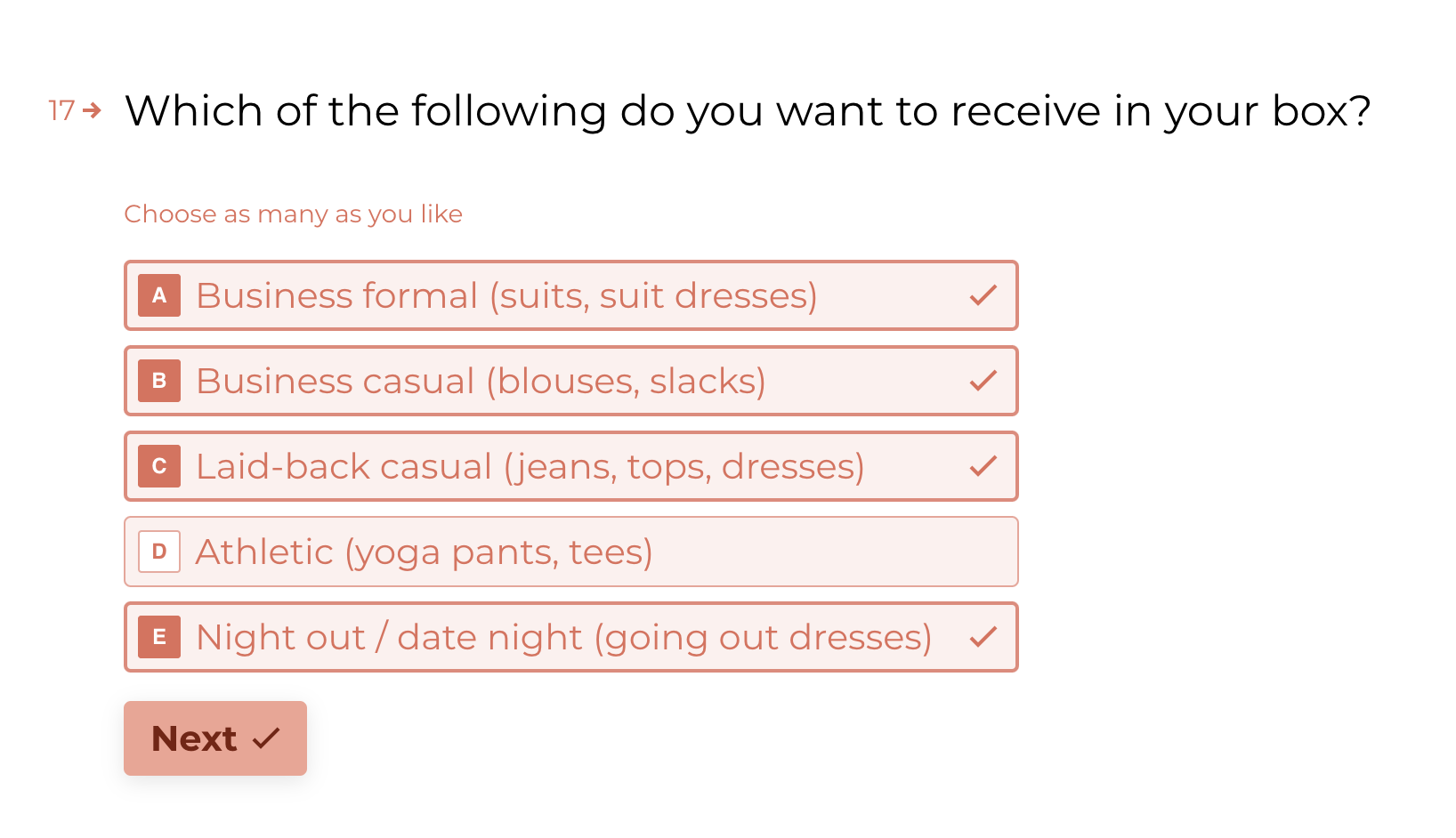 I also liked that the quiz returns with more questions to get a better feel for your style, specifically what you like wearing when it comes to certain items of clothing.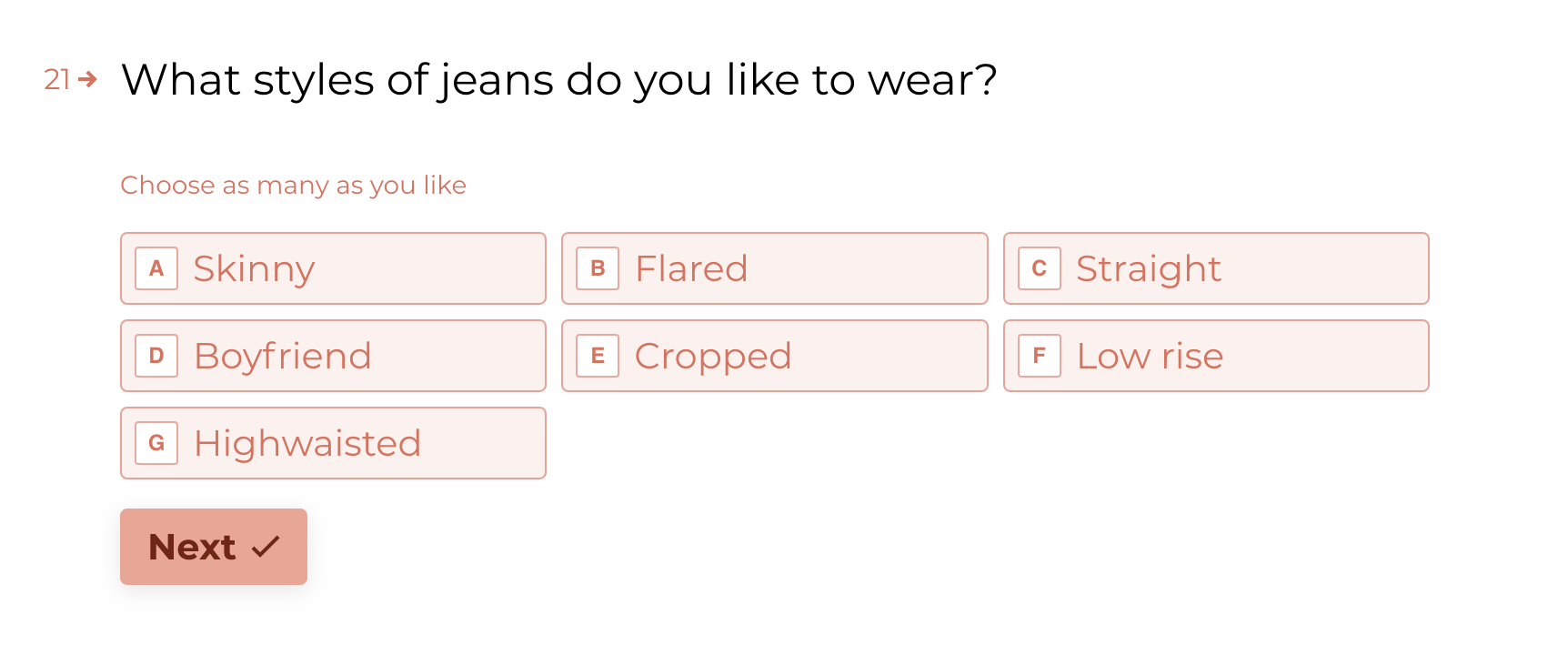 Also colors and patterns! Hate animal print? You can tell them!

As you can see, this is question #24 — which gives you an idea of how thorough they are! I appreciated it because it gave me an idea of what I could expect to see in my box.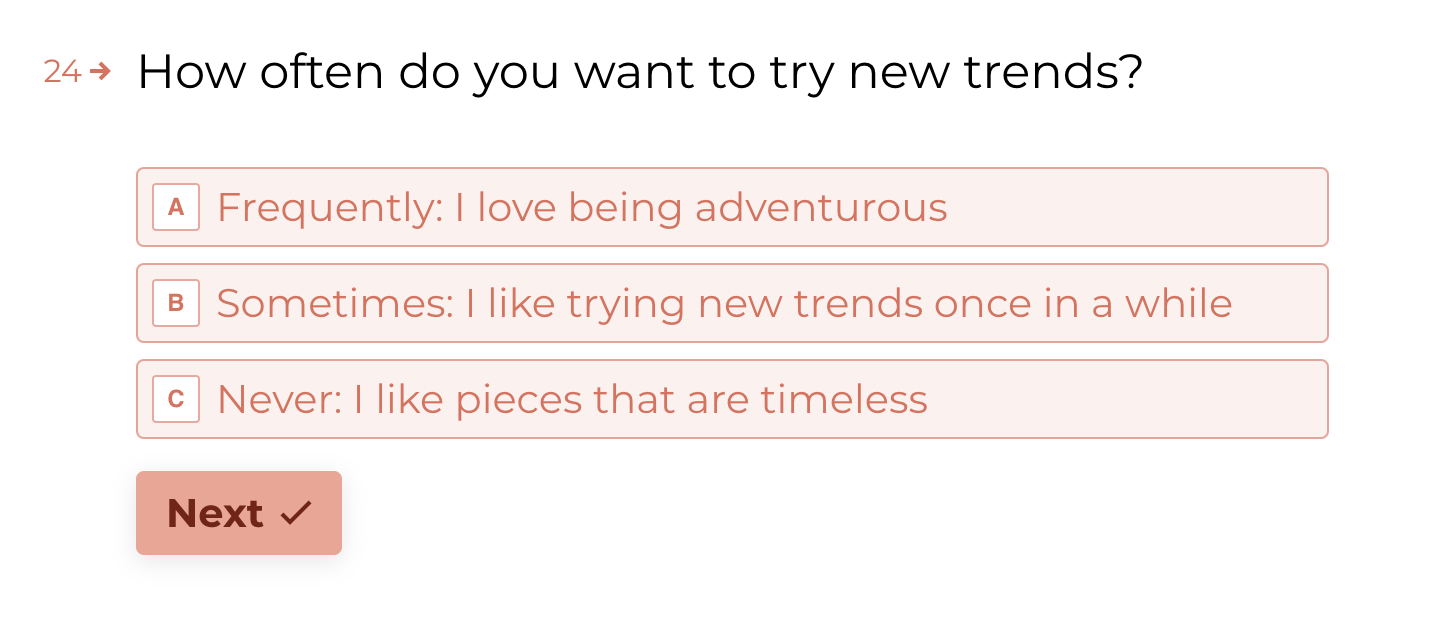 And if you're like, "I have WAY too many coats," you can let them know that's not exactly what you're looking for with your order.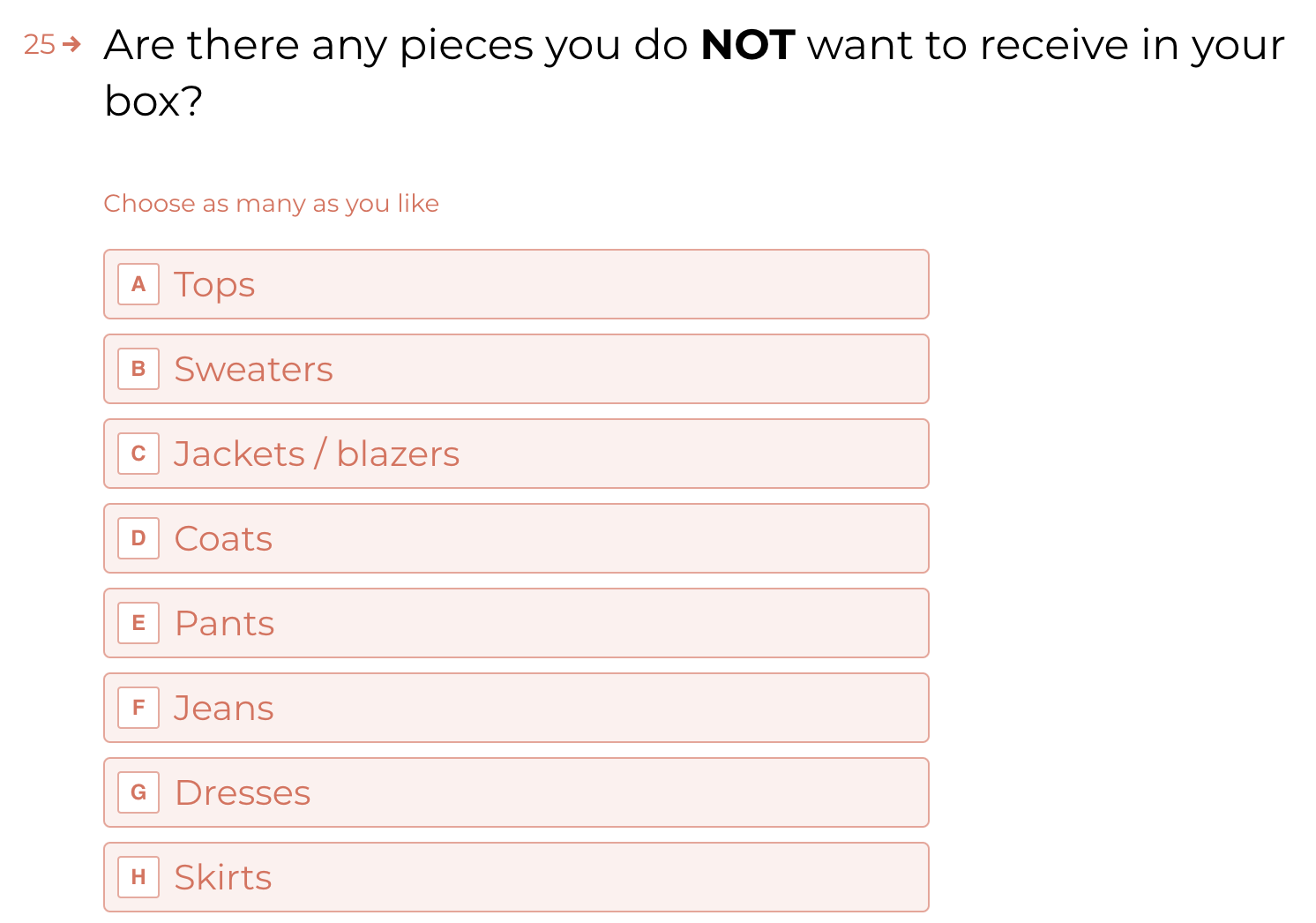 One of the last sections of the quiz is budget and prices, and the questionnaire asks what you usually prefer to spend on different articles of clothing.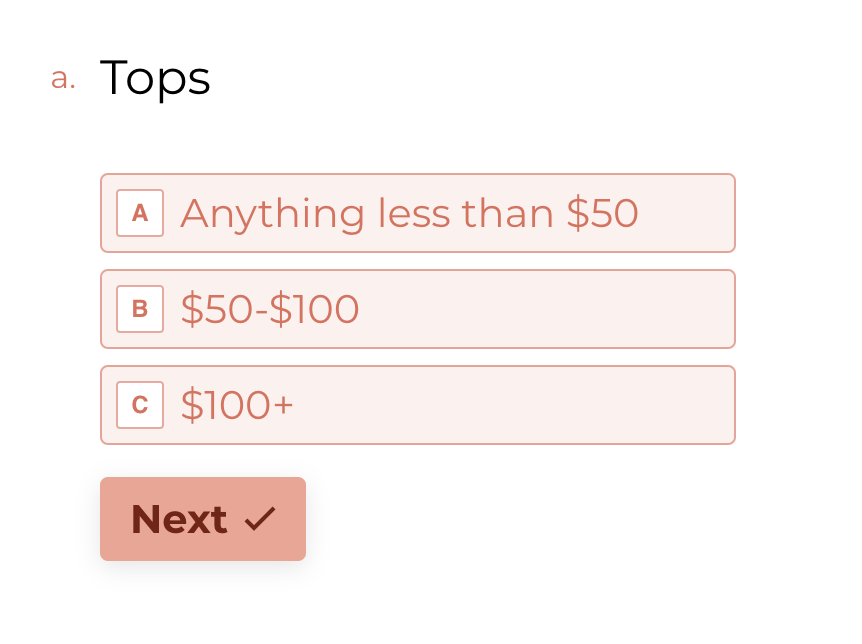 Finally, you can send a little note to your stylist to let them know what you're hoping to receive! Here's what I wrote: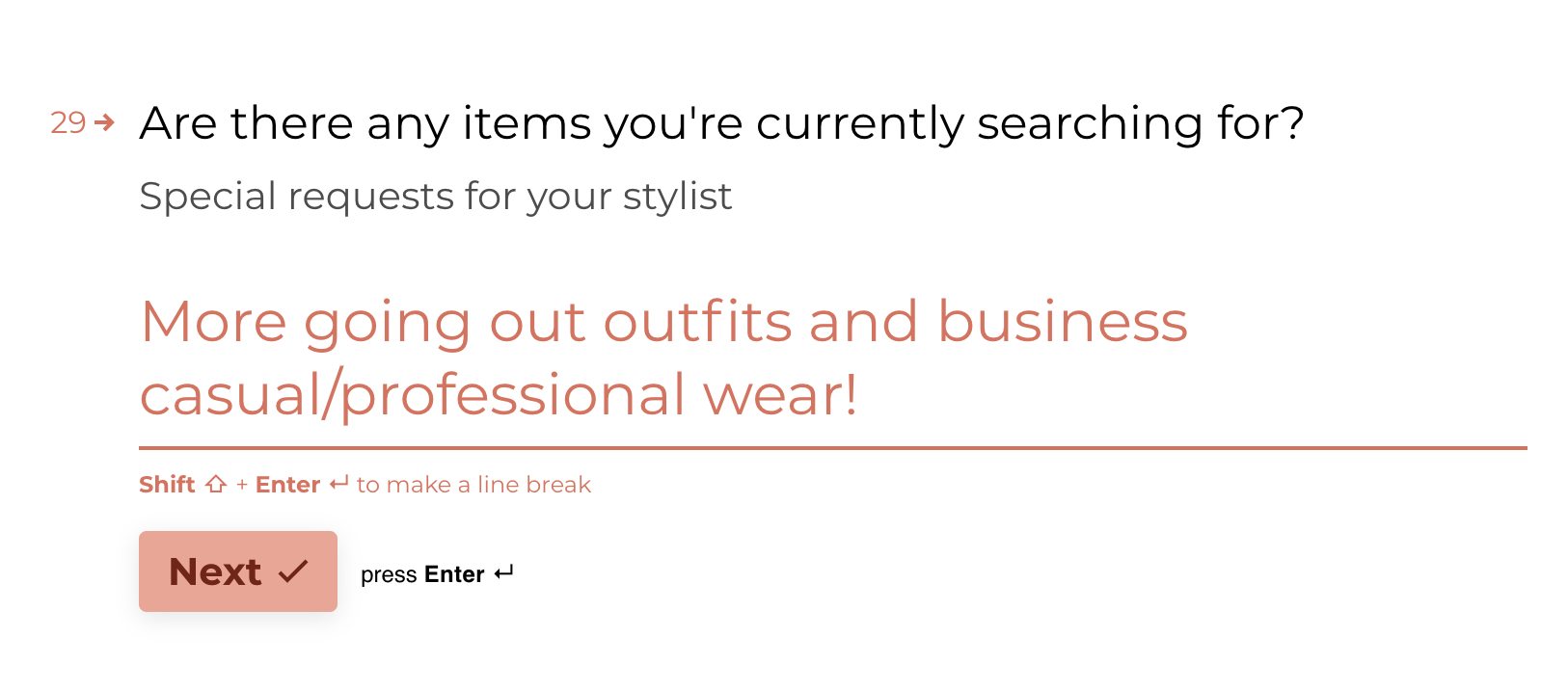 Just like that, your stylist receives your order!
My box came within the week that I ordered it! Inside was a welcome guide, a measuring tape (hell yeah!), the clothes, and a free small gift — which was a satin scrunchie I LOVE and have been using every day since the box arrived.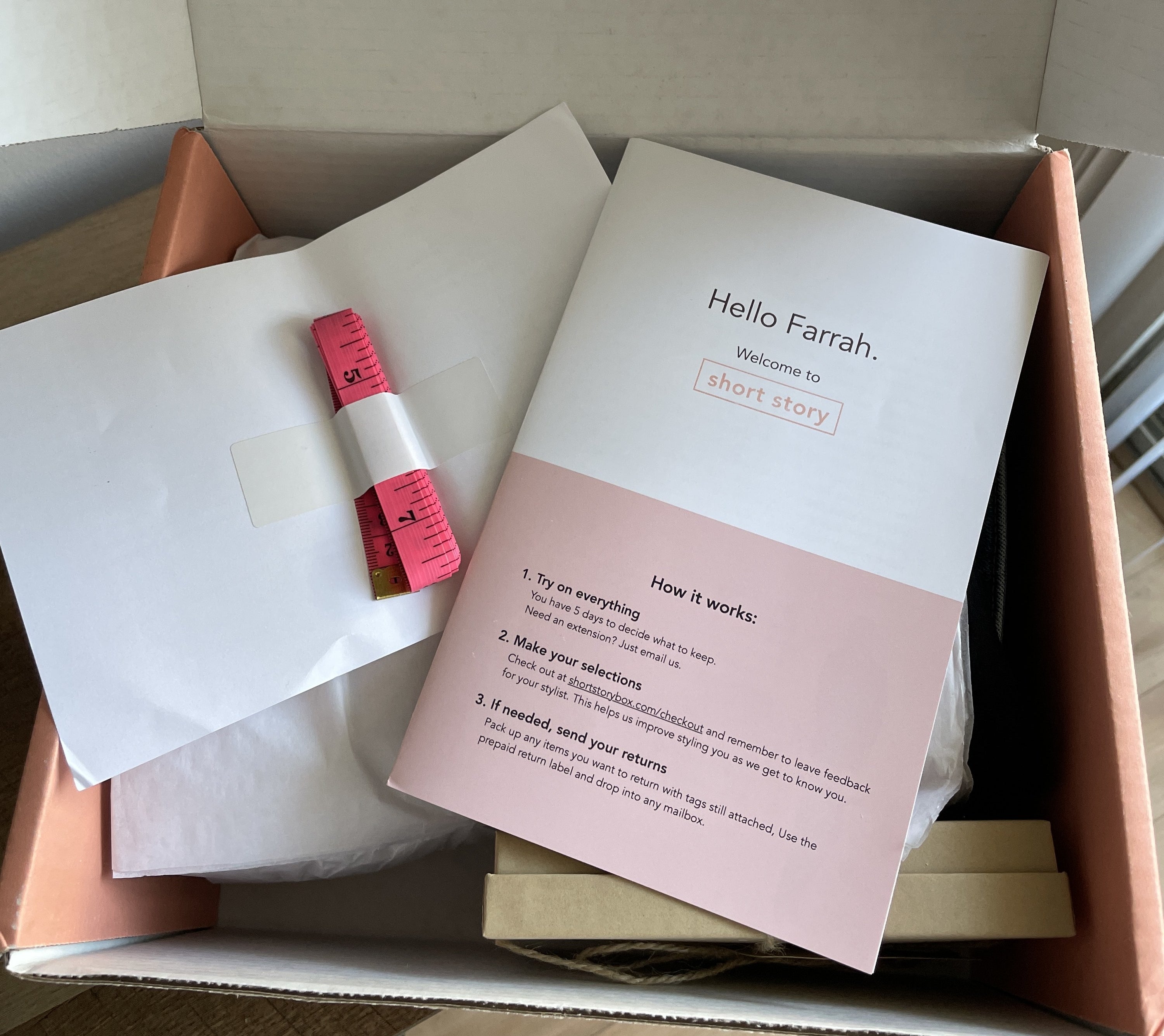 I loved that they included a measuring tape and guide on how to take your measurements. You can tell they really care about getting your size correct. Once you do this, you can update your personal information on the website in order to receive clothes that best match your proportions.
The presentation of the box was cute, too! I was shocked they were able to fit five pieces of clothing in this box.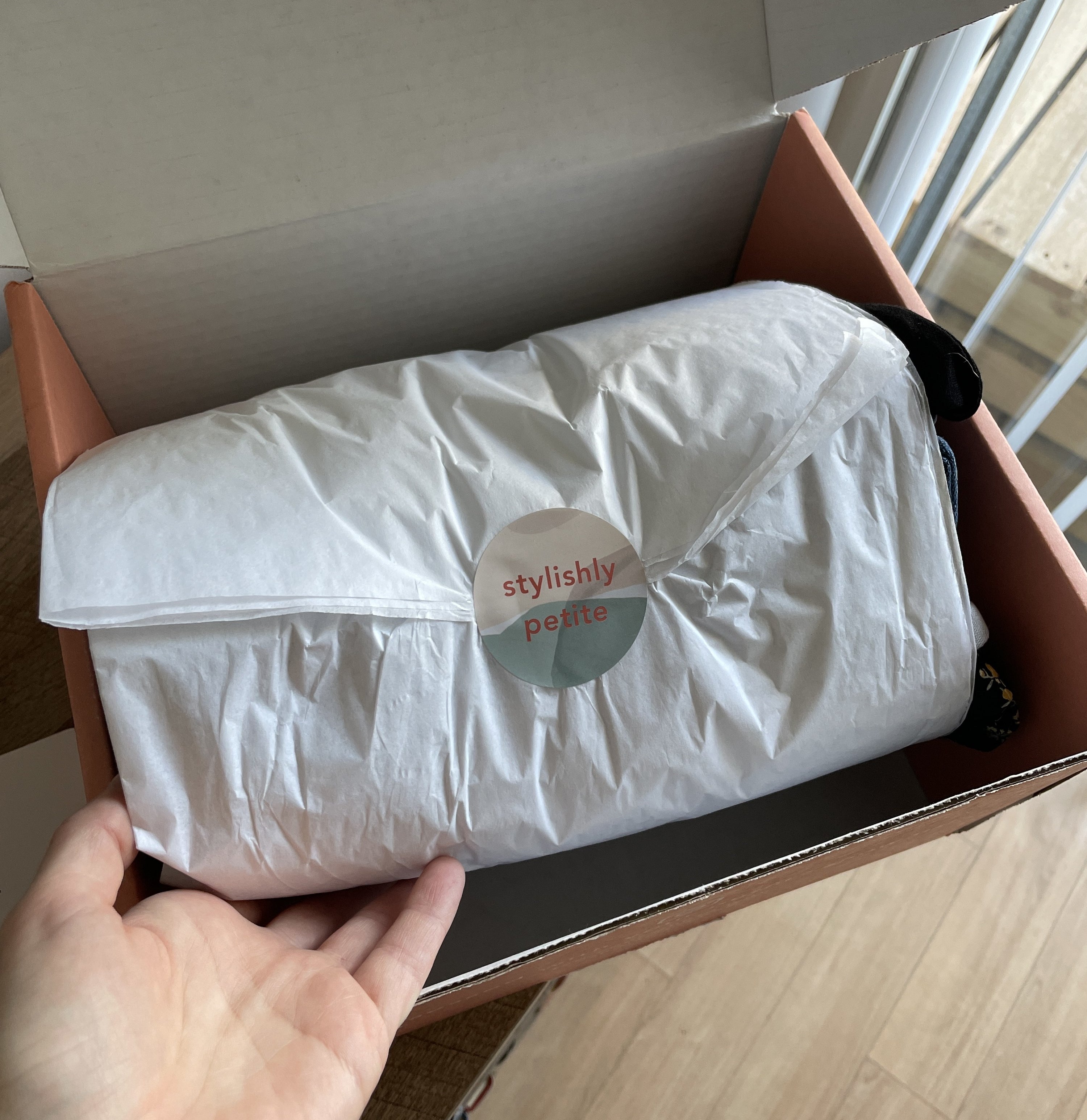 Now what you've all been waiting for: the haul! At first glance, I was impressed. My eyes immediately went to the dress, which felt very me. My stylist had written that upon looking over my Instagram, she thought this matched my taste. I think she nailed it! I also was drawn to the blazer. I mentioned I was looking for more professional clothes, and they really delivered.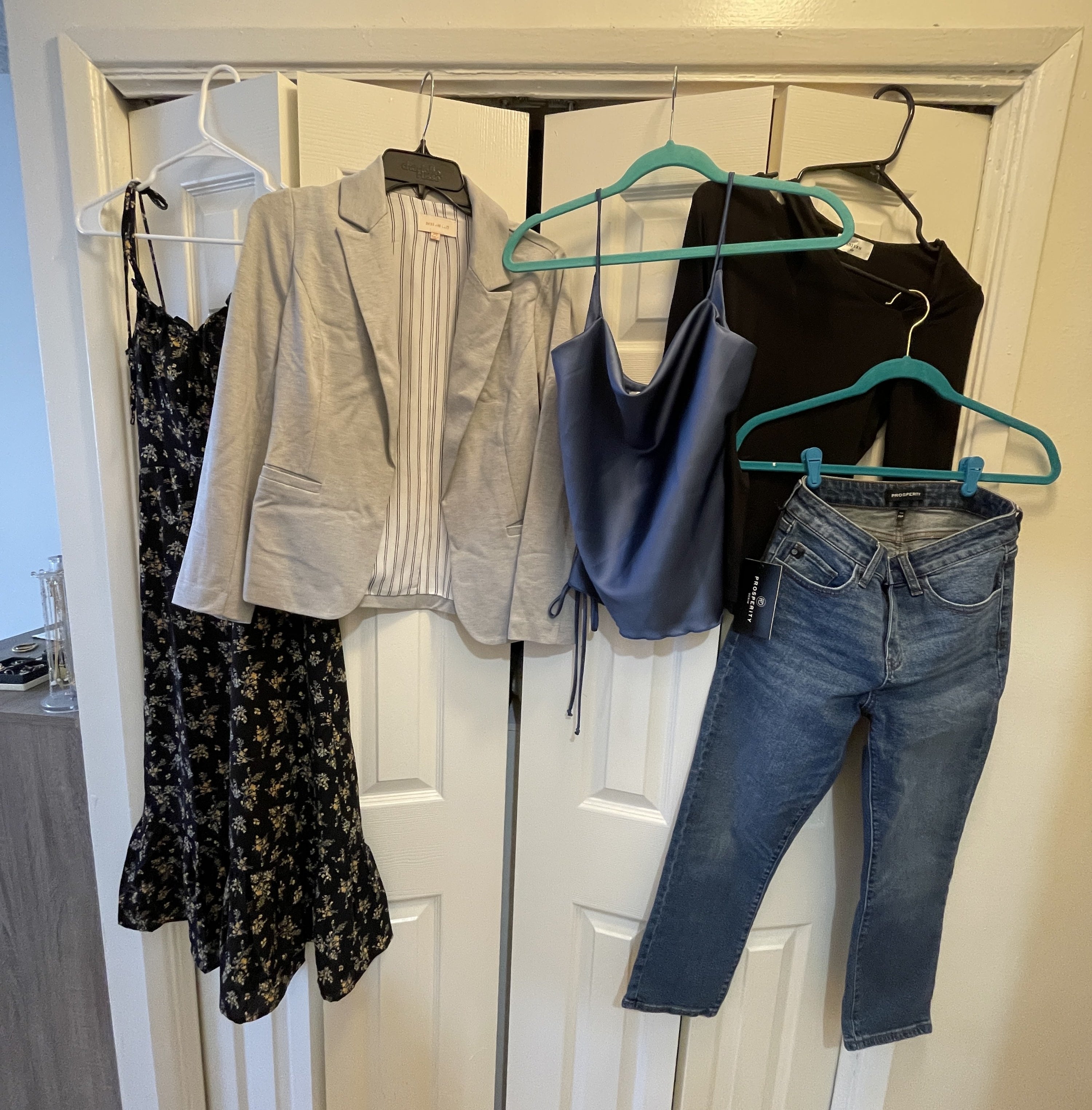 This pamphlet included a guide from my stylist! I'd sent her a Pinterest board of photos that felt like my style. She chose this collection based on that. I also liked that it showed all the fits on the models.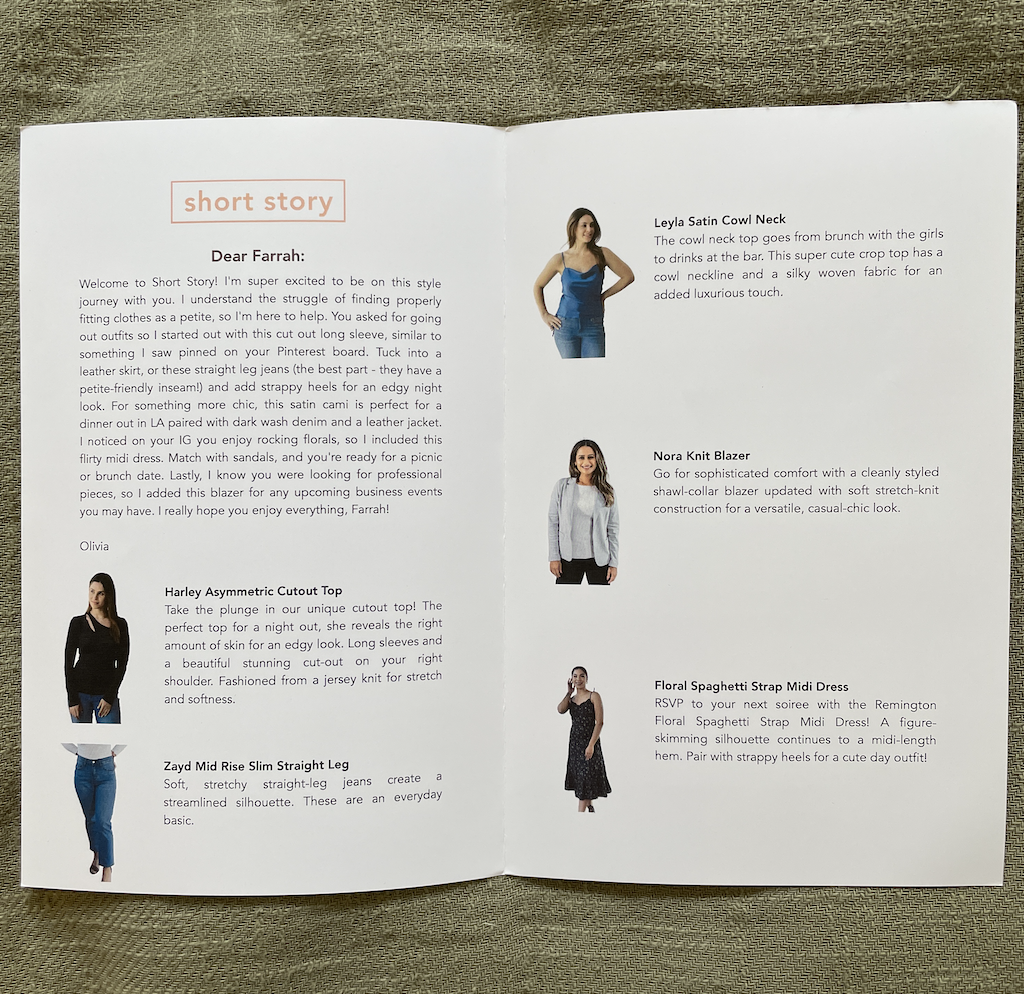 Now for the try-on haul. I started with the dress and immediately noticed the fantastic quality. The great thing about this piece was that the straps tied, so I was able to adjust it to my liking. That meant I didn't struggle with strap slip! I never really buy long dresses, but I loved the length of this one. 10/10.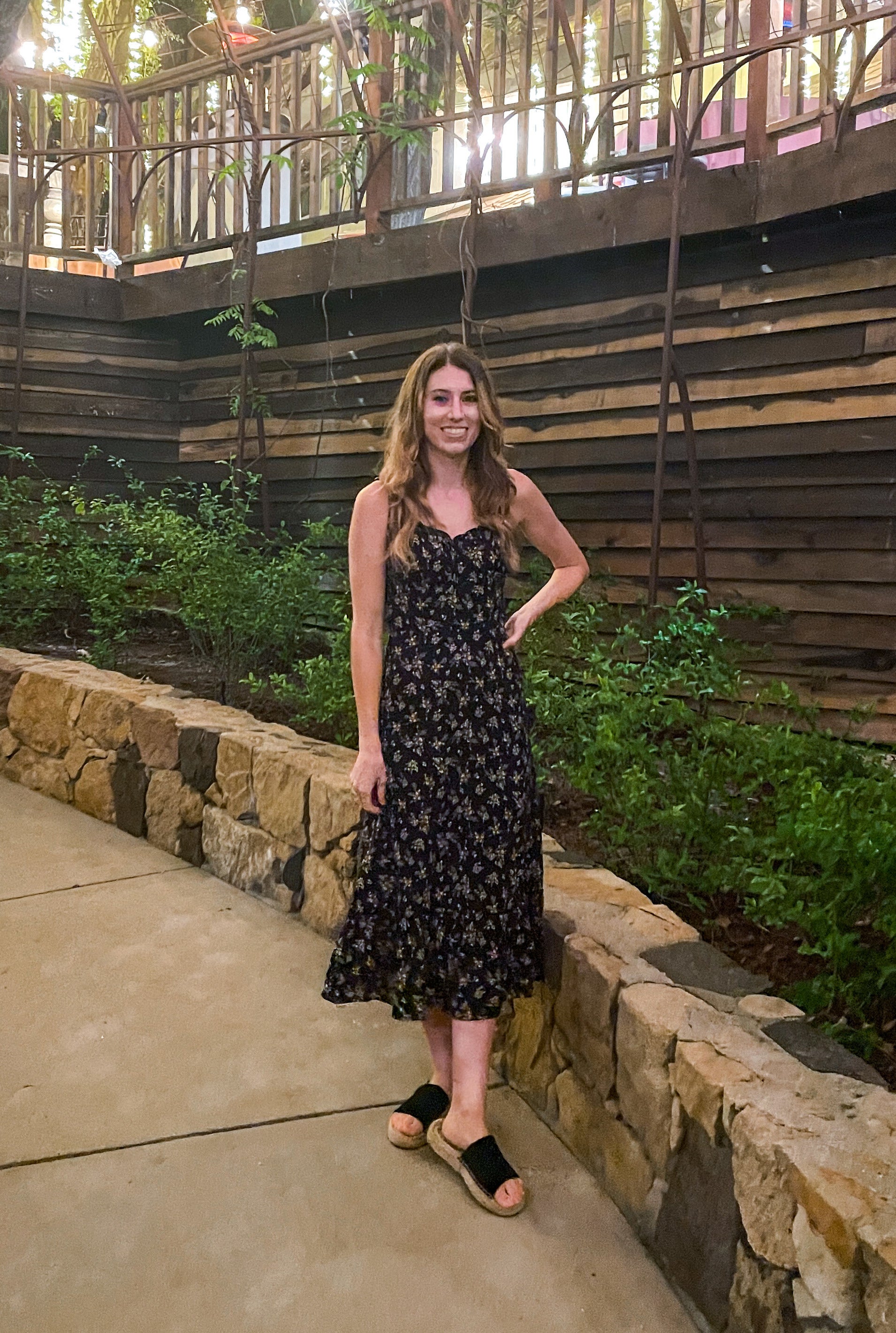 Next, I decided to pair the blue silk tank top with the gray blazer. And y'all, this blazer is SO SOFT. It's extremely comfortable. AND! It fit me so well! Oftentimes, jackets and blazers look oversized on me. This one seems to be tailored perfectly to my frame. I really loved how chic this outfit looked.
Here's a full-length shot. Pairing it with tall heels made me feel powerful.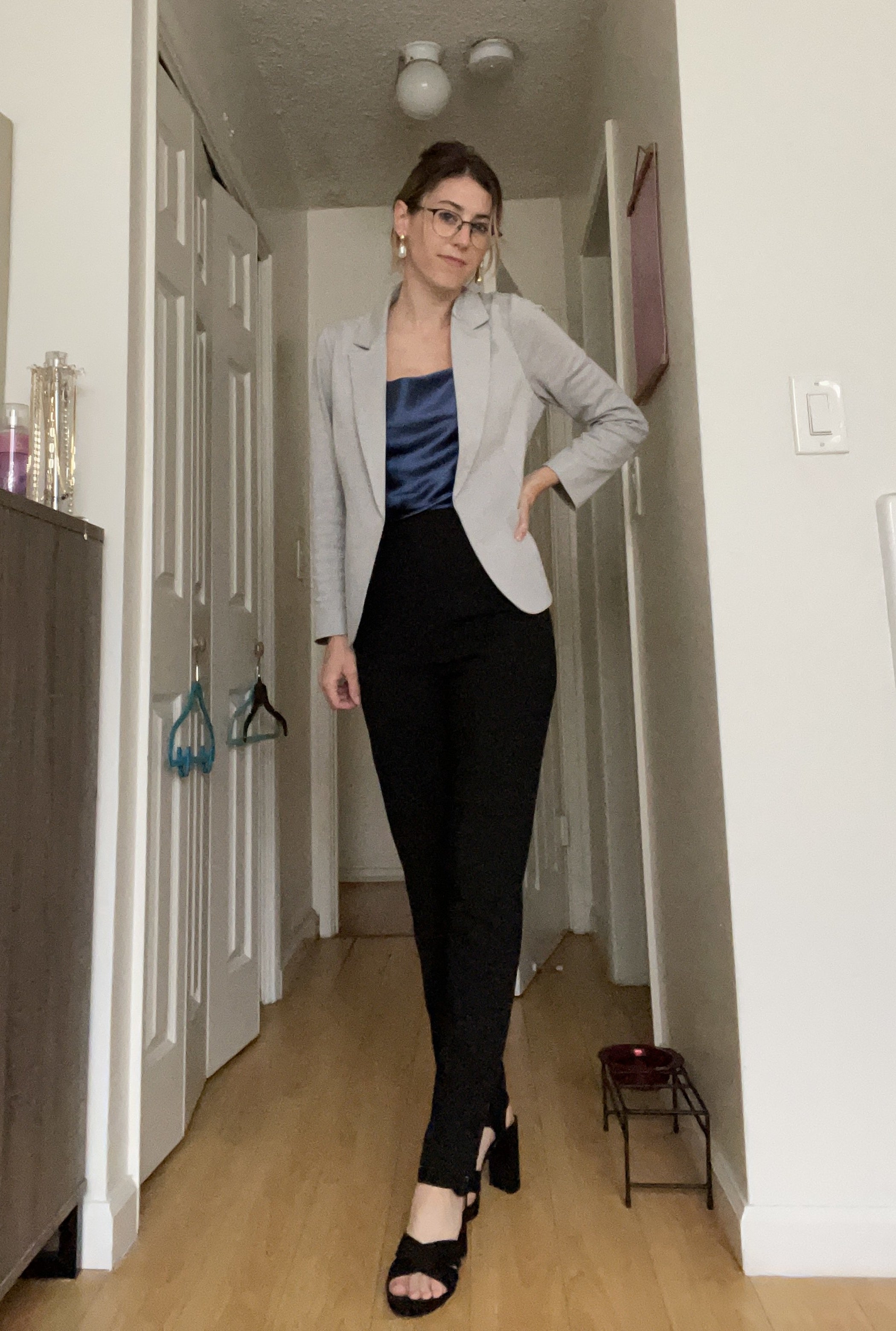 Here's the downside of this beautiful blue silk top. The straps were a little too long, and I had no way of adjusting them! I've worn tops like these in the past, and they oftentimes don't lay on my frame very well. (Maybe I don't have the boobs to support it!!) It bunched and gaped in the front. I think this could be prevented with fashion tape, but I'd rather not have to do that.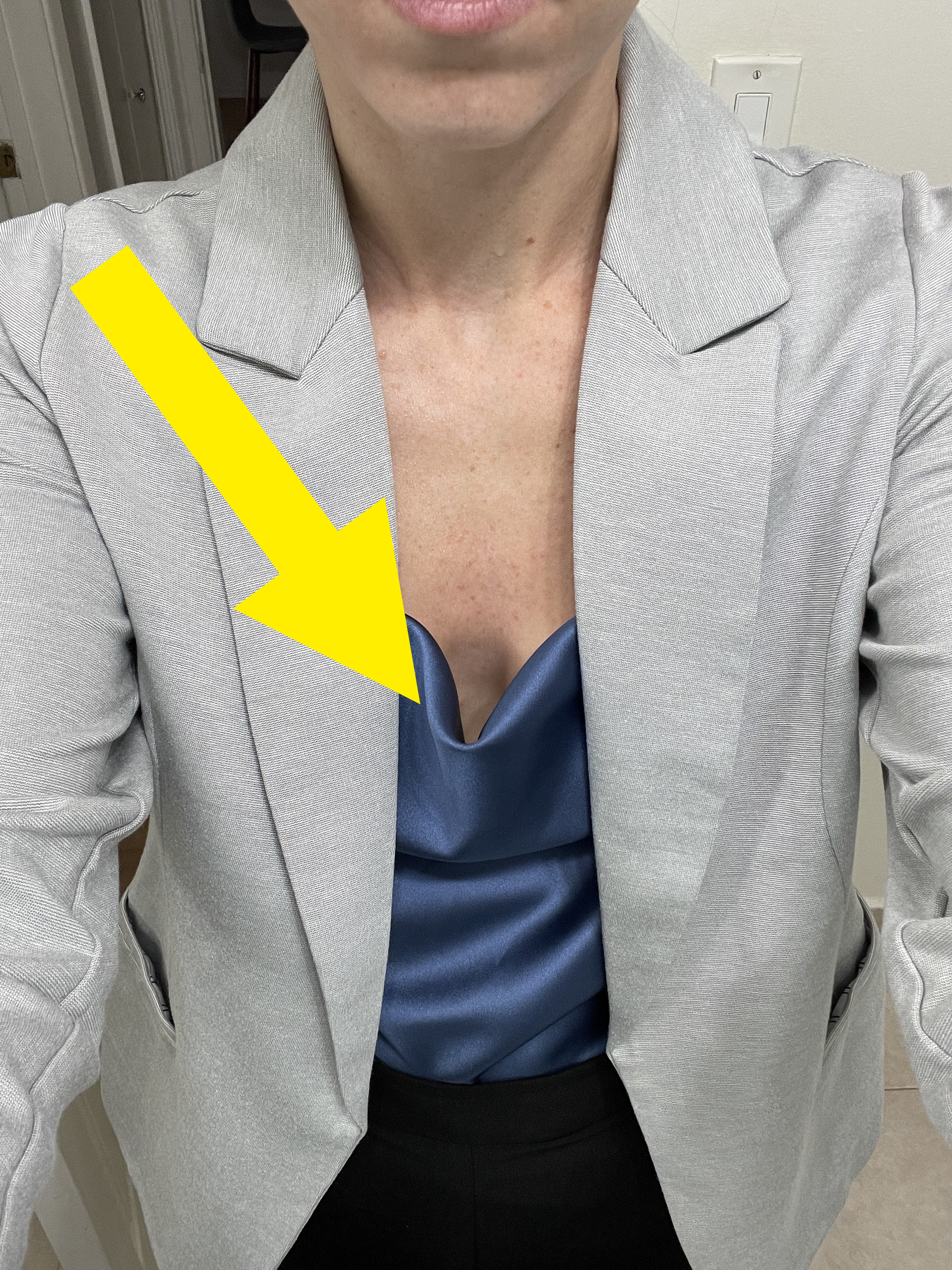 I took the blazer off so that you could see how it fit. I think I would keep this top only because it looks so good with the blazer, but I'd have to pin or fix the straps in order for it to fit me better. If you scroll up, you can see that it looks so good on the model!
Next was this black, long-sleeved top. This isn't something I would have normally picked out for myself, so I was excited to try it on. However, I don't think the style was for me. But the material was REALLY soft and lovely. And it fit flawlessly! But...I just didn't feel very cute in it. Maybe if I styled it differently?
Next up, we have the jeans! I wish you could feel how soft these are. Since you can't, you're going to have to trust me when I tell you they are very comfortable. And, once again, the quality is there. I've never worn jeans that hit above the ankle, so my first thought was... Does it look like I'm wearing pants that are too short for me? Or is this simply A Look? The photo in the pamphlet made it hard to tell where it should hit!
Finally, because I was looking for more business casual outfits, Short Story separately sent me "The Veronica Pants" in latte! I absolutely love these pants. They're professional and sophisticated yet so comfortable. Perfect for those who have to return to office and miss the comfort of stay-at-home-sweatpants.
I would absolutely use this service again, especially if I was on the hunt for a specific article of clothing. I have a feeling the pieces in my next box will fit better once I update my exact measurements on my profile. What really impressed me was the quality of the clothes and the customized experience. For all my petite people out there: Would you try something like this? Let me know!
BuzzFeed was sent this box for free for review, but was under no obligation to give a positive review.