Hello internet! I'm Farrah, and I'm the kind of person who has always been curious about skincare. Over the last decade, there's been a shift with combining skincare with technology. Enter: Cosmetic lasers! After doing a little digging, I decided to book an appointment to see how much one cosmetic laser treatment could change my skin.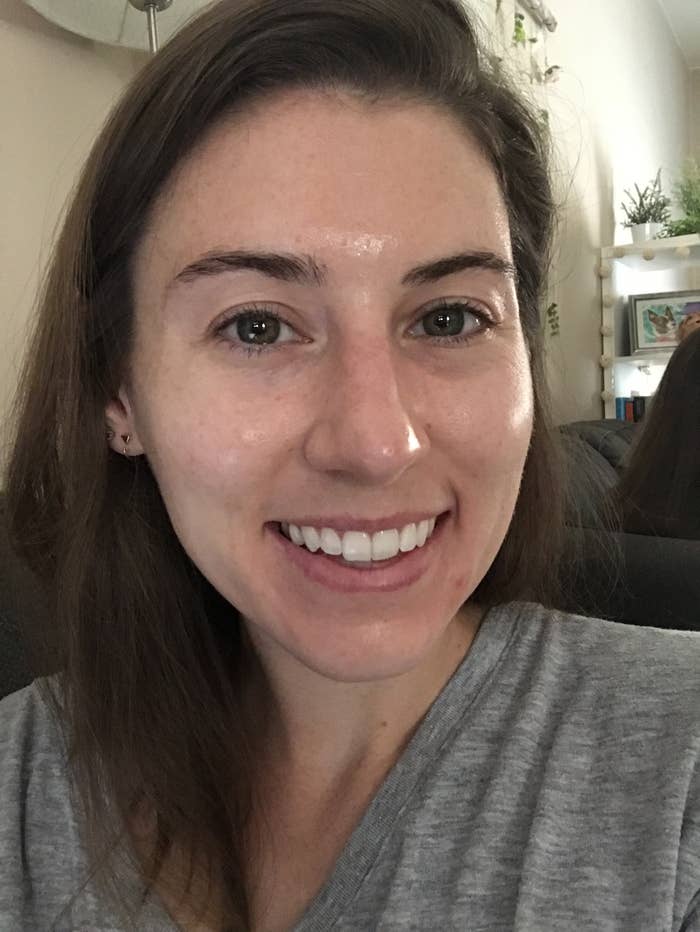 After doing some research, I discovered that one of the more ~intense~ cosmetic laser treatments is called the eMatrix. It's a sublative, radio frequency laser that works to rejuvenate your skin, minimizes the appearance of fine lines and pores, and helps remove acne scarring. Celebrities like Sienna Miller and Cara Delevingne have gotten this specific treatment before walking red carpets.
I went to the Cosmetic Rejuvenation Medical Center in Los Angeles to try it out but before we got started, I asked the nurse a few questions. Like, how in the world does this work? She told me that the eMatrix laser induces skin injury in the areas where it's fired.
Now, this sounds pretty bad, right? Why on earth would you wanna induce INJURY to your SKIN? Apparently, the thermal damage applied by the laser maximizes an accelerated healing process, which tricks your body into healing the treated area faster while stimulating collagen and elastin, making the skin look more youthful.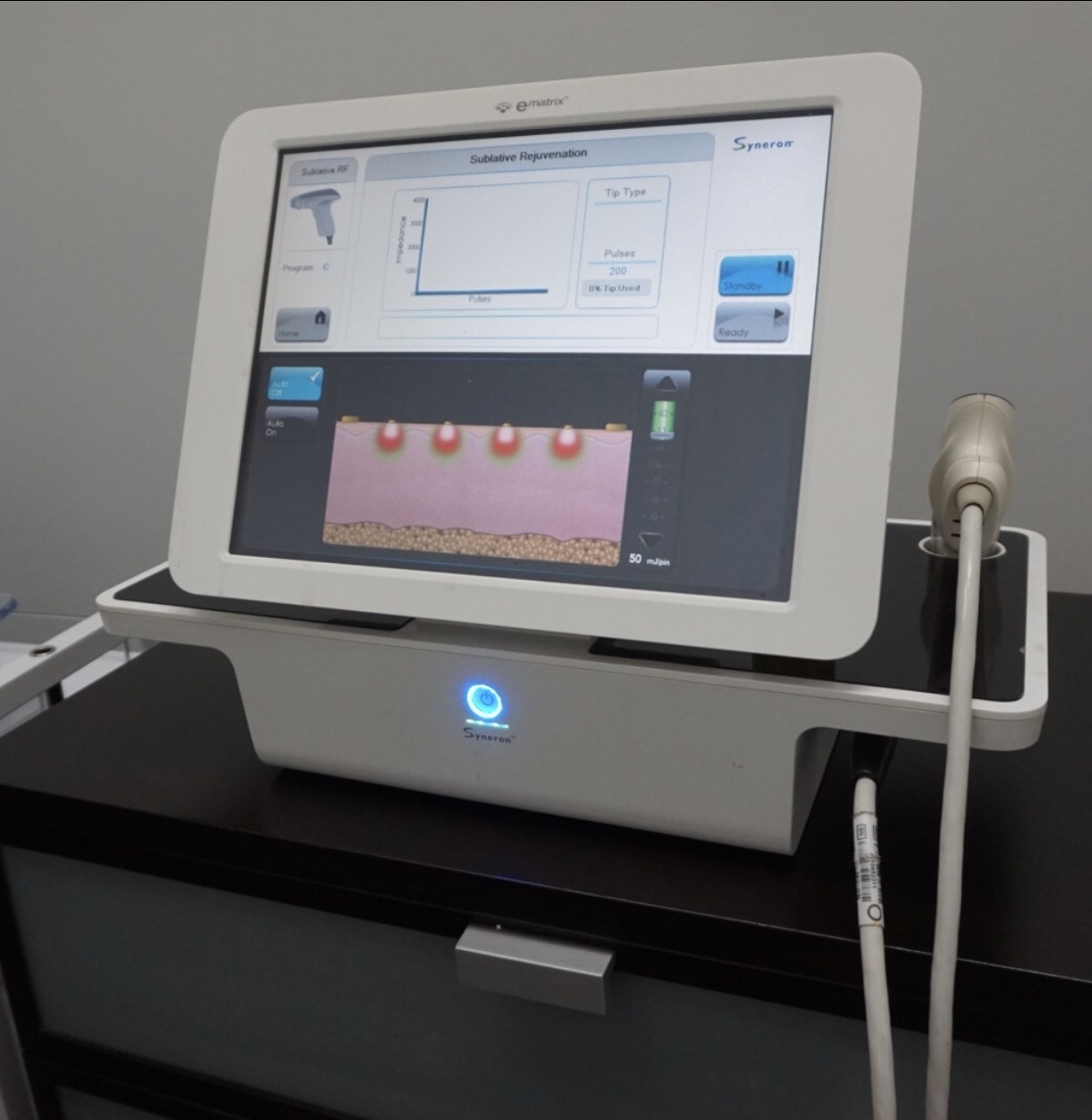 I'm not going to lie, I was pretty terrified of f**king up my face for the sake of CONTENT ON THE INTERNET, but I told myself that these were professionals who knew what they were doing. So, I took me and my nervous sweats to West Hollywood to try it for the first time.
FYI: You're going to want to come to your treatment with a clean face. Then, numbing cream is applied to the area that will be targeted with the laser. This made me even more nervous because I knew if they had to literally numb my face, that meant the laser would penetrate DEEP.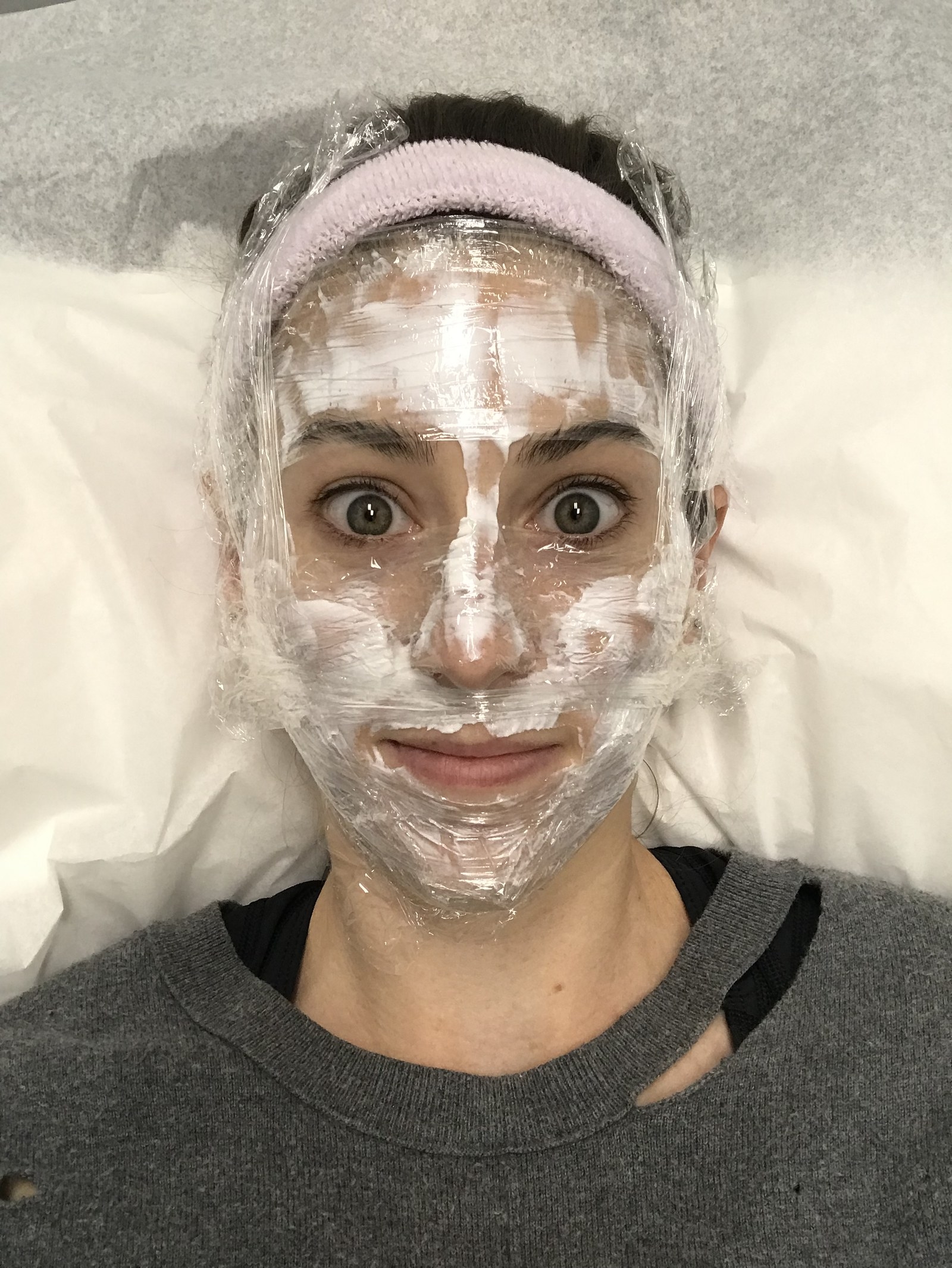 I was hoping this treatment would reduce any fine lines I had while also helping reduce some cystic acne scarring. (You'll see the before and after's below.) The nurse performing the treatment moved quick with the laser. The only thing I felt was a tiny pressure of heat that was fired by the laser into grids on my skin.
You can see that there's a little bit of scarring on the left side of my face. It's worth noting that they can't perform this treatment if you have active breakouts — only on scars!
It was over within 20 minutes, and I had survived. This is what my face looked like immediately after. My skin was emitting what felt like a TON of heat, almost as if I'd gotten a bad sunburn.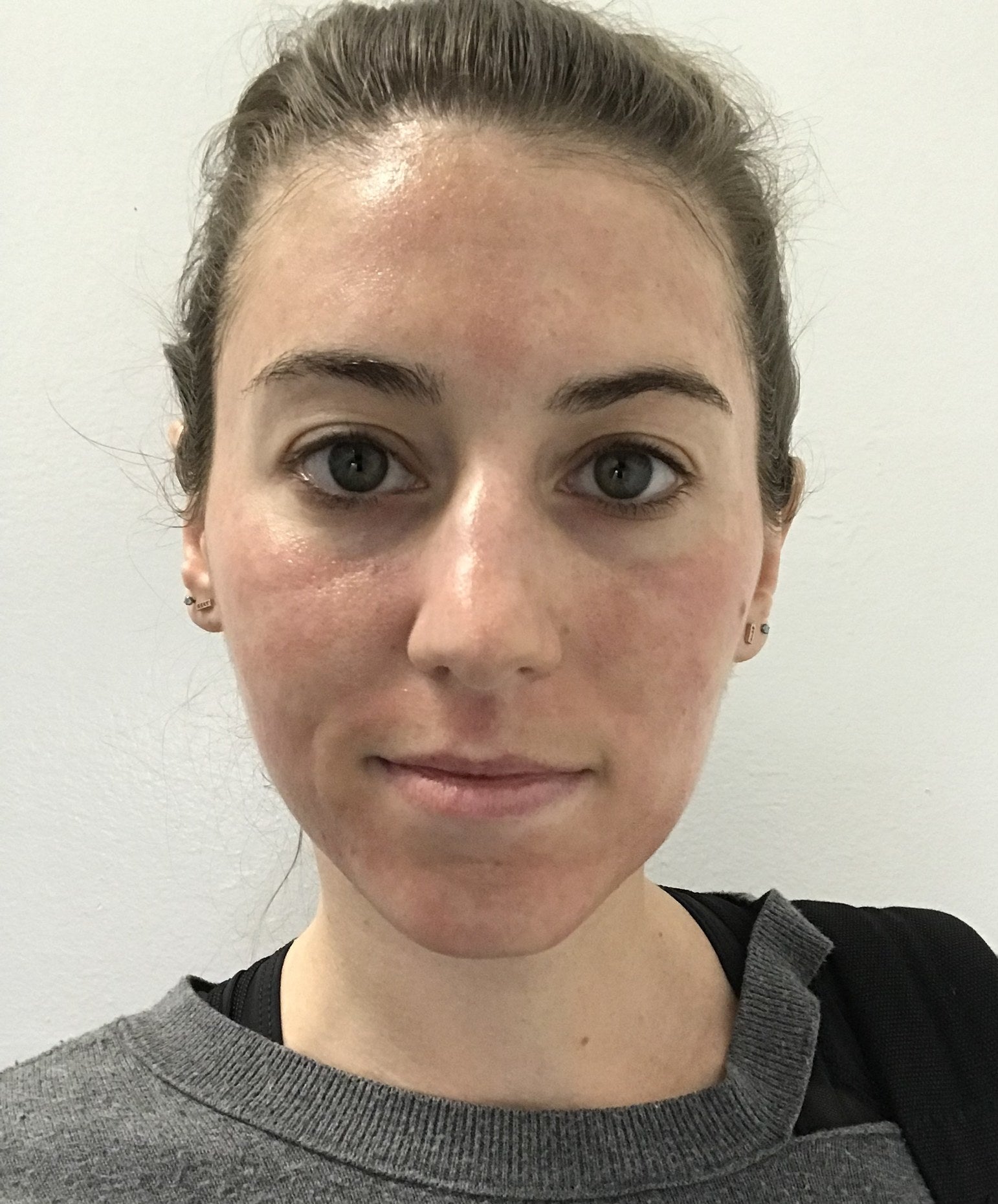 I'd also been warned that my face might start feeling painful once the numbing cream wore off, and they were right. Ibuprofen saved me, as well as this tissue repair recovery cream, which basically just helped my skin stay super moisturized.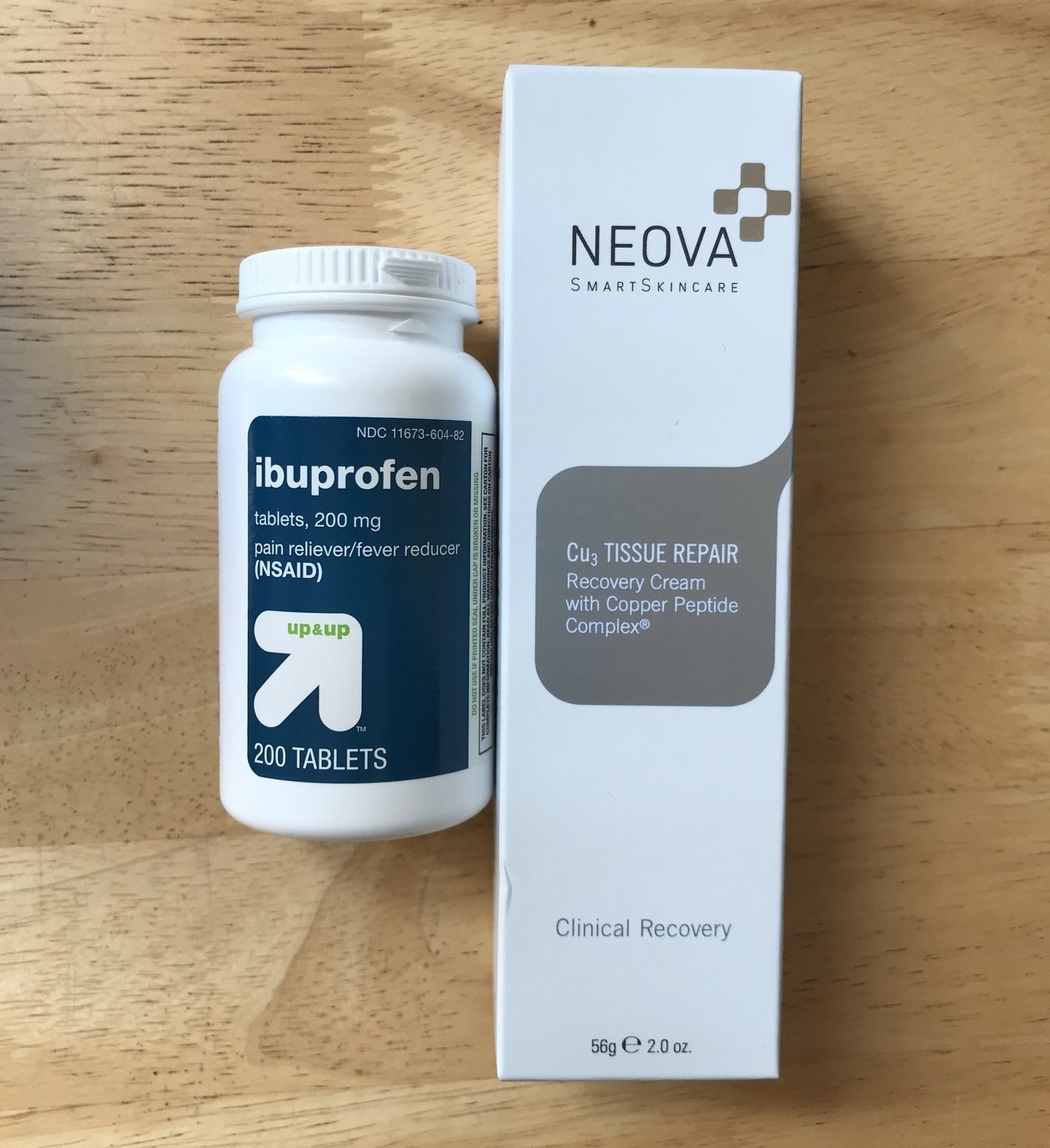 The redness did fade away. However, I recommend cancelling any plans a day or two after you get this treatment unless you're comfortable being out without makeup. This is what my face looked like an hour after treatment verses four hours after treatment.
And here's what my skin looked like a whole 24 hours after treatment. As you can see, most of the redness is gone.
Here are those before and after photos I promised. The most dramatic difference is in the scarring pigmentation on my left cheek. I noticed it was pretty quick to fade away after a month, and this was just with ONE treatment.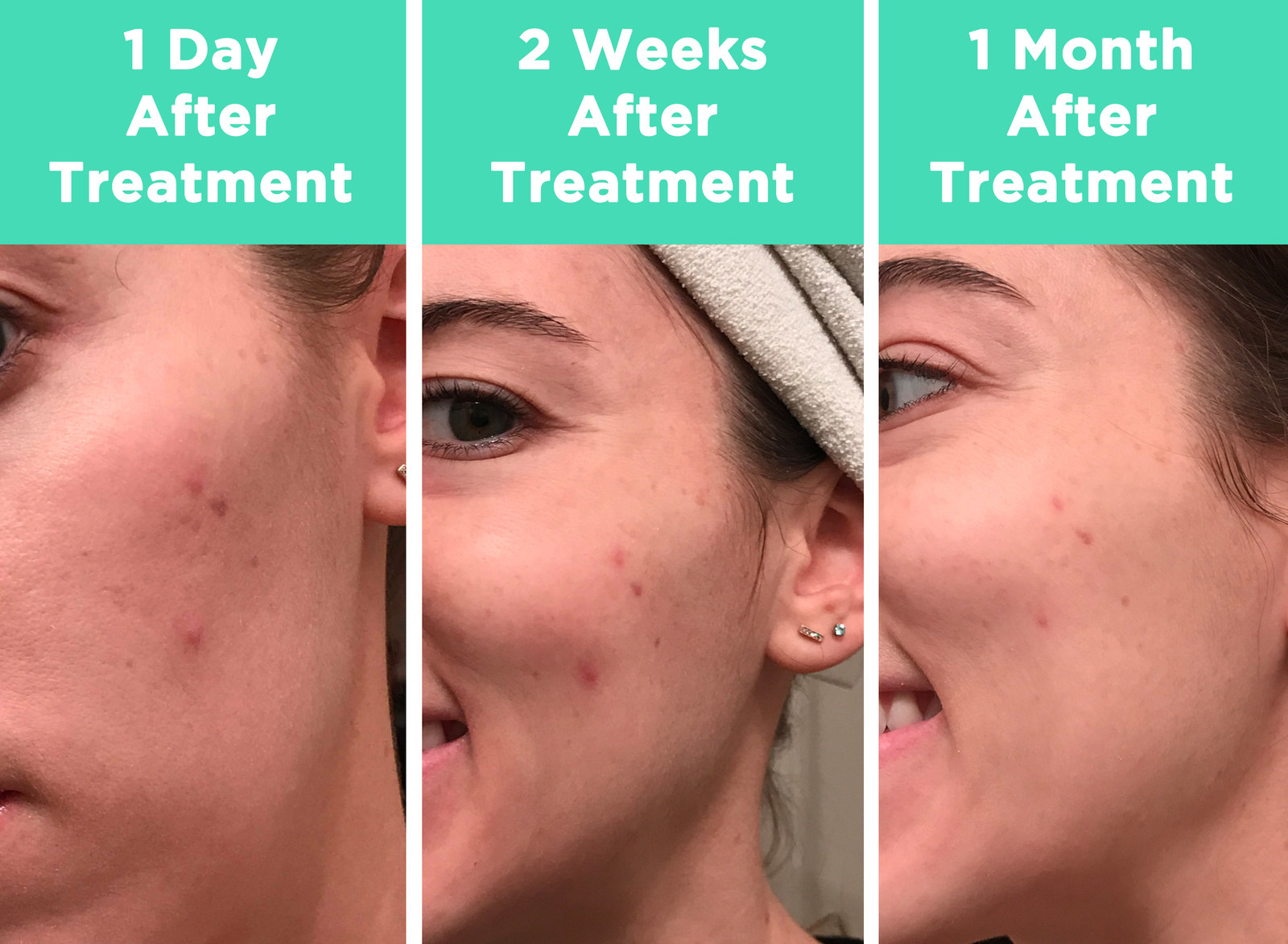 And finally, here's what my face looked like two months after getting the eMatrix. While it didn't completely remove signs of aging, I did notice that it helped decrease the redness I get around my nose. The most dramatic difference was the left side of my face, though!
There are a ton of different cosmetic laser treatments out there, but depending on where you live, this treatment could cost anywhere between $99-$400. Also, it's worth mentioning that different states have different laws on who can perform laser treatments, which is probably why the price tag is higher in certain areas. In California, for instance, you have to hold a nursing degree to perform laser treatments, whereas in Texas you only need an esthetician license.
In all honestly, I'd recommend this treatment for those looking to diminish signs of scarring, because that's where I really saw a huge improvement. If you're looking for an anti-aging solution, maybe explore other options! I'm glad I tried it even though it seemed intimidating and scary. Just make sure you trust the person who's performing this service!
Note: CRMC Laser performed this service free of charge.