Hi, I'm Farrah, and I have a love/hate relationship with working out. Specifically, it's hard for me to get my ass off the couch and to the gym. Maybe you can relate?
When I say I don't like going to the gym what I really mean is...I HATE going. I hate driving there, parking, the intimidating machines — all of it. It's really hard to motivate myself to go. Even if it's only for half an hour.
I don't really have a sweet tooth, but a salt tooth. I crave salty things. Because of this, I feel bloated and sluggish, which makes me want to lay on my couch and do nothing.
I heard about Kayla Itsines and her app (Sweat) through a friend. With nearly 11 million followers on Instagram, Kayla is a personal trainer whose goal is to help people achieve their ideal level of fitness by following a daily 28-minute workout that can be done at home.
Because I had a ton of questions about the workout, Kayla was nice enough to take time out of her day for an interview. The first thing I wanted to know was why 28 minutes?

"If we are realistic, many women do not have time to be working out for hours every day, and exercise seems to be the first thing we drop when our schedule gets too busy," Kayla told BuzzFeed. "Rather than focusing on the length of the workout, I like to focus on the effectiveness. By reducing the length, you can implement it into everyday life and make it part of your daily routine."
The biggest appeal to me was that you didn't need to leave your house to get a workout in, but I was skeptical. Could I cancel my gym membership and actually see results by eating better and following her workouts at home? I decided to try it for 6 weeks to find out.
Side note: I want to add that I've always been a petite person and my goal here is not to obtain a huge body transformation. All bodies are good bodies. I wanted to learn how to eat healthier and find out if following a workout routine on an app at home could provide toned, strong results. Also, I wanted to feel less bloated and become more motivated to do small workouts at home.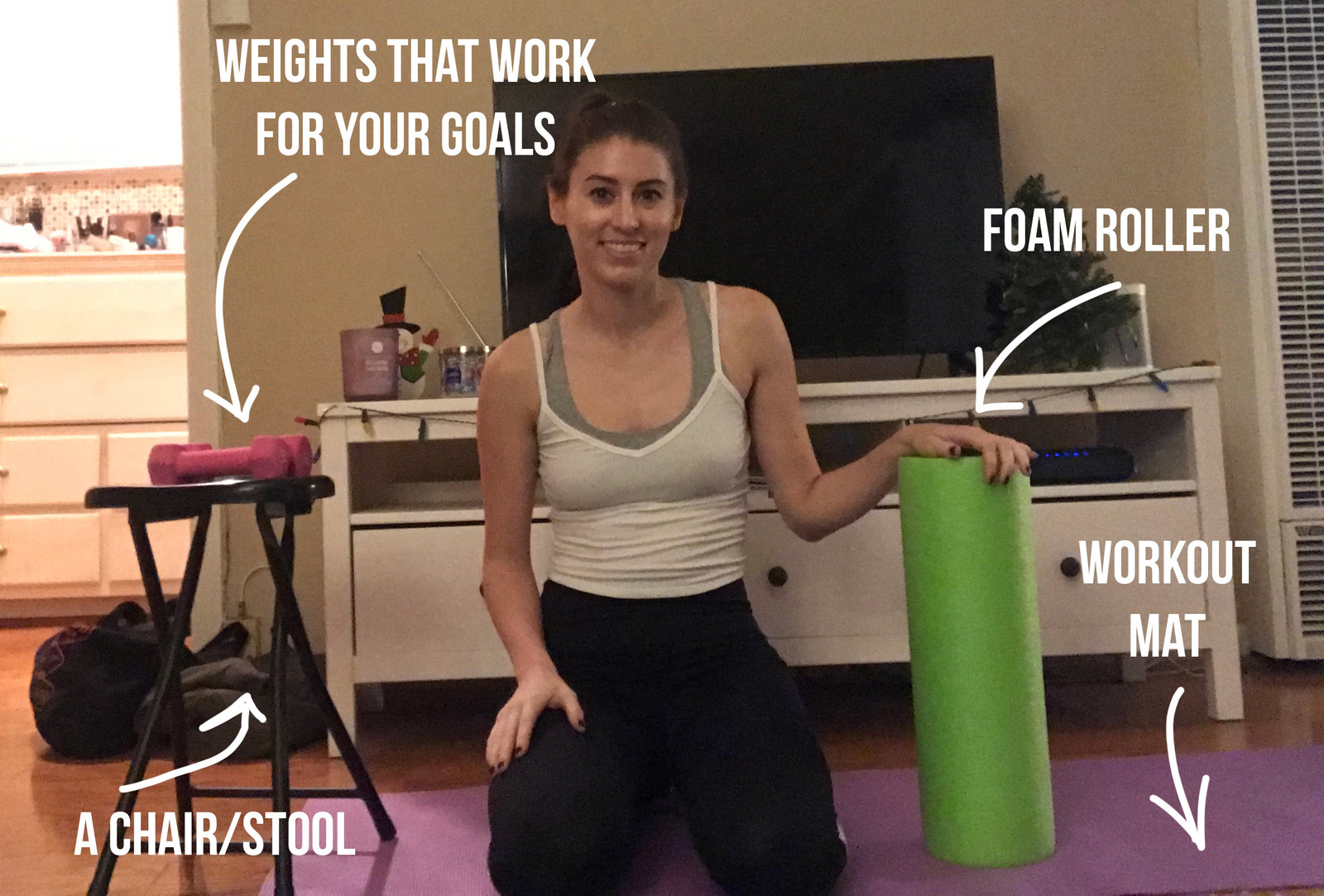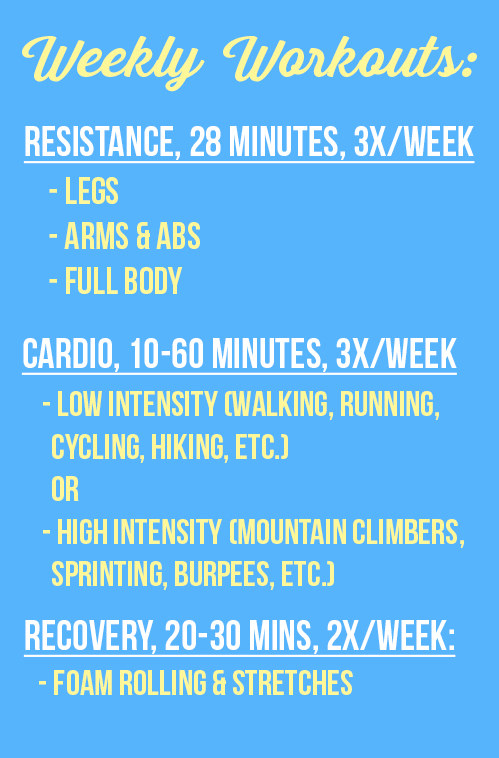 I'm not going to lie, I was very confused when I saw the daily meals. There were 5 different meals over a 7 day period. That's a lot of food. And money. Also, WHO HAS TIME TO POACH AN EGG IN THE MORNING? Not me.
"I take a holistic approach to health and fitness and always recommend a balanced and nutrient rich diet," Kayla said. "Health and fitness is individual, so it's really important that you find what works best for you. The Sweat app's food guide provides a range of alternative options, as well as education around how to adjust your meals according to your lifestyle or how you like to eat."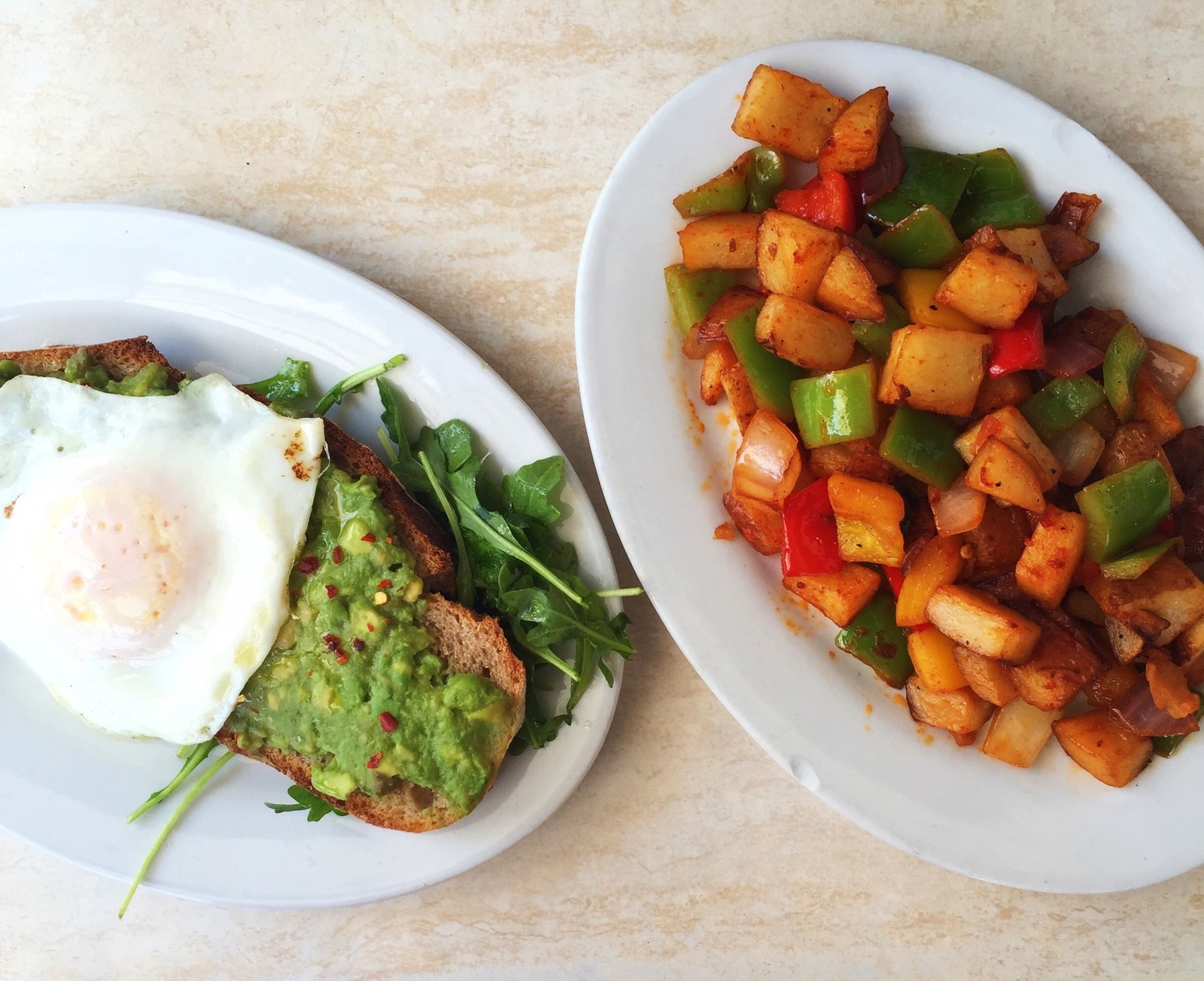 I started the week feeling motivated, but after the first workout I realized I was VERY out of shape.
The leg day got me. It hurt to sit, walk, and move ANY part of my lower body, but I think that meant I got in a good workout. Because I was so sore, it made getting up in the morning so, SO difficult. My body was screaming at me to stay in bed.
I had intentions to do a leg day followed by an arm day, but quickly realized I was too sore to complete back-to-back days of resistance exercises. So I ended up hiking as my cardio instead.
The clean eating part was challenging at the start of the week but because I was forced to prep/make everything, it cut out indulging on processed food with high sodium.
There were two things I learned about food over the week. First, meal prepping helped SO MUCH. I made a chickpea quinoa tortilla soup (from the app) on Sunday and ate it for dinner the entire week. Because I had it ready to eat, I wasn't tempted to Postmates Taco Bell. Also, it was tough to switch to healthy snacking. ESPECIALLY WHEN I WANTED CHEESE.

Beginning week two was just as hard as week one, and I was still SO FREAKING SORE after the resistance workouts. Again, the legs workout was the worst in terms of how sore I was for the next few days.
I also noticed that I was hungrier than the previous week, but I continued to try to eat somewhat healthy. I ate a cookie in a work meeting because I am not perfect and, you know, everything in moderation.
There is a reason this app is called Sweat because...you sweat. A lot. Here's what my tank top looked like after doing 45 minutes of cardio. Even though every workout was tough, I felt better both physically and mentally after it was done. It improved my mood so much.
I also started picking and choosing recipes that got me excited to eat and cook. Sometimes I would sub one healthy ingredient for another (like spinach instead of rocket). I noticed I had more energy and was less sluggish when I cut out eating a shit ton high-sodium meals.

By the beginning of week three I wasn't seeing any physical difference, BUT I noticed a huge mental difference. I enjoyed doing the workouts in the comfort of my home, immediately showering after, and relaxing for the rest of the night. My mood continued to improve, even if there were days where I didn't necessarily *want* to do one of the app workouts.
Making better eating choices was becoming increasingly easier, but because I was entering the Christmas holiday time period, I told myself I was NOT going to be super restrictive in social settings. So while I still cooked and ate meals inspired by the app when I was by myself, I *did* let myself have pizza and fancy drinks at holiday gatherings.
I came home to Texas over the holidays and told myself I'd try my best to follow the app throughout the rest of week three. It wasn't as difficult as I thought! I was able to walk my dog around the lake for cardio, and my sister and I had a good time cooking healthy meals together.
I felt pretty accomplished once I'd reached the halfway mark. Week three was done and I was still sweating through every single workout.

I stopped following the app's meal suggestions over Christmas Eve and Christmas and didn't do any of the workouts for those two days. NO REGRETS.
But in order to ease back into it on day three, I started with a simple recovery stretch session. I think it helped my muscles prepare for what was coming for the rest of the week.
Day four of this week was kind of a nightmare. Before I left for the airport, I did a cardio session by walking my dog for 40 minutes. What I didn't anticipate was my flight being cancelled, which caused me to walk around multiple different terminals in DFW for the next 10 hours. By the time I got on a plane at 11 p.m., I'd walked about 16,000 steps. AND MY FEET FELT IT.
I caught up by doing the rest of the resistance workouts and cardio throughout the week. At this point, the exercises were still challenging but not *as* challenging as week one. Having the TV on in the background helped make those 28 minutes go by faster, too. I'm not sure why I didn't think to do this during week one. Oh well.
Despite enjoying cocktails, delicious food, and overall merriment during the holidays, I still completed week four successfully. I didn't let myself feel bad for not strictly following the meal calendar because I was still eating 90% healthy. And I felt good, which was just as important!

By week five, I was still sweating my ass off after every workout. HOWEVER, I was starting to notice subtle differences in my strength. For instance, in the beginning I was only able to do 10 mountain climbers before having to stop to catch my breath, and now I could do 25 before taking a small break.
I meal prepped one of the Sweat recipes for the week, which was actually very tasty. You can star the ones you like to make again in the future.
It dipped down to the 40s/50s here in Los Angeles — which I consider cold — so I started craving comfort food. I missed mac and cheese, but the amount of sodium in Easy Mac is A LOT. I ended up making zoodles with a ground turkey marinara sauce, made with no-sodium tomato sauce and tomatoes. And guess what? It was good!

At this point, I hadn't experience feeling bloated after meals in a while, so I decided to compare a picture from day one against day 38. I was impressed to see that these at-home workouts were actually producing results. Not only that, but I was continuing to feel better mentally after completing a challenging workout.
I was starting to crave comfort food again, so I cooked up a whole spaghetti squash with marinara for the week and ate a lot of avocado toast for breakfast that week.
Because the leg days continued to be brutal for me, I realized that doing back-to-back lower body foam rolling and then the leg workout did not make me feel as sore the next day. Good thing I figured this out on my very last week — ha!

The biggest surprise after seeing these before and after pictures was that Kayla's 28-minute workouts actually showed results even though I hadn't used any equipment at the gym.
I noticed the biggest differences in my arms and abs, but also a huge difference in the way I felt mentally. Even though there were REALLY hard exercises that left me sore for days, I felt good about working out for 28 minutes every day.