Hello!! I'm Farrah, and one of my favorite activities is mindlessly scrolling through Instagram at 11 p.m. when I should be going to bed. More specifically, I enjoy looking at beautiful shots of recipes posted by Instagram Food Bloggers.
Because I consider myself a decent cook, I wondered if I could follow food bloggers recipes and make them look just as deliciously stunning as they did. Basically, I wanted to see if ~evolving~ into an IFG (Instagram Food Guru — an acronym I decided to make up just now) would be as easy as it looked.
I decided to challenge myself to cook five different recipes from five very well known food bloggers on Instagram. I'm sure each of these food bloggers cooks more than five ORIGINAL recipes every week. While I don't cook every day, I wanted to see what it would be like doing this full-time.


With 1.5 MILLION followers on Instagram, the Minimalist Baker specializes in creating and cooking up plant-based recipes. Because this vegan mac 'n' cheese looked absolutely divine, I KNEW I had to attempt it.
One thing I quickly learned about being an Instagram food blogger is that it requires A LOT of grocery shopping. I thought I would be able to hit up Whole Foods and knock out my whole list, but I ended up going to two stores to get everything I needed. AND I STILL COULDN'T FIND FREAKING NUTRITIONAL YEAST, so I ended up ordering it from Amazon.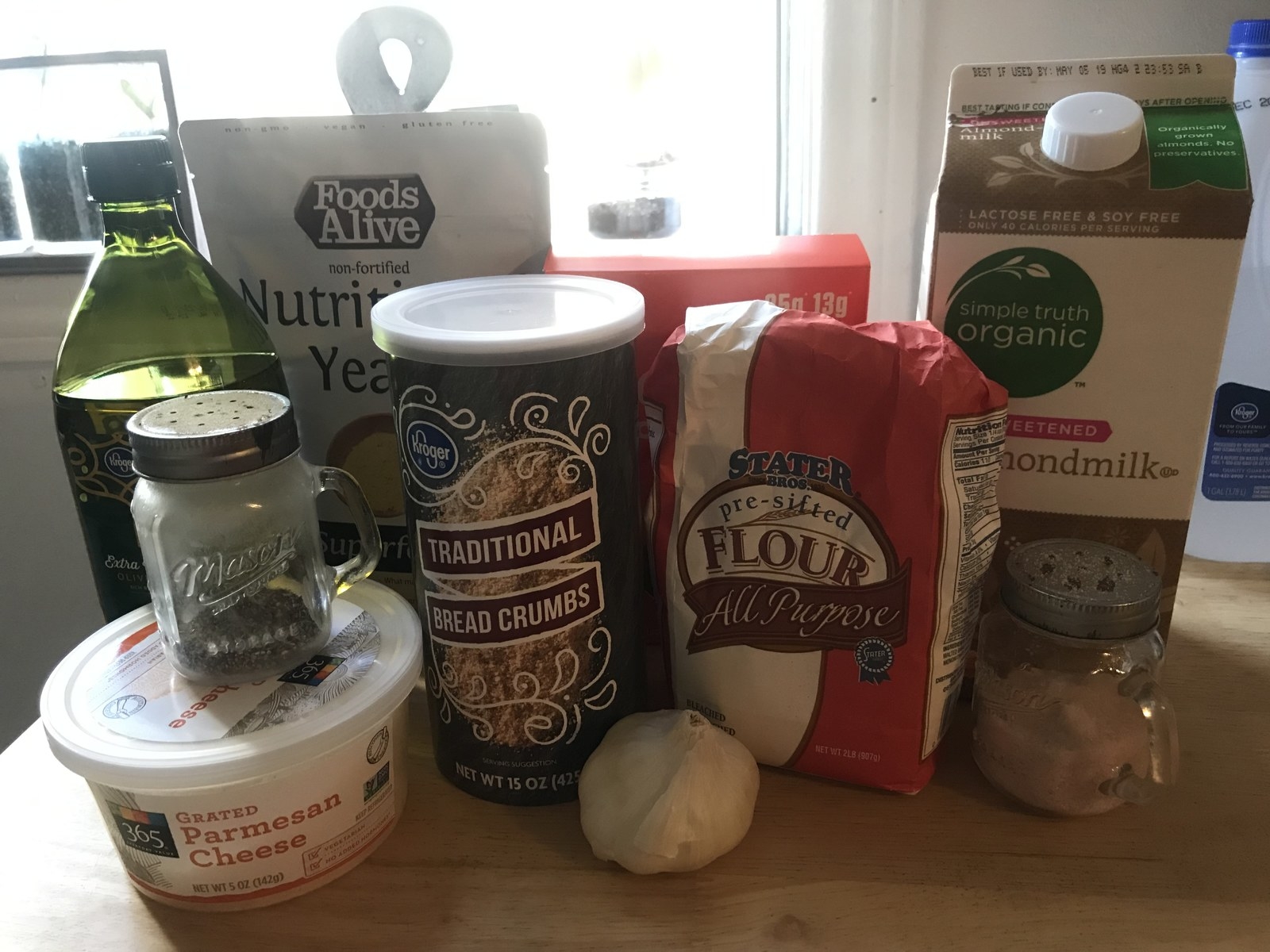 Anyway, you begin this mac 'n' cheese recipe by preparing garlic two ways. First, you dice up a few cloves and put them on a pan with oil until they're brown. Simultaneously, you'll put more cloves in the oven so that they roast. Also, I learned that when you roast garlic in your oven, your entire place smells amazing.
While the noodles boiled, I followed the instructions to make the creamy sauce and was fully impressed by the thick, cheesy consistency.
In the end, everything was coming together pretty great! And I didn't even have to use that many dishes!
Here's what my final result looked like! In an attempt to be a legitimate Instagram food blogger, I spent WAY too much time getting the lighting and angles right. I then had to edit it and oh boy — it was a lot. Overall, the recipe was creamy, garlicky, and incredibly savory. I would absolutely make it again!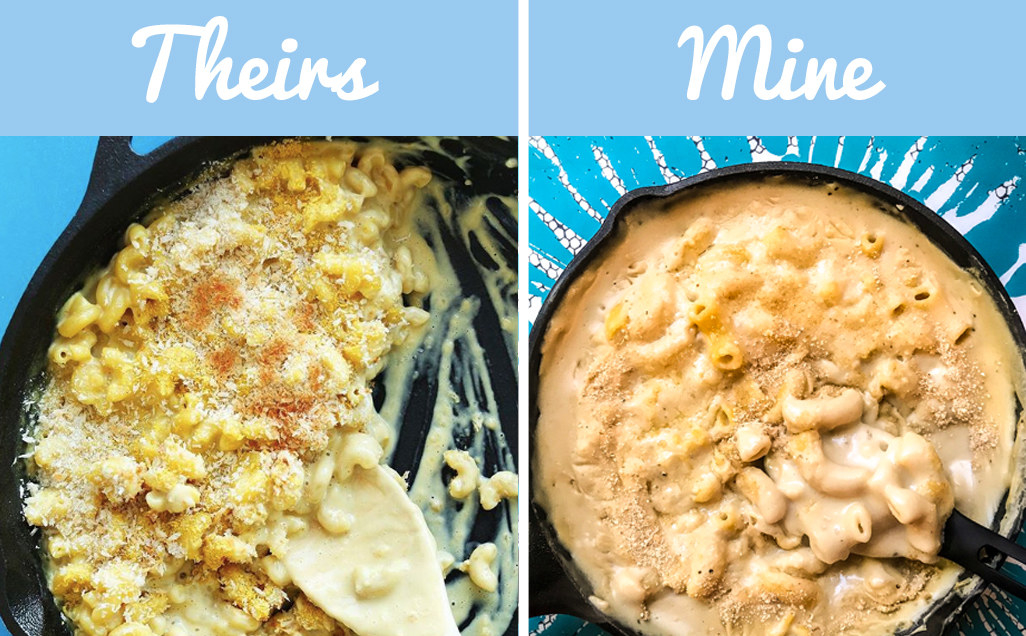 Half Baked Harvest has almost 800k followers on Instagram and always posts stunning recipe photos. Because I'm a big fan of both eggs and breakfast, I thought I'd challenge myself to make this delicate crepe recipe.
The recipe says to get pre-made crepes. When I was at the store I thought, "Oh god, where the hell do I find those?!" But miraculously, I passed an end cap filled with bread and tossed right on top was a package of crepes someone had clearly decided not to buy. I was so relieved that I didn't have to wander around the store forever, so I IMMEDIATELY threw them in my basket.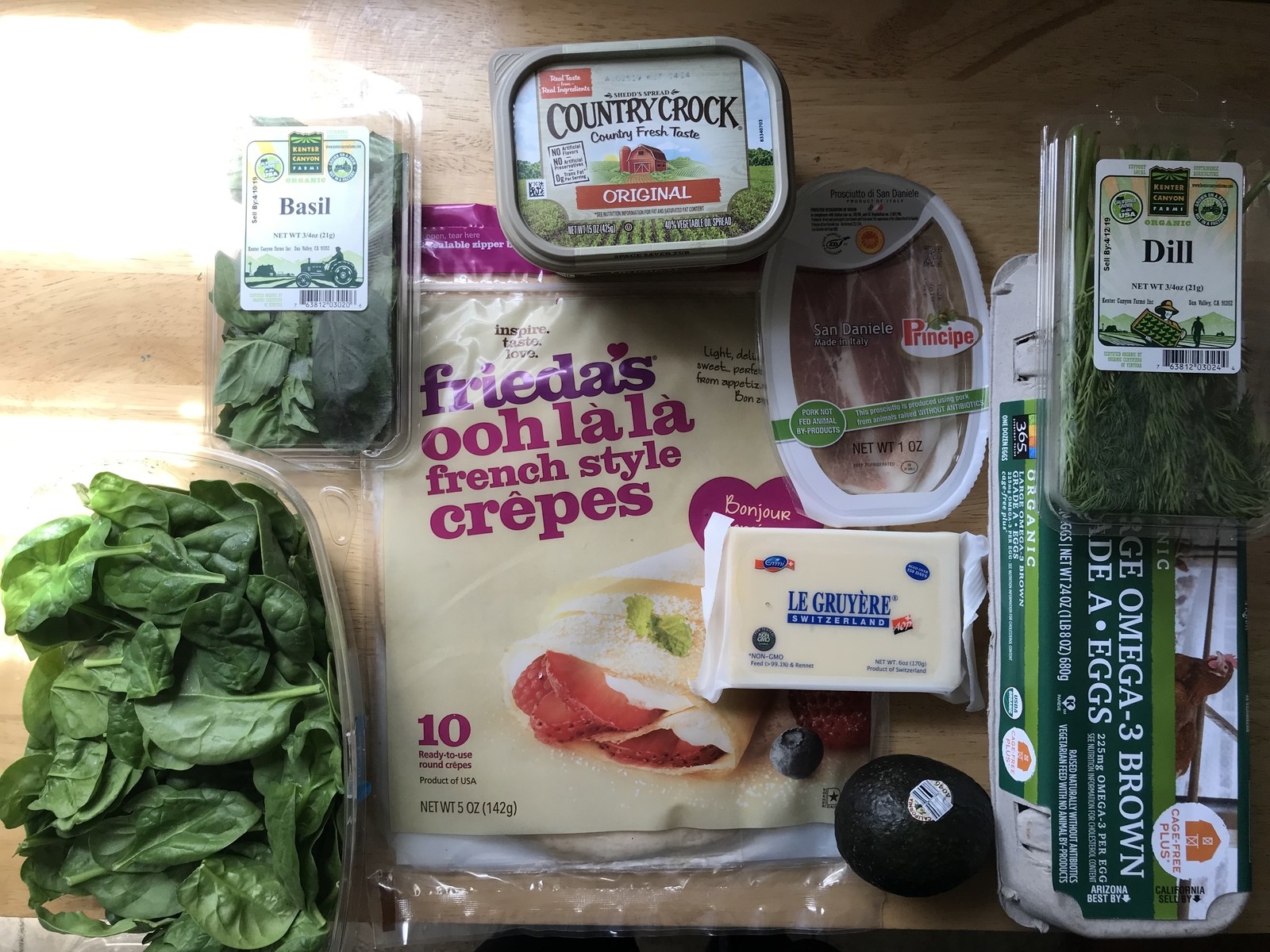 This recipe was pretty easy in terms of the actual cooking part. It was all about the assembly.
However, I was VERY STRESSED once I got to the folding part. I spent a good ten minutes trying to get it to stay in a little square, but it would slowly unravel. Couldn't I have just one thing go easy for me?!
I eventually did get it to stay folded and popped it in the oven for 10 minutes. While it cooked, I chopped up the fresh herbs. Another discovery I made? I LOVE FRESH HERBS. I want them on everything now.
In the end, my crepe was browner and crispier than Half Baked Harvest's picture. I have a theory it's because my oven is hotter than what it tells me, so I maybe didn't need to bake it for the full ten minutes. It also took me SO LONG to recreate this photo. Food styling is hard, my dudes. But even though my crepe was crispier than I intended, it was VERY good — and I've made about seven more since the first attempt!!!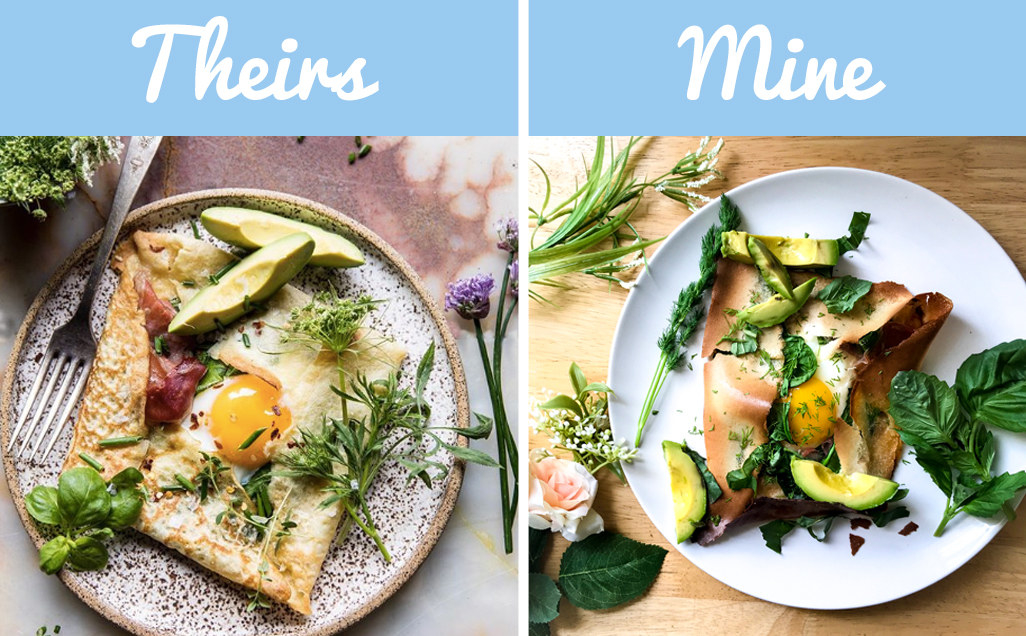 SkinnyTaste is another food blogger on Instagram that I've been following for a while — along with one MILLION other people! Her fish tacos looked fresh, light, and delicious, so I was really excited to give it a try.
This recipe called for a ton of prep work, which I could totally handle. Everything but the fish needed to be chopped. This part took longer than the 15 minutes promised in the recipe. I was also meticulous because I wanted to make sure everything was diced and chopped exactly like the recipe said.
I loved that this was essentially a one pan meal. The fish had to cook with the onions, then I added in the tomato and jalapeño. While my fish never got as brown as the one in SkinnyTaste's picture, I knew it was still cooked enough!
Again, the literal photo shoot post-cooking took a while. It definitely doesn't look as pretty as hers, but I gave it my best shot. However, the tacos were fantastic. Fresh, limey, and salty — they were light, but they really hit the spot! This is another recipe I'd absolutely make again.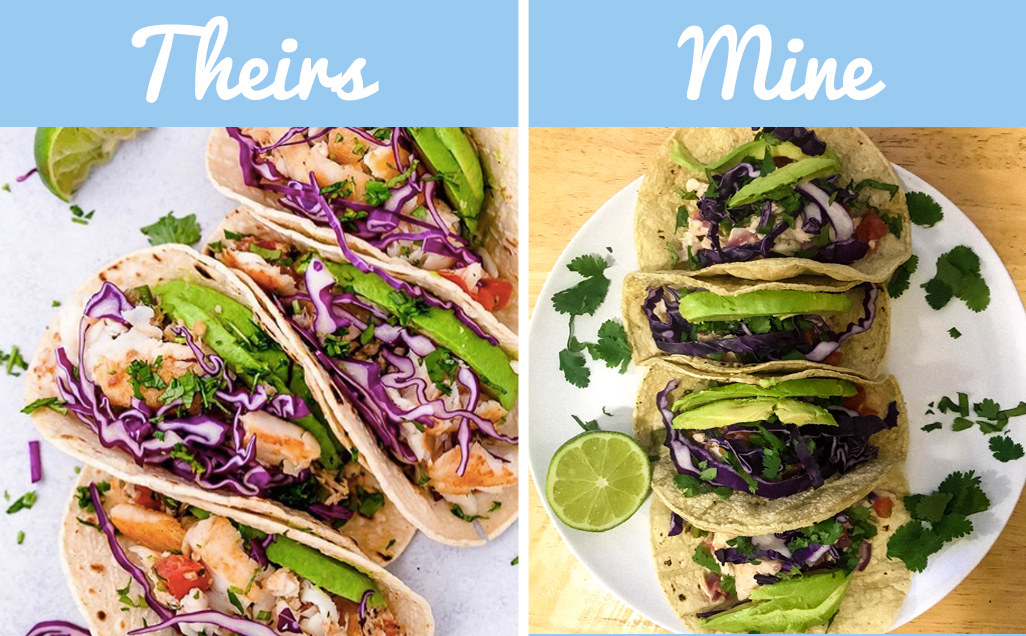 I've been following How Sweet Eats for a while because she always takes such beautiful photos of her recipes. When I saw her bruschetta chicken, I knew I wanted all of it in my mouth as soon as possible.
The ingredients were simple and didn't call for anything that would keep me trapped and searching a grocery store for hours.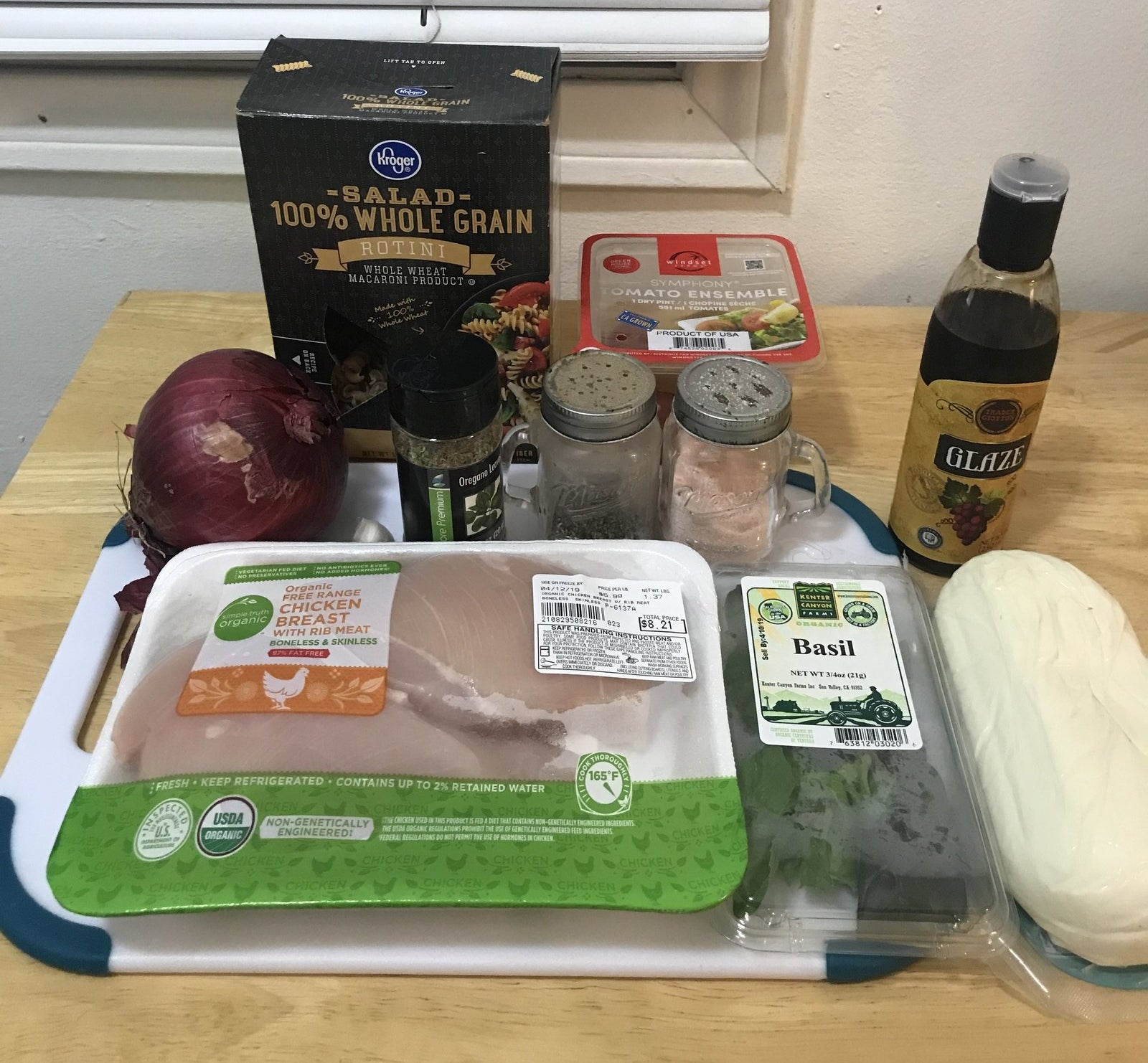 While the chicken marinated and the noodles boiled, I got to work choppin' up all the veggies and herbs.
Everything was easy enough until it came down to putting it in the oven. After it baked, it came out very, very...wet?! I mean, there was a lot of liquid in the bowl. A LOT. Naturally, I thought I was a failure until I transferred the chicken to the bowl of noodles. Then it began looking a little better.
No matter how hard I tried with this one, I just couldn't get it to look as appetizing as How Sweet Eats's picture. What really matters is: Did it taste good? And yes, my friends, it was very, very good. The balsamic and tomatoes and fresh basil came together so well.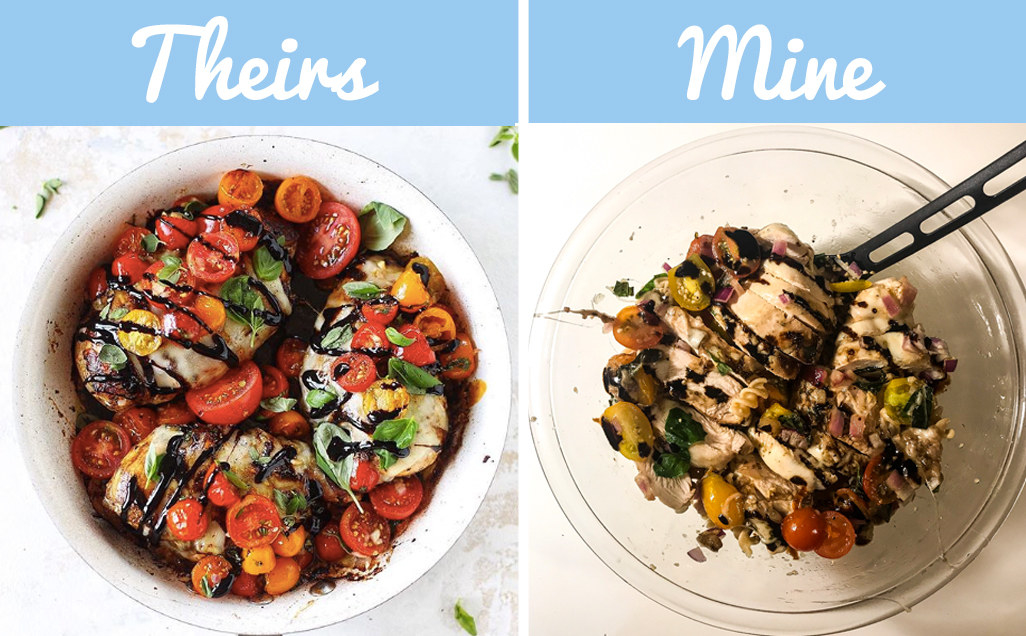 With about 818k followers, Pinch of Yum has some incredible photos and recipes. When I saw this salad I thought, "It's just a salad! How hard could it be?"
At this final point in my ~life as a food blogger~ experiment, I was exhausted. Let me tell you, I was really, REALLY tired of cooking. I told myself that this recipe would probably be fast and easy...but oh man, I was wrong.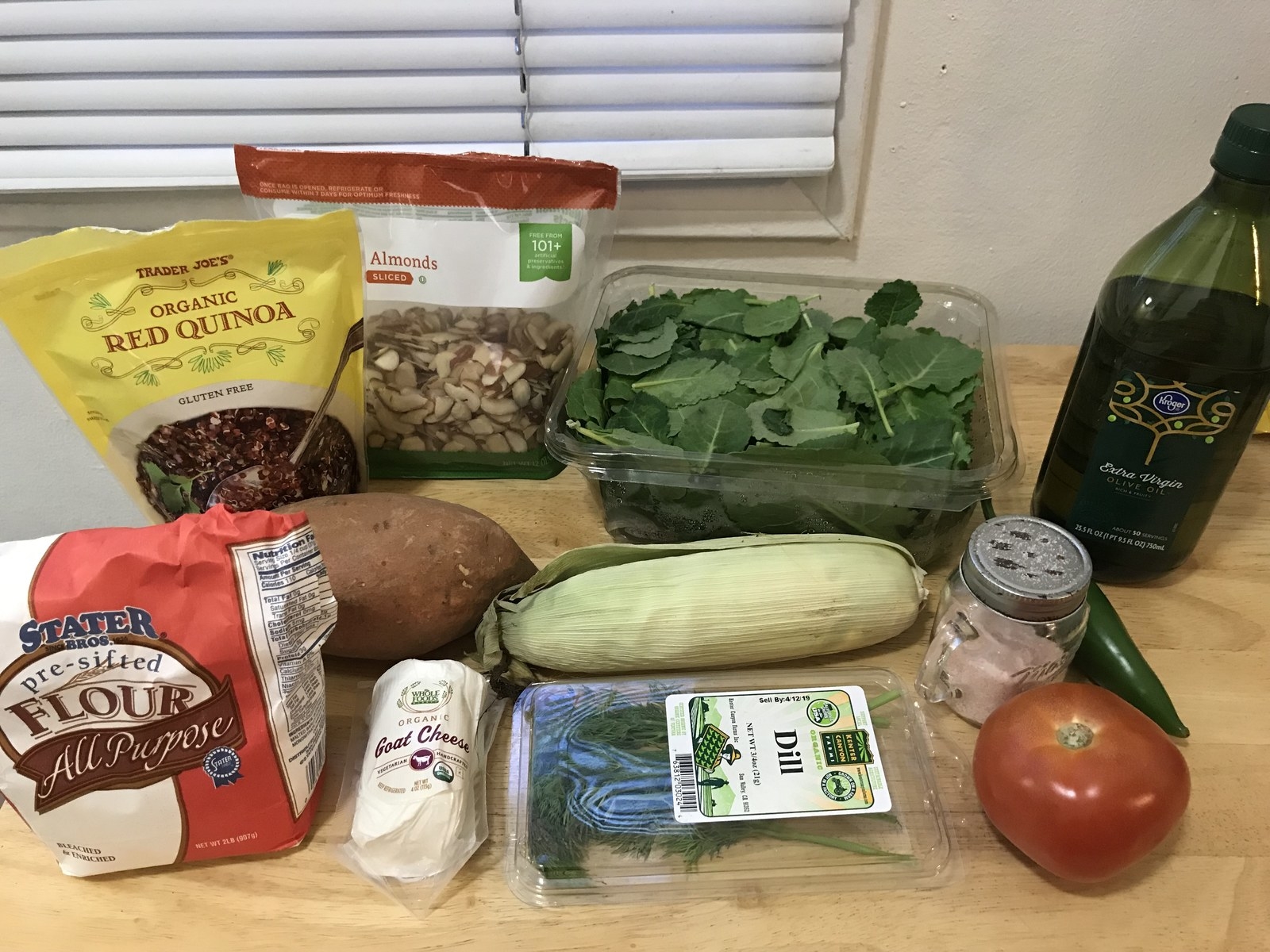 The thing that took the longest was pulverizing the sweet potato, quinoa, and almond. I don't own a food processor, which is my bad. But I do own a Magic Bullet! However, my Bullet did NOT want to grind up the quinoa. So I was like, "Whatever, I guess it won't be as smooth as hers. No biggie."
The most INTENSE part of this entire cooking experience was actually frying the falafel balls. I worried they wouldn't form into balls. I worried the balls would fall apart in the oil. I worried they wouldn't taste good because I didn't own a food processor. I WORRIED TOO MUCH. In the end, I lost only one ball and made five OK-ish ones.
Assembling everything wasn't bad, either. Again, I couldn't find full-bodied heirloom tomatoes at the store, so I substituted normal ones. I also ended up cooking the corn and then "grilling" it over the flame on my stove. That worked well, but maybe wasn't the safest thing to do. Overall, every single flavor in the salad was delicious, and the falafel wasn't too bad either!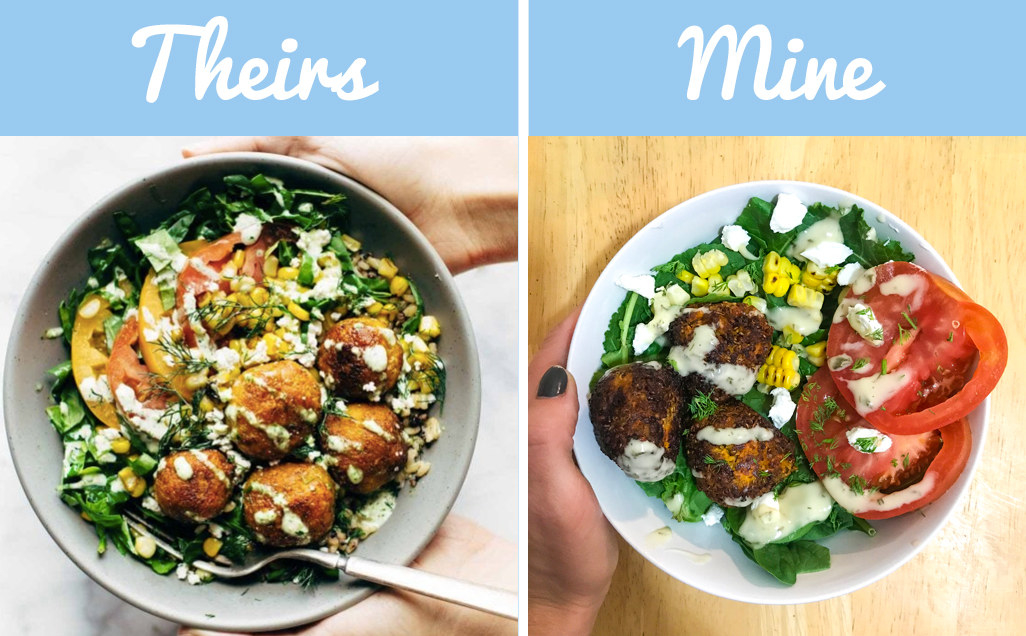 Here's everything I learned from this experience:
1. Food blogging is honestly an art form. You see photos all the time on Instagram and they look beautiful, but it's SO. FREAKIN'. CHALLENGING. to replicate!
2. Creating ~content~ as an Instagram food guru is EXHAUSTING. After cooking three days in a row, I was tired. I thought I would have the energy to do a fourth meal in a row, but I ordered takeout instead. Which leads me to...
3. ...the fact that you HAVE to have a passion for cooking! In order to constantly churn out food content, you have to be testing and perfecting recipes. And if you don't love it, it's probably just going to feel like a ton of work.
4. It's both timely and a little expensive to become a Instagram Food Guru. Not only do you have to have SO MANY INGREDIENTS, but I'm assuming these talented chefs AREN'T documenting their creations on an iPhone camera. So now you add in the cost of photography equipment — because their photos always look so crisp and beautiful. Plus, you need to own various types of kitchen equipment, which I imagine adds up as well.
5. Basically, none of this is as easy as it might seem and Instagram food bloggers deserve all of our love and respect.