I Cleaned My Entire Apartment Using That Eco-Friendly Product Kim Kardashian Tweeted About, And Here Are My Honest Thoughts
Should we all be making the switch to eco-friendly cleaning products?
Last month, I saw Kim Kardashian tweet about an eco-friendly cleaning kit. As someone who's slowly trying to transition into a more environmentally friendly lifestyle, I was instantly curious.
The brand is called Blueland, and "The Clean Essentials" kit comes with four "forever bottles" and four dissolving tablets. One tablet is for your hand soap, one is for your glass cleaning solution, one is for a multi-surface solution, and the last is a general bathroom cleaning solution. The goal of this product is to keep store-bought plastic cleaning solution bottles out of the landfills.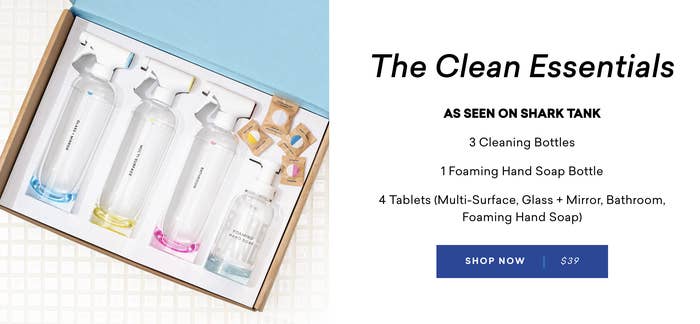 When I looked up the clip from the Shark Tank episode on YouTube, I saw the founders say that this kit can help eliminate five billion plastic cleaning bottles each year. I don't know about you, but I forget just how much cleaning solution comes in plastic containers.
I decided to start 2020 off right by placing my first Blueland order! The starter kit is $39, which seems a little pricey considering you can get all of this at the store for $10. But then again, you don't need to replace your bottles — so I guess you can look at it as an investment. Here's how everything looked when it came: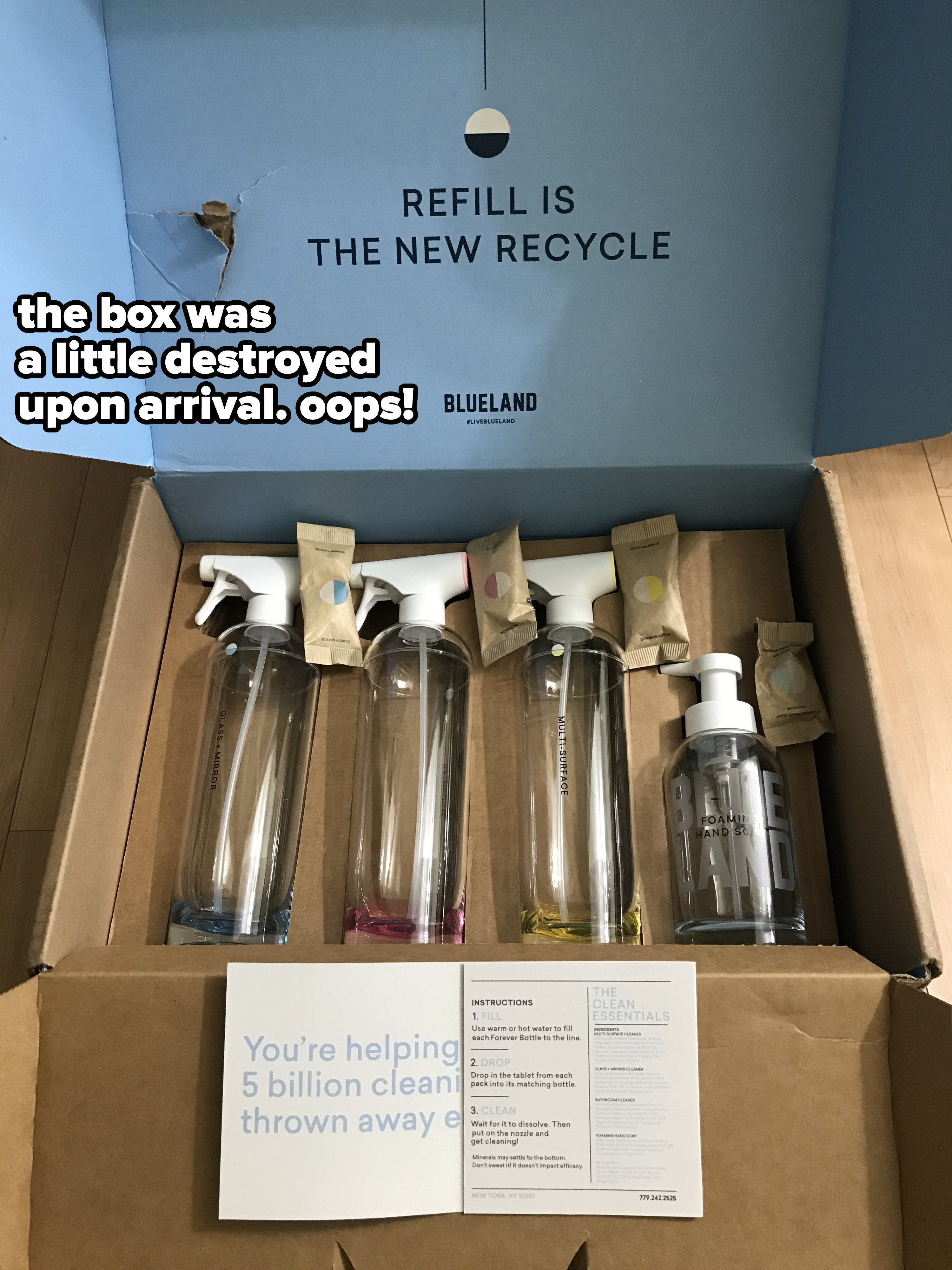 The entire process of creating the cleaning solution was so simple. First, you fill the bottle with water up to the indicated line. Next, you drop the tablet in! Each tablet says exactly what it is on the packaging, but it also is color-coded to the bottle. Truly, you can't mess this up.
I want to say it took almost an hour for the tablets to completely dissolve, so I did a load of laundry while I waited.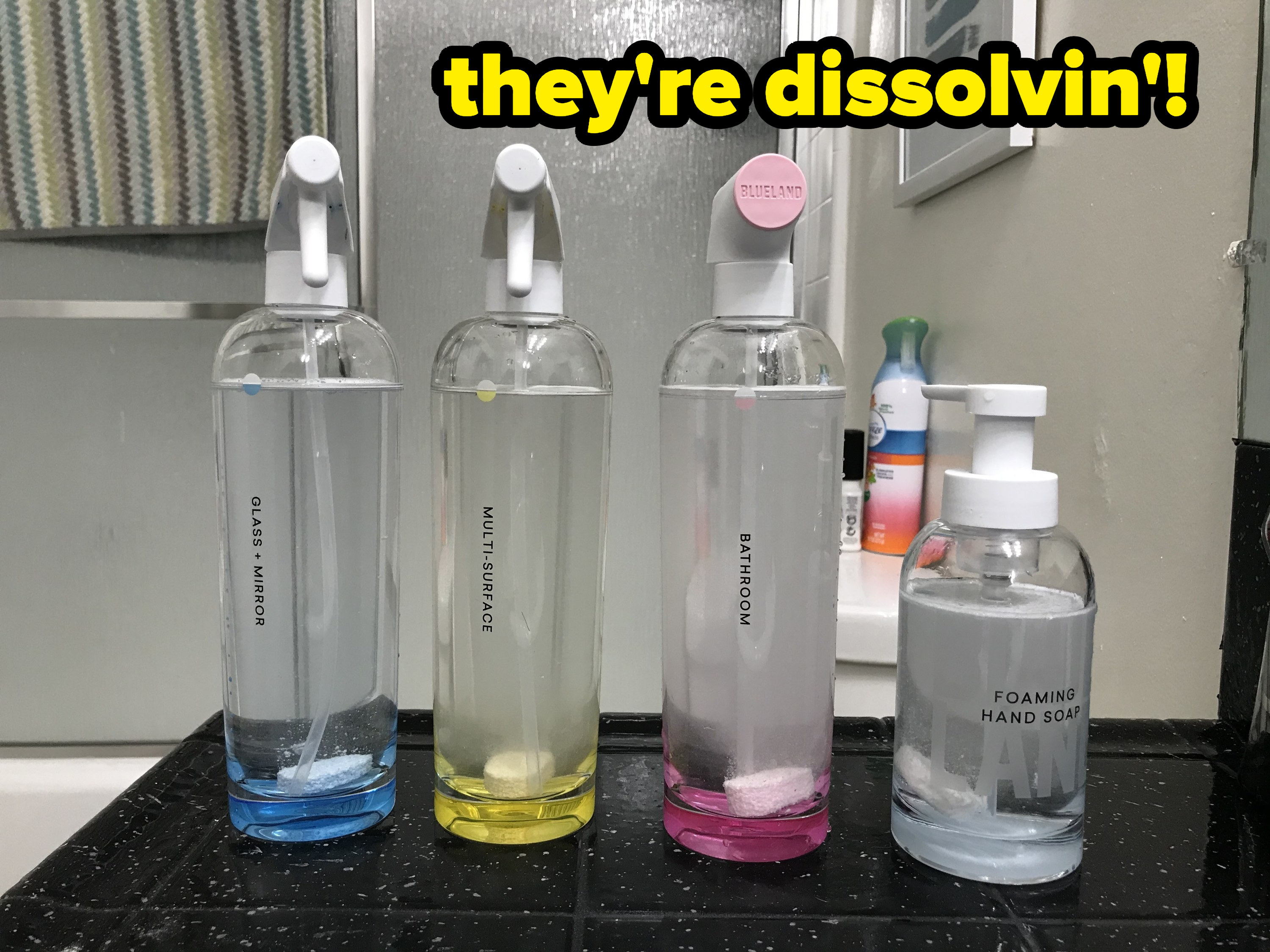 Here's what the solution looks like when it's ready to go: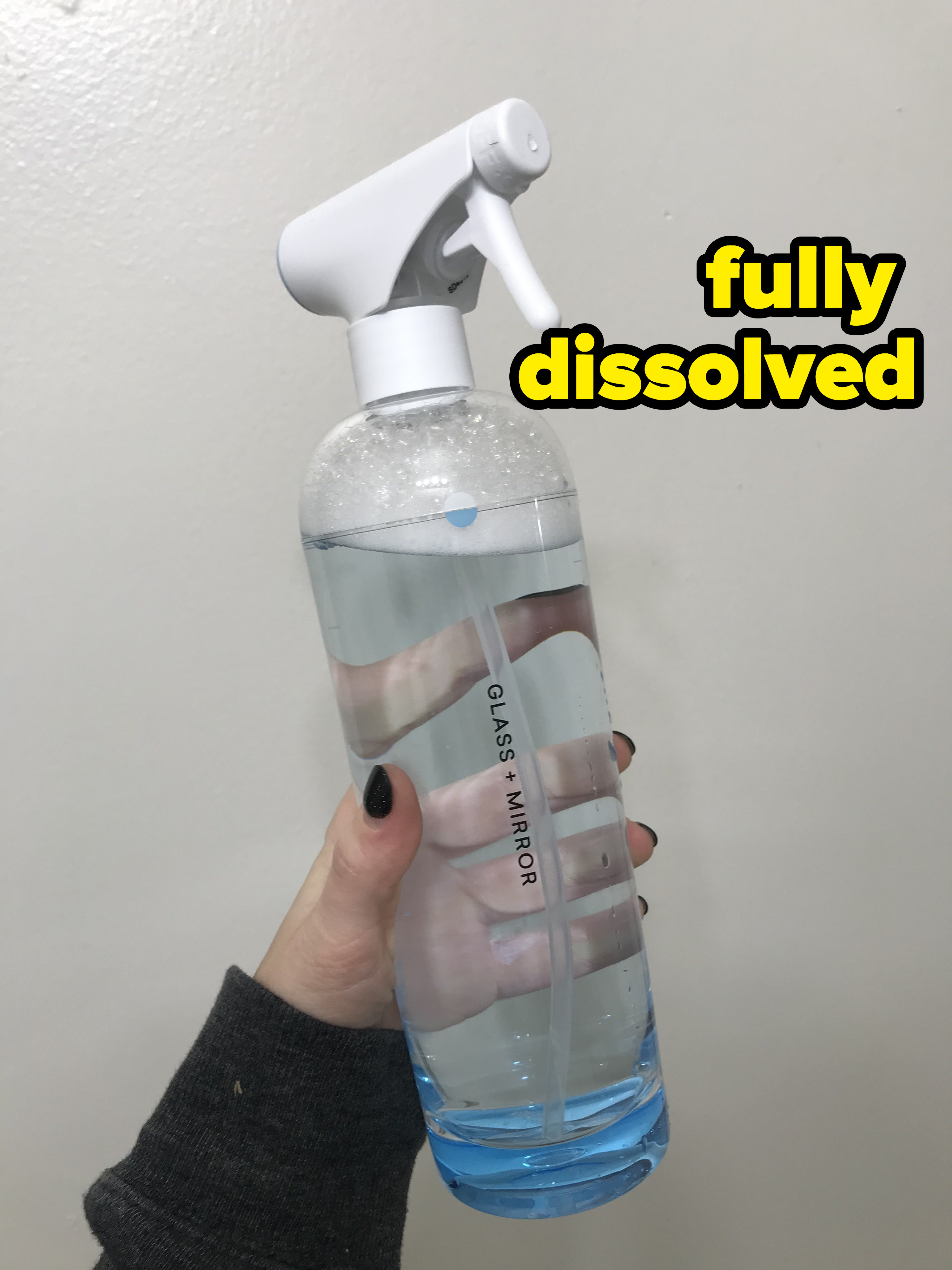 I was the most curious about the hand soap, which comes with a round-shaped tablet instead of an oval one. I would venture to guess this is because they don't want you accidentally filling your hand soap with cleaning solution. I'd rate the soap 8.5/10. I wish it was just a little thicker and soapier, but it gets the job done!
I had a lot of loose makeup and some good ole grime in my bathroom sink, so I used the pink bathroom cleaning solution to scrub everything away. I was impressed! There wasn't a huge chemical smell, which was a bonus. It did the job well and without forcing me to scrub hard. I only used a rag to do this.
Next, I used the glass cleaner to make my bathroom mirror sparkle and shine. Because I'm not perfect, I often get toothpaste splatters from my electric toothbrush on the mirror. Whoooops. I thought the glass cleaner was a little streaky at first, but then I cleaned it with a different type of rag and it didn't leave streaks. Overall, I was pretty pleased.
Finally, I used the multi-surface cleaner to clean the grime off my floors. Again, it's kind of hard to tell in the light. Sorry, I tried my best! There were a lot of smudges and footprints around my backdoor. The multi-purpose solution picked up not only that, but also a lot of grime that wasn't visible to the eyes. Ewww.
Overall, I was pleased with the results! There aren't any harsh or chemical odors, and it gets the job done. I even cleaned the inside of my toilet with the bathroom cleaner and it worked just as well as that blue toilet cleaning gel that's sold in stores. I still wish the soap had a little thicker consistency, but I'm pretty much sold on this as a way to reduce plastic from cleaning products!