What "Game Of Thrones" Scenes Look Like On Your Screen Versus Real Life
Here's what you can expect if you find yourself in Belfast.
by
,
Hi all. We're Farrah and Chris. As two very enthusiastic Game of Thrones fans who happened to be in Northern Ireland, we jumped at the opportunity to purchase seats on a Game of Thrones filming locations tour, and it ended up being a spectacular way to see a lot of beautiful Northern Ireland while getting a behind-the-scenes look at the show. If either of these things seem up your alley, here's what you need to know!
Since Game of Thrones, tourism in Northern Ireland brings in about 36 million dollars each year. Game of Thrones Tours isn't the only company that does tours based on the show, but it does offer a cool perk: tours are led by actors who were extras in the show.
The vehicle we traveled on wasn't a coach, but a small bus. There are both pros and cons to this. The upside is that you're in a more intimate setting with less people. The downside is that if you get carsick, you might want to sit toward the front of the bus — since you'll be traveling for 10 hours and feel lotsa bumps in the narrow roads.
Here are a few things to keep in mind if you're considering this 10-hour tour:
- You'll be doing a lot of walking, sometimes on uneven surfaces, so be prepared. The health app on our phone tracked us walking 7 miles (~17,000 steps) by the end of the day.
- There's not a bathroom stop in every location you'll see, so be mindful of how much coffee you plan on consuming. I think the shortest stop between locations was twenty minutes while the longest was an hour and forty-ish minutes.
- Pack snacks like a banana, nuts, or a protein bar! You'll stop once for lunch, but that's it. Food will help your energy levels stay high throughout the long day.
- Sit toward the front of the bus, especially if you get carsick. You'll also be able to see the TV screen better, as they play many clips from the show after refreshing your memory on what you'll be seeing. Plus, you'll be able to ask your guide questions more easily and you'll always be one of the first people to get off the bus.
- PACK. FOR. UNSTABLE. WEATHER. Ireland can be sunny one second and be raining five minutes later. We both forgot our rain jackets on the bus during one of the shorter stops (you'll see as you read below). Because it was so sunny, we thought SURELY it wouldn't rain. And it poured.
There are specific Game of Thrones scene markers in many of the locations where they filmed, complete with stills from the episode. It's a nice reminder in case you forgot what happened since, you know, there's been eight whole seasons.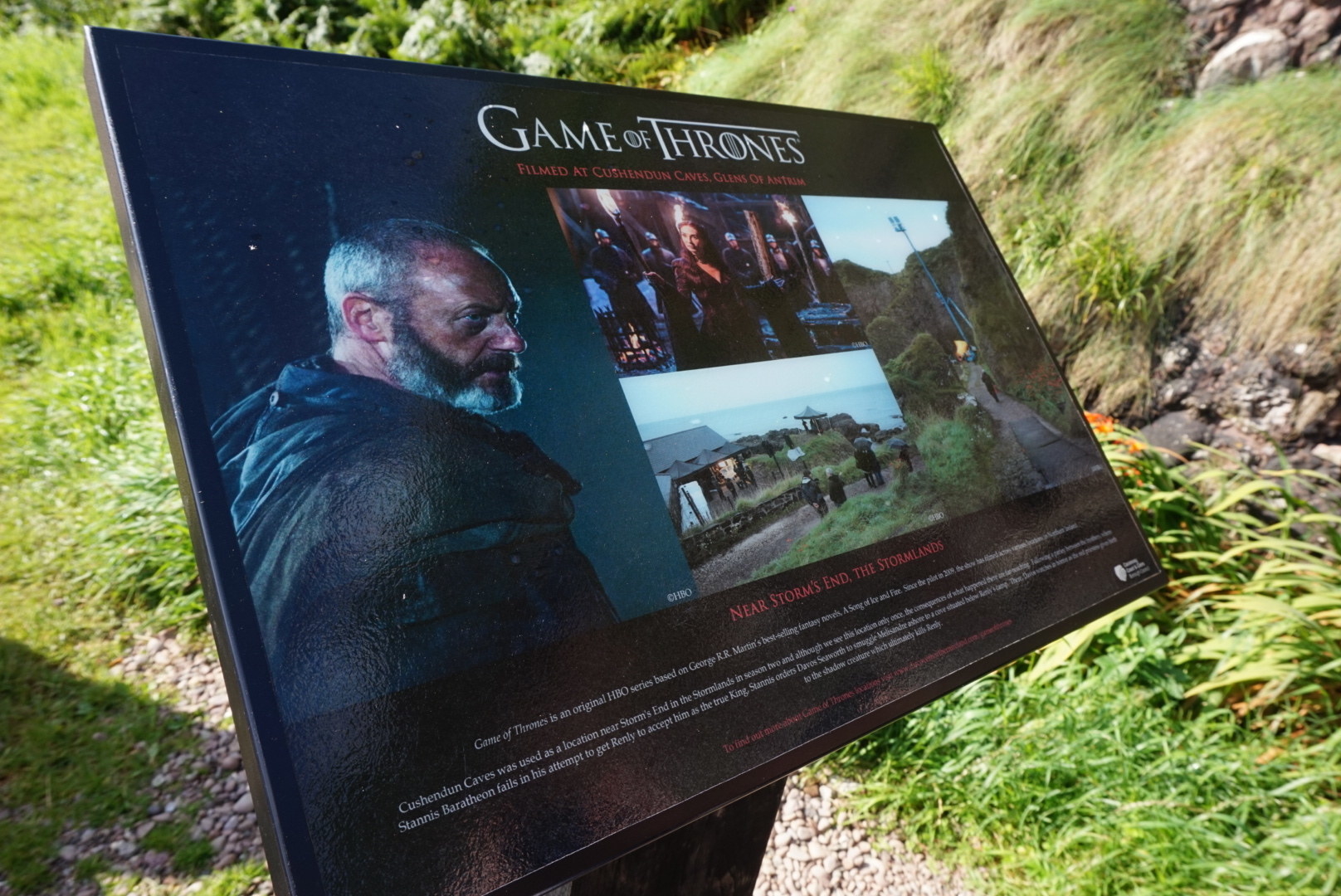 On the way to our first location, Brian (our guide) told us behind-the-scenes stories about his experience on the show, which was very intriguing. Our first officially stop was in Carnlough where we entered "Braavos." This is primarily known for the steps where Arya climbed out of the water after narrowly escaping The Waif who, as you may recall, was trying to GO FOR THE KILL.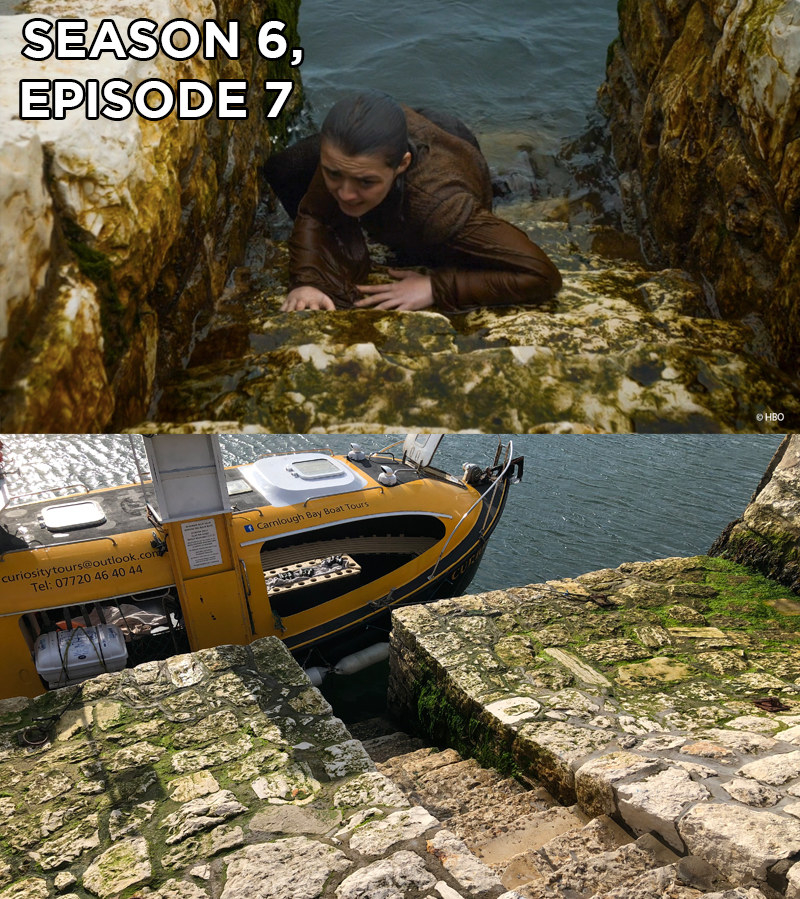 Our next stop was the location where Melisandre gives birth to the shadow demon in Season 2, Episode 4, which was filmed in the Cushendun Caves. Honestly there wasn't much to this particular spot, but it did give you an idea of how little room they had to film the scene, since it's kind of tight quarters.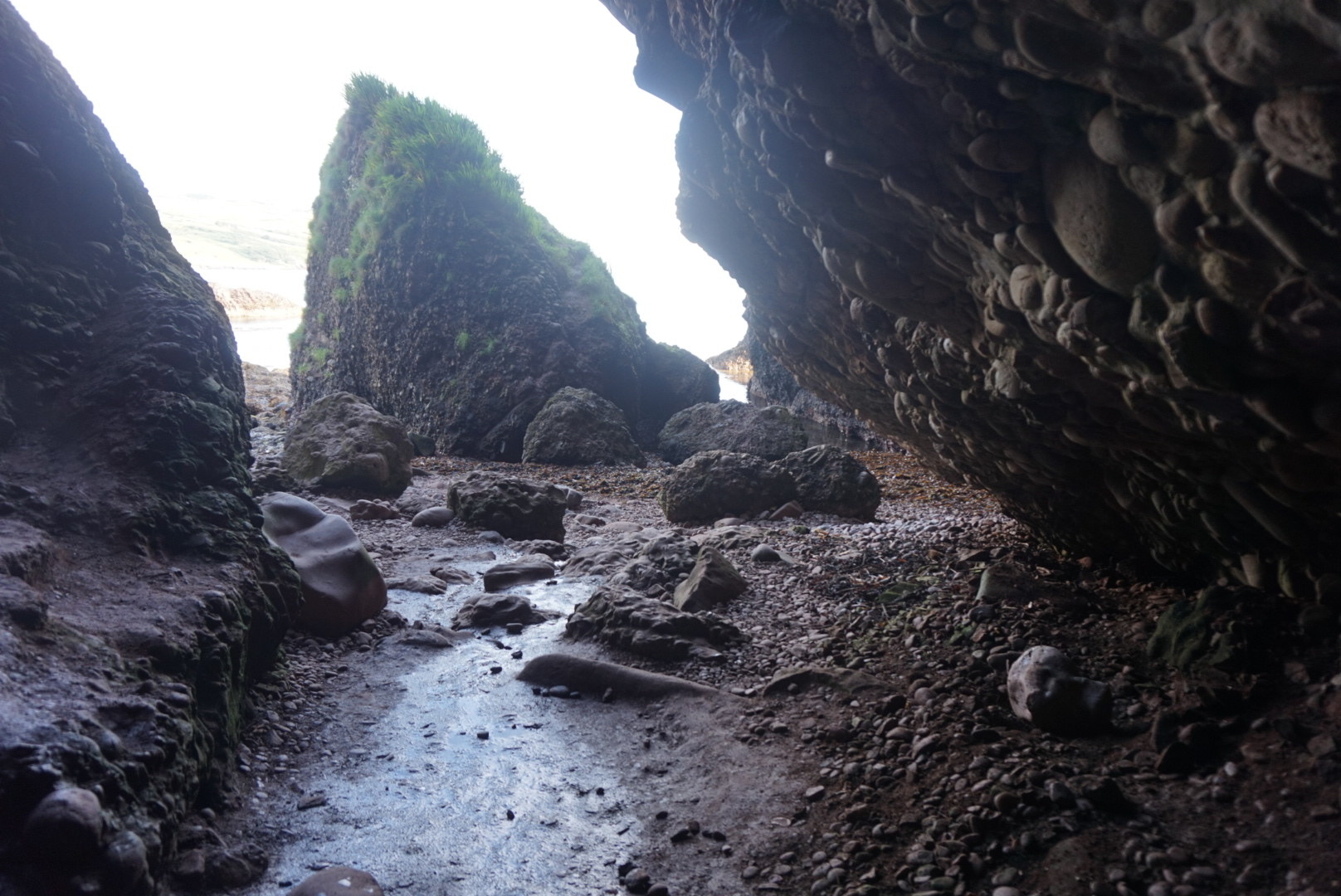 After that, we stopped at the Larrybane Chalk Quarry. This location is right next to the Carrick-a-Rede Rope Bridge, so if you're with someone who doesn't watch Game of Thrones, they will absolutely get some stunning views of Northern Ireland at this spot. Plus, you get to cross the bridge. This location is known for Brienne of Tarth and Loras Tyrell's fight in front of Renly and Margery.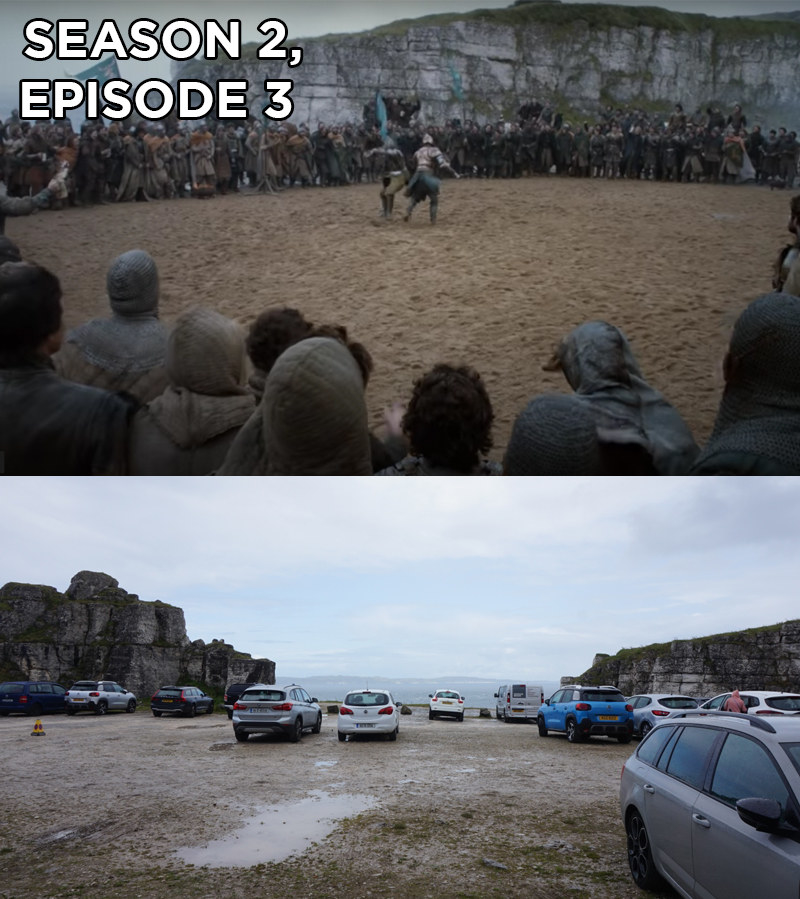 Here's another scene/angle of the Larrybane Chalk Quarry, for reference:
The next location was Ballintoy Harbor AKA "The Iron Islands" harbor, as seen when Theon returns home in Season 2, Episode 2. You can see how much was added to make it feel like you were in another place and time!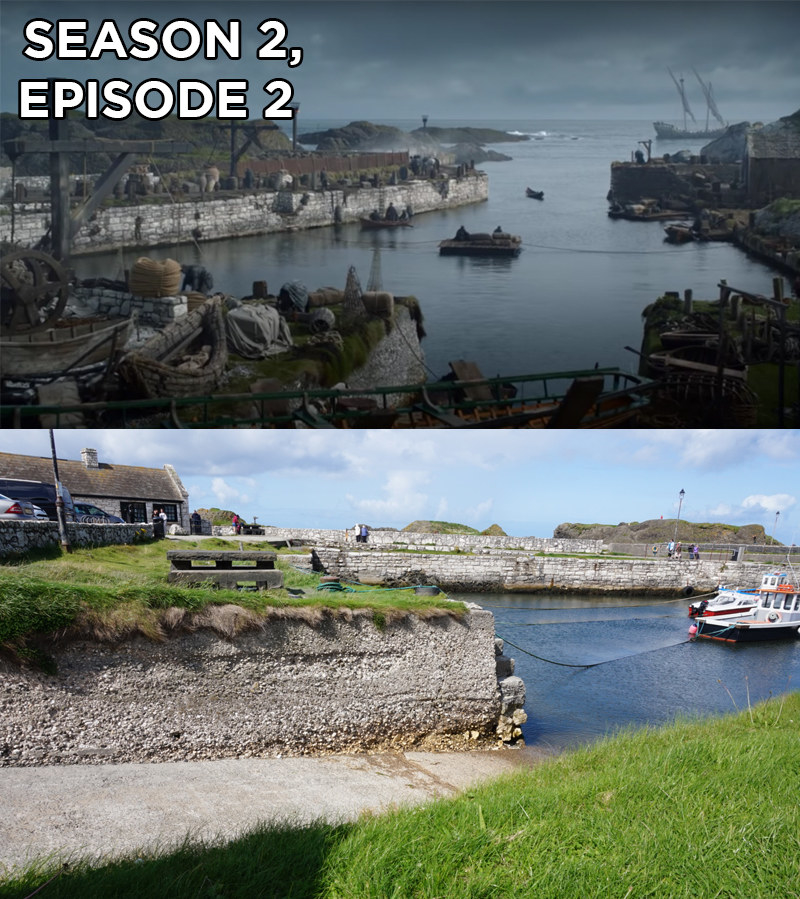 Near the harbor is another Iron Islands location, specifically where Theon is baptized in Season 2, Episode 3.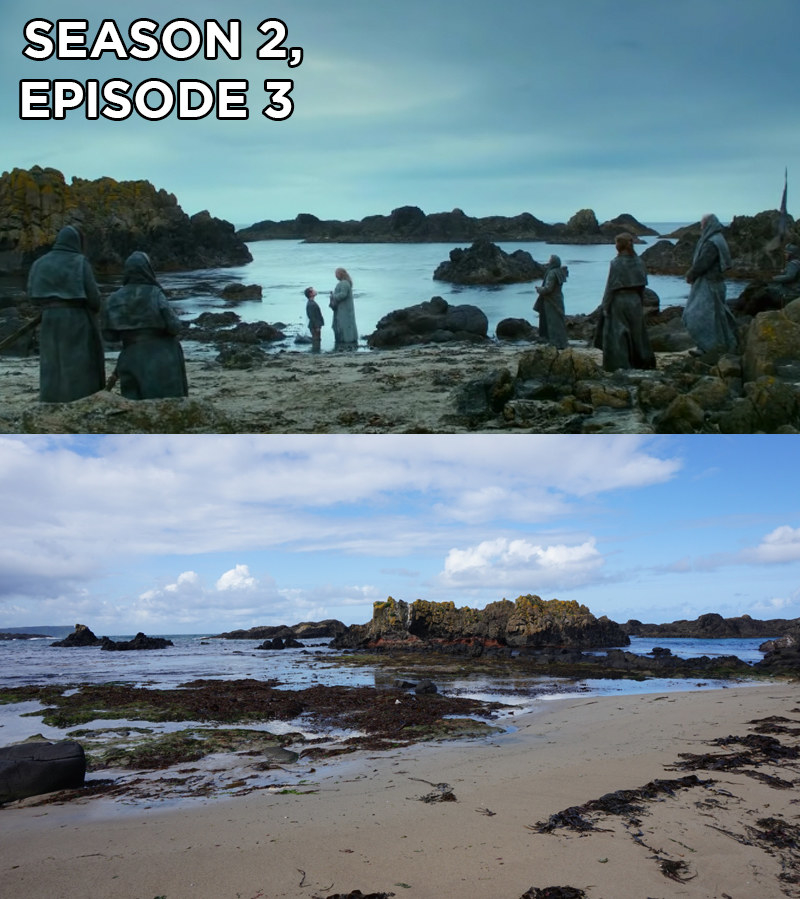 The Game of Thrones Tours provides a photo-op stop here, complete with costumes inspired by House Greyjoy. It was completely nerdy and awesome, and our guide even gave us direction for perfect photo posing positions.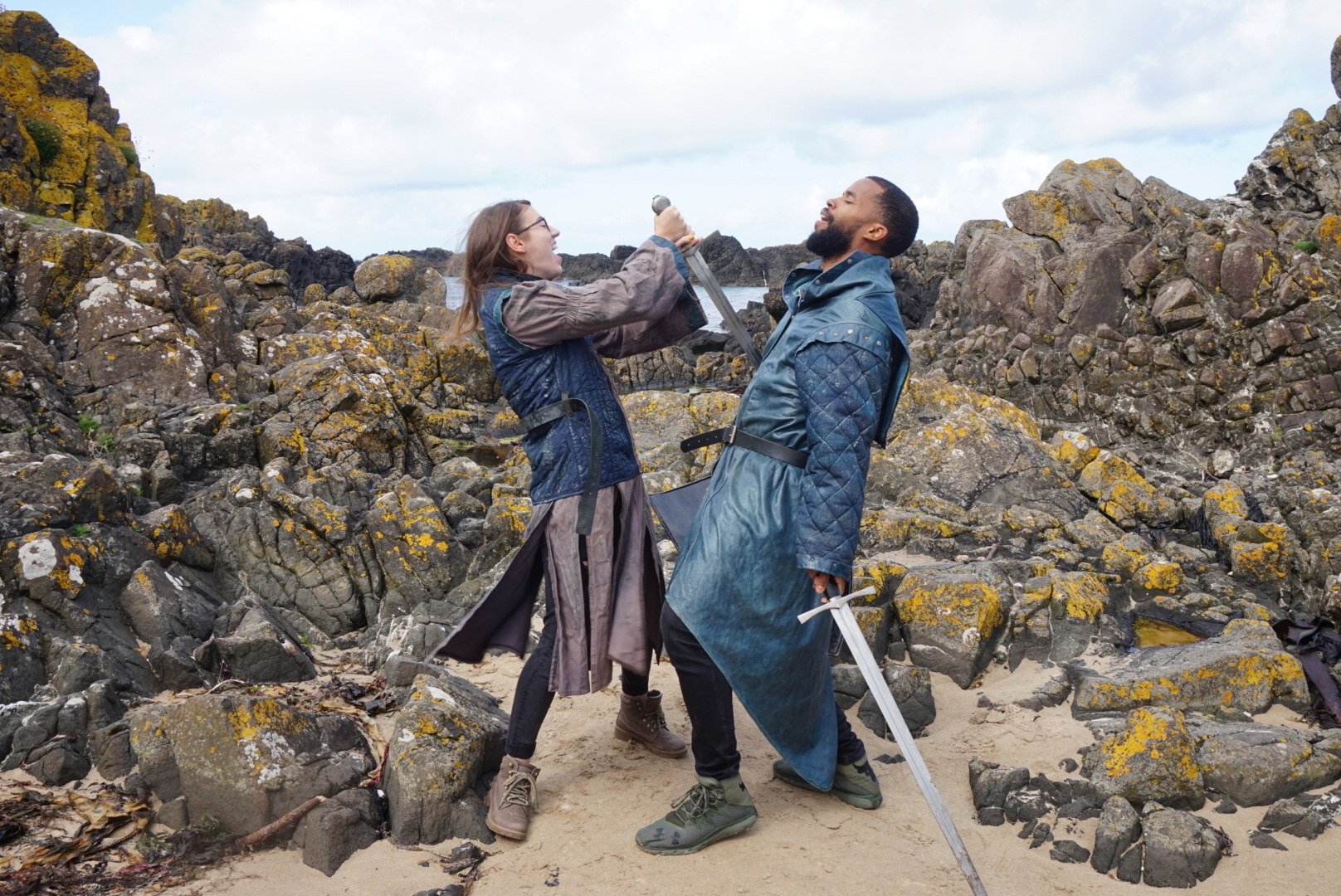 Our last stop was the Dark Hedges, where Gendry and Arya escape in Season 2, Episode 1. It was atmospheric and magical, but here's why we suggest bringing a raincoat wherever you go: It POURED on us even though it was sunny skies when we got out of the bus. Within that five minute walk to the hedges, the clouds came. It didn't ruin the experience, though!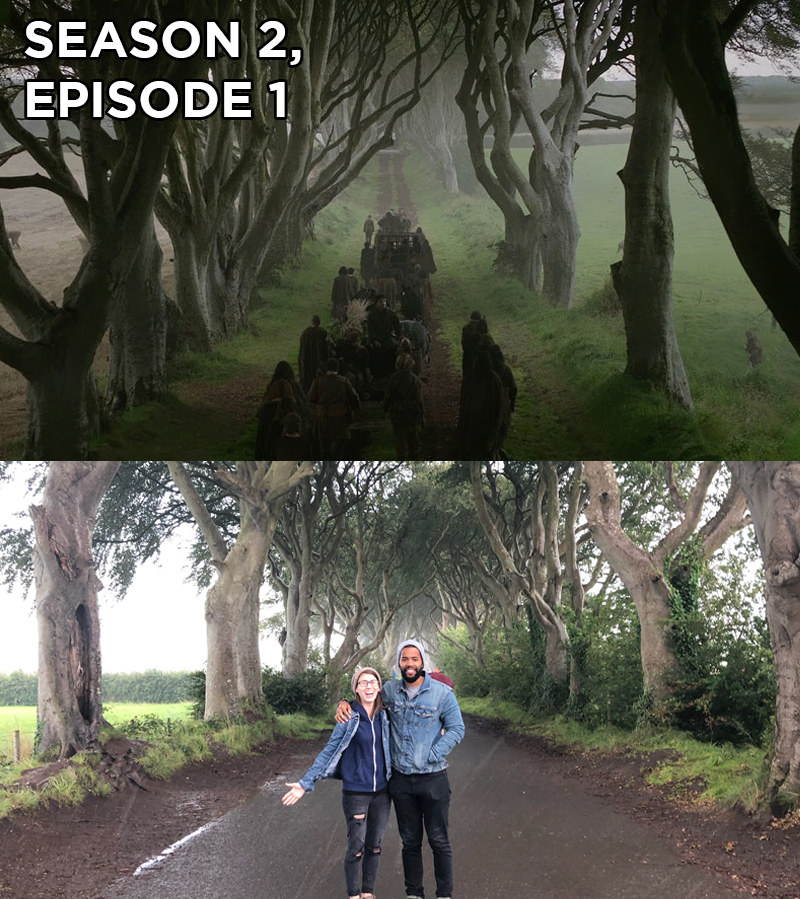 And with that, the tour came to an end! It was a spectacular way to see Northern Ireland while nerding out over Game of Thrones. If Belfast is on your bucket list and you're also a fan of the show, what are you waiting for?! BOOK IT.