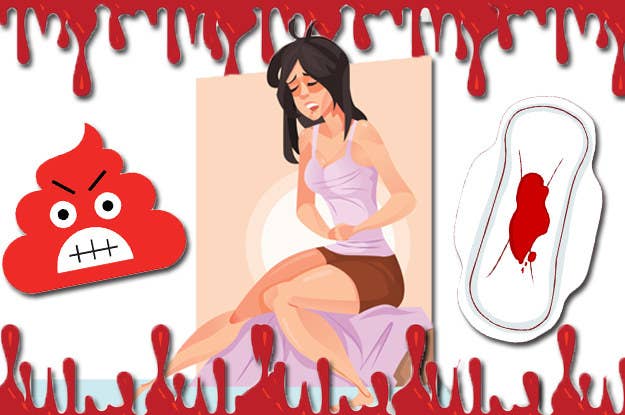 1. First of all, your morning begins when you wake up with either massive cramps, a blood gush rush to the crotch, or both.
2. Or worse, you've stained your favorite cute sheets from Target and you're pissed because now, on top of not feeling well, you have to do LAUNDRY.
3. By the time you reach the toilet, you've got massive blood chunks slippin' out of you.
4. And you're kinda mesmerized that your body can release that much blood at once.
5. Your toilet looks like a horror scene from the Texas Chainsaw Massacre.
6. I mean, you've really bloodied up that toilet water.
7. When the Super Cramps kick in, you crumple into a useless, immobile heap on the bed — who the fuck cares about stained sheets?
8. AND THE SWEATING. MY GOD. You feel like you sweat out your entire body weight.
9. It's nearly impossible to feel comfortable at any temperature, and you feel like a ratty, bloated sweat monster.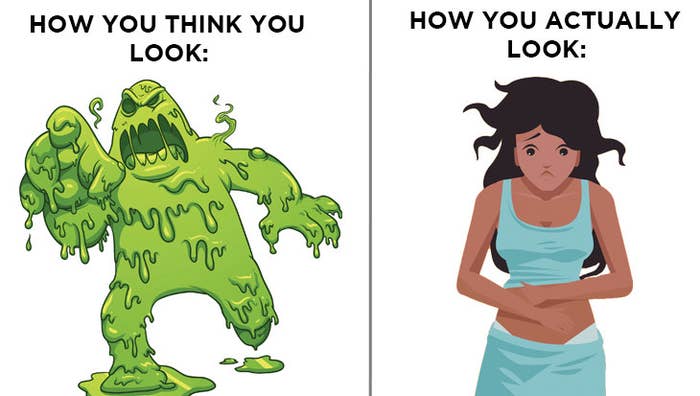 10. Also, you crave anything carby, sugary, or filled to the brim with sodium.
11. Which makes you feel better for 2.5 seconds before the stomach ache kicks in.
12. It's really unfair that nothing is satisfying and everything hurts.
13. And let's not forget about the First Day Period Shits.
14. You know, where it feels like everything inside your large intestine comes out like lava.
15. Like, the amount of poo and blood that evacuate your body at the same time is astounding.
16. AND IT HAPPENS MULTIPLE TIMES A DAY.
17. After a while, you honestly don't know if you're more hungry or horny.
18. Like, you've tried to talk your S.O. into first day period sex because your sheets are ruined anyway.
19. AND SOMETIMES THEY AGREE, BECAUSE YOU ARE BLESSED.
20. You masturbate. A lot.
21. Because you're horny and also because it seems to help relieve cramping.
22. You go through more tampons/pads on your first day period than any other day, and you absolutely get blood on your hands while changing them.
23. And if you use a cup? GUESS WHAT, IT IS STILL AN ACTUAL BLOODBATH.
24. You're capable of changing a particularly bloody tampon and then immediately consuming a greasy fast-food meal without being disgusted.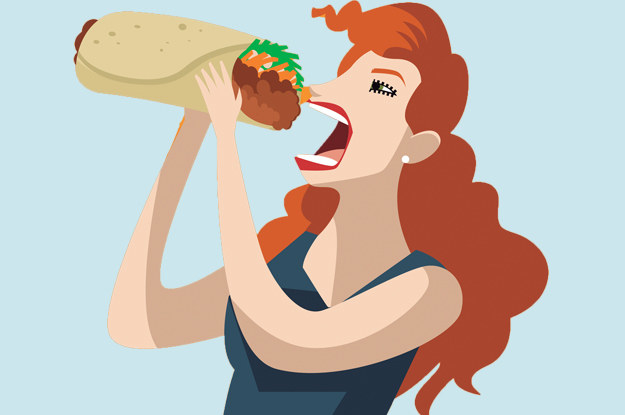 25. Every time you cough or sneeze, you feel fresh blood flow down there.
26. Your skin is oily as fuck so you don't bother showering.
27. And if you do shower, there is a 99% chance you got blood on your towel.
28. Your own personal stench morphs into a mix of blood and sweat that you experience once a month.
29. It's a smell that creeps up on you like a surprise fart.
30. But you just let it happen, because what can you do?
31. And because you're already not feeling well, every little thing will get on your last nerve.
32. Like how the commercials on TV are way too long.
33. Or when you suddenly get annoyed at your S.O. when they smack their food.
34. By the end of the day, you honestly don't care that you got blood on your underwear.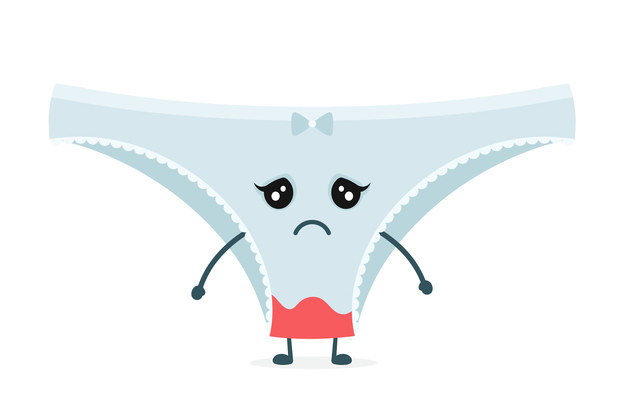 35. You're just tired from the 483921483275904 million sweats, poops, and cramps you didn't ask for.
36. And you're ready for day seven. Or at LEAST day three.
37. BECAUSE NOTHING IS WORSE THAN THE FIRST DAY...
38. ...except when it comes back next month.