If you're an avid TikTok user, then you probably know that this Feta pasta recipe is going viral. Seriously, it feels like *THE 2021* recipe at the moment, like the whipped coffee of 2020. So many people are making this delicious-looking pasta that it supposedly caused a Feta shortage in Finland!
We wanted to see if this recipe is actually worth all the hype, so we — someone who cooks a lot and someone who doesn't cook very often — set out to try it.
Here's what we started out with for our ingredients. On the left is what Farrah bought. Since she cooks a lot, she thought that adding in some mozzarella would elevate it. On the right is a picture of Lara's attempt to be more domestic. She does not cook often but acquired a carton of Feta cheese and a weed-branded glass dish to start.
Farrah thought that throwing this together was incredibly easy. Everything is placed in one pan, topped with oil, and then baked on 400 degrees for 35 minutes. Once it's done, you stir it up to create that suuuuper-creamy sauce.
Here's a picture of Lara's setup, which looked, well, less appetizing than Farrah's. Lara had to cut her giant block of Feta cheese and break it into halves because it looked so much bigger than the blocks of Feta in the 1 million TikTok videos she'd seen with this recipe, but it was the only Feta cheese she could find. And she chose to go with farfalle pasta!
And here's what Lara's looked like coming out of the oven! She went with 38 minutes at 400 degrees for no other reason than that when the oven timer went off, she was in the middle of watching the latest episode of 90 Day Fiancé.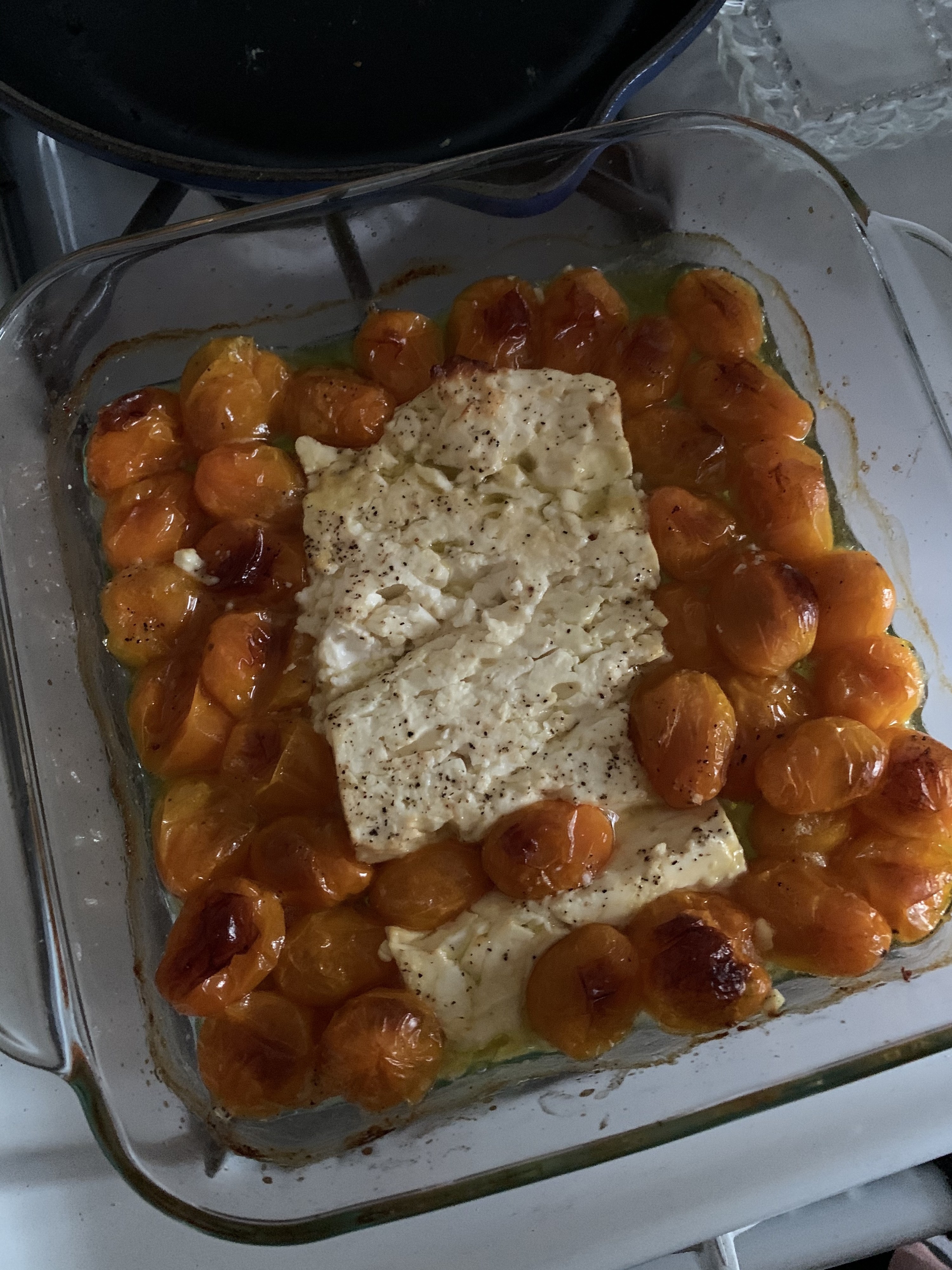 Farrah's thoughts: "This was creamy, cheesy, and carby — everything I love in a meal. I had some friends wondering if the Feta was too strong, but it wasn't! The tomatoes and basil might have helped tame that flavor, but in my opinion, everything blended together so well. I will absolutely be making this again. It's a perfect comfort meal."
Lara's thoughts: "Honestly, this is the best pasta I've had in a while. I avoid cooking often because I'm chronically ill and rarely have the energy or stamina to follow a recipe, to be quite honest. But this entire thing took me *maybe* five minutes of prep work, and then my oven did the rest. Like Farrah, I was slightly worried about the amount of Feta overpowering the dish and making it, well, too cheesy. But it wasn't. It honestly tasted very mild but still somehow packed a TON of flavor. In short, I will absolutely 100% be making this again in the near future. If you like Feta cheese and are looking for a hearty, quick meal (bonus points if it's cold outside), then this is a great recipe."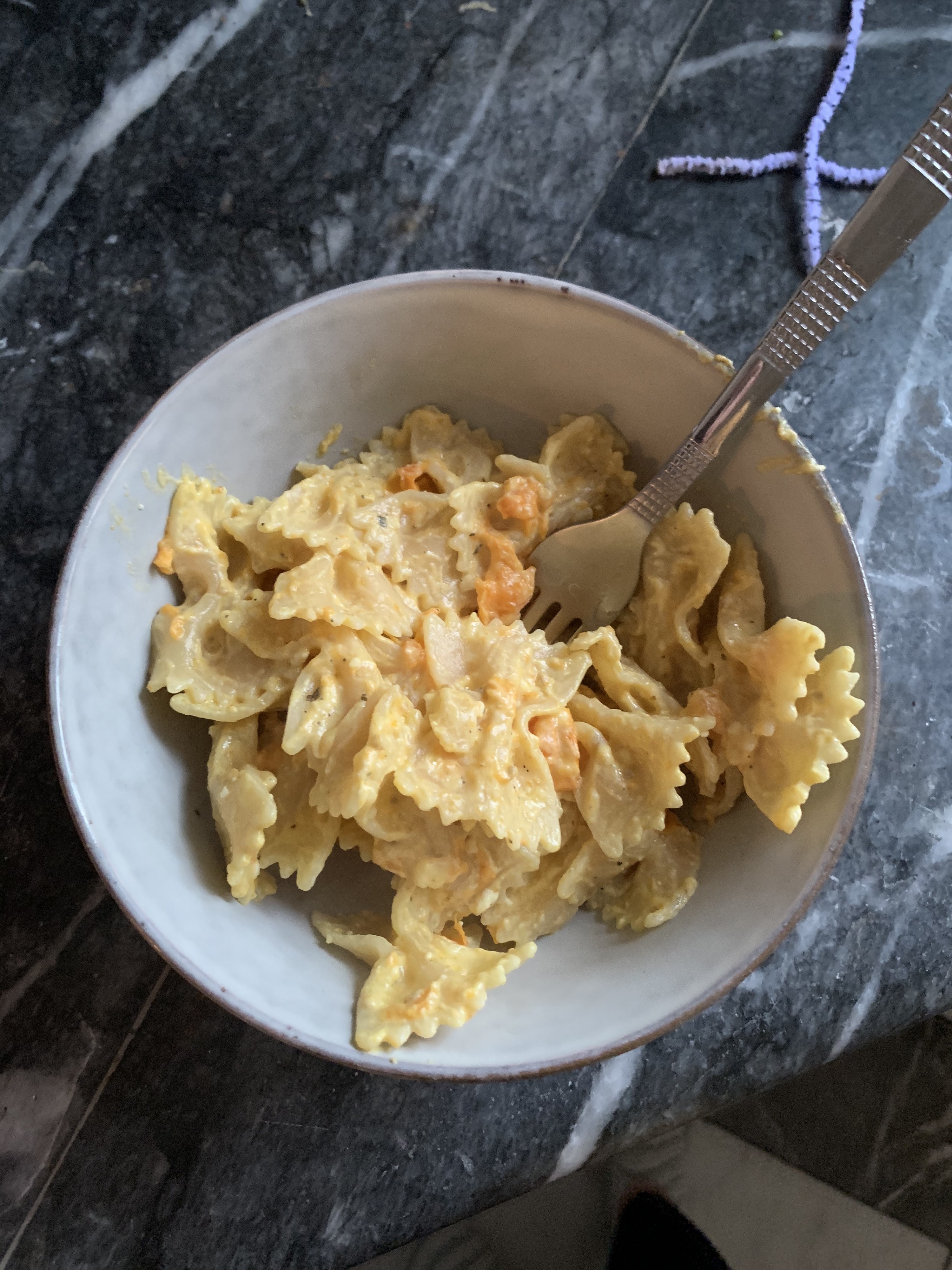 So was this recipe worth the hype? Yes, 100%. This is a sign for you to go out and make it ASAP.
Have you made the infamous Feta pasta yet? Let us know in the comments!