D'Arcy Carden From "The Good Place" Showed Us How The Complicated Kissing Scene In "Janet(s)" Was Shot
TV magic!
You might remember that The Good Place Season 3, Episode 10 was called "Janet(s)," which was set in Janet's void. Oh, and D'Arcy Carden had to play the roles of Eleanor, Chidi, Tahani, and Jason. (Spoiler alert: She pulled it off flawlessly. Give this woman all the awards.)
In the episode, Eleanor has a freakout because she's not sure what it means to be her true self, and then Chidi and Eleanor (played by D'Arcy) share an onscreen kiss, which eventually morphs into Chidi and Eleanor (played by the original actors, William Jackson Harper and Kristen Bell) kissing each other. It's...a lot!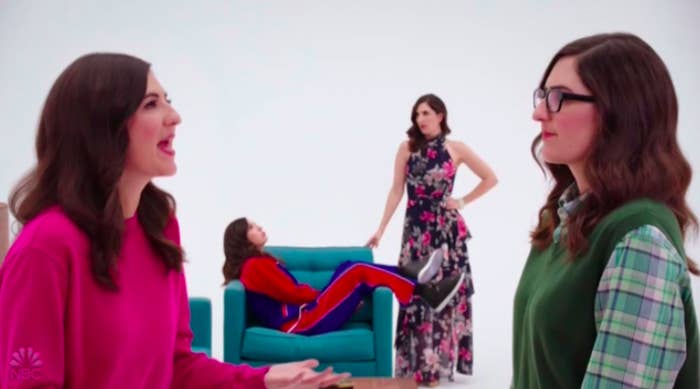 In honor of The Good Place series finale tonight, D'Arcy showed a little behind-the-scenes magic, revealing how technical each shot had to be when filming. First, she had to kiss this rod thing in order to get placement right.
Next, she had to do the same thing a few different times — as herself (again), as Chidi, and as Kristen Bell. Each time, they had to be very careful to hit their marks. "It had to be so precise, or it wouldn't work," D'Arcy said in her caption.
"David Niednagel put this together minutes after we shot it just so we could see. He's a...genius," D'Arcy finished.
Here's the final result, in case you forgot!
TV MAGIC! Anyway, I can't believe this show is coming to an end. It was such a joy to watch!