Meatball Cups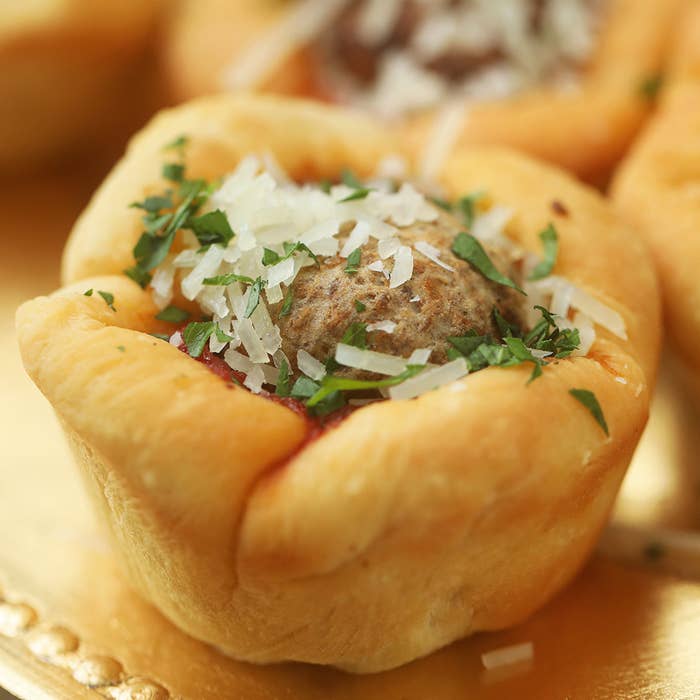 INGREDIENTS
16 ounces fresh pizza dough
Extra virgin olive oil
¼ cup melted unsalted butter
1 clove garlic, grated or minced
½ teaspoon salt
1½ cups marinara sauce, divided
12 Farm Rich Meatballs (Regular or party size pack)
¼ cup grated Parmesan cheese
Flat leaf parsley (garnish)
PREPARATION
1. Preheat oven to 375°F/190°C. 

2. In a small bowl, mix together the melted butter, salt, and garlic.  

3. Divide pizza dough into 12 equal pieces (approximately 1 ounce each). Lightly oil your hands and stretch out to form 3-inch circles.

4. Lightly spray 12-cup muffin pan with non-stick spray. Press each circle into the muffin tin cups and brush butter/garlic mixture onto the dough.

5. Place about 1 teaspoon of marinara sauce into bottom of the cups and add 1 Farm Rich Meatball. 

6. Bake until dough is fully cooked, about 15-20 minutes or cups are lightly browned. Top with a pinch of parmesan and sprinkling of chopped parsley

7. Serve with remaining warmed marinara sauce.