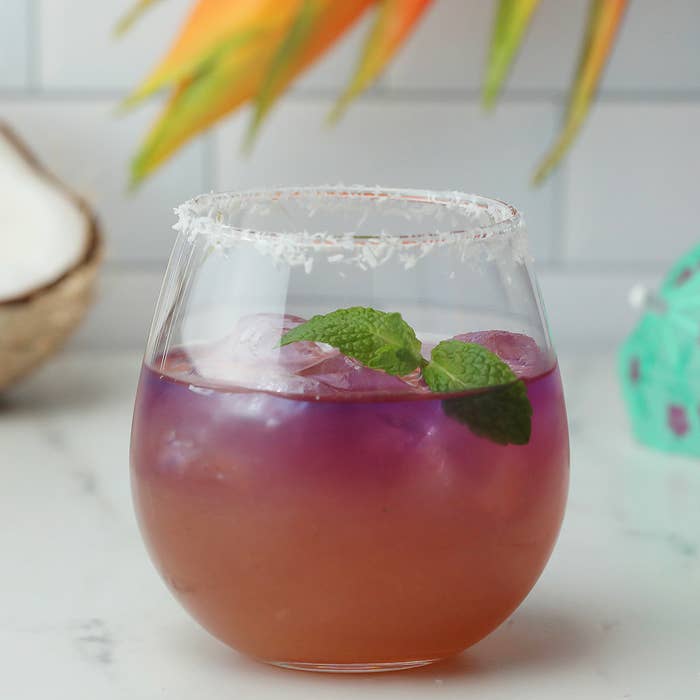 Ingredients:
Serves: 4
710 milliliters (24 ounces) almost boiling water
20 butterfly pea flowers
15 grams finely shredded coconut
Lemon wedge
6 ounces mango nectar
6 ounces guava nectar
Small handful mint leaves
Assembly for each serving:
120 milliliters (4 ounces) butterfly pea tea
15 milliliters (1 tablespoon) lemon juice
120 milliliters (4 ounces) nectar
Mint sprigs, for garnish
Preparation:
1. Stir butterfly pea flowers into the almost boiling water and steep for 5 minutes. Strain and cool.
2. Spread out shredded coconut on a small plate. Rub the lemon wedge along the rim of 4 glasses. Dip the rim of each glass in the coconut to coat. Set aside.
3. Combine mango nectar, guava nectar, and mint leaves in a blender. Blend on medium speed for 10–20 seconds until mint is chopped. Strain to remove mint leaves.
4. For each serving: Add ice to a glass. Pour in 120 milliliters butterfly pea tea. Drizzle in 15 milliliters lemon juice (color will change to purple). Pour in 120 milliliters nectar. Garnish with a mint sprig.