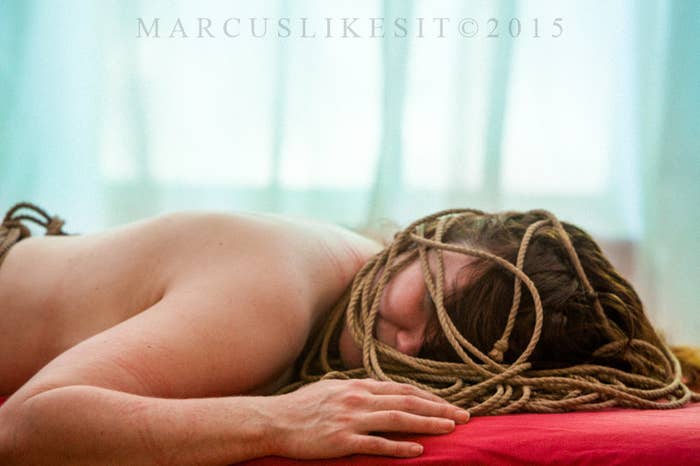 evievane.kinja.com
"Women are being tortured!" screamed the homemade sign on a stick. The words jumped out in uneven black marker under a grainy photo of a naked woman gagged and hogtied. I was 7 years old, on posh Fifth Avenue in Manhattan, and my mom rushed us by, embarrassed.
Decades later, some people still consider bondage a sin, unethical, torture. Is it? Let's have a look at 3 points of view.
1. Does the Bible say bondage is wrong?
Surprise! Nope. In fact, the Bible might be saying bondage is helpful.
"For the wife does not have authority over her own body, but the husband does...Do not deprive one another...but then come together again, so that Satan may not tempt you because of your lack of your self-control." (Corinthians 7:3-5)
Same-sex couples and transgender folks can mentally switch out the players in that sexist scenario, but if that's not God's direct approval (if not a mandate) for dominants to use their submissives' bodies how they see fit in a pleasurable way for both of them, including tying them to the bedpost or the ceiling beam, I don't know what is.
Even more interesting is the Bible's rationale: By not depriving yourself of bondage play, within the context of a trusted relationship, you'll be less tempted to fall for Satan's temptation to sin for real (like, say, murdering someone). Not bad!
The Bible warns against adultery, homosexuality, orgies, drunkenness, and other sexual behaviors common throughout history, but there's no specific "thou shalt not" about bondage or BDSM practices in general, from what I found.
2. Do feminists say bondage is wrong?
Not the ones without a personal agenda. Noted feminist Andrea Dworkin viewed porn, for example, as violence against women. Andrea Dworkin was reputedly abused by her first husband, and her book Intercourse is interpreted by many as being against heterosexual intercourse entirely, let alone bondage. Hm.
In contrast, Dorothy Allison, award-winning author of Bastard Out of Carolina and activist in the feminist and lesbian communities, founded the Lesbian Sex Mafia—which has a section on its website called "BDSM Is Not Abuse."
Gloria Steinem? She adamantly opposes women being hurt, but I couldn't find anything on whether she objects to women being hurt if they enjoy it. (Also, Gloria Steinem has admitted to cosmetic surgery, which hurts in a way it's hard to imagine anyone enjoying, so that pain judgment seems arbitrary.)
Other feminists point out that BDSM, which includes bondage, is a valid expression of human sexuality and that controlling sexuality limits women's freedom. (Susie Bright, Gayle Rubin, and Betty Dodson are some prominent feminists who have advocated for sex-positive feminism.) It's worth pointing out also that women aren't the only gender who enjoy bondage, obviously.
3. Do psychiatrists say bondage is wrong?
No again! The DSM-V (used by mental health professionals to classify psychiatric disorders) declared in 2013 that "a paraphilia by itself does not necessarily require clinical intervention."
First, a paraphilia is an abnormal sexual behavior or impulse that recurs, and bondage play isn't even abnormal (see below) or necessarily sexual. Second, even if the bondage is sexual, it's not necessarily considered a psychiatric disorder—it would have to be obsessive or interfering with personal goals, among other things, for it to be diagnosed as a disorder.
Susan Wright, founder of the National Coalition for Sexual Freedom, says the American Psychiatric Association "has made it clear that being kinky is not a mental disorder."
Also, as I noted in a post on how to make your sexual fantasies happen, a recent study showed that 52% of women and 46% of men said they fantasized about being tied up to obtain sexual pleasure.* If half the world has a psychiatric disorder...um, well, maybe people who judge disorders have a disorder.
So, this is a rare case where the Bible, many feminists, and psychiatrists agree: Bondage is A-OK as long as it's consensual. Consider consensual bondage part of the wide range of normal human pleasures and sexuality. Happy and safe tying, everyone!
Important safety note: If you're curious about exploring the clearly acceptable and commonly fantasized about pleasure of bondage, learn how to have fun and stay safe, and understand consent, before you're on the giving or receiving end. Certain kinds of bondage can cause major and minor injury, including nerve damage. Check out my book, The Little Guide to Getting Tied Up, and RemedialRopes.com for starters, as well as my free YouTube series on How to Get Tied Up to learn how to do bondage in a safe and fulfilling way.
**********
Evie Vane is the author of The Little Guide to Getting Tied Up and is a rope performer, bondage model, and educator who has worked with some of the top rope artists worldwide. In addition to teaching and writing about bondage bottoming, Evie co-hosts bondage parties and other events in San Francisco. Stay in touch at RopeBottoming.com.
*"What Exactly Is an Unusual Sexual Fantasy?" by Christian C. Joyal, PhD; Amélie Cossette, BSc; and Vanessa Lapierre, BSc; The Journal of Sexual Medicine,October 2014