This post has not been vetted or endorsed by BuzzFeed's editorial staff. BuzzFeed Community is a place where anyone can create a post or quiz.
Try making your own!
15 Life Lessons As Told By Hades From "Hercules"
He's smart and fabulous enough to tell you about life.
1.
Don't hide your emotions from others.
2.
A simple "hello" could—maybe—be a nice way to start a strong friendship.
3.
Don't be so ashamed of bad hair days.
5.
That true love thing is very boring and predictable.
6.
Don't be afraid to speak your mind to your love-struck friends.
7.
Nothing is better than a little bit of sarcasm.
8.
Try to be a bit more calm about everything.
9.
A cute compliment can brighten someone's day.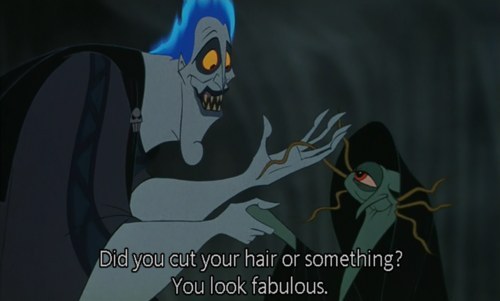 10.
Always keep your word.
11.
Sometimes, the most appropriate response is a good, sassy eye roll.
12.
Take a thousand selfies to show everyone how strong your eyebrow game is.
13.
Charm and politeness are your keys to success.
14.
And sometimes you just need to tell it how it is.
15.
Because you're a go-getter.
So you're like wisest and the brightest villain ever.