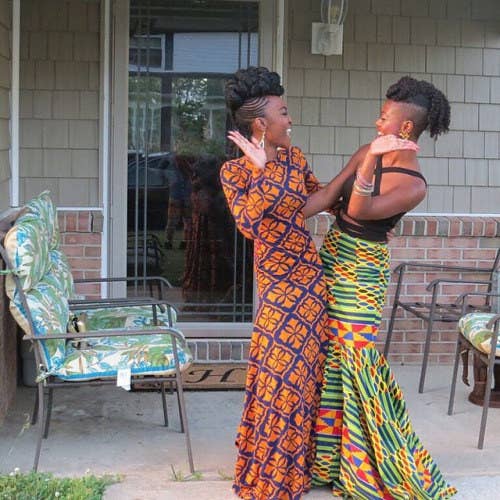 # 1.Parents want you to get married but not date
Alot of African parents want you to get married but the idea of you even interacting with the opposite sex repulses them. Literally, I can never share when I have a crush on a boy because well my parents will shut that down immediately. It's confusing as hell, even as a college student I am scared to bring up boys. What am I supposed to do? How can I get married, if I don't date. Apparently African parents believe we are suppose to show up one day with a random boy or girl and say yes, we are getting married soon. Makes a lot of sense.
# 2. No such thing as a social life
You literally don't understand how many times I have had to say I'm staying at Sophie's house to study so I can really go hang out with Jessica who is hanging out with Mike who I like. Yes it's that complicated, African parents don't expect you to have a social life, no parties or movies. If you're lucky, you are allowed to go to school dances. You don't understand how many diagrams I have had to make to map out to make a solid plan to sneak out. I'm an expert at this point.
# 3. African parties are where it's lit
Most African kids love African parties, this is where all your family members gather and turn up. This is where all the kids talk about their lives and party all night. It becomes live when an adult usually announces a dance competition, where we all dance vigorously to win $10. Yes, $10 and it's the most fun you will ever have.
# 4. Being compared to your cousins
African parents love comparing you to your cousins (who are actually worse). "Why can't you be more like her, she got a 4.0", when I got a 3.8. What African parents don't realize is although our cousins do have better grades, they are actually wild as hell and their parents don't know it! In comparison to my cousins, I am more tame as I sit in and watch my Netflix every weekend. These comparisons are the most annoying thing in the world because we work so hard to please our parents.
# 5.Can't pull the American stuff your friends do
When my friends say, "just sneak out". I literally open my eyes so wide, you would think it's gonna fall out the sockets. Me? sneaking out? That's a death wish. You can't get anything past African parents, you can crawl quietly on the floor and they will hear you. My American friends are lucky that they have a lot of freedom, in compassion all of Africans are old fashioned.
# 6. Awkward phone calls with relatives
Every african kid knows that moment when your parents tell you to come speak to your grandma or grandpa. You literally whisper quietly, "please don't do this". These conversations are awkward as hell because you don't know what to say! The phone conversation consist of "yes","i'm good","I'll come visit soon" and other words that mean leave me alone, don't get me wrong I love my grandparents but these conversations are awkward as hell.
# 7.Friends asking if you can speak African.
Sorry guys, Africa is a continent that is made up of other countries, every country has it's own tribes and languages. I can not speak African because well, Africa is a continent.
# 8.Being called a goat and every animal under the sun
Usually this would be an insult to a lot of people, but for African kids it's a daily part of their life. When our parents are mad they call us things like diabolical goat and many other creative names. It shows that in a weird way, they care.
# 9. Both parents agree
American kids are lucky because usually one parent doesn't agree with the other. You can easily get away with a lot. As a African kid, If my mom says I can't go, my father will say I can never go like ever. They both always agree which makes your life that much more difficult!
All in all, I enjoy being African, I love the culture and how we come together. Sometimes it may be hard due to old traditions, but my parents are the funniest people I know. I love the fact that I can go to Kenya and see traces of the past with all the tribes. Being African is a joy in itself.