Rustic German Potato Noodles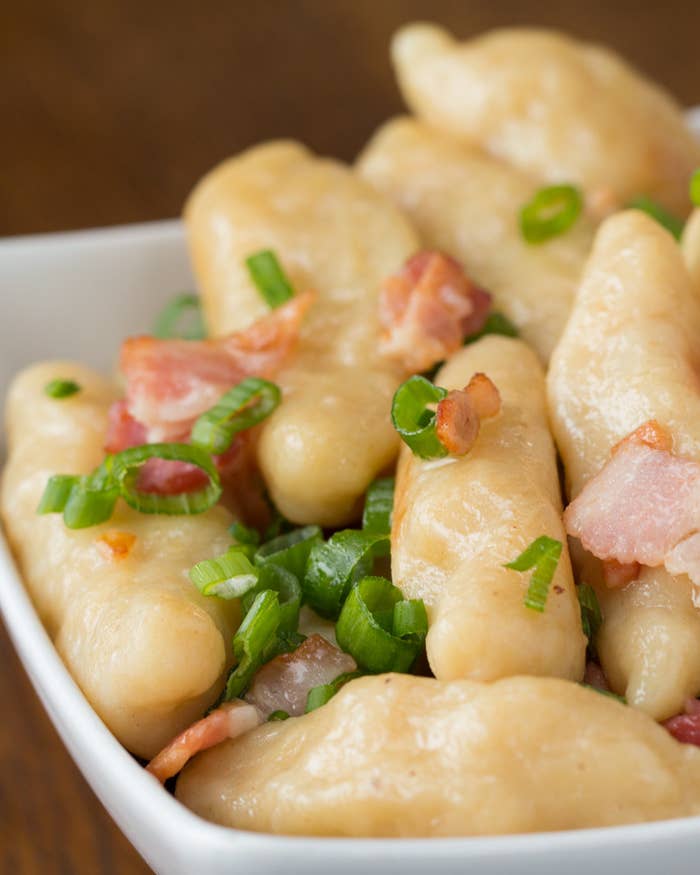 INGREDIENTS
Serves 4
4 yellow potatoes (we used yukon gold potatoes)
2 eggs
1 teaspoon salt
¼ teaspoon nutmeg
2-3 cups flour
1 tablespoon butter
½ cup bacon, diced
1 cup chicken broth
1/2 cup white wine
1 bunch green onion, chopped
Salt, for boiling water
PREPARATION
1. Peel potatoes. Cut them into 1-inch slices and boil them in salted water for 25 minutes or until they are tender. After boiling, take them out and let them cool for 10 minutes, allowing them to steam to remove excess moisture.
2. Mash potatoes until no lumps remain. Add eggs, salt, nutmeg, and 2 cups flour, and knead into a dough. If dough is too sticky, add more flour until it holds its shape but is still smooth.
3. Put a piece of dough on a floured surface and roll into a 1-inch thick log. Then cut in 1-inch pieces and roll them carefully in your floured palm for a noodle shape. Repeat with the remainder of the dough.
4. Boil noodles in a large pot with salted water. Stir carefully once or twice to make sure noodles don't stick to bottom of the pan. Once they float on the surface, they are cooked and ready to be taken out.
5. In a medium-sized pan, melt the butter. Add noodles and bacon and fry until both are golden brown on all sides.
6. Add chicken broth and white wine and let reduce for a few minutes until sauce becomes slightly creamy.
7. Top with green onions before serving.
8. Enjoy!
Want BuzzFeed Tasty right in your inbox? Sign up for our newsletter!