Banana Bread Tiramisu
Two dessert classics combined!
by
,
Banana Bread Tiramisu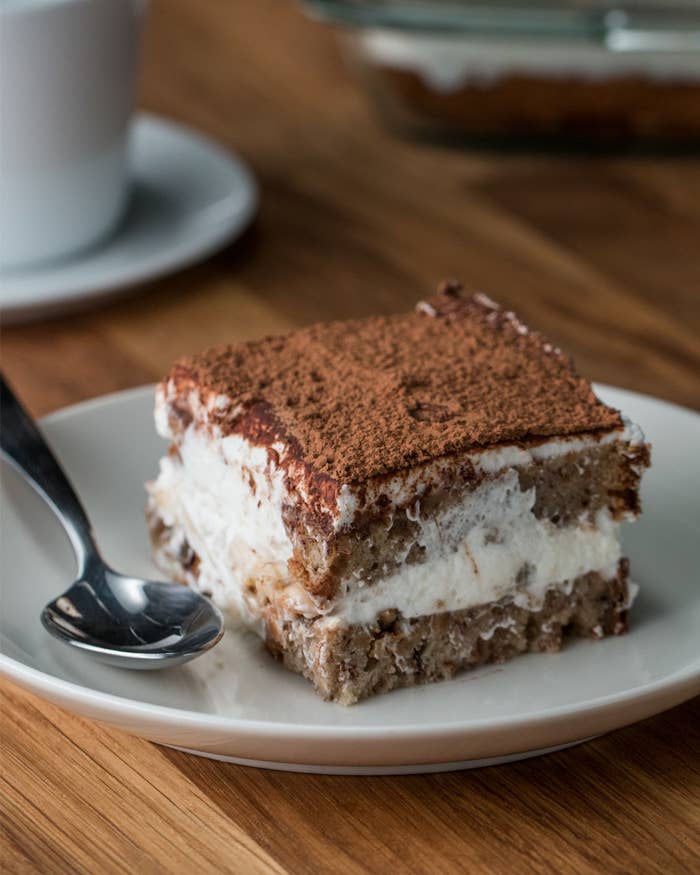 INGREDIENTS
Serves: 8

Banana Bread
4 ripe bananas
200 grams (1 cup) sugar
2 eggs
115 grams (½ cup) butter, softened
1 teaspoon vanilla extract
200 grams (1 ½ cups) flour
1 teaspoon baking soda
½ teaspoon salt
100 grams (1 cup) crushed walnuts
Tiramisu Filling
700 milliliters (3 cups) heavy whipping cream
150 grams (¾ cup) sugar
2 fresh bananas, sliced
2 teaspoons (or 1 stick) instant espresso granulate
1 teaspoon Amaretto (optional, if no children are around)
4 tablespoons water
Decoration
30 grams (¼ cup) cocoa powder
PREPARATION
1. Preheat oven to 350˚F/180˚C.
2. Crush 4 ripe bananas.
3. Mix butter, sugar, eggs, crushed bananas, and vanilla extract until combined well.
4. Sift flour, baking soda, and salt through a sieve and blend well into the mixture. Then add walnuts and stir carefully with a spatula.
5. Pour batter into a loaf pan lined with parchment paper.
6. Bake for 60 minutes until the top is golden brown and firm. Let cool.
7. Add sugar to whipping cream and beat to stiff peaks.
8. Slice the banana bread into even ½-inch slices and line a baking pan with half of the slices.
9. Dissolve instant espresso in cold water, add amaretto if desired, then apply half of it on the bread slices with a brush.
10. Using a third of the sweet whipped cream, cover the banana bread with a thin layer of cream until the bread is completely covered.
11. Add a layer of banana slices covering the whole baking pan and top it off with another third of the cream.
12. Top with the rest of the banana bread slices, coffee mixture, and sweetened whipped cream.
13. Dust cocoa powder on top with a small sieve until it is completely covered.
14. Enjoy!