This is Noor Tagouri, an activist and journalist, and she was recently misidentified as Noor Bukhari, a Pakistani actress, in the February issue of Vogue.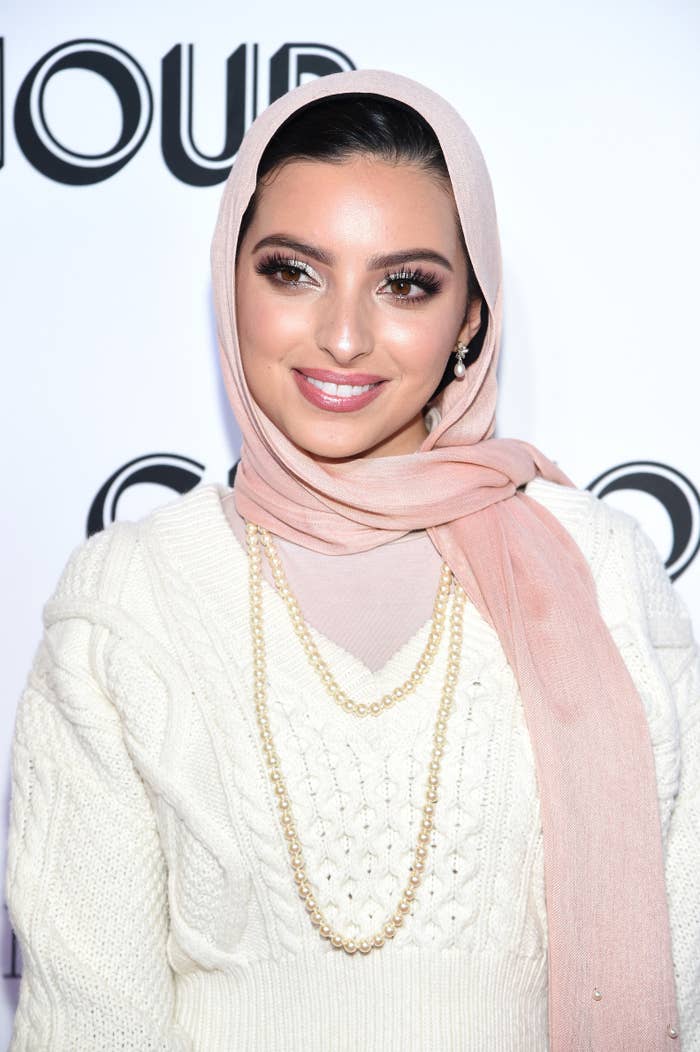 Tagouri found the issue at JFK airport and decided to film her initial reaction to seeing herself in the iconic book. "That's so cool!" she squealed after flashing the cover with Reese Witherspoon and then a page of her dressed in modest Givenchy fashions.
But the activist's reaction took a turn when she discovered that the copy actually identified her as Noor Bukhari, a Pakistani actress. "I'm SO heartbroken and devastated. Like my heart actually hurts," she wrote in the Instagram caption. She went on to say that she's been misidentified multiple times in media, "to the point of putting [her] life in danger."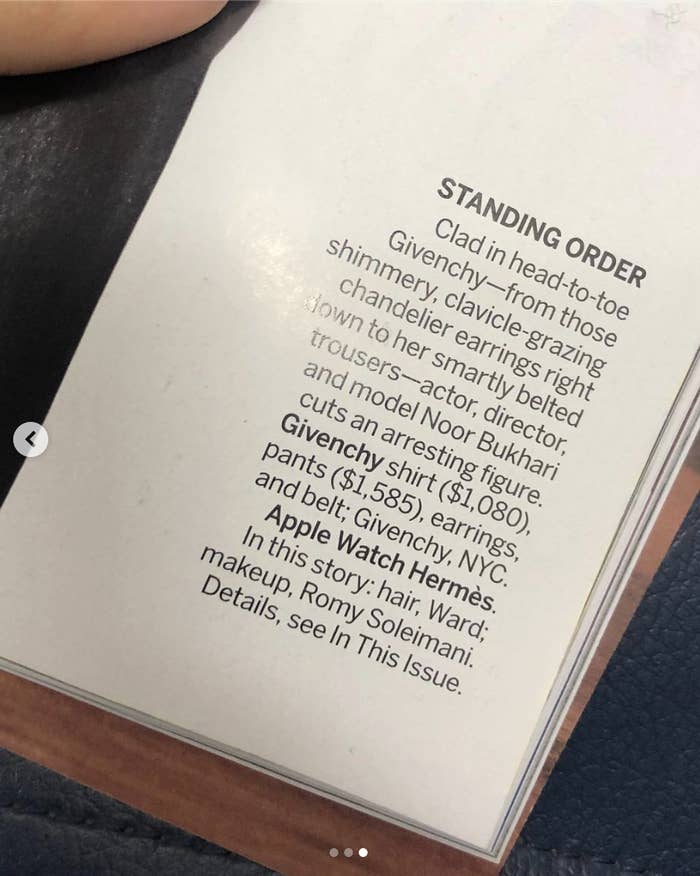 "Misrepresentation and misidentification is a constant problem if you are Muslim in America. And as much as I work to fight this, there are moments like this where I feel defeated," she concluded in the post.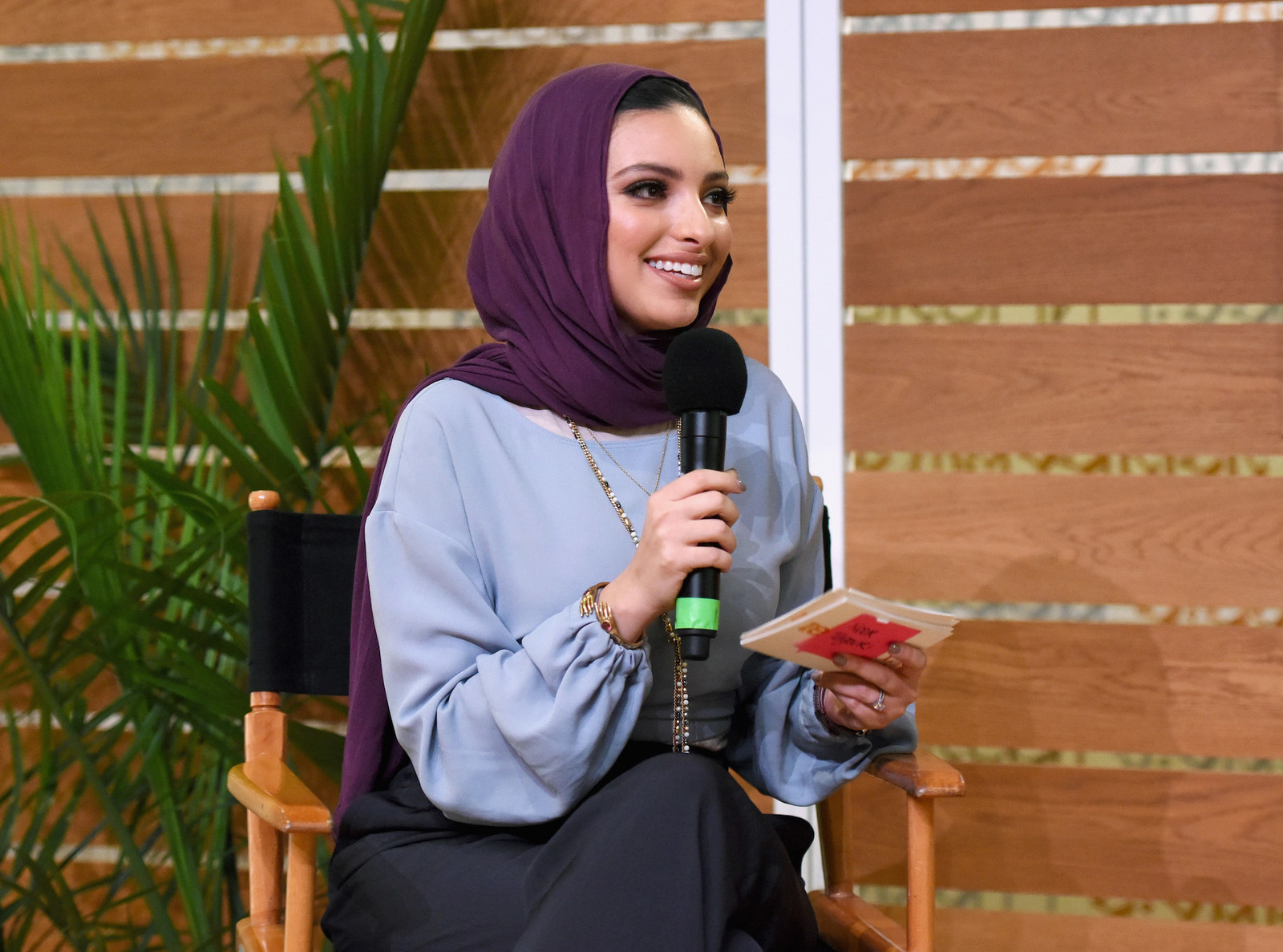 BuzzFeed's As/Is reached out to Tagouri and she said this isn't her first incident with Condé Nast, the media company that publishes Vogue: "Brides [magazine] used my wedding photos for a horribly written and misrepresentative piece on Muslim wedding traditions, written by two white women. And they had to retract it and apologize, but I found out about that article a year late because my friend found it online."
In a more severe instance, the journalist said she's been misidentified several times as Noor Salman, the widow of the Pulse nightclub shooter in Orlando, Florida.
In an apology via Instagram, Vogue wrote, "We are sincerely sorry for the mistake. We were thrilled at the chance to photograph Tagouri and shine a light on the important work she does, and to have misidentified her is a painful misstep."
"We also understand that there is a larger issue of misidentification in media—especially among nonwhite subjects," they continued. "We will try to be more thoughtful and careful in our work going forward, and we apologize for any embarrassment this has caused Tagouri and Bukhari."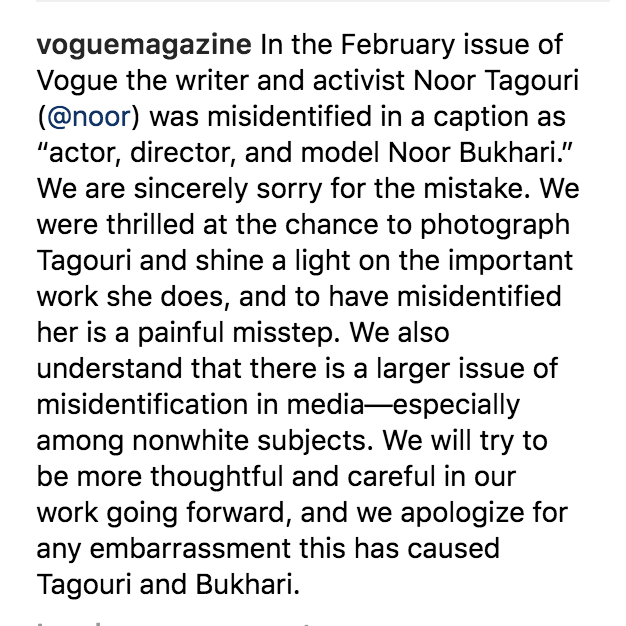 Tagouri told BuzzFeed's As/Is she has been able to find the silver lining in the outpouring of support and awareness in response to the controversy. "This is forcing a long and overdue conversation. I feel disappointed that it wasn't surprising because it happens more often than not," she said. "This wasn't about me being misidentified and represented — it was about all marginalized people who are constantly an afterthought and not truly seen." She also said that this will keep happening if media outlets don't hire more people of color.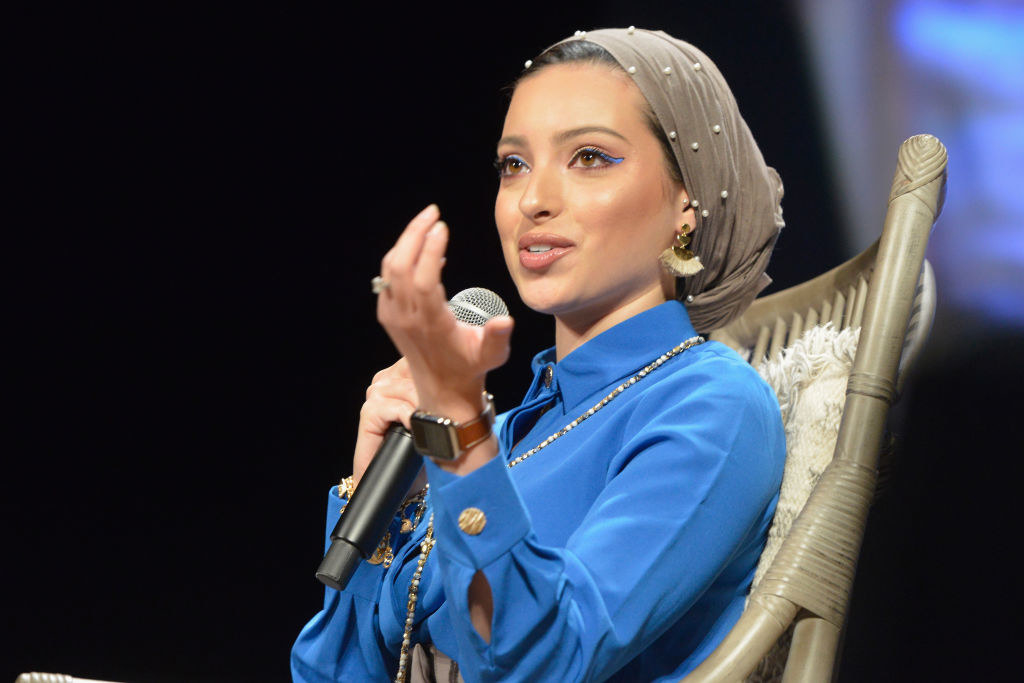 As for her relationship with the magazine she said, "I genuinely think this will be used as a teaching moment and I look forward to working with Vogue on making sure this doesn't happen again." And today, in fact, she shared photos from another four-page spread in Vogue Arabia, in which supermodel Ashley Graham interviewed her.
Check out Tagouri's conversation with Ashley Graham on representation and identity for Vogue Arabia here.